It's time to go looking for ladybirds. They are one of the prettiest little creatures in Ireland, but they are under-recorded and that means we don't know how many there are, or where they are.
This is why Fota Wildlife Park in partnership with University College Cork, School of Biological, Earth and Environmental Sciences need your help!
Under the guidance of Gill Weyman from UCC, they are managing a research project on 'The status, threats, protection and conservation of ladybirds in Ireland' and they need everyone to tell them if they spot any ladybirds.
If you find any ladybirds, please take a photo and send it to ladybird@fotawildlife.ie asap with details on the date and location plus where it was found.
This is an important project and the knowledge gained from it will contribute to the national understanding of ladybirds in Ireland. The project is funded by Fota Wildlife Park and the Irish Research Council.
There are 17 species of ladybird that have been recorded in Ireland but many of the species are under recorded. Fota Wildlife Park are asking the public to help by looking for ladybirds in their homes at work or when they are out and about.
Download this quick guide to identify the ladybirds of Ireland!
Gill Weyman has worked on ladybirds since 2014 when she managed the first national ladybird survey. She started her PhD in 2015 on Irish ladybirds and runs a Facebook page Irish Ladybirds and Twitter account.
The photograph of an Orange Ladybird at the top of this article won the RTÉ and National Botanic Gardens Eye on Nature competition. The picture, taken by Larry Doherty in April last year, is of a tiny ladybird - only 5mm in size -at Cabragh Wetlands in Thurles, Co Tipperary.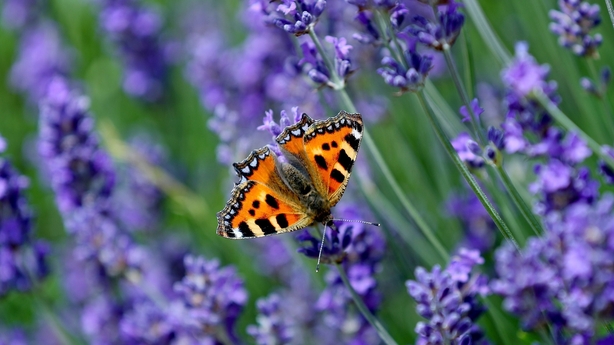 And while you are out and about looking for ladybirds it's always good to keep your eyes peeled for all the other amazing wildlife right under your nose.
The National Biodiversity Data Centre have created a really great guide for beginners who want to help record what they see on their walks.
They really need help from the public to tell them what is happening all over the country, and it's a great way to make your walks a bit more fun!
What's inside?
Learn what biodiversity is
Why is biodiversity recording so important?
Recording schemes suitable for beginners
Learn about Explore Your Shore!
The role of the National Biodiversity Data Centre on Invasive Species
How to record pollinators
How to record butterflies
Please obey all Covid-19 measures and avoid disturbing any wildlife! Enjoy!!