Laura Beacom, who featured in the short film My Story: Sport Stacking, started stacking when she was 12 and had already started competing when she was 13.
You can watch the show right now on the RTÉ Player!
The simplest way to explain sport or speed stacking is that you stack cups as fast as you can in a particular sequence. It sounds simple but when it gets serious the speed is unbelievable.
Laura has competed all over the world and even held her own World Record, but she is taking it all back to the start for us to show you how to get started at home with some basic moves.
Here, Laura tells us a bit more about competing in the sport...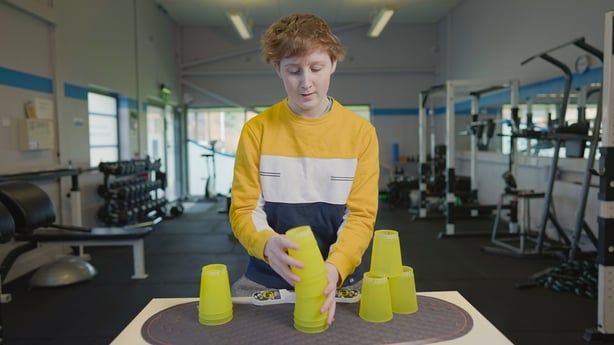 "I have competed in Northern Ireland, Ireland, England, Scotland, Switzerland, Spain, Italy and USA. I have won plenty of UK tournaments including the Nationals in 2020. I won the Dublin tournament in 2019, also when I went to Switzerland to compete, I won that tournament.
"At Worlds 2019 in Spain, I won my age division. More recently, I have been competing in a lot of online tournaments and this season I have won 11 out of 13 that I have competed in. One of those two I placed 2nd and was only 0.001 away from first! The other one, I placed 3rd. 
"My biggest achievement outside of just winning tournaments was my world record for an event where I had to do 30x 3-6-3 which was in Italy."
The World Sport Stacking Association runs all the big events and you can see Laura's profile HERE!