You might have seen some clips online, but how much do you know about high speed Sport Stacking? The speed needs to be seen to be believed! 
In My Story: Sport Stacking from Ronin Productions we meet teenagers Laura Beacom from Belfast and Cork's Adam Turner who are two of the world's fastest stackers. Tune in to RTÉ2 on Wednesday, 7 April  at 3.40pm!
.The lightning-fast world of Sport Stacking, also known as speed or cup stacking simply has to be seen to be believed. Sport stacking sees competitors make three pyramids out of NINE or TWELVE cups in a sequence as fast as they can.
Amazingly one of the sport's biggest names and the previous world record holder is 16-year-old Laura Beacom from Holywood, Northern Ireland.
Laura has beaten off stiff competition, particularly from rivals in Korea and Germany to become one of the sport's biggest names. 
Learn some basic moves from Laura here!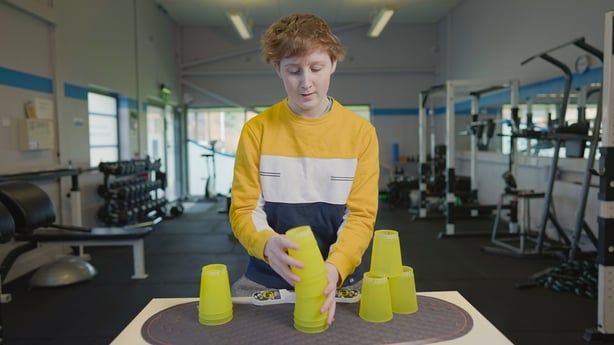 We also meet Adam Turner from Cork. When he started the sport, Ireland had its own national team, although today he is Ireland's sole international competitor. Adam once held the Under 9 world record and he dreams of the day when Ireland will regain its international presence within the sport of stacking.
Adam is also Ireland's Under 18 champion in the Long and Triple Jump and as well as stacking, hopes to compete in the Olympics some day.
Tune in to RTÉ2 and RTÉ Player on Wednesday, 7 April at 3.40pm!
And on Thursday, 8 April at 3.40pm on RTÉ Player and RTÉ2 watch My Story: Joseph Wants to Walk