It's showtime on After School Hub. After building it up all week the gang are all coming together to bring a special production of A Wintry Play to your screens!

There are more great pieces of advice from our friends at The Ark and we look at set design with Saileóg O'Halloran before the big show.
We need your consent to load this YouTube contentWe use YouTube to manage extra content that can set cookies on your device and collect data about your activity. Please review their details and accept them to load the content.Manage Preferences
And it's not just the Múinetoirí who will have a role as Dr Niamh Shaw from Space Hub and Phil from the Hub Lab are on the set to give acting a go!
Don't forget to join in! But, first you need to have is the script...
Download A Wintry Play here
And that is only the start of it all...check out the full schedule here!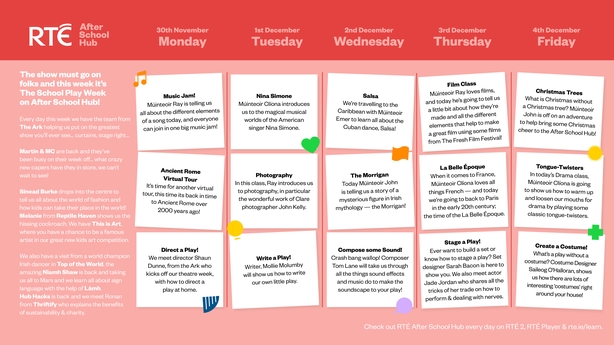 Here's the English version HERE

Agus as Gaeilge ANSEO
Coming up on Friday's show...
Before we can perform the play Múinetoir Clíona is going to help you loosen up those lips. She is going to show us how to warm up and loosen our mouths for drama by playing some classic Tongue-Twisters. 

When you go to buy your Christmas tree you always want the perfect one and Múinteoir John is on the hunt for his. He goes off on a little mission to meet Mick who grows thousands of Christmas trees every year. Tune in to learn more about these special trees.
Martin got stuck inside my brain yesterday on Martin's Shed. He's not trying very hard to get out either... @RTEjr @WingNutGalway #AfterSchoolHub pic.twitter.com/F5l97RnGEA

— Merry-Clairemas (MC) (@MCluvs2laugh) December 4, 2020
It's the big day for MC with her exam and we really hope she got some sleep. These dreams have been great fun for us to see, but I can't imagine it was good for her!

We never thought we would be saying this, but fair play to Martin for keeping the show on the road. Let's see if things have worked out when we tune in to Martin's Shed for the last time this week.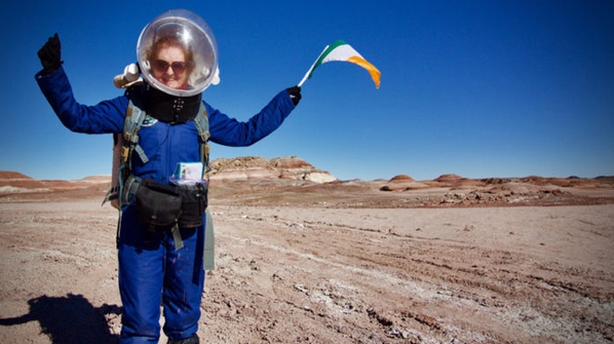 Dr Niamh Shaw is back with another Space Hub and this time we are off to the red planet AKA Mars. It is one of the most fascinating planets in our solar system and one that is within reach in terms of space exploration.
Tune in to find out more about the planet and the missions to get there.
There are also some magical special guests who are coming down from their shelves to keep an eye on everything going on at the Hub and reporting back to their bearded boss!

And always remember to send us in your videos and to keep an eye out for this week's winner here: 
Upload and win!

Tune in weekdays at 3.20pm on RTÉ2 and catch up on everything so far on RTÉ Player.