By the time you sit down to watch After School Hub at 3.20pm on RTÉ2 the weekend will have officially begun!
To get you in good form and set up for your weekly two days off check out what the teachers, MC and Martin and everyone else has in store.
Have a look at the full schedule below and you can use it to catch up on RTÉ Player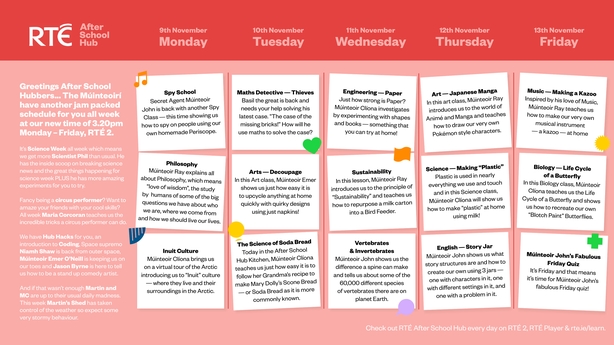 To download this grid and share with your friends click HERE
Agus as Gaeilge ANSEO
On Friday's show...
In a really cool biology class, Múinteoir Clíona tells us about one of the most things in the natural world. She is teaching us about the fascinating life cycle of butteries, and even shows us how to make our own beautiful butterflies with some paper and paint.
Múinteoir Ray is going to blast out some funny sounding tunes on an instrument with a funny sounding name. It's time to make and then play a kazoo!
You will need:
Straws
Lollipop sticks
Elastics of different sizes.
Múinteoir John has his sparkly jacket on again so that can only mean one thing...it's time for the Fabulous Friday Quiz!!
We will see if you have been paying attention all week so get your pen and paper ready.
The Hub Lab is taking a day off but you can still get your Phil of Science as he continues to bring us some of the latest stories on the Science News Desk.
He is telling us all about the Artemis program where people are going back to the Moon to actually set up a base there.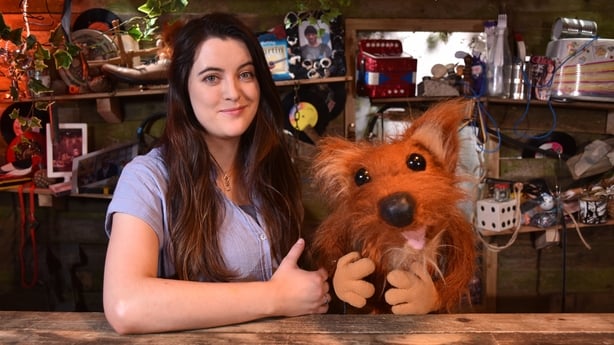 Another week finishes in Martin's Shed where the Weather Machine seems to be acting up again. It was really good when it was working but now MC is feeling a bit bad with all the crazy weather it is causing.

What will they do? Tune in to find out, but one thing we can guarantee is a song and Martin and MC will be blasting out one a disco classic from the 1980s, but the Weather Machine is taking things a bit literally.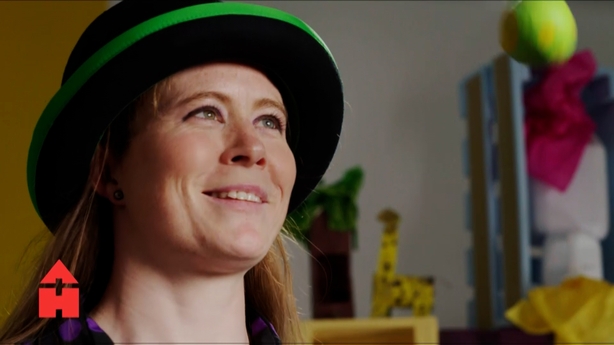 Maria Corcoran has been showing us some cool tricks all week. There was some juggling, some skipping yesterday and now there is something different and it's all about balance.
She shows us how to make our own balance stick and how to find the best way from it toppling over. It sounds simple but it's not!
Catch up on ALL her skills here: CIRCUS SCHOOL
Make sure to keep checking RTÉ Learn for extra content straight after the show.
If it's science, your funny jokes or some circus tricks make sure to keep sending in your video to us and you could win HERE
The winner will be announced every Friday online at noon!
Tune in every weekday at 3.20pm on RTÉ2 and always remember you can catch up the RTÉ Player
PLUS don't forget to check what is coming up on After School Hub Best Bits on Saaturday at 10am on RTÉ2