After School Hub looked at skylines and decided to stay local and use the Dublin sights, but in the grand scheme of things Ireland is not a big player when it comes to building up.
In Ireland our version of the skyscraper was Dublin's Liberty Hall.
Have a look at this 1963 report from RTÉ Archives to learn more: Liberty Hall construction
At the start of the 20th Century, as cities started to grow and economies began to boom, engineers and architects began to look up.
In New York City there was a race to the top and, what became known as the skyscraper, was really born. Health and Safety was less of a concern back then.
The workers got the nickname 'roughnecks' - hardened men who worked without safety harnesses, hard hats or even bathroom breaks.
If you had a head for heights you could have got a job high above the city...
As technology and engineering became more and more modern more and more floors could be added and nowadays New York has been replaced by the Middle East when it comes to the new generation of towers.

Have a look at this cool animation that shows you over 100 years of construction history from the USA to where we are now, and where we are going...UP!
Right now the world's tallest building is the Burj Khalifa in Dubai, United Arab Emerates and it stands at 838 metres. You can use one of the 58 elevators, which travel at ten metres per second, to get to the viewing tower at 555 metres.
The construction used 330,000 m3 of concrete and 39,000 tonnes of steel rebar all put together with 22 million man hours!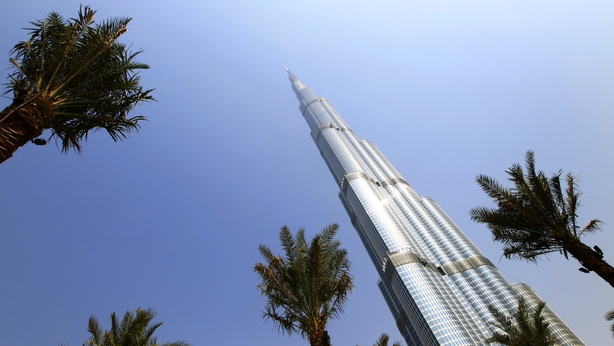 The best thing about all of these structures is that they have their viewing towers.
Chekc out this RTÉ article on the view's from the world's tallest buildings