This month's RTÉjr Book Club article is written by Emily Daly. Emily is a Book Doctor and JCSP School Librarian. Moltaí Gaeilge ó Chonall Mac Dhonnagáin, Oifigeach Gaeilge le Leabhair Pháistí Éireann agus léitheoir craosach críochnaithe.
As we approach the 100th anniversary of the Walt Disney company, it is clear that fairytales continue to captivate readers of all ages, offering a timeless escape into realms of imagination and wonder. While the classics continue to hold a special place in our hearts, modern authors and illustrators continuously reimagine familiar fairytales, offering fresh perspectives and creative twists, while others draw on key fairytale tropes to create their own timeless tales. In the hands of talented authors and illustrators, fairytales have an enduring charm.
For playful picturebooks that reimagine familiar fairytales in modern settings, readers may enjoy the retellings of duo Lucy Roland and Ben Mantle which include new versions of Little Red Reading Hood, The Three Little Pigs and the Big Bad Book and A Hero Called Wolf (age 3–6). Or for fairytale picturebooks with a feminist twist, Bethan Woollvin's witty retellings of Little Red, Rapunzel and Hansel and Gretel (age 4–7) feature strong, rebellious and quick-witted heroines who take charge of their own destinies.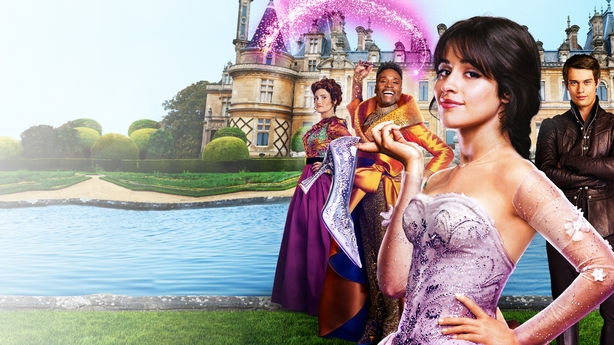 Another option are the futuristic fairytales produced by Deborah Underwood and Meg Hunt, Interstellar Cinderella, Reading Beauty, and Jo Bright and the Seven Bots (age 5–8) which transport beloved fairytale princesses to futuristic sci-fi settings, reimagining them as champions of STEM.
Más mian leis an léitheoir bunleagan Luaithríona (Cinderella) a chlos ar bhealach ceolmhar úr, taitneoidh athinsint Fhearghais Mhic Lochlainn ar an scéal leo ins An Slipéar Gloine (aois 4-8). Líonann Paddy Donnelly na leathanaigh le léaráidí áille ann agus bhuaigh an leabhar Gradam Speisialta na Moltóirí le Leabhair Pháistí Éireann in 2023 agus Gradam Réics Carló 2022.
Tá an iliomad síscéalta lonnaithe níos cóngaraí d'Éirinn, An tOileán Thiar (aois 4-8) le Laureate na nÓg, Patricia Forde, ina measc. Maisíonn Nicola Bernardelli turas Fhia, cailín óg atá ag iarraidh cuairt a thabhairt ar oileán miotasach Hy Brasil, amach ó chósta thiar na hÉireann.
For a creative and interactive twist on fairytale picturebooks, Once Upon A Fairytale: A Choose-Your-Own Fairytale Adventure (age 3–7) by Natalia O'Hara and Lauren O'Hara invites readers to make choices on every page to shape their own unique fairytale adventure. The O'Hara sisters have also produced an original fairytale picturebook, reminiscent of The Snow Queen. Beautifully written and sumptuously illustrated, Frindleswylde follows a young girl Cora as she follows a mysterious boy Frindleswylde to his magical frozen kingdom where he sets her three impossible tasks.
Children aged 6–8 looking for a series to kick off their reading might enjoy The Princess in Black by Shannon and Dean Hale and illustrated by LeUyen Pham which follows the adventures of Princess Magnolia, who leads a secret life as a daring hero. These fairytale inspired stories challenge gender norms with humour, action, and rhyme. For further inclusive fairytale reading and deliciously dark tales with a twist, try the Fairy Tales Gone Bad series written by Joseph Coelho and illustrated by Freya Hartas, including Zombierella, Frankenstiltskin, and Creeping Beauty (age 8–11).
For older bookworms who still enjoy a good fairytale there are lots to choose from. Readers aged 8–11 looking for a series full of whimsy and magic should try Chris Riddell's The Cloud Horse Chronicles. Full of fascinating illustrations and fun references to fairytales, this unique tale follows three children as they uncover a hidden world of magic, mythical creatures, and ancient secrets. The School for Good and Evil (age 9–12) by Soman Chainani is another captivating series which draws on fairytales, following the adventures of best friends Sophie and Agatha at an enchanted institution where children are trained to become fairytale heroes or villains. Lovers of Irish fairylore should try The Book of Secrets (age 9–12) by Alex Dunne. Set in contemporary Ireland at Halloween, the Trooping Fairies arrive in Clonbridge and soon Cat Donnelly must rescue her baby brother from these creatures of mischief and chaos.
Do léitheoirí a dtaitníonn scéalta grá agus scéalta miotaseolaíochta leo, is leabhar iontach é An Féileacán agus an Rí (aois 8-12) le Máire Zepf. Insíonn Zepf dúinn gur athinsint é seo ar sheanscéal grá Éadaoin agus Mhír agus nach raibh aon stiúir ag Éadaoin ar a saol féin sna seanleaganacha, ach go bhfuil smacht aici ar a cinniúint féin sa leagan seo. Mhaisigh Shona Shirley Macdonald an leabhar agus an iliomad gradam buaite aici.
Readers who prefer comics and graphic novels also have lots of choice when it comes to modern fairytales. The Amulet series (age 9–12), created by Kazu Kibuishi, is a good option for those looking for longer fairytale adventures. The series follows siblings Emily and Navin as they discovers a mysterious amulet and embark on a quest to save her family and a hidden fantastical world. For a fresh and inclusive perspective on gender norms and expectations in the world of magic, readers could try Molly Knox Ostertag's Witch Boy series (age 8–12) which follows Aster, a young boy who defies tradition to pursue his passion for witchcraft, navigating family secrets and magical adventures.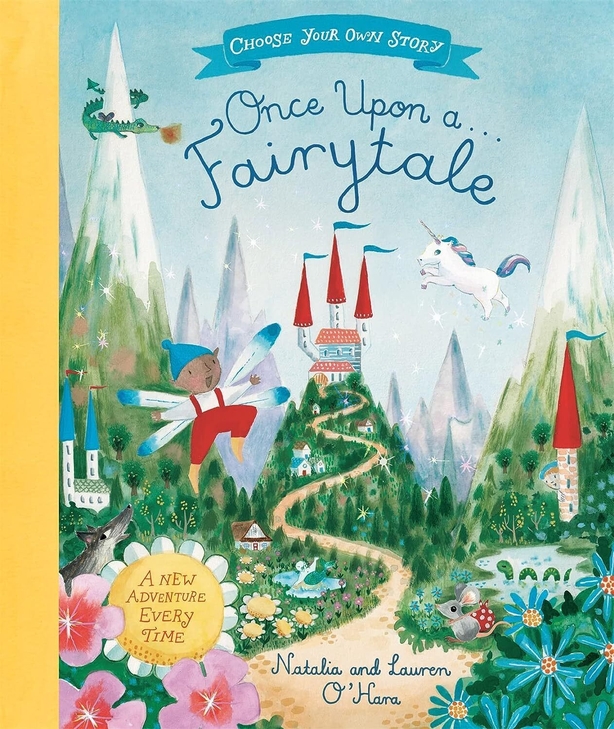 Once Upon a Fairytale by Natalia O'Hara illustrated by Lauren O'Hara, Macmillan Children's Books, 40pp, ISBN 9781529045789
Can you imagine anything more enchanting than a picture book in which you create your very own adventure? This clever storytelling concept more familiar in fiction for older readers translates perfectly to the picture book format, as we venture through a stunning imaginary world taking unexpected turns and meeting a myriad of unusual characters. Beguiling illustrations rich in colour and character capture the essence of vintage European classics whilst appearing fresh and relevant for a new generation. Spreads packed with detail and maps ready to be explored will have wild eyes darting across the page with excitement, as fairy-tale adventurers are lead on a quest to help the Queen break a curse. Like a magical pathway through a sunlit woodland, deliciously selected words from a rich magical vocabulary lead readers through scenarios which provide numerous options to tailor the story in any way the reader wishes. A dynamic reading experience destined to be shared and enjoyed over and over, and guaranteed to nurture a love of reading and storytelling.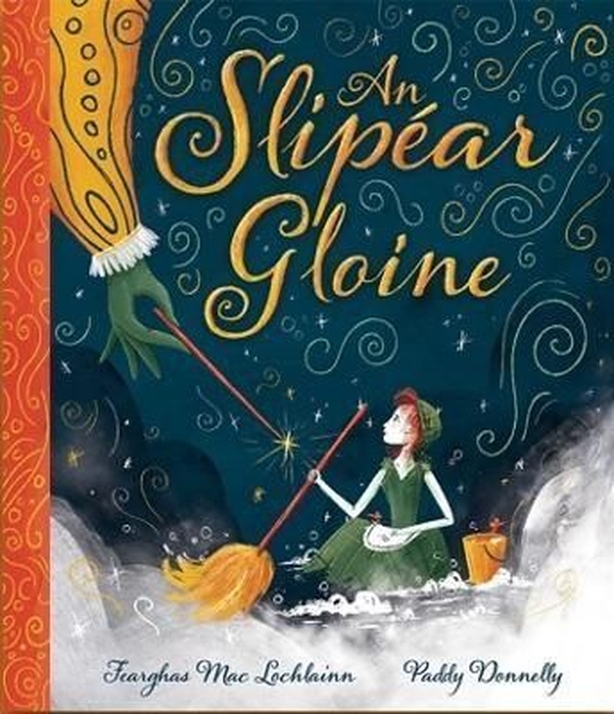 An Slipéar Gloine le Fearghas Mac Lochlainn, maisithe ag Paddy Donnelly, Futa Fata, 32lth, ISBN 9781910945711
Tá Luaithrín in umar na haimiléise – níl cead aici dul chuig an mbál. Tugann an t-údar Fearghas Mac Lochlainn saol nua do sheanscéal Luaithrín – nó Cinderella – sa leabhar beomhar seo. Is dócha go mbeidh scéal Luaithrín ar eolas ag léitheoirí óga – na deirfiúracha gránna, an puimcín, an prionsa agus an slipéar gloine – ach is fiú fós an athinsint seo a léamh. Gluaiseann an scéal seo, idir mhaisiúcháin agus théacs, le fuinneamh cinéiteach. Tosaíonn an ghluaiseacht leis an gclúdach leabhair draíochtúil, ar a bhfuil Luaithrín ag féachaint aníos ar lámh a Máthar Baistí agus ar a slaitín draíochta drithleach. Téacs liriciúil véarsaíochta atá i gceist anseo. Tá an scéal ag croitheadh le greann agus le himeartas focal. Is cumadóir amhrán, lúibíní agus agallamh beirte é Mac Lochlainn, ach ní haon ionadh é sin. Prós rinnceach atá i gceist. Preabann na focail ón mbéal. Léaráidí lonracha físiúla atá againn sa leabhar atá maisithe ag Paddy Donnelly. Tá na carachtair i lán-aicsean ar an leathanach. Tá an domhan beo beathach. Líonann na léaráidí an leathanach agus líonfaidh siad intinn an léitheora chomh maith céanna.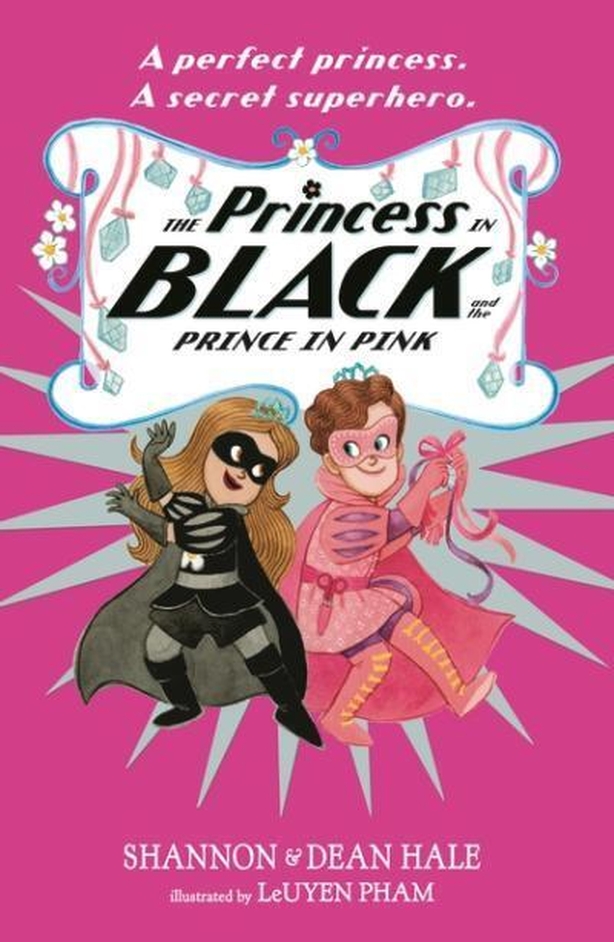 The Princess in Black and the Prince in Pink by Shannon and Dean Hale illustrated by LeUyen Pham, Walker Books, 96pp, ISBN 9781529512717
The stereotype-smashing princess is back in the 10th volume of this bestselling series—and she's not finished fighting monsters yet! This time, it's a trio of fearsome flightless birds threatening to ruin the Flower Festival and for a moment, it looks like the Princess in Black may just be defeated—until her new hero friend, the Prince in Pink, dashes glamorously to the rescue! Between the two of them, they work out that there may be something more to the birds' actions than anger; maybe what these birds need is a boogie! With his trademark flourish, the Prince in Pink whips up a spangly, sequinned makeover that brings the birds to the Flower Festival dance floor in all their true glory.
Before long, heroes and birds alike are twirling and whirling the night away in delight, and the Princess in Black has tucked another success under her cape. This book's bright, expressive illustrations bring the beautiful diversity of the characters to life. With every style imaginable represented at different points throughout, your own little princes and princesses are sure to see themselves smiling back at them from the pages. A fun-filled tale of friendship, strength in numbers, and embracing your individuality, this is a fairytale kingdom for today's generation.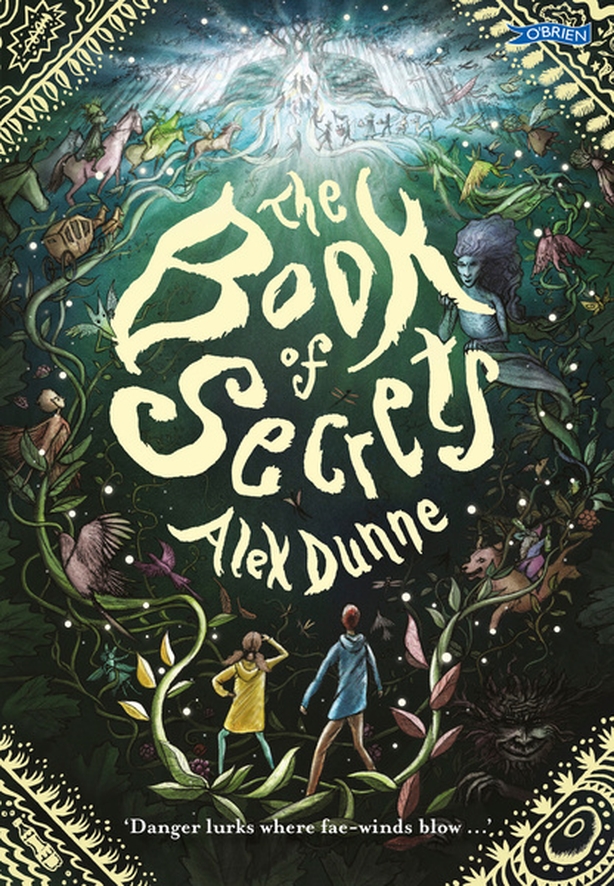 The Book of Secrets by Alex Dunne, The O'Brien Press, 253pp, ISBN 9781788493208
Alex Dunne has created a sense of mystery and suspense in her debut novel, The Book of Secrets. Her descriptive language paints a clear picture of the town of Clonbridge, which comes alive at night when the fairies seamlessly drift into town to prepare for a celebration which coincides with Halloween. Cat and her friends, unaware of the supernatural mischief, spend the last day of school before midterm sharing scary stories and Halloween plans, although Cat is reluctant to share her secret that she has the 'sight'.
When fairy magic creates mayhem for her family, Cat has to unravel riddles and save her loved ones with the help of a true friend. A fast-paced quest steeped in the lore of fairies and magic, but also touching on serious themes such as death, family breakups, and the loss of adolescent friendships. The richness of Irish magic and folklore beautifully woven within the narrative adds a sense uniqueness to the novel which will particularly appeal to an Irish audience.
Click here to look back on more of RTÉjr Book Clubs.