This month's book club was written by Juliette Saumande, a children's book writer who can hold her own in Super Mario Party and whose latest title, My Little Album of Ireland (illustrated by Tarsila Krüse and published by The O'Brien Press) is out now. 
Moltaí Gaeilge ó Chonall Mac Dhonnagáin, Oifigeach Gaeilge le Leabhair Pháistí Éireann agus léitheoir craosach críochnaithe.
Video games, for anyone with young people in their lives, tend to be a worry. We worry about kids obsessing over Minecraft at the exclusion of anything else the 'real world' has to offer; we worry about what excessive screen time can do to their attention span or their mood; we worry about cyberbullies and other unknowns they might encounter through their online activities.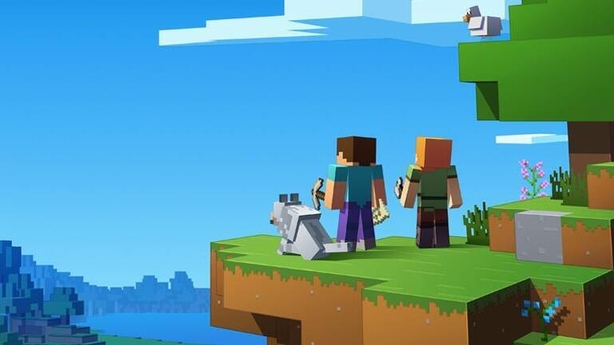 But let's press pause on the worry menu for a minute and ask ourselves: why do we play video games in the first place? What is it that brings our kids (and, let's be honest, many of us) back to those gaming screens? Being in charge of the action is a big one, as it can be so hard for children to achieve in school or family life. The thrill of exploration and discovery is another; again, not something readily available to young gamers away from their devices. Getting your brain ticking and relying on your wits also has big appeal, and let's not forget about being part of a community.
All these perks are to be found in books as well, and our selection this month will hopefully show you that it doesn't have to be a case of either/ or. Gamers can find a lot of the same thrills on the bookshelves as in their consoles.
Kids who love getting lost in virtual landscapes, whether they belong to the realm of Zelda's Hyrule, the underwater depths of Subnautica, or the block-filled world of Minecraft, will find much to admire in picturebooks such as Peter Van Den Ende's atmospheric Wanderer (8+), Pataricia Forde and Nicola Bernardelli's beautiful To the Island (5+), or Neil Packer's One of a Kind (6+) in particular for anyone 6+ who loves a good inventory! Virtual builders will also love finding out about real-life architecture and buildings and should try Polly Faber and Klas Fhlén's fascinating Building a Home (4+) or Patrick Dillon and Stephen Biesty's amazingly detailed The Story of Buildings (8+).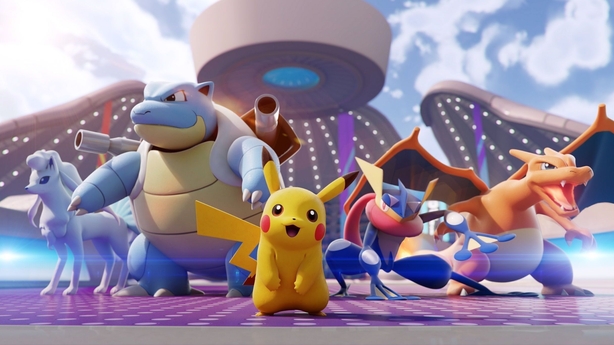 If it's action your gamer/reader is after, introduce them to the wonderful world of choose-your-own-adventure books. There are plenty still around from the 80s and 90s as well as more recent offerings, such as Pokémon: Choose Your Own Pathway to Adventure by Alex Gray (7+), or Choose Your Own Story: The Minecraft Zombie Adventure by John Diary (9+). For a zanier and hands-on take on this, have a look at Andrew and Chris Judge's bonkers series Create Your Own... (Superhero Epic, Fantastic Quest, Spy Mission, etc.) for ages 7+ where the reader is invited to 'choose, draw, fold, twist, tear and more to complete the story.'

Kids who like to give their brains a good workout and enjoy riddles and problem solving will love Rick Riordan's The 39 Clues series and its many spin offs, with The Maze of Bones (9+) the best place to start. Alternatively, Jennifer Bell's brilliant Wonderscape and Legendarium (9+), where our heroes get stuck in a video game world and must figure out clues and problems to get out again are great options. 'Getting stuck in a video game' is an entire genre unto itself and you can see the appeal when characters and readers are thrown together in new territory and share a common language. Sarah Graley's Glitch (8+) comes highly recommended in that genre, as do Ryosuke Fuji and Katarina's manga Shangri-La Frontier for older readers (12+) and the hilarious Jack Gets Zapped! by Mac Barnett and Greg Pizzoli for younger ones (4+).
Más mistéir atá de dhíth ar an gcluichire, nó má tá spéis acu san athrú aeráide mar ábhar, beidh siad gafa ag scríbhneoireacht Anna Heussaff. In Sárú (10+), iarrtar ar na carachtair an domhan a shábháil agus iad ag imirt cluiche úrnua atá i mbun tástála ar uaireadóirí cliste. Mar aon le cluichirí, labhraíonn na carachtair i mbéarlagair, gné réadúlach a lonnaíonn an scéal i ngnáthshaol an duine óig. Seo an tríú leabhar sa tsraith, ag leanúint ó Vortex agus Hóng, a bhuaigh Gradam Speisialta na Moltóirí ó Leabhair Pháistí Éireann in 2013. Ainmníodh Sárú ar an ngearrliosta do Ghradam Réics Carló in 2018.
Being part of a community of players or fans can be just as important a reason to play in the first place as the game itself. To keep this sense of community going, there are plenty of book tie-ins, such as the suitably silly Super Mario Manga Mania by Yukio Sawada (7+). Kids of 6+ will likely recognise themselves in Tom Flintham's Press Start Super Rabbit Boy comic series (6+), either in fictional game hero Super Rabbit Boy or in Sunny, who plays the game and sometimes wins, sometimes loses, and often gets distracted! Helen Harvey's Emmy Levels Up (9+) meanwhile, is a heart-warming tale of a kid, expert gamer with tons of good online friends, who strives to find her off-screen tribe despite bullies and the ups-and-downs of friendship.
Keep playing, keep reading!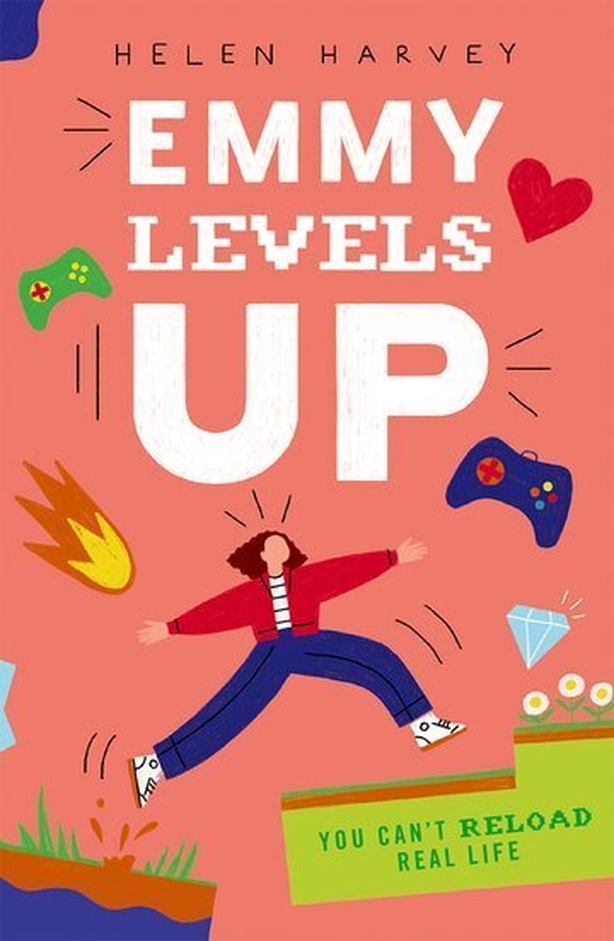 Emmy Levels Up by Helen Harvey, Oxford University Press, 304pp, ISBN 9780192774644

Emmy is a brilliant gamer with her own gaming channel and online friends who worship her for her genius and skill. If only life in the outside world could be as easy – but offline, no one is very interested in her game of choice, Illusory Isles, and worse, Emmy's school-friend Lila has made other friends and the bullies are relentless. But with the help of Jude, fellow nerd and her first real-life gamer friend, Emmy finds the confidence to take on her bullies and rebuild her self-esteem.
This is a highly enjoyable story about the positive side of gaming and online communities: how they can help you form friendships and give you the strength to believe in yourself. This celebration of all things nerd gives us a main character who is clever, kind and passionate – a wonderful role model for young girl gamers out there and for anybody who needs to overcome their bullies! (Age 9+)


Legendarium by Jennifer Bell, Walker Books, 320pp, ISBN 9781406391732

This action-packed sequel to Jennifer Bell's Wonderscape jumps feet first into a swirling portal and straight into the action from the very first chapter. The heroes, three young friends and their shape-shifting robot dog, get sucked into a computer-game adventure that's unfolding in the real-world future of 2493, where they find themselves in a race against time to get back home. The trio must get out of the Legendarium before time runs out, but to do this, they must pose as iSports champions and join in a competition involving a series of challenges, where one wrong move could mean their death.
As in role player games or choose-your-own-adventure stories, the protagonists are often faced with tricky choices and just use their brains, guile, skills, and work as a team to figure out the correct course of action. Fans of quest-style gaming, the Jumanji series and Ready Player One will enjoy reading this fast-paced adventure. (Age 9+)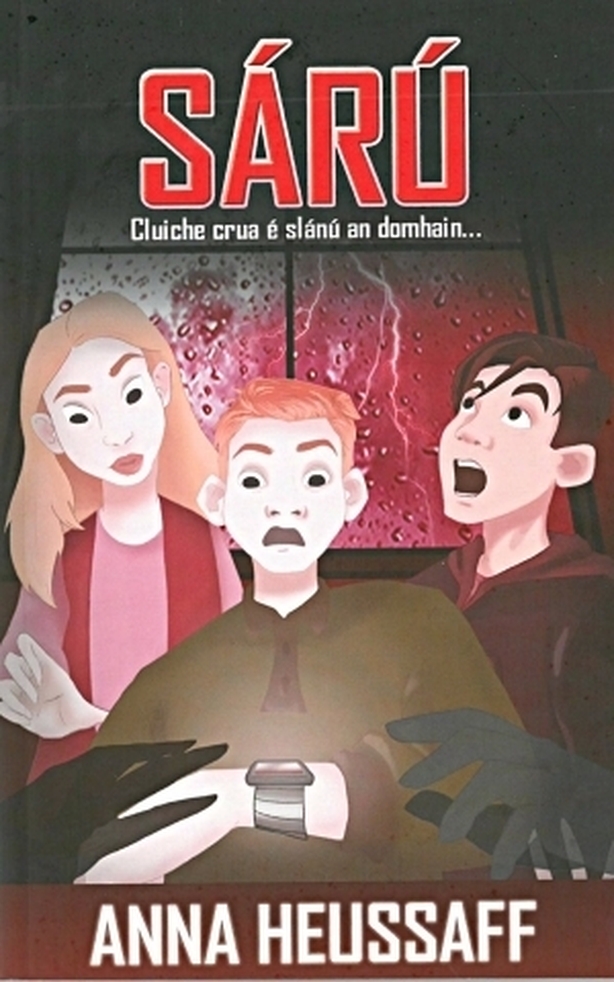 Sárú le hAnna Heussaff, Cló Iar-Chonnacht, 135lch, ISBN 9781784441746

Cé gur saothar ficsin atá scríofa ag Anna Heussaff, cuirtear a lán fíor-ábhar os ár gcomhair san úrscéal seo. Pléitear le fadhbanna bulaíochta, athrú aeráide agus cúrsaí imirce sa leabhar. Éiríonn leis an údar contúirtí an fhíor-shaoil a mheascadh leis an gcluiche ficseanúil go héifeachtach. Tá sí paiseanta faoi na hábhair a phléitear agus léirítear sin sna carachtair.
Baineann sí úsáid as stíl teanga atá fíor-oiriúnach dá cuid léitheoirí agus is iontach áisiúil an ghluais atá ar fáil ag cúl an leabhair. Is leabhar cliste é Sárú, lán le mistéir agus le spraoi, ach insíonn sé mórán dúinn faoin saol atá timpeall orainn ag an am céanna. Scéal nuálach é atá oiriúnach do pháiste nó do dhéagóir ar bith a thuigeann cé chomh héasca is atá sé a bheith gafa le cluiche idirlín.
Click here to look back on more of RTÉjr Book Clubs.