This month's book club was written by Juliette Saumande, a children's book writer who spends a lot of time on basketball bleachers and whose latest title, My Little Album of Ireland (illustrated by Tarsila Krüse and published by The O'Brien Press) is out now. Moltaí Gaeilge ó Jenifer Ní Ghrádaigh, Oifigeach Gaeilge le Leabhair Pháistí Éireann agus léitheoir craosach críochnaithe.
With the FIFA Women's World Cup in full swing on the other side of the world, plus the All-Ireland Camogie and LGFA Finals coming up at home, we are bringing you scores of recommendations of great books featuring sporty girls and women.
Sport is tough enough, on your body, on your spirit, and that's even before it gets competitive. But when you're a girl it can be even harder to make some noise.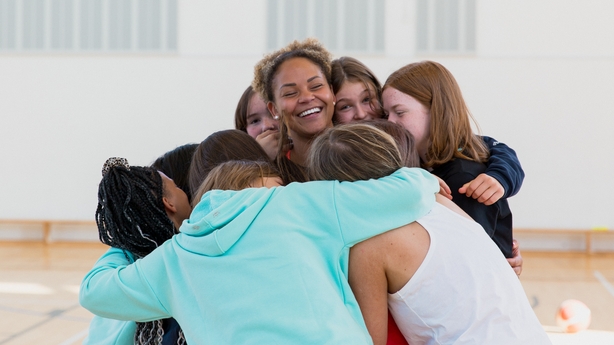 You constantly have to prove that you deserve your place on the track, the pitch, the court, and the playground in a way boys don't often have to. Add to this a dose of peer pressure and a wobble in self-esteem, and you'll see a bunch of tween and teen girls dropping out of sports altogether. Emer O'Neill's documentary Keep It Up is a balm for the soul, but also an eye-opener for parents and carers of pre-teens, and for young athletes of all genders.
Older readers will find much of their sporting struggles reflected in Eve Ainsworth's Dick, Kerr series or Lou Kuenzler's Our Beautiful Game, as both authors focus on some of the first ladies' football teams to form in England, who had to dig deep in their skills, teamwork and grit to make it through the bleak times of World War One and the unfair ban on women's football in the early 1920s (10+).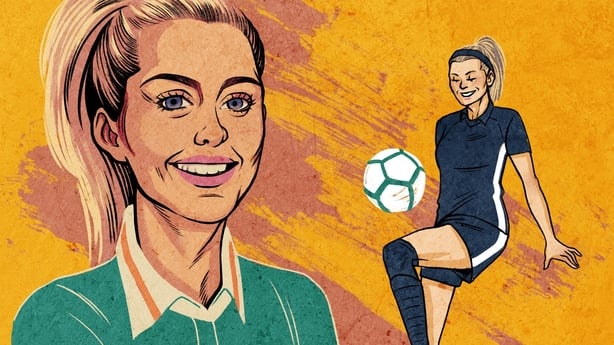 Closer to home, Jacqui Hurley's Girls Play Too is a joyful celebration of female Irish athletes in every imaginable discipline from boxing to GAA via surfing, motorsport, or bobsleigh (8+). For readers who want a deeper dive into Irish legends' sporting life, try Cora Staunton by Eimear Ryan on Gaelic or football, Ayeisha McFerran by David Caren on hockey. Younger readers who enjoy real-life stories can always rely on the Little People Big Dreams series by María Sanchez Vegara, with short, illustrated biographies dedicated to sprinter Wilma Rudolph, tennis players Billie Jean King or Evonne Goolagong or football superstar Megan Rapinoe (5+).
If fiction is more your young reader's discipline, give them Isabel Roxas's hilarious The Adventures of Team POM for some fun synchronised swimming shenanigans involving rat bandits and a giant squid (7+). Or, for a tale of self-belief and determination, Veronica Carratello's delightful picturebook The Diver (5+). Daisy and the Trouble with Sports Day by Kes Gray and Nick Sharratt is another cheeky story about Daisy who is determined to win the school race by any means possible (6+). Finding your sport, your voice and your tribe can be tricky, and readers of 9 years and up will love following Astrid as she takes her first tentative steps into roller derby in the brilliant graphic novel Roller Girl by Victoria Jamieson. Jason Reynold's Patina features a strong-willed athlete who needs to figure out why she's running, who she's running for and how to run with others, to be in with a chance of taking her relay team to the junior Olympics (10+).
And let's not forget about very young readers! Author-illustrator and former champion Holly Sterling's Karate Kids follows Maya during her Saturday class at the dojo with her sensei and offers plenty of sporty female role models (4+). In Dinos Don't Give Up! By Smriti Halls and Richard Merritt for readers aged 3+, Dinah is good at everything she tries … until she steps on a surfboard for the first time and things don't go exactly swimmingly! And of course, there's always a Maisy book for every occasion, and creator Lucy Cousins has a treat in store for sports lovers with Maisy Plays Football and Maisy's Sports Day (2+).
Agus céard atá ann do léitheoirí Gaeilge? Do na gasúir is óige (2–4) ní féidir an tsraith Rita a shárú, le téacs spreagúil le Máire Zepf agus léaráidí bríomhara le Andrew Whitson. Is cailín beag ildánach í Rita, agus ní nach ionadh mar sin gur ninja-mháistir í in Rita agus an Ninja. Taispeántar anseo go bhfuil na cailíní chomh cumasach céanna leis na healaíona comhraic is atá na buachaillí, ach ar ndóigh tá cor agus casadh sa scéal! Don léitheoir níos sine, ach go háirithe dóibh siúd atá ag streachailt lena mbrúnn an tsochaí orthu ó thaobh spéise agus éadaí de, tá Clíona agus an Cluiche Peile (aois 8–10) le hÚna Leavy maisithe ag Kieron Black.
Agus cé nach mbaineann sé go sonrach leis na cailíní, b'fhiú go mór súil a chaitheamh ar an tsraith Laochra Lúfara (6-10) ón Gúm, Gaiscí Snámha agus Tumadóireachta, Gaiscí Gleacaíochta, Gaiscí Lúthchleasaíochta, agus Gaiscí Nirt agus Troda, ina gcuirtear buanna dúchais na n-ainmhithe i gcomparáid leis na spóirt atá ar siúl sna Cluichí Oilimpeacha. Meabhraítear dúinn ar fad gur cuma cén cruth atá ort, beidh spórt éigin ann a oirfidh do do cholainn féin.
For more sporty reading recommendations, the Football Association of Ireland have collaborated with Libraries Ireland and Monaghan Libraries to create a 28-page activity book to help children learn more about the Irish Women's Football team and the World Cup in general. Get it here!
But, for now, read on, play on, and have fun!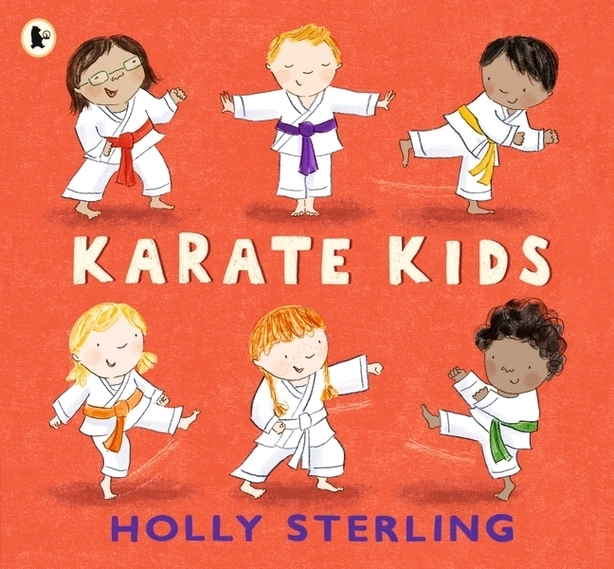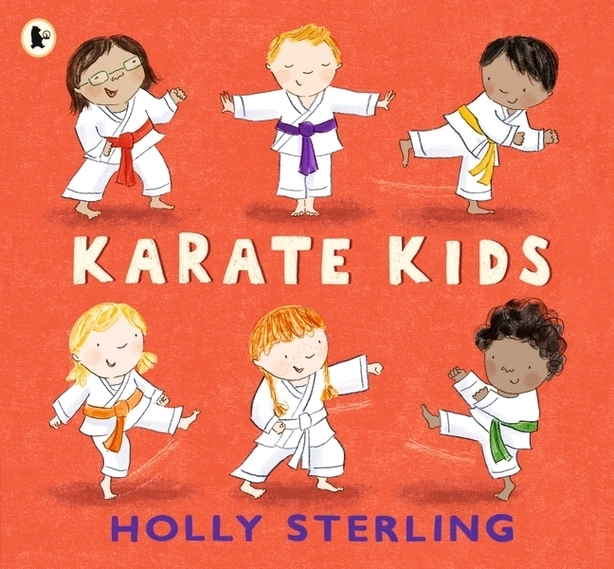 Karate Kids by Holly Sterling, Walker Books, 32pp, ISBN 9781406386233
Athlete Holly Sterling's informative picturebook is a wonderful introduction to the world of karate, full of lingo fundamental to the martial art, made accessible through Sterling's clear descriptions and straight-forward use of language. Sterling writes that not only does karate improve fitness and flexibility 'but it also teaches confidence, mindfulness, compassion and respect'. The story of Maya who takes a beginner class in the dojo fully embodies this message as she and her fellow karate enthusiasts support each other along their journey – a journey that includes plenty of fun and wobbles and bumps along the way! The teacher, or Sensei, is respectful and channels an air of calm in the class. The illustrations are kind and a warm addition to the gentle narrative. (Age 4+)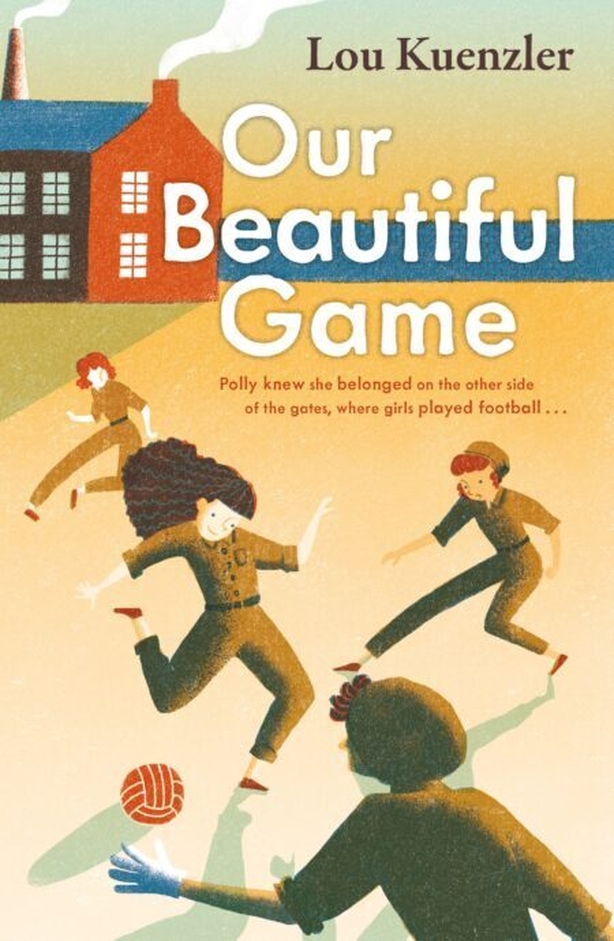 Our Beautiful Game by Lou Kuenzler, Faber & Faber, 400pp, ISBN 9780571365005
This is the gripping story of Polly, a working-class girl determined to play her beloved game of football. With the men away fighting in the trenches, she gets her chance. This is an extraordinary story of sheer determination, made all the more extraordinary by the fact that it is based on the real life of footballer Lily Parr who went on to score over nine hundred goals for her team, paving the way for the women's football teams of today. This is a brilliant read for anyone who loves the beautiful game… or not, as it is about much more than football, centring around one young girl's determination to prove all the boys wrong and to play like a champion. A great read. (Age 10+)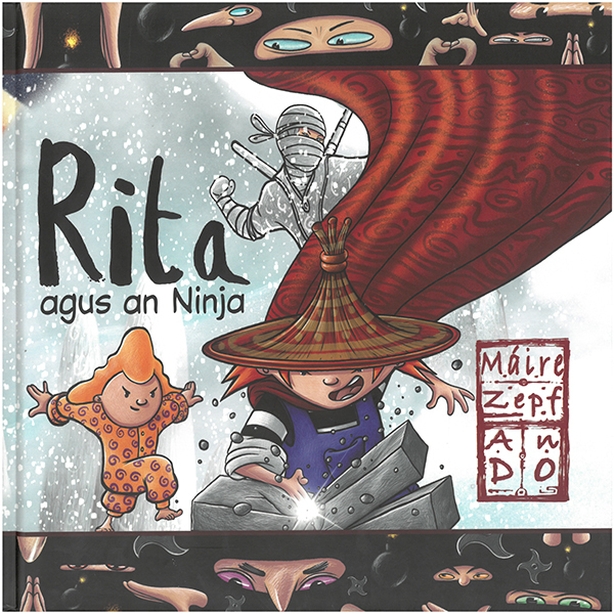 Rita agus an Ninja le Máire Zepf maisithe ag Andrew Whitson, An tSnáthaid Mhór, 44lch, ISBN 9781912929047
Tá seanaithne againn faoin am seo ar Rita, cailín beag cliste, cineálta, diongbháilte, dána. Sa leabhar seo cuirtear as go mór di nuair a aimsíonn a deartháir beag í gan stró agus iad ag imirt folach bíog agus socraíonn sí láithreach bonn go bhfuil ninja-mháistir ag teastáil uaithi chun taispeáint di ní hamháin conas dul i bhfolach i gceart ach gach cleas cliste eile chun smacht a chur ar cholainn agus intinn. Ach ar deireadh tuigeann sí nach bhfuil máistir uaithi a thuilleadh – beidh sise féin ina máistir! Níl ár ndóthain eiseamláirí de chailíní cróga ach cineálta le feiceáil sna leabhair Ghaeilge, ach is eiseamláir do-chreidte í Rita, ag taispeáint dúinn ar fad gur féidir léise tabhairt faoi rud ar bith ar mhaith léi, na healaíona comhraic san áireamh – agus más féidir le Rita, is féidir leatsa freisin. Leabhar gaiscíochta greannmhar, galánta. (Aois 2–4)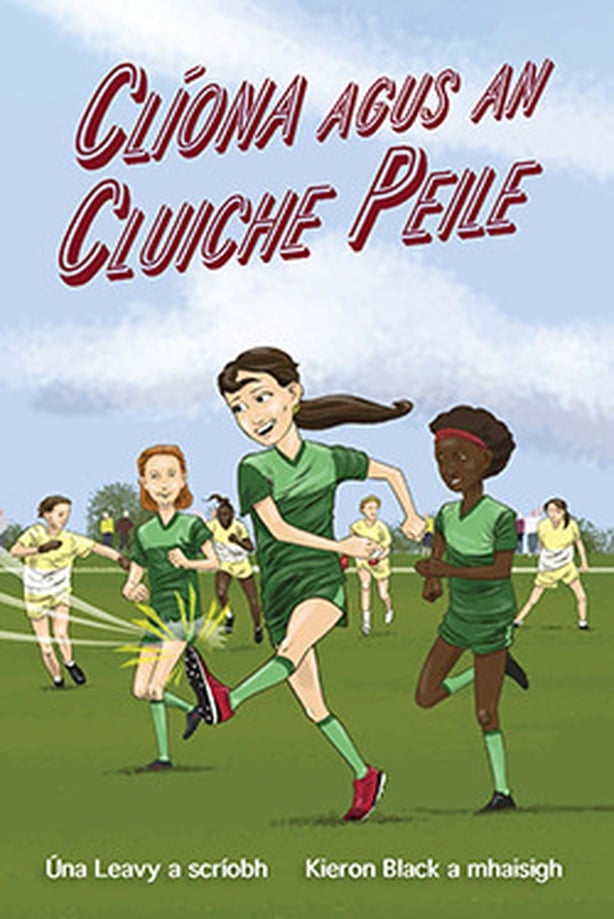 Clíona agus an Cluiche Peile le hÚna Leavy maisithe ag Kieron Black, An Gúm, 49lch, ISBN 9781857919769
Leabhar gairid simplí é seo. Tá an teanga agus an scéal soiléir agus éasca le léamh, agus cé nach bhfuil an plota róchasta, is deacair gan trua agus tuiscint a bheith agat don phríomhcharactar. Cailín í Clíona atá an-ghafa leis an bpeil, agus níl spéis dá laghad aici sa bhfaisean, ach go háirithe sna bróga nach
bróga peile iad! Scéal é seo ar thábhacht an mhisnigh agus na dílseachta. Pléann an scéal freisin leis na coimhlintí atá ann, fiú le tuistí tuisceanacha, nuair nach spéis le cailíní na nithe 'gur chóir' dóibh, sé sin, an siopadóireacht agus cúrsaí faisin. D'fhéadfadh an ghné seo den scéal bheith píosa beag níos forbartha, ach is túsphointe é chun nithe a phlé. Agus is deas agus is tábhachtach an rud é daoiní de dhath a fheiceáil sna léaráidí. (Aois 8–10).
Click here to look back on more of RTÉjr Book Clubs.