It's June and it really feels like Summer! This RTÉjr Book Club is going to feature some books about science fiction. As always, it's thanks to our friends at Children's Books Ireland.
This month's book club was written by Juliette Saumande, a children's book writer whose latest title, My Little Album of Ireland (illustrated by Tarsila Krüse and published by The O'Brien Press) is out now.
Moltaí Gaeilge ó Jenifer Ní Ghrádaigh, Oifigeach Gaeilge le Leabhair Pháistí Éireann agus léitheoir craosach críochnaithe.
Robots! Aliens! Spaceships! What's not to love about science fiction? Whether your young reader is into adventure, friendship stories, funny tales or spookier ones, the rich galaxy of out-of-this-world books has it all. So, buckle up and get ready to be beamed through exciting new dimensions!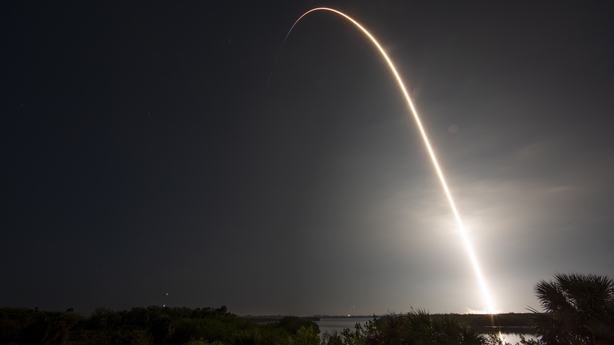 From a very young age, kids can explore the depths of space from the comfort of your lap with clever books such as Pippa Goodheart and Nick Sharratt's You Choose in Space, where each page asks them to pick their favourite job on the ship, favourite space suit or new alien best friend (2+). Mick Inkpen's classic The Blue Balloon will surprise toddlers with its extraordinary, indestructible balloon that can carry you all the way to the Moon and its secret inhabitants (3+). While Mike Brownlow and Simon Rickerty's Ten Little Robots plays on the familiar rhyme by transporting us into a beeping, clanking, roaring factory, the perfect setting for a robot-filled adventure! (2+)
Slightly older readers with a love of machinery and tinkering will love helping Derek and his granny fix The Space Train by Maudie Powell-Tuck and Karl James Mountford (4+). Exploration and making contact with aliens is also what Jeanne Willis and John Hare's Field Trip to the Moon is all about, as its hidden, extra-terrestrial narrators follow a class of Earthlings on their school trip around the lunar landscape. Jon Agee's sweet and fun Life on Mars takes a similar approach, with much humour and tongue-in-cheekiness (4+).
Taitneoidh an leabhar nua sa tsraith Rita le Máire Zepf agus Andrew Whitson go mór leo siúd gur bhreá leo an spás – agus an greann: Rita agus an tEachtrán (2+). Téann Rita ar cuairt go plainéad eile, agus buaileann sí le heachtrán a bhfuil siblín beag acu, díreach mar atá ag Rita. Ach má tá sé sin díreach mar a gcéanna, níl rud ar bith eile, ó theanga go nósanna. I bhfírinne, tá gach aon rud bunoscionn ar phlainéad na n-eachtrán, fiú tá ar an léitheoir an leabhar a thiontú! Croí an leabhair, áfach, ná an teachtaireacht go bhfuil sé tábhachtach bheith tuisceanach leo siúd a bhfuil éagsúil leat féin. Dhá leabhar eile ón údar céanna (aois 3+), atá píosa beag níos maoiní agus b'fhéidir ruainne beag níos brónaí, ná Míp, agus ina dhiaidh sin, Míp agus Blípín.
Sna leabhair seo, téann róbó spáis ar thóir na n-eachtrán ar an bplainéad Mars, ach níl eachtrán le feiceáil áit ar bith – nó an bhfuil? An bealach a n-insítear an scéal – atá ag brath go hiomlán ar léaráidí áille Paddy Donnelly chun taispeáint dúinn conas atá na heachtráin chliste chineálta ag cur an dallamullóg ar Mhíp – ná ceann de na gnéithe is suntasaí de na leabhair iontacha seo. Do léitheoirí níos sine (8+), tá scéal Morf, ag Orna Ní Choileáin, maisithe ag Olivia Golden, scéal lán spraoi agus seafóide, mar gheall ar bhuachaill a fhaigheann, mar a cheapann sé, firín beag plaisteach mar bhronntanas, ach a fhaigheann amach ina dhiaidh sin gur spásfhirín atá ann!
Fans of Dog Man or anyone with a fondness for mayhem and silliness are in for a treat with Mac Barnett and Shawn Harris's The First Cat in Space Ate Pizza, a graphic novel bursting with feline astronauts, lunar royals, baby space pirates (with beards) and nail-clipping robots! (6+) For a less bonkers, but equally thrilling and fun adventure, try Cakes in Space by Philip Reeve and Sarah McIntyre (you'll never look at spoons in the same way…).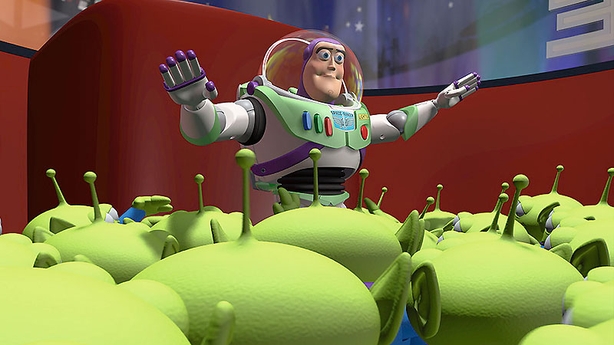 But what about aliens visiting Earth? Are there any of those around? David Wiesner's eponymous cat in Mr Wuffles brings readers of 5+ the absolute proof of this close encounter in a beautiful and clever, nearly wordless picturebook.
Space and futuristic adventures can get meatier and more serious as readers grow up, but the wonderful Zita the Space Girl graphic novel series by Ben Hatke retains a lot of freshness and fun that will win over kids of 7 and up. Neil Cameron's Mega Robo Bros series, first published in the comic magazine The Phoenix, is action-packed and full of humour as it follows the adventures of two robot brothers in a futuristic London (9+). Strong on everything mechanical with added alien life forms, Nathan Hale's steampunk One-Trick Pony is also fast-paced and full of surprises (9+). Finally, for those who like their sci-fi with a dose of magic, Vashti Hardy's Brightstorm Chronicles and Amy Bond's Morgana Mage in the Robotic Age are great places to start (9+).
Ready to jump into the unknown?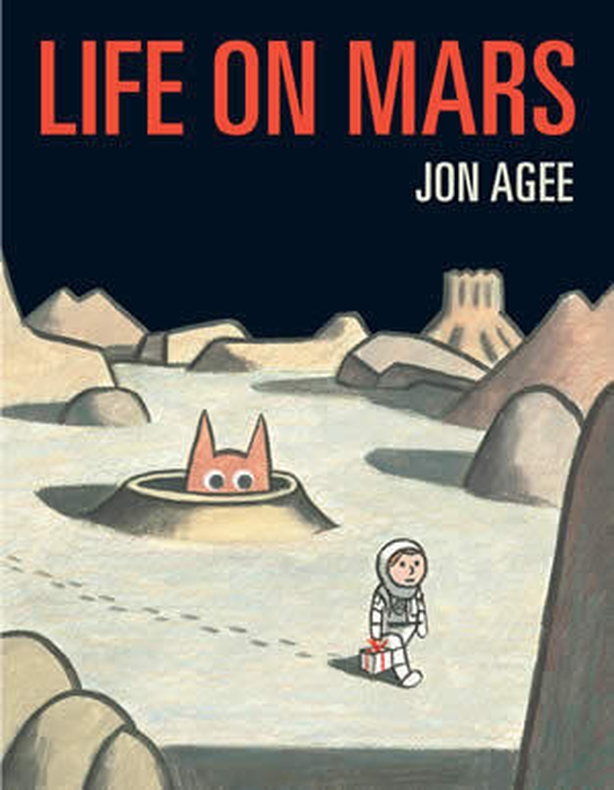 Life on Mars by Jon Agee, Scallywag Press, 32pp, ISBN 9780399538520
An astronaut sets off all alone to Mars to prove that there is life there. Everybody at home thinks they're crazy, but the astronaut is so sure of their success, that they bring a wrapped box of chocolate cupcakes as a present. But Mars is dark and cold, and the astronaut begins to think that they'll never find anyone to eat those cakes… Is it time to go home? But where did they park their spaceship? Could the Red Planet's giant red alien help out? Does the astronaut even realise they're being followed? Could there actually be life (and friendship) on Mars? This is a touching and witty story, full of charming, out-of-this-world illustrations. (Picturebook, 4+)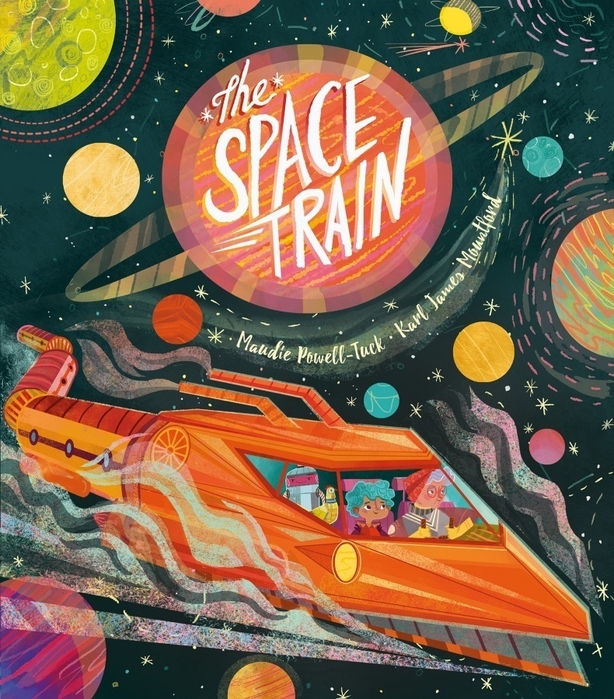 The Space Train by Maudie Powell-Tuck and Karl James Mountford, Little Tiger, 32pp, ISBN 9781848699458
What would you do if, like Derek, you lived on the edge of the galaxy in a space station far from Earth, with just your granny, and then one day you found an enormous disused rocket? Derek's granny explains that it is a space train that once travelled across the universe visiting thousands of other space stations. This can only mean one thing to lonely Derek – with a space train like this he can find friends. Together with a grumbly Toolbot and robot chicken, Derek and his granny set to work fixing this monster machine. Delightfully imaginative, with illustrations packed with tiny, humorous details, technical thingamajigs and curious lift-the-flap discoveries, this is a winner! (Picturebook, 4+)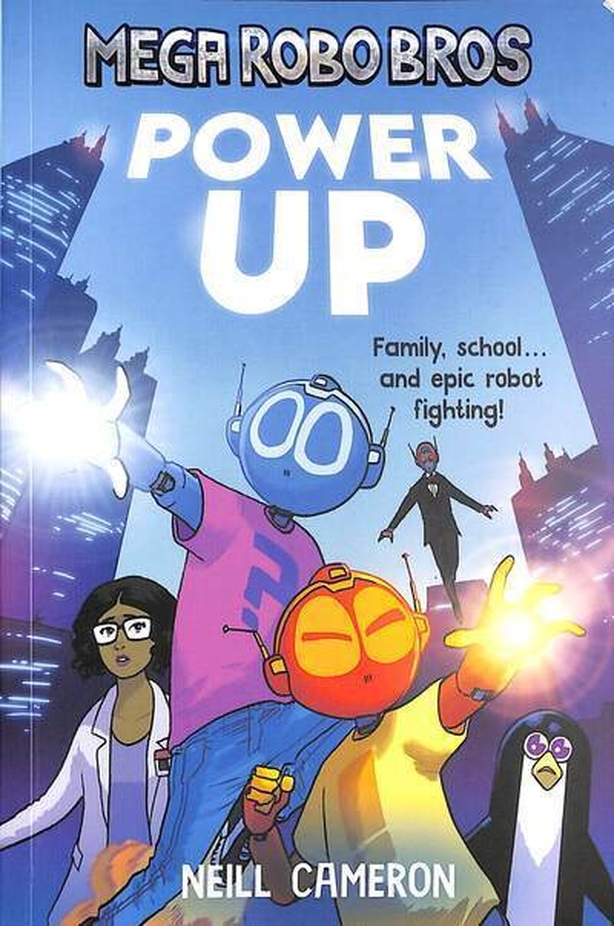 Mega Robo Bros: Power Up! by Neill Cameron, David Fickling Books, 208pp, ISBN: 9781788452007
Freddy and Alex are your run-of-the-mill brothers: they fight, they're late for school, they read comics, they have friends… Except, of course, that they are robots and come with superpowers. Adopted by a human family from a young age, the 'boys' get on with their lives until the day a mysterious baddy starts setting traps for them, deadly ones. This is an awesome comic book: fast-paced, exciting, funny and, incidentally, with a marvellous sense of ethnic, religious and gender diversity. There are now five books in the series and even a spin-off following the hilarious adventures of Freddy, the younger brother in this awesome duo. So much to enjoy! (Graphic novel, 9+)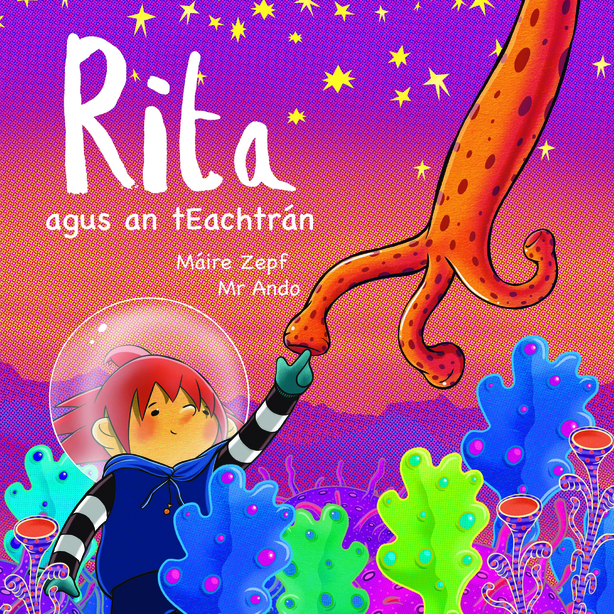 Rita agus an tEachtrán le Máire Zepf, maisithe ag Mr Ando, An tSnáthaid Mhór, 32lth, ISBN 9781912929313
Sa leabhar seo samhlaíonn Rita cad a bheadh i gceist dá gcasfadh sí ar eachtrán, agus tugann sí faoi deara le linn an scéil go mbeadh idir éagsúlachtaí agus chosúlachtaí eatarthu. Is leabhar pictiúr bríomhar é seo a bhuí le léaráidí Mr Ando: tá rian an ghreannáin ar chuid mhaith de na leathanaigh a dhéanann an léitheoir a ghluaiseacht go réidh trí na radhairc ar fad. Tá comhbhá de dhlúth agus d'inneach i scéal Zepf, agus is mór an áis í dá bharr sin. Foghlaimítear go gcaithfidh Rita a bheith tuisceanach agus í ag cur aithne ar a chara nua éagsúil aisteach, agus feictear go bhfuil sí in ann a bheith báúil i leith mhothúcháin agus eispéireas an eachtráin. Mar sin, bheadh an leabhar seo fóinteach sa bhaile agus ar scoil araon.
Click here to look back on more of RTÉjr Book Clubs.