This month's RTÉjr Book Club with thanks to our friends at Children's Books Ireland is all about reluctant readers. It's written by Ruth Concannon. Ruth is a Book Doctor and book reviewer. You can follow Ruth's reading recommendations on Instagram Stuck for Books here or join her online event Stories for Worriers by booking tickets here.
Plus, we have Irish language recommendations from Jenifer Ní Ghrádaigh, Oifigeach Gaeilge at Children's Books Ireland.
One of the most common visitors to the Children's Books Ireland Book Clinics are reluctant readers. A reluctant reader is defined in the Book Doctor's handbook as a young reader who is not particularly interested in any type of book, or a reader who does not enjoy reading.
In mild cases, these readers may present at clinics with a sense of boredom or disinterest towards what they are currently reading. More advanced cases of reluctant readers may also demonstrate symptoms such as being capable of reading in school but refusing to read at home. In extreme cases, they may also show signs of avoiding reading at all costs, preferring literally any other activity – even cleaning their rooms!
If you or a loved one are experiencing any of the above symptoms, you will be pleased to know that being a reluctant reader is a curable condition. It is perfectly natural to go through phases with reading; to love it, hate it or just simply to get stuck in a reading rut. Even children who are avid readers can develop symptoms of being a reluctant reader from time to time. The easiest road to recovery is to find a way to make reading enjoyable again and luckily there are several treatments that the Book Doctor can prescribe in this instance.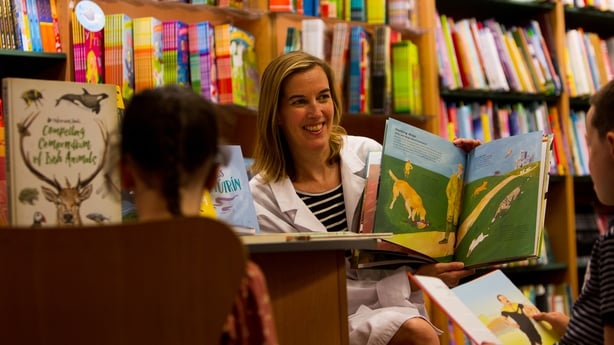 First things first, if readers are finding it tricky to get to the end of a long book, a simple solution is to choose shorter reads. Book Doctors have observed that reading and completing one short book can often be a great incentive for readers to pick up another one to repeat this sense of achievement. Barrington Stoke are a fantastic publisher who make books that are super readable, catering specifically towards reluctant and dyslexic readers. These high-quality, but shorter reads are often the best medicine for readers with short attention spans also.
Some of this Doctor's favourites for readers aged 9+ include Hetty and the Battle of the Books by Anna James and illustrated by Jez Tuya. The school library is a safe haven for Hetty, but when the funding for the library is pulled meaning the library will soon have to close, Hetty hatches a scheme to safe her favourite space for all of the book-loving students in her school. Readers aged 8+ who love a laugh will enjoy The Day my Family Disappeared by Jo Simmons and illustrated by Lee Cosgrove. In a family full of creative artists and performers, Bob is constantly taunted by his siblings for his lack of talent, leaving Bob wishing for all his family to disappear. When Bob awakes to find his family have vanished, his elation quickly turns to fear as he sets out on Operation Find My Family and try to fix his mistakes.
Don léitheoir Gaeilge drogallach, mholfainn Tubaiste ar an Titanic le Máire Zepf (7+). Seo leabhar deas gearr ach lán le scleondar. Tá an longbhriseadh cheana ar eolas ag nach mór gach éinne, rud a dhéanann an leabhar níos soléite arís, agus a chuireann le teannas an scéil. Leabhar gearr eile atá éasca le léamh agus a tháinig amach le gairid ná Inis Mara le Tristan Rosenstock (8+), scéal a bhaineann le cúrsaí timpeallachta. Tá línelíníochtaí ann freisin, chun cabhair a thabhairt don léitheoir agus atmaisféar a chruthú, agus tá an scéal féin inste i dteanga shoiléir.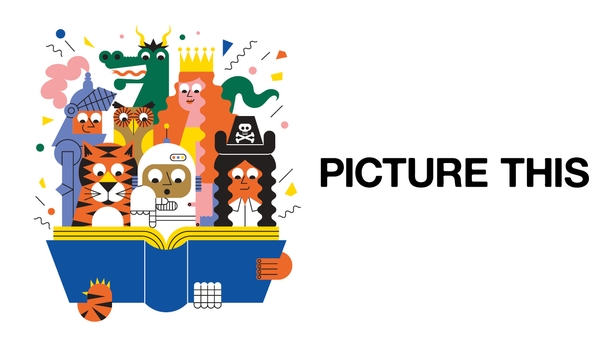 Sometimes the Book Doctors will issue repeat prescriptions and the one I give out most often is to recommend reluctant readers try reading graphic novels instead. It has been eight months since Children's Books Ireland launched our most recent reading guide Picture This! Recommending over 230 graphic novels, picture books and comics for readers aged 0-18; but we still have lots of new recommendations since then! Fans of Roald Dahl aged 8+ might enjoy the laugh out loud story of Alcatoe and the Turnip Child by Isaac Lenkiewicz. The story follows, Alcatoe, a witch who lives in Plum woods and loves to cause a bit of mischief with her magic. When sisters Holly and Emma along with their friend Chris decide to get revenge on the grumpy Mr Pokeweed by winning the harvest vegetable pageant by growing an enormous vegetable, they turn to Alcatoe for a bit of magical assistance.
However, the magic goes slightly awry creating not just a giant vegetable, but a turnip child! Readers aged 10+ who prefer a fantasy story might like to try Lightfall Book One: The Girl and the Galdurian by Tim Probert. Bea lives in the forests of Irpa, a world brightened by an artificial sun and inhabited by weird and wonderful creatures. When her Grandfather, the Pig Wizard vanishes leaving behind only a cryptic note, Bea sets out to find him accompanied by the cheerful Galdurian on an unexpected adventure with many twists and turns.
Tá sé deacair teacht ar úrscéalta grafacha sa Ghaeilge atá dírithe ar pháistí óga, ach is fiú go mór an tsraith Art Abú (Scoil na nArrachtaí, Spiorad na Coille agus Dúrún Dhonnabháin) don aois 10+ nó b'fhéidir níos óige ag brath ar léibhéal teanga an pháiste. Níl na scéalta féin trom, tá greann istigh iontu, agus tá an chuid is mó den ghreann intuigthe ó na léaráidí beag beann ar an téacs féin.
Some readers like to listen to a story but find remaining still for too long makes them jittery. For active children, the best medicine is a book that combines reading with a bit of action. Cookbooks are great for this, as they combine procedural reading and practising your cooking or baking skills also. Chop, Cook, Yum! Recipes from the Cool Food School by Deirdre Doyle is a great basic cookbook to help readers aged 9+ to grasp the basics of creating their own culinary delights. Included here are recipes for deadly desserts, lunchbox fillers and even themed meals around celebrations like Christmas or St. Patrick's Day. For active readers aged 8+ who prefer experimenting with science, Science is Magic by comedian and YouTuber Steve Mould combines the mystery of magic tricks with the logic of science. This is a great
book for getting the whole family reading and experimenting with easy-to-follow instructions for recreating magic tricks using items found around the house, as well as explaining the science behind these tricks and other popular magical phenomenon.
Sa Ghaeilge, tá an tsraith An tEolaí Óg ó Futa Fata (Spraoi le hUisce, Mo chorp, Sa Ghairdín, Sa Chistin), aistriúchán ón mBéarla ach le húdar as Contae Thiobraid Árann, Lisa Burke. Tá gach ceann de na leabhair seo lán le treoracha chun do thurgnamh féin a dhéanamh sa teach nó sa ghairdín.
Finally, some of my patients present at the clinic and are swiftly diagnosed with a case of boredom. These patients need an action packed read, something to keep them guessing, or perhaps they are not seeing the stories they would like to read on their shelves. If you are sick of waiting for someone to write a story you want to read, it may be time to write it yourself! Telling Tales Journeys in Creative Writing by Rudi Haig and illustrated by Kim Hankinson invites budding authors aged 10+ to get creative guided by Ms. Adjective and Fluffy the dog. This choose-your-own-adventure style story encourages storytelling, writing and following your imagination to create a new adventure with every read. Readers aged 5+ who love to have a say in what they are reading might enjoy Pick a Story: A Dinosaur and Unicorn and Robot Adventure by Sarah Coyle and illustrated by Adam Walker-Parker. Mixing dinosaurs, unicorns and robots, this is a choose-your-own-adventure with three possible stories and many possible endings! This story is a fantastic option for an impatient patient, or for a group of reluctant readers in need of aid. Hectic and hilarious, this is a real page-turner that will be sure to give you a giggle and when all else fails, laughter is often the best medicine.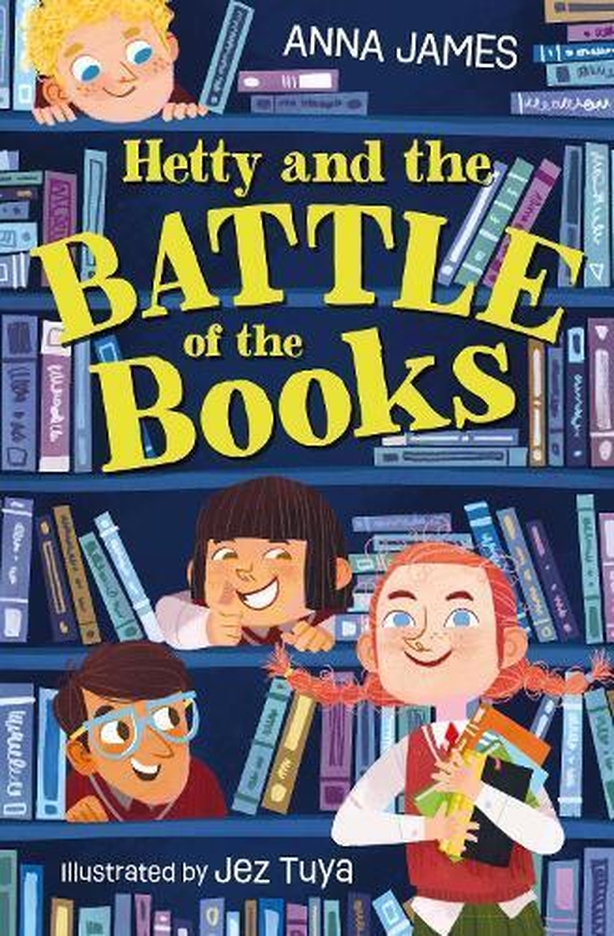 Hetty and the Battle of the Books by Anna James and illustrated by Jez Tuya, Barrington Stoke, 68pp ISBN 9781800900998
Hetty isn't the only person in her school who loves the library but when you've fallen out with your friends, it's not just a special place, it's a safe place. Under the kindly wing of Mrs. Juster, the librarian, it's the best kind of library; where all book-loving students can gather and a social hub for clubs to meet. The bookish bliss is disrupted by the awful news that funding for the library has been cut and the library will be closed. Hetty can't let this happen but she knows she isn't the kind of student that Principal McCarthy will listen to, so she needs the right kind of help.
As anyone familiar with her Pages & Co. series will know, Anna James is a skilled storyteller, and this novel interweaves the importance of books and libraries to young readers with the challenges of growing up and navigating friendships. Hetty is an engaging protagonist, she's flawed and endearing and willing to swallow her pride to save her beloved library. Saving the day requires the friends to learn to communicate and co-operate which makes this a great read for 8+ as these can be tricky skills to learn. An uplifting ending reinforces the importance of community action and people power and the illustrations provided by Jez Tuya reinforce the narrative and bring the characters to life. As always with Barrington Stoke novels, a big story is told effectively in only 68 pages, perfect for a dyslexic, reluctant or indeed any reader.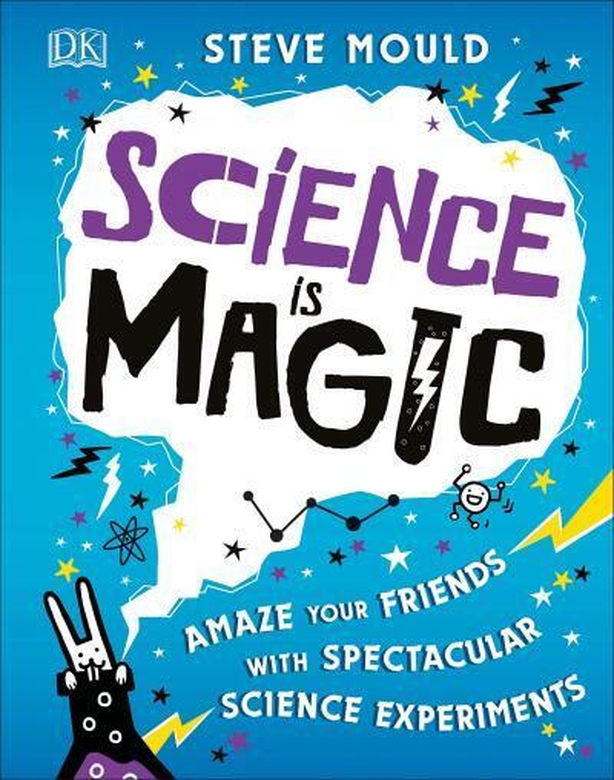 Science is Magic by Steve Mould, DK Books 96pp ISBN 9780241358269
Steve Mould, the physicist, comedian and popular YouTuber, brings his expertise and humour to a new book which demystifies the magic of magic tricks. In Science is Magic, not only is the science behind the impressive magic tricks explained, but Steve also teaches readers how to re-create these awe-inspiring tricks themselves, using common household items. With simple step-by-step instructions and illustrations, this book makes it easy for you to baffle, flabbergast and bamboozle your unsuspecting friends and family.
This book teaches scientific magic tricks and provides lots of educational information on how our world works. It explains the logic behind mind-reading and healing crystals, as well as providing simple, clear explanations of some of the world's most fascinating natural phenomena, such as the cosmic auroras, glowing fireflies, and the mysterious sailing stones of Death Valley. Perfect for all inquisitive readers and budding young magicians.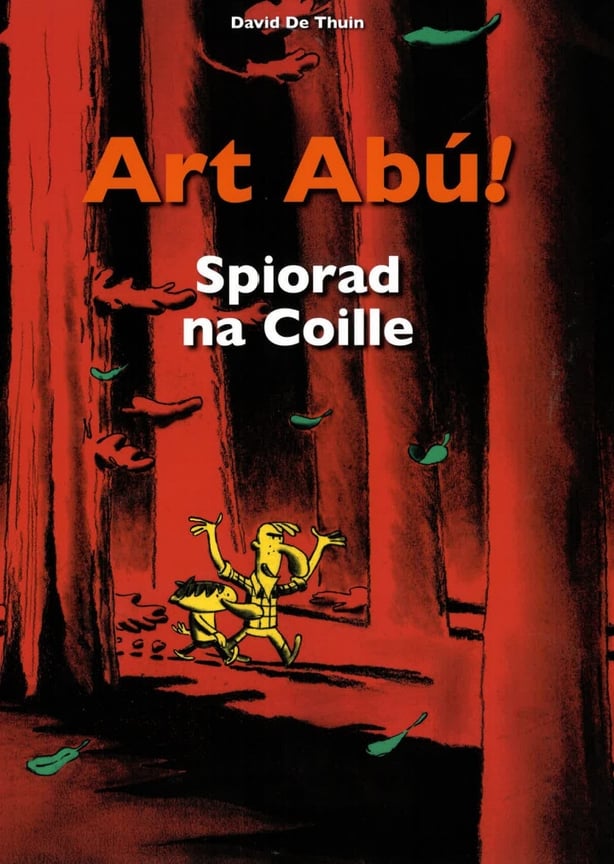 Art Abú! Spiorad na Coille le David de Thuin, Dalen Éireann 46lth ISBN 9781913573409
Is í an troid lena Dhaid a chuireann tús le heachtra Airt, agus a chuireann fonn air éalú isteach sa choill. Cuireann an cúlbhrat dearg sna painéil leis an mbaol a bhraitheann an leaid óg. Ní fada go bhfaigheann sé amach nach í an choill an namhaid is mó atá roimhe. Beartaíonn sé féin ar eagla a chur roimh "An Cladhaire Mór". Níl ach dhá chéim shimplí sa phlean atá aige: Iontas agus Díoltas!
De réir mar a chuireann Art aithne ar na crainn agus na plandaí, tugann sé faoi deara nach ina aonar atá sé ar chor ar bith. Is é an cairdeas a fhásann idir é féin agus duine le lucht na coille. Tá cúpla casadh sa scéal nuair a chaithfidh Art teacht ar fhíorfhéiniúlacht a charad nó nuair a bhuaileann sé le Spiorad na Coille, an carachtar a thugann teideal don scéal ar fad.
Cloistear fuaimeanna na timpeallachta nua go ríshoiléir mórthimpeall ar Art agus é i mbun campála ar an bplásóg choille. Insítear an scéal go tapa sa dialóg chliste ghonta idir na carachtair agus tá guth comhaimseartha Gaeilge ag na carachtair. Is féidir eachtraí eile Airt a leanúint sna leabhair eile sa tsraith Scoil na nArrachtaí agus Dúrún Dhonnabháin.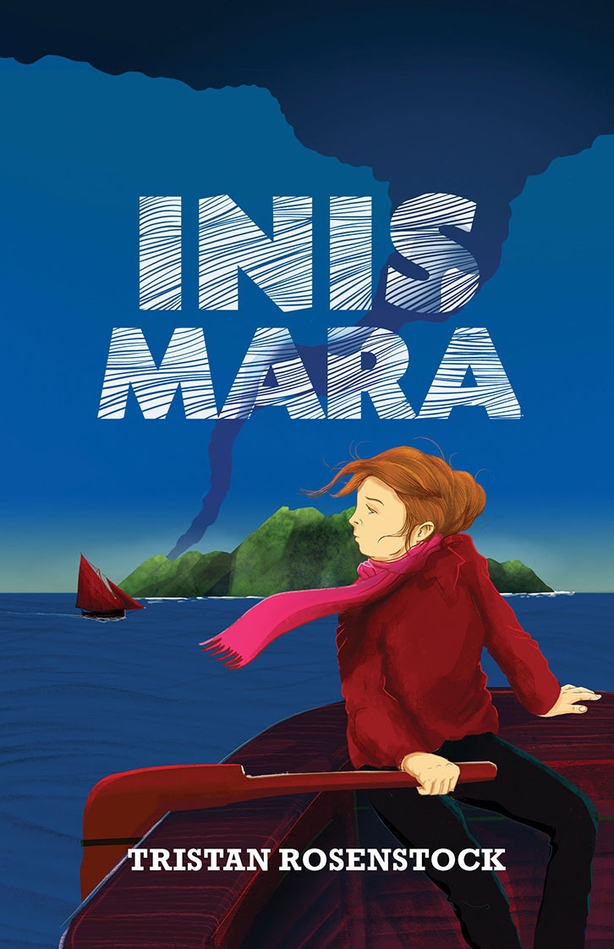 Inis Mara, Tristan Rosenstock, Leabhaircomhar, 71lth ISBN 9781919601397
Seo scéal Éabha, cailín óg atá ina cónaí ar oileán Inis Mara agus na heachtraí athiteann amach tar éis do cheannaire nua bheith roghnaithe le bheithi gceannasar an oileán. Faraor is duine santach é an ceannaire nua, agus in ainneoin gondeir sé go bhfuil sé ag obair ar son an phobail, is a mhalairt atá fíor. Is cailínneamhspléach agus éirimiúil í Éabha agus is faoi Éabha atá sédrochghníomhaíochtaían cheannaire a thabhairt chun solais agus teacht igcabhair ar mhuintir an oileáin, agus iad a spreagadh le hobair le chéile.
Tá an scéal taitneamhach agus spreagúil, tá gluaiseacht mhaith ann agustaitneodh an scéal seo le haoisghrúpaí éagsúla.Táléaráidí deasa i ngach aonchaibidil, tána hailt deas gearr,agustáfocailnuaaibhsithe agus mínithe saghluais ag cúl an leabhair. Gné dheas eile faoin scéal ná minicíocht agus athrána bhfocal agus cabhróidh sé sin le léitheoirí.
Tá doimhneachtsa scéalmaidir le ceisteanna mórachúrsaí na linne seo;athrúaeráide, acmhainní nádúrthaa úsáid agus gníomhú ar son leasa an phobailagus na timpeallachta. Tá ceisteanna ann maidir le ceannaireacht, luachannaagus róil dhaoine sa phobal agus an saol traidisiúnta agus an saol chomh-aimsearthaagus cuirfidh léitheoirí óga suim sa scéal.
Click here to look back on more of RTÉjr Book Clubs.