This RTÉjr Book Club is from Juliette Saumande, a children's book writer whose pride in life is to make her own granny laugh and whose latest title, My Little Album of Ireland (illustrated by Tarsila Krüse and published by The O'Brien Press) is out now.
Moltaí Gaeilge ó Jenifer Ní Ghrádaigh, Oifigeach Gaeilge le Leabhair Pháistí Éireann agus léitheoir craosach críochnaithe.
Hands up if you have fond memories of time spent with a grandad or a nana or a great-aunt as a kid. Hands up if those memories involve food; going to new places; trying out new things; staying up really late; doing something your usual responsible grownup would likely frown upon.
A child's relationship with an older person can be so joyful, so rich, so free, and also so fragile. The books in this month's selection celebrate those highlights, giving young readers wonderful senior companions, especially for those times when their real-life ones aren't around.
Giles Andreae and Emma Dodd's now classic I Love my Granny and I Love my Grandad are odes to this special bond, sung in clear, short verse that young voices will love joining into (ages 0-4). No book captures the excitement of a visit to a grandparent quite as much as Taro Gomi's energetic I Really Want to See You, Grandma, in which Yumi sets out (by herself, in a nod to the best fairy tales) to see her granny, while Grandma, seized by the same idea, starts her own journey towards her grand-daughter (ages 0-4).
An older person's physical appearance can be a source of fascination (and, potentially, worry) for young kids: what are all those lines on Nana's face? Is it because she's sad? Simona Ciraolo's beautiful book provides a reassuring answer (The Lines on Nana's Face, 4+), while the surprising Wrinkles by JR and Julie Pugeat uses photographic portraits of diverse older people to explore facial expressions and personal histories (ages 4-8).
Is mór an spórt iad mamó agus daideo, iad ag taispeáint dearcadh eile ar an saol, agus bealaí eile chun an grá a léiriú. Scéal simplí ach greannmhar, grámhar do pháistí óga (2-4) ná Madra Dhaideo (Enric Lluch agus Montse Tobella), ina insíonn Daideo scéalta beaga dochreidte (abairt amháin gach ceann!) mar gheall ar éachtaí a mhadra agus é óg.
Do pháistí píosa beag níos sine (4-8) is féidir lán na súl a bhaint as léaráidí suntasacha Róisín Hahessy in Geansaí Ottó le Sadhbh Devlin, scéal faoi luchóg fhaiseanta atá náirithe ag na geansaithe a chniotálann a mhaimeo dó, ach a dtagann malairt intinne air faoi na geansaithe céanna ar ball nuair a théann sé ar strae sa choill ar a bhealach go dtí a teach.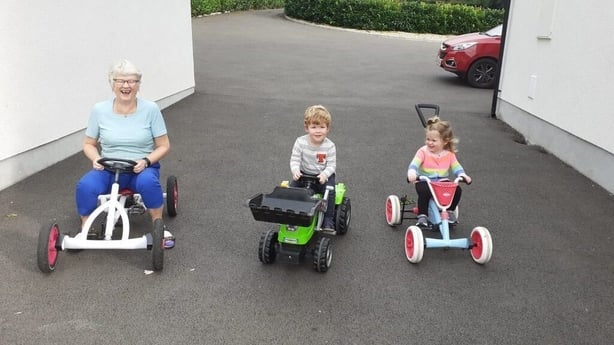 Building connection, sharing stories and celebrating heritage is also high on the agenda of such touching books as Shu Lin's Granpa (Matt Goodfellow and Yu Rong, 5-7), Where Three Oceans Meet (by Rajani Larocca and Archana Sreenivasan, 4+), Grandad's Camper (Harry Woodgate, 4-7) or the mouth-watering graphic novel Measuring Up (Lily Lamotte and Ann Xu, 8-12), where Cici tries to keep in touch with her A-má in Taiwan through cooking.
On the more fanciful side, readers from the age of 5 will love meeting Meara's grandad and hearing his extravagant stories in Paddy Donnelly's whimsical The Vanishing Lake, while fun-loving kids with a taste for the absurd will giggle their way through Eric Veillé's Encyclopedia of Grannies, a hilarious but tender mock-documentary celebrating grandmothers in their endless individuality.
Because, of course, older people are people too! They're not just fluffy and comforting, they're not all grey hair and knitting needles. Take Sanae Ishida's Ba-Chan, the Ninja Grandma (the title says it all! 5-8), Isaac Lenkiewicz's Alcatoe and the Turnip Child (a cranky witch with a reluctantly good heart, 7-10), the high-energy, huge-personality older generation in Sophie Escabasse's Witches of Brooklyn (9+) or the gruff and grumpy and surprisingly fragile grandpa Frank in Jenny Pearson's Grandpa Frank's Great Big Bucket List (9+) and you'll have a delightful sample of humanity as it ages.
In Matríóisce le Siobhán Parkinson do léitheoirí 10+, téann cailín ar thóir a seanmháthar (agus buaileann lena sin-seanmháthair freisin), nuair a fhiosraíonn sí a sinsir – ag taispeáint conas is féidir leis an ngaol idir na glúinte bheith, uaireannta, casta. Agus ceiliúradh ar an ngaol sin, fiú nuair atá sifil na haoise i gceist, atá in Hata Zú Mhamó, le Laureate na nÓg, Áine Ní Ghlinn (Age 7+) – atá freisin ar fáil le héisteacht air mar chlosleabhar, saor in aisce ar souncloud
For this selection, we have focussed on mostly joyful titles, but kids' books don't shy away from the more difficult stories, stories of illness, of dementia, of grief. For anyone looking for such book recommendations, check out the Children's Books Ireland's Grief reading list here!
As we get closer to Global Intergenerational Week (25 April to 1 May) check out the Share a Story Reading Guide here!
For now, grab a junior, grab a senior, and enjoy some time together!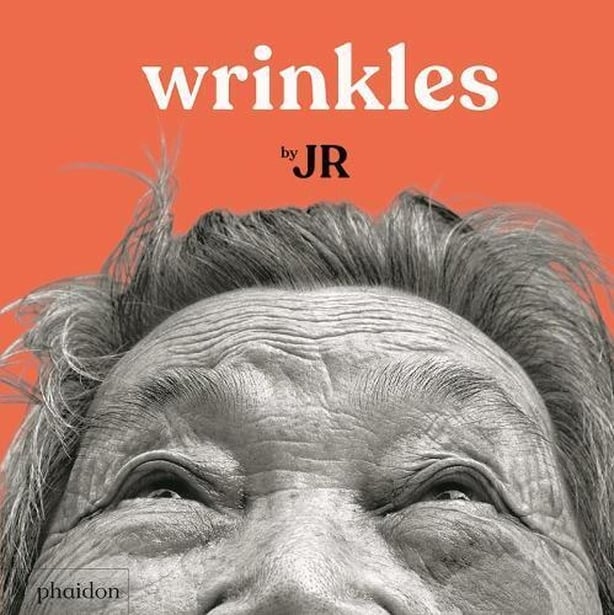 Wrinkles, by JR and Julie Pugeat, Phaidon, 40pp, ISBN 9781838660161
'We all have eyes, we all have a nose, we all have a mouth...And some of us have wrinkles...Wrinkles tell the story of someone's life.' This gorgeous collection of striking black-and-white photographic portraits on a flashy orange background invites young readers to observe, feel and investigate all the wrinkles sported by the people around them. What stories do they tell? What feelings do they show? Poring over each face, you will soon find yourself feeling as thoughtful, calm, happy or even cheeky as the models! (Non-fiction, Age 4–8)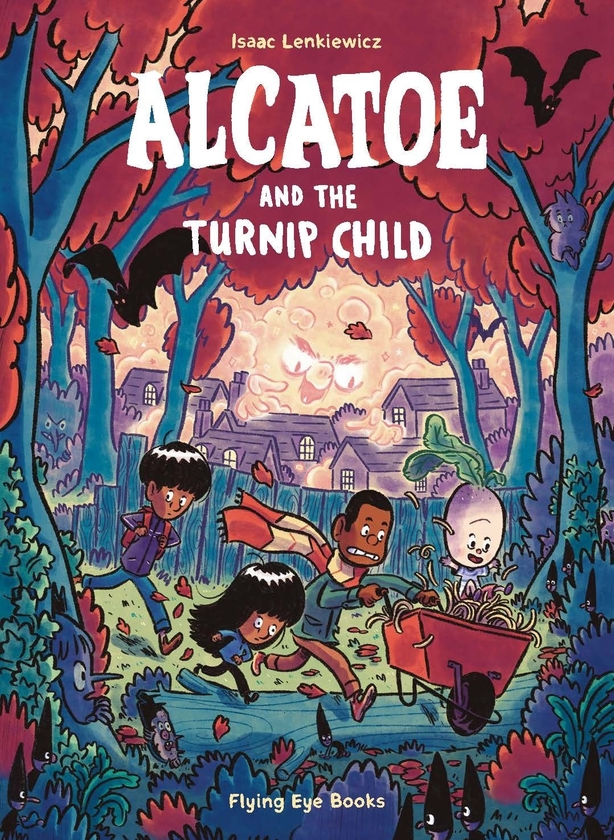 Alcatoe and the Turnip Child, by Isaac Lenkiewicz, Flying Eye Books, 64pp, ISBN 9781838740146
This graphic novel tells the story of Alcatoe, a grumpy yet kind-hearted forest-dwelling witch, and the children she befriends despite herself. Told in the first person, in Alcatoe's direct and gruffly funny voice, the story is simple yet satisfying, as Emma, Chris and Holly attempt to enlist the witch's help to teach their nasty neighbour a lesson. Using a gorgeous palette of autumnal colours – browns, reds, golds – author Isaac Lenkiewicz brings Plum Woods and its Harvest Festival to convincing life! (Graphic novel, Age 7+)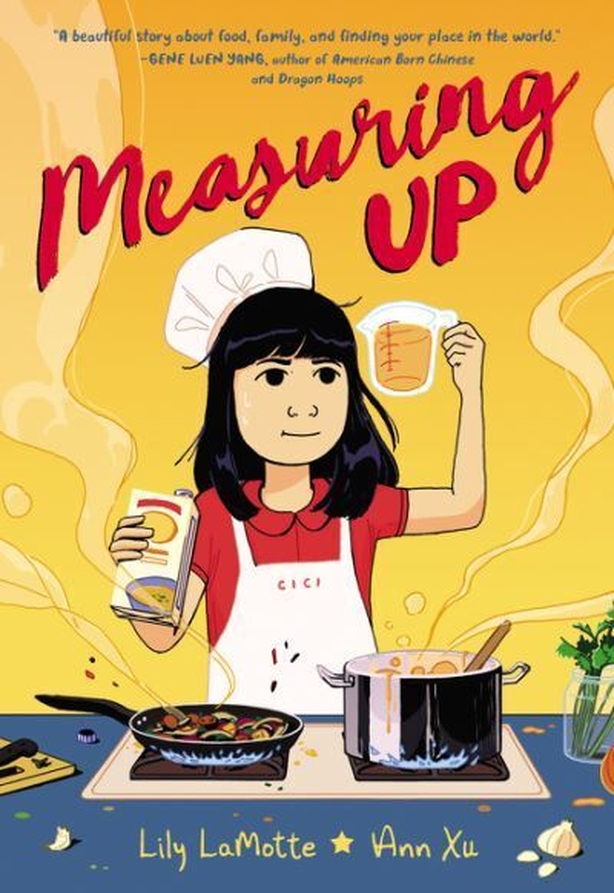 Measuring Up, by Lily Lamotte and Ann Xu, HarperCollins, 208pp, ISBN 9780062973863
Measuring Up follows Cici as she navigates moving continents, cultures and expectations. Having left her beloved A-má (grandmother) behind in Taiwan, Cici must find her feet in this new life and it's hard. It's with A-má in mind and with her support that Cici secretly enters a cooking contest; if she wins the cash prize, she'll be able to fly her grandmother over to Seattle. Measuring Up is a fun, light and delicious-looking graphic novel that tackles identity, belonging and expectations in a clever and interesting way. (Graphic novel, Age 8–12)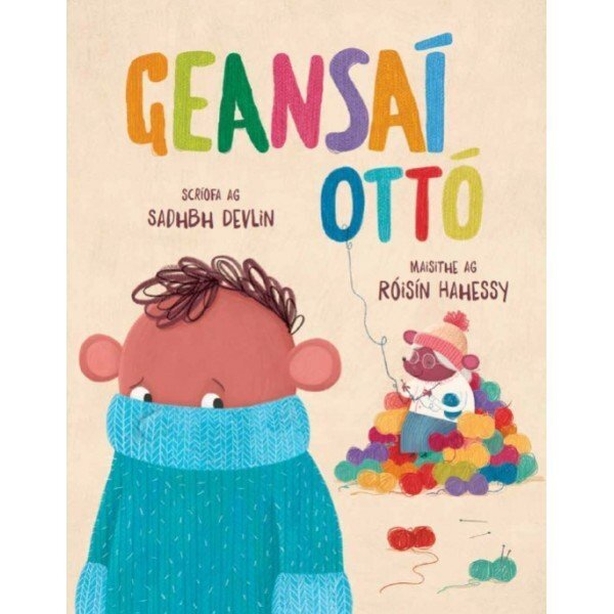 Geansaí Ottó, le Sadhbh Devlin, maisithe ag Róisín Hahessy, Futa Fata, 28pp, ISBN 9781910945599
Is breá le hOttó beag a bheith gléasta go faiseanta. Tá stíl ar leith aige, agus tá cónaí air i dteach snasta nua-aimseartha. Is breá le Mamó Ottó geansaithe thar a bheith neamhfhaiseanta a chniotáil dó áfach. Ach lá amháin nuair a théann Ottó ar thuras fada in aimsir ghránna chun an cheist sin a phlé le Mamó, tuigeann sé luach na n-éadaí 'scríobach-scrábach' a dhéanann sí dó.
Déanann an leabhar speisialta seo ceiliúradh ar an ngrá idir na glúnta, agus taispeánann sé na bealaí éagsúla ar féidir le seantuismitheoirí a gcuid grá a chur in iúl. Scéal chomh teolaí le geansaí olla atá anseo, a bheadh foirfe mar scéal roimh dhul a chodladh ar oíche fhuar gheimhridh. Beidh fonn ort é a léamh arís agus arís eile. (0-4, 5-7)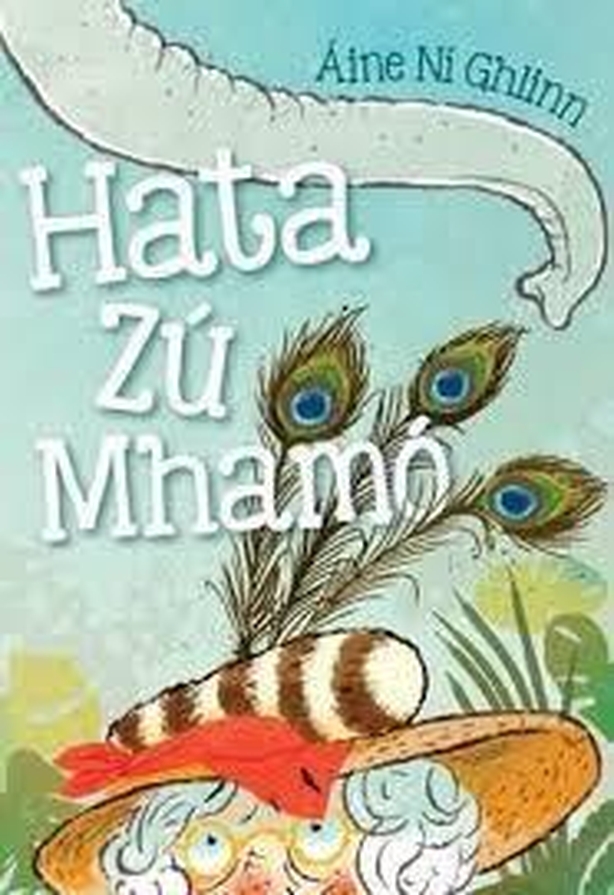 Hata Zú Mhamó, le hÁine Ní Ghlinn, Cois Life, 62lch, ISBN 9781907494604
Tá Mamó Shiobháin ag druidim le bliain is nócha d'aois agus ó am go chéile bíonn mearbhall intinne uirthi. Ach nuair a théann Siobhán ar cuairt chuici sa teach altranais tá Mamó ag fanacht le hata nua spéisiúil uirthi agus loinnir ina cuid súile. Tá plean craiceáilte aici. In ainneoin a cuid amhrais glacann Siobhán páirt lárnach sa phlean seo agus cabhraíonn sí le Mamó agus a beirt cara éalú ón teach altranais chun dul chuig an zú.
Is scéal é seo atá lán de ghreann, de ghrá, de spleodar agus de chroí. Is scríbhneoir den chéad scoth í Áine Ní Ghlinn atá tar éis scéilín álainn agus carachtair fíor-tharraingteacha a chruthú dúinn. Bogann an scéal ar aghaidh ar luas bríomhar le heachtraí corraitheacha ach luas a chinntíonn chomh maith go bhfaigheann an léitheoir léargas álainn ar na príomhcharactair agus an gaol atá eatarthu. (Age 8-10)
Click here to look back on more of RTÉjr Book Clubs.