This Ecolution looks at energy, our power grid and the changes that are zapping along our timeline...
Press play up top or subscribe here now!
On the show we speak with Sarah O'Rourke, an engineer with Eirgrid, the company that maintains the flow of our current electricity supply as well as adapting it to future use. John O'Shea of Codema, Dublin's Energy Agency who are committed to leading Dublin's low-carbon transition towards 2030 and 2050.
And, we visit Kilkenny to meet Donal Gallagher of Asylum Productions, a theatre company who, last April used a Creative Ireland grant in Creative Climate Action to set up the Callan Energy Store. A pop up space that invited the entire community to be a part of their own energy future.
You can watch a short film on their work here...
Young people mightn't think about electricity costs that much because, right now, we're not paying the bills. But this year is seeing a huge increase in the cost of our power. For many reasons. The cost of fossil fuels have sky rocketed, made worse by the war in Ukraine.
Currently Europe gets 40% of its gas from Russia and they've halved that supply in retaliation at sanctions imposed upon them since the war began. This has sent governments scrambling to find a solution, with many countries running campaigns asking people and businesses to reduce the power that they use day to day.
Click here to read a report on these energy saving tips.
The increased prices set alarm bells ringing, making us all think a lot more about how the electricity we use is being produced. And, why it costs so much.
Let's think about the scale of the energy we use in Ireland by using the humble electric kettle. It takes about 2 kilowatts of energy to boil it. One million kilowatts is called a gigawatt. Across Ireland, our daily consumption, including electricity, heat and transport is about 70 giga-watt hours. So, That's equivalent to one and a half million kettles boiling water constantly for the full 24 hours!
Even if we just strip it back to the average daily figure for electricity in Dublin alone, that's still half a million kettles boiling away.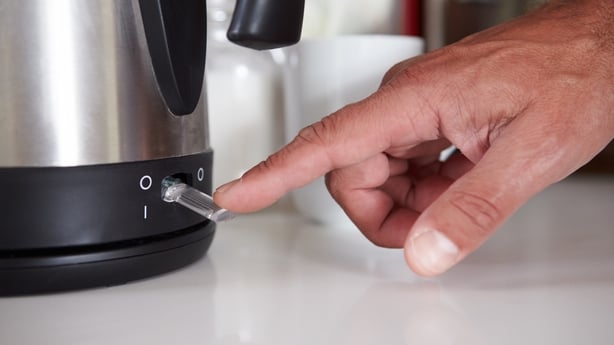 In an Oireachtas Committee on Environment and Climate Action yesterday, Eirgrid CEO Mark Foley said that "we see a heightened challenge, in that we have less generation available than last winter"
"Our greatest risk will manifest at times of very low to zero wind and low imports from Great Britain," he added.
Eirgrid managed to avoid any electricity blackouts last year but they can make no such guarantee for the coming Winter.
Currently, Data Centres account for approximately 10% of the power used in the country. In a conservative study Eirgrid predicted that this will increase to 20% of the power we generate by 2030.
From the perspective of cost and supply, it's clear we have to change how we generate our power. And this is something that's already underway. In 2010, Renewable energy accounted for only 4.4% of our generation. According to Eirgrid, in 2020 we averaged at a daily supply across the year of nearly 40%, with one day in February of that year offering a figure closer to 60%.
The Government's Climate Action plan sets out a requirement to increase the proportion of renewable electricity to up to 80% by 2030, including an increased target of up to 5 Gigawatts of offshore wind.
Building wind offshore is a large part of the solution, but it could also effect areas of our oceans that might otherwise be marine protected. It's a very tricky balance, made all the trickier by increased demand for power across Ireland.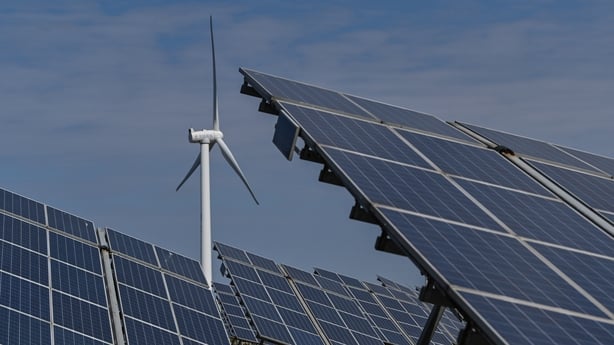 Weather conditions do affect our current renewable output. Yesterday, the weather was warm and sunny with very little wind, so the grid showed quite a mix. Gas made up for 60% of the power generation with renewables only making up 13% and coal and peat making up the rest. Our system is still very reliant on the burning of fossil fuels.
You can see how Ireland is powered every day here on the RTÉ Climate Change site.
Humans never seem to stop innovating and people continue to work on cleaner power alternatives. In a study published last week in Nature, researchers at Cambridge say they've created a prototype of a floating solar "leaf," which uses the power of the sun and the water to create the building blocks for syngas, a sustainable fuel.
There are no super easy solutions. If there were we'd have flipped the switch on them already. Solving our energy problem will require a mosaic of solutions. But in this episode of Ecolution it seems that, in the circuitry of our electric grid, new routes are being plotted.
Listen and subscribe to the Ecolution podcast HERE or wherever you get yours!
Click here to read all the articles from Ecolution Series 2.
If you know a young person who has an interesting story to tell, a project they're working on that relates to nature or the environment, or one who'd like to be part of our Brain Trust why not email junior@rte.ie.