Sam's amateur detective skills are put to the test when she suspects Granuaile the Pirate Queen has moved in next door - but will anyone believe her?
It's all about about the importance of being yourself, even when you feel the pressure to blend in.
Watch X Marks the Spot on RTÉ Player HERE or catch it on RTÉ2 on October 31st at 5.40pm!
Directed by Hugh O'Conor (Metal Heart) and starring Clare Dunne (Herself, Kin) as Granuaile and Sive Doyle as Sam. X Marks the Spot is produced by Eithne Fitzsimons of Tailored Films and funded by the Eurovision and RTÉjr.
Now make your own Treasure Map!
What you'll need:
Paper
A tea bag
Water
Markers
Follow these steps:
1. To make the map look old you start by tearing the straight sides off the page, so it is nice and ragged.
2. Soak the tea bag and rub it all over the paper on both sides until it is a nice brown colour.
3. Crumple up the page, and open it up again, to make it look extra old and battered. Then, leave it to dry for a few hours.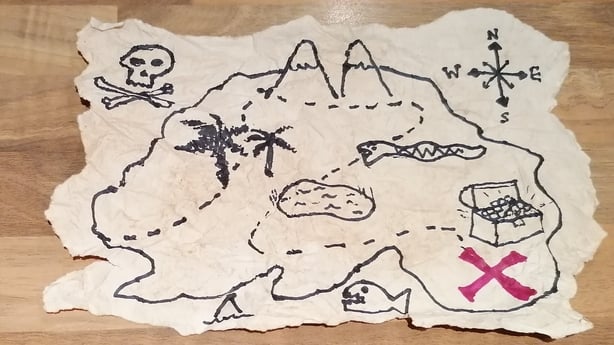 Tip: Do a few pages. That means you have spares if you want to do a couple of maps for different games with your family.
4. When your map is dry it should look like it's hundreds of years old. And now it's time to draw your map.
5. You can use the skills you learned earlier from the teacher to draw an accurate map of your room or whole house, or you can draw a totally made up pirate world of palm trees and sea monsters. Don't forget to put an X where the treasure is.
6. To finish your map off, roll it up, and keep it rolled up with a piece of string or ribbon, or anything that can keep it rolled up and looks good.
HAVE FUN!
You can find the full activity sheet from Home School Hub HERE!