Tony Connelly's grandfather was an RIC constable from County Galway who went north after partition and joined the RUC. In a new documentary, Connelly traces an extraordinary family story
In 1920 an IRA gunman came to shoot a constable in the Royal Irish Constabulary (RIC). According to variations of the story, the gunman was talked out of killing the constable because the RIC man had his four-year-old son with him.
The RIC man was Michael Connelly, my grandfather. He (thankfully) survived the incident and the War of Independence. However, Partition and the violent disbandment of the RIC in 1922 would run like a dagger through his life and the lives of his six children, three born in Carrick-on-Suir in County Tipperary prior to independence, and three born in County Antrim post-Partition.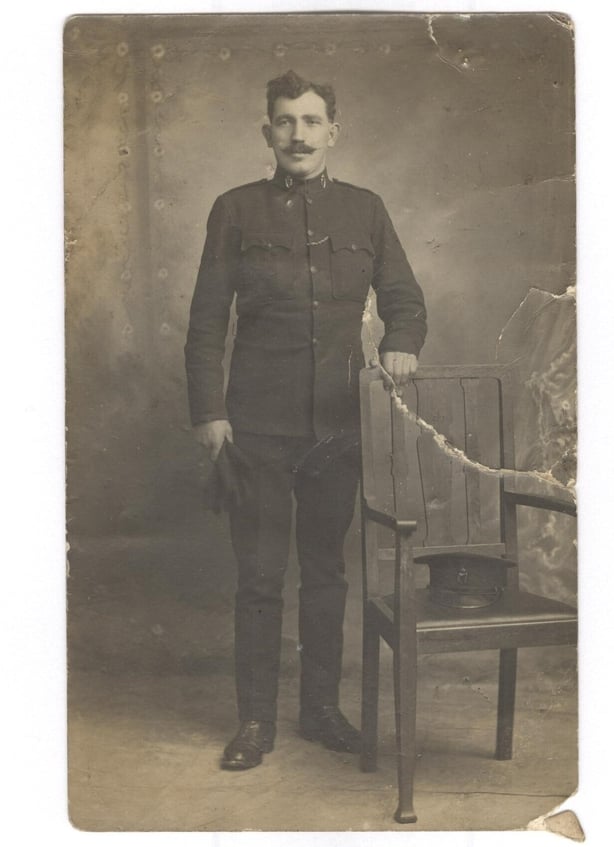 Michael Connelly died in Belfast eight months before I was born. After disbandment and a brief period of unemployment in England he joined the fledgling RUC in October 1922 (one of 1,300 ex-RIC men who did so). He spent the remainder of his policing life as a Catholic RUC sergeant in heavily loyalist Larne.
That was as much as I knew: he had been in the RIC and ended up in the RUC (which is why I grew up a Northerner). He seemed a remote, somewhat stern figure whose children, but for the hand of history, would have grown up in Carrick-on-Suir, but who now had to make their way in the newly-forged Northern Ireland, the offspring of a Catholic policeman who had to almost over-prove his loyalty to the new, reputedly sectarian police force.
My father maintained that life "must have been hard" for Michael Connelly, but that life was not always fleshed out in conversation.
Remembering the RIC
In January 2020, the government arranged a commemoration for the 542 RIC and Dublin Metropolitan Policemen who had been killed during (and immediately after) the War of Independence. When the event descended into outrage and condemnation on the basis that the Black and Tans were also being honoured, Charlie Flanagan, the then Minister of Justice who had arranged the event, hastily dropped the idea.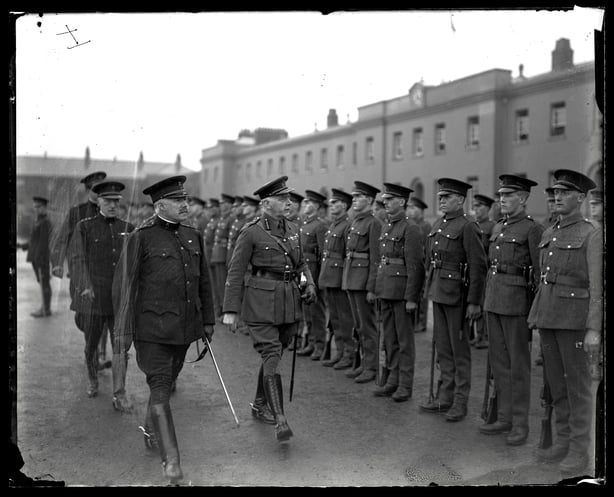 That prompted my interest in exploring Michael Connelly's life. His story might contribute to what had become a harsh, binary debate: the RIC were either the sons of poor Catholic farmers, or they were a brutal colonial force, in step with the murderous Black and Tans.
Apart from the attempted shooting story, I did not know much. I knew he had been born outside Ballinasloe in County Galway to a large family, some of whose descendants still live nearby. I started gathering reflections from my father, now 95, and my aunt Mary, who at 98 remains a font of precise knowledge, which poured during a Skype call from Toronto.
Tracing the story
There was a second track that would take me though the public record: birth certs, police service records, newspaper archives. The 1901 census for the tiny locale of Cloneena recorded a Matthew Connelly (described as a shepherd) and his wife, Mary, who had married in the 1870s and had thirteen children (one of whom, my grandfather Michael, was born in 1887).
This was a typically large, agrarian Catholic family. In the 1900s five siblings emigrated to America. The 1911 census recorded eight children still in Cloneena; my great grandmother Mary had died, and Michael, her son, had left to join the RIC. A faded photo shows him wearing his uniform as a young recruit in Dublin in 1908.
There were a few medals knocking around. It turned out one was for rescuing a family from a burning building, but only a fleeting portrait of Constable Connelly was available.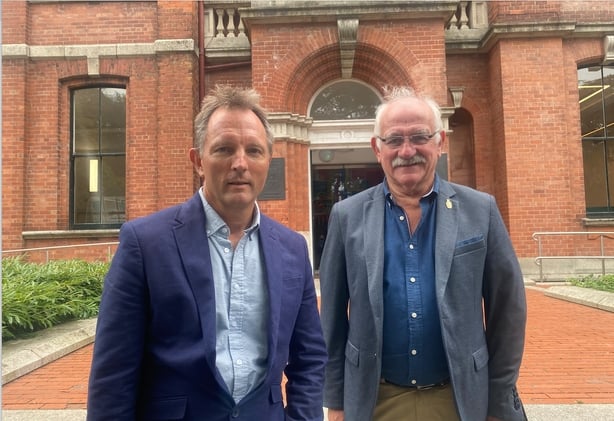 I started contacting historians. Jim Herlihy, a retired Garda and founding member of the Garda Síochána Historical Society, who has spent years writing books on the RIC, was a treasure trove of information, with an intuitive understanding of fragmented RIC records.
Brian Hughes, a lecturer in history at Mary Immaculate College in Limerick, and Sean William Gannon, were writing extensively on the role of the RIC in the revolutionary period and beyond. John Reynolds, a former curator of the Garda Museum and author of 46 Men Dead: The Royal Irish Constabulary in County Tipperary 1919-1922 was a prime source of knowledge about the raising of the RIC in the 19th century, and the bloody fate that awaited them in Tipperary (where my grandfather was stationed).
Making a documentary
My original intent was to write a piece for RTÉ News Online, but as a sharper picture began to emerge, I suggested to Colm O'Callaghan, Head of Specialist Factual programming, that there might be a documentary in it. He enthusiastically agreed, and throughout 2022 I fitted ongoing research into 1900s Ireland around my day-to-day responsibilities on Brexit and the Russian invasion of Ukraine.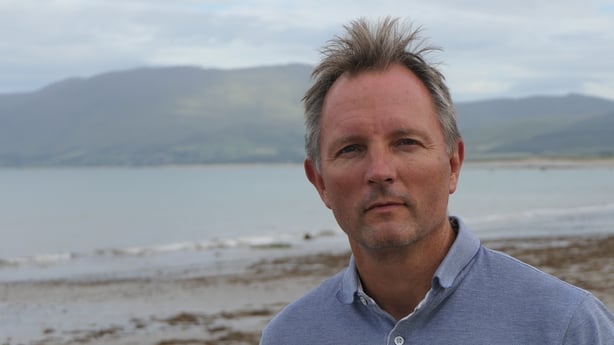 I teamed up with Strident Media, the Belfast-based production company and we got things off the ground with an interview at home in Derry with my father, Tim. In August we spent two weeks following the footsteps of my grandfather, from a Franciscan abbey in County Galway, to Castlegregory, County Kerry (where he was first posted and where he met my grandmother Norah Flynn), to Carrick-on-Suir, and then up to the northernmost tip of County Antrim (Ballycastle, where he was first posted as an RUC man) down to the village of Armoy and finally to Larne, where ironically enough, opposition to the Northern Ireland Protocol, which consumed my day job, was strongest.
I was starting out with a handful of old photographs and family anecdotes, and the idea was that historians, archivists and experts would help me flesh out a three-dimensional picture of the grandfather I never knew. In so doing we might shed light on the legacy of the RIC, and how that might be reconciled with the violent foundation of the Irish State.
I had grown up in Derry as a constitutional nationalist, from a solidly SDLP-voting household. I was also a correspondent with the Irish national broadcaster. I had never spent much time pondering the morality of the War of Independence.
A complex picture
Yet, a complex picture emerged. The vast majority of RIC men were from modest, Catholic backgrounds who were not equipped to run a counter- insurgency against an increasingly well-trained and disciplined IRA. Thousands quit, some joined the IRA, some provided intelligence, some kept their heads down and tried to get through it. Even after the truce quite a few RIC men were murdered.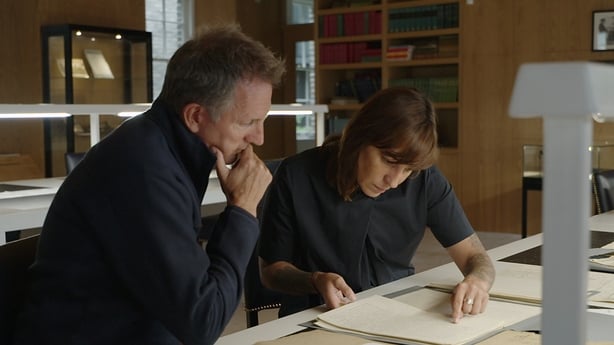 Where did my grandfather fit in? It is hard to be definitive, but the stunning discovery of a document in the Bureau of Military Archives in Cathal Brugha Barracks in Dublin - followed by another remarkable connection sourced through a local Facebook group - shed an intriguing light on relationships he forged in Carrick-on-Suir from 1915-1922, even those on the other side of what was becoming a murderous guerrilla war.
A question I needed to answer was, how did he see himself? Irish? British? A policeman? A father? He was born into rural poverty in 1887 in the west of Ireland, married a Kerry woman in 1915, survived the war in Carrick-on-Suir, and ended his life as a Catholic RUC sergeant in the loyalist heartlands of County Antrim.
We need your consent to load this YouTube contentWe use YouTube to manage extra content that can set cookies on your device and collect data about your activity. Please review their details and accept them to load the content.Manage Preferences
Every Saturday night in Larne he would polish the shoes of all six children, so they were spotless going to mass the next morning. He was drafted in to protect Catholics who were being stoned by loyalists as they made their way to the boat bringing them to the Eucharistic Congress in Dublin in 1932. Yet, when my father Tim let slip he was attending Irish classes organised by a well-known republican family in Larne, my grandfather was furious.
His accent, and his religion, were noticed in Larne. Prominent graffiti appeared next to the RUC barracks that Sgt Connelly was "an IRA man".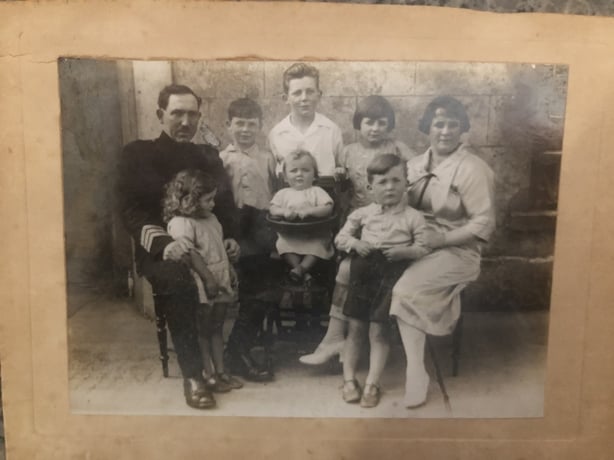 A shocking encounter
When my father was around 12, he went with Michael Connelly to where the tent for Duffy's Circus was being erected. My grandfather asked my father to mind his bike as he had a nose around inside. He came out ashen-faced moments later. He had just encountered, face-to-face, the former IRA gunman who had come to kill him in Carrick-on-Suir in 1920.
According to my aunt Mary in Toronto, her father never spoke about the war, or about where he stood on the national question (he once remarked that he admired Michael Collins, but that De Valera had "ruined" Ireland).
Mary says:
"He was a wonderful singer. We could never get him to sing, but whenever Christmas came around, we would plead with him. He had the most gorgeous voice. He sang all the Irish songs - The Fields of Athenry, She Moved Through the Fair, The West's Awake…"
Michael Connelly quit the RUC when he was given a transfer to Portadown and ended his working life as the groundsman at the Sisters of the Cross and Passion convent in Larne.
My father says Michael Connelly's true home was Galway, yet he only returned once, to attend the funeral of his brother John in 1960. On occasional visits to Dublin in the 1940s and 1950s he could not resist going to the Garda Depot in the Phoenix Park to watch, through the railings, as the new recruits of the new Irish police force paraded.
What thoughts were going through his mind? I'll never know.
Tony Connelly: A Hidden History aired on Monday 12th June on RTÉ One and RTÉ Player at 9.35pm. You can watch it here on RTE Player.