When Eileen McGrane, Captain of the UCD Cumann na mBan branch, recalled Thomas McDonagh, one of the executed Easter Rising leaders and her lecturer in the National University of Ireland (UCD), she said: "I remember a significant phrase of his during a discursive lecture to the effect that the spirit of a person can remain after the person was gone, adding that his spirit would be here when he was no more." 

Indeed, the men and women who took part in Ireland's revolution haven't been forgotten, though the women who played a major role were largely overlooked for decades. This neglect has since been greatly addressed by many historians.

Joseph McKenna, in his book Women in the Struggle for Irish Independence' cites Lily Mernin, Linda Kearns, Moya Llewleyn Davies and Eileen McGrane as 'the most effective women' in the War of Independence. 
It's important to note that countless women made contributions, big and small. They all played an important part. But it's Captain Eileen McGrane's story that I'd like to focus on. Dr. Eileen MacCarvill (née McGrane) was my grandmother and as we mark the centenary of the War of Independence, I want to play my part to commemorate her as an Irish revolutionary.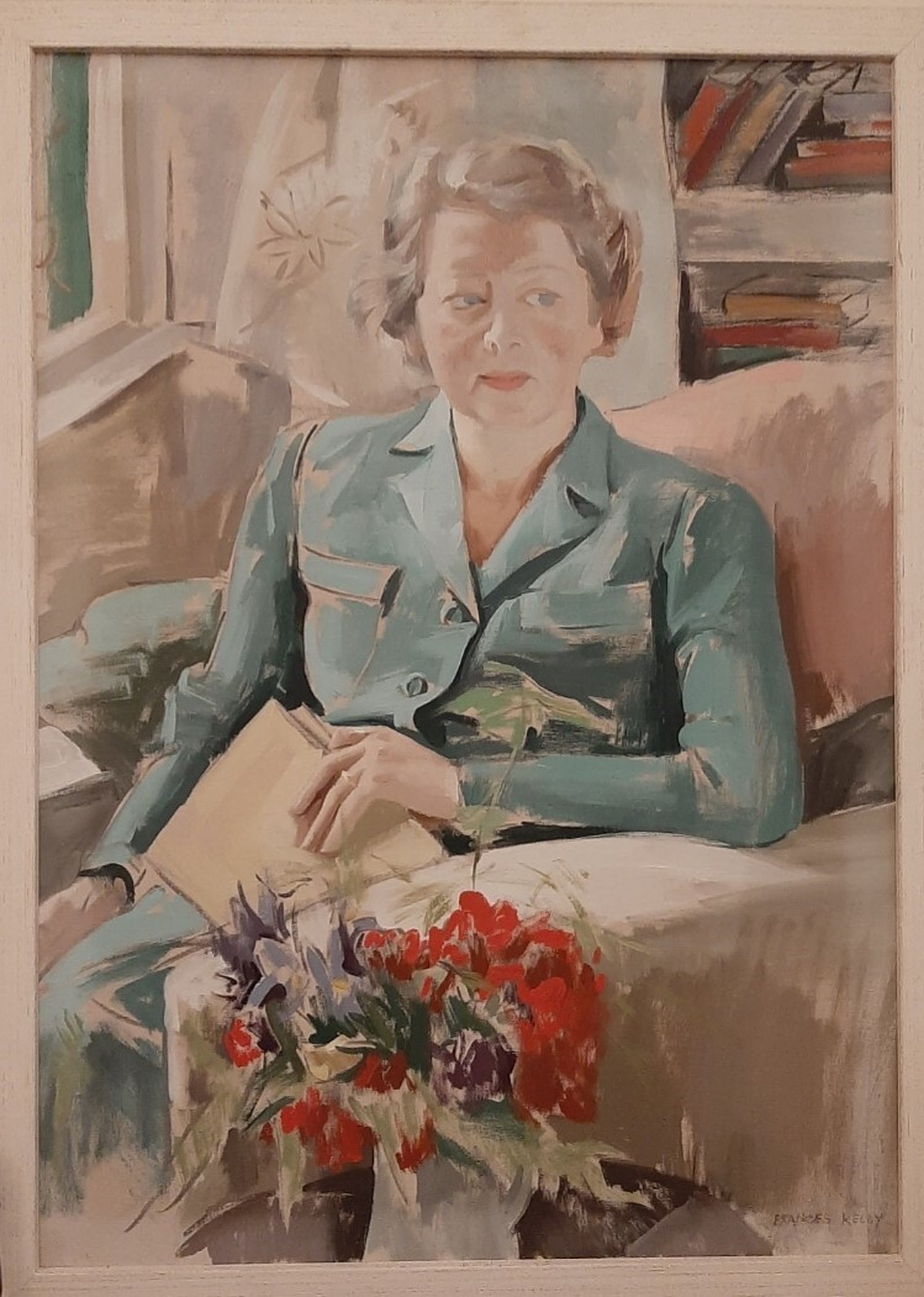 Photograph of a painting of Dr Eileen MacCarvill née McGrane. Reproduced courtesy of the MacCarvill family
Jack B. Yeat's painting 'Going to Wolfe Tone's Grave' is a good starting point to tell Eileen's story. Eileen was the original owner of the painting. Like many of Jack's friends, such as Samuel Beckett and Ernie O'Malley, Eileen paid for it in installments. It was a hugely significant painting for Yeats. After visiting the grave of Wolfe Tone, 'the father of Republicanism',  in 1898, Yeats' subject matter was almost exclusively thereafter Ireland. For me, the painting represents two important cross sections of their friendship; their great interest in the Irish Republican cause and through art, Ireland's search for a national identity. It's this ideology which, I believe, drove Eileen to 'take up the cause'. 
Captain McGrane
In Dominic Price's book 'We Bled Together: Michael Collins, The Squad and the Dublin Brigade', referencing the "central role played by women in supporting the Irish revolution", the author writes that "women were involved officially as members of Cumann na mBan. They were also involved on an unofficial level, engaging in covert operations". Price cites Eileen as one such woman.
Eileen officially held senior roles in Cumann na mBan, as Captain of the UCD branch, Director of Publicity and a member of the Executive. Unofficially Eileen worked in intelligence with Michael Collins.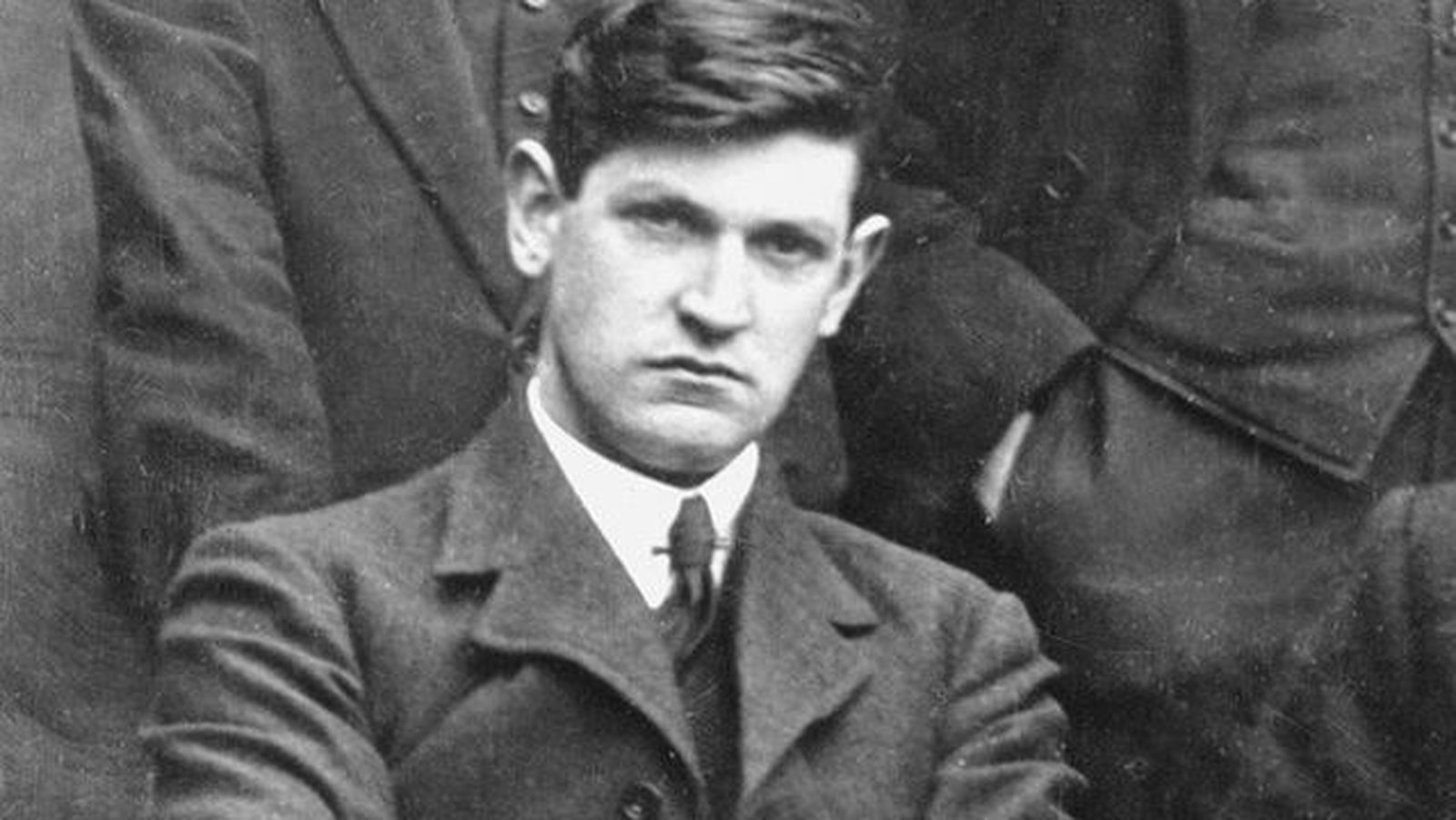 McGrane's friend and comrade Michael Collins, with whom she worked closely during the War of Independence. Even after the Civil War, she retained fond memories of him. 
From her Cumann na mBan statement, it's clear that she had an interest in bridging alignment with the IRA. At the Cumann na mBan Annual Convention in 1919, she proposed to reorganise Cumann na mBan "to make it a more efficient military unit to meet enemy hostility". Eileen said that "the proposal was well received by the younger delegates who showed a desire for the reorganisation." The vote was carried by a large majority.
To facilitate further cooperation, Eileen said, "I was one of the movers in getting in touch with the headquarters of the IRA. I would say from that time we were very associated with them in our work."
According to Eileen, "when the national reogranisation began in 1917 I became acquainted with General Collins. I was a student in University College, Dublin and had joined the military forces to be trained to take part in the fight for independence". On Collins' instructions, she couriered large sums of money in gold for the Department of Finance and accompanied Collins on visits to Mrs. de Valera, when Eamon was in America. 
The secret room
Soon Eileen would deepen her involvement with Collins. Taking on the role of Michael Collins' private secretary, the room in the centre of Eileen's flat at 21 Dawson Street for two years became a hub for IRA intelligence, frequently used by Michael Collins, Ernie O'Malley, Tom Cullen and Arthur Griffith. It became a repository for documents of the GHQ IRA Intelligence Department. Eileen said she would be "in daily communication with Michael Collins and Tom Cullen" and "very few people knew of the existence of the room".

On New Year's Eve, 1920, Eileen's top floor flat was raided by 15 members of the Auxiliaries, a paramilitary unit of the Royal Irish Constabulary.
J.B.E. Hittle's book 'Michael Collins and the Anglo-Irish War' said that Colonel Ormonde Winter, Head of British Intelligence "orchestrated a New Year's Eve raid on the residence of Eileen McGrane, a college professor, prominent Sinn Fein member and Collins' confidante." 
While it was a coup for British intelligence, following Bloody Sunday on the 21st November 1920, when 13 British Intelligence officers from the 'Cairo-gang', soldiers and police were killed, the raid on Eileen's flat was a major blow to Collins. The papers seized in the raid, led to the arrest of Ned Broy, who was a double agent in the Dublin Metropolitan Police, copying sensitive files for Michael Collins.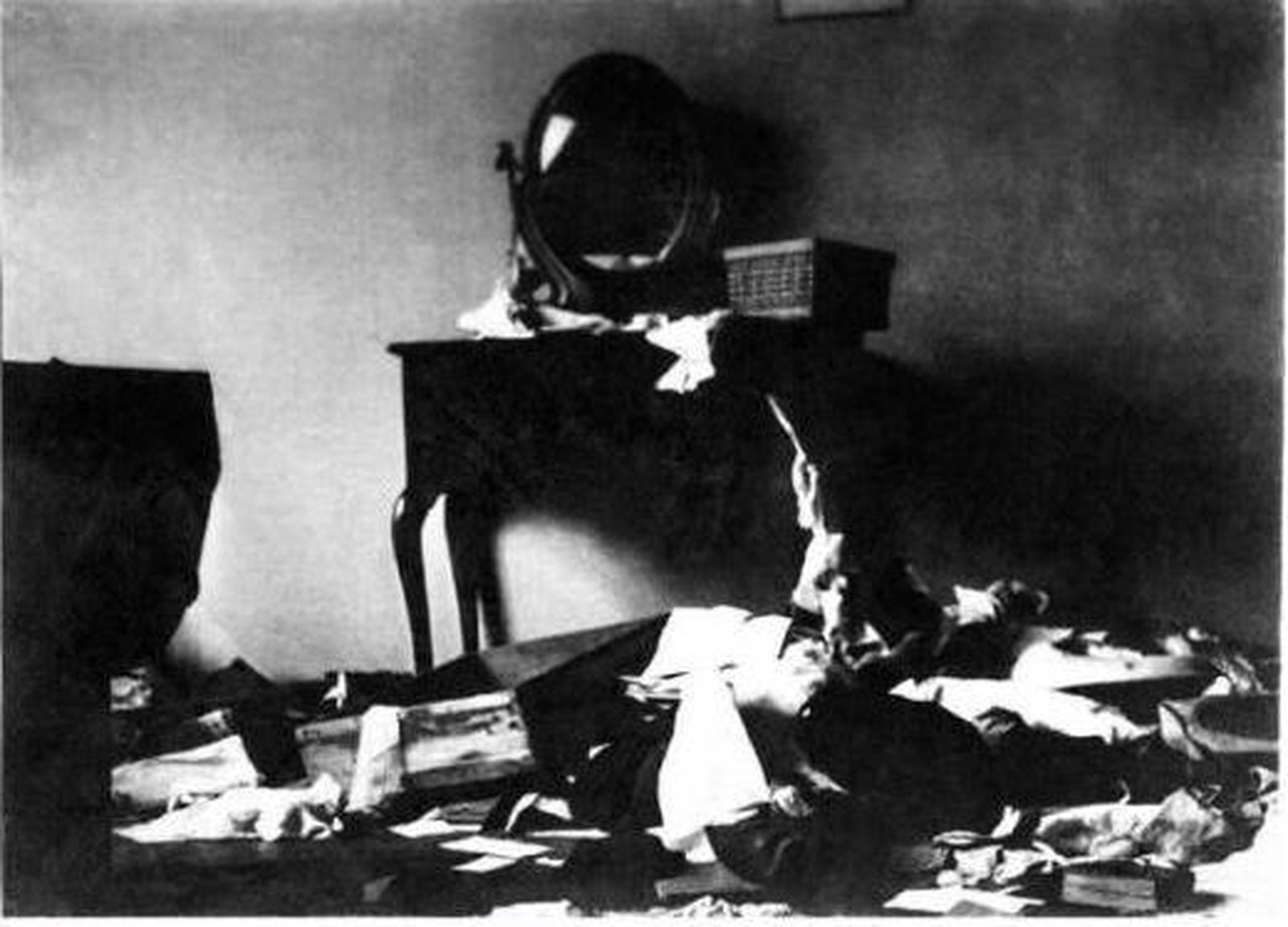 Eileen McGrane's flat following the raid by the Auxiliaries on 31st Dec 1920. Image courtesy of the Military Archives
In Dominic Price's Book 'We Bled Together', Price said, "Discovered in the apartment was a specially kitted-out room for use as a temporary office, crammed with IRA intelligence papers. It was, however, also an arms dump. Eileen McGrane, the British discovered, was fully acquainted with the contents and nature of all of them. In addition, six revolvers and a large quantity of dum-dum ammunition were found." 
Eileen was brought to Dublin Castle and interrogated by Sir Ormonde Winter, Head of British Intelligence. Eileen spoke not one word.
Describing her treatment at the Castle, she said: "I was detained there the whole night, undergoing continuous interrogation". She alleged that she "was treated with indignities while in the Castle and threatened with torture."
Charged with High Treason, Eileen was sent to Mountjoy Prison on the 1st January 1921. While in Mountjoy, she was the Commandant (Officer in Charge) of the women political prisoners. Michael Collins instructed the Dublin Brigade to organise her escape but the British discovered the plan.
Eileen's court martial date was set for 12th May 1921. In her statement to the court, Eileen said, "the obvious question that arose was why hold her responsible for arms and ammunition and not for the literature which was also found". No answer was given by the court on this important question.
In official British records on the case, a letter between Dublin Castle and the Home Office in London discussed Eileen's trial.
"There was no doubt that all of these papers were in her custody and that she was fully acquainted with the contents and nature of all of them. They would have enabled her to be tried under practically every regulation of the R.O.I.R. (The Restoration of Order in Ireland Act 1920).

It was considered for obvious reasons that it would be better on the whole to try here under R.O.I.R 9AA alone rather than to bring the documents into the case, and accordingly she was merely charged with possession of the revolvers. She was sentenced to four years penal servitude which in present circumstances cannot be regarded as an excessive sentence."
Prison walls
On the sentence, Eileen said, "That was really to get rid of me and as the Truce was coming on they didn't want unpleasantness with Collins, and at the same time they didn't want to let me go, they charged me with a couple of guns that I had nothing to do with." 
Eileen was imprisoned in Waltham Prison, Liverpool on the 25th May 1921. Eileen makes no reference to her time in Waltham Prison. However, Linda Kearns who was also a political prisoner in Liverpool at the same time, described the prison, "the food was bad, and the prison was dirty and badly kept". 
According to UK Home Office records, Eileen was transferred from Liverpool to Mountjoy on the 10th August 1921 "at the special request of Sinn Fein".
As Officer in Command of the women political prisoners in Mountjoy, Eileen did not sanction the infamous escape of women prisoners, led by Linda Kearns and later brought charges against her. The escape had serious consequences for the rest of the women political prisoners, with the remaining women prisoners placed under the guard of the Auxiliaries. As a response, the women political prisoners went on hunger strike.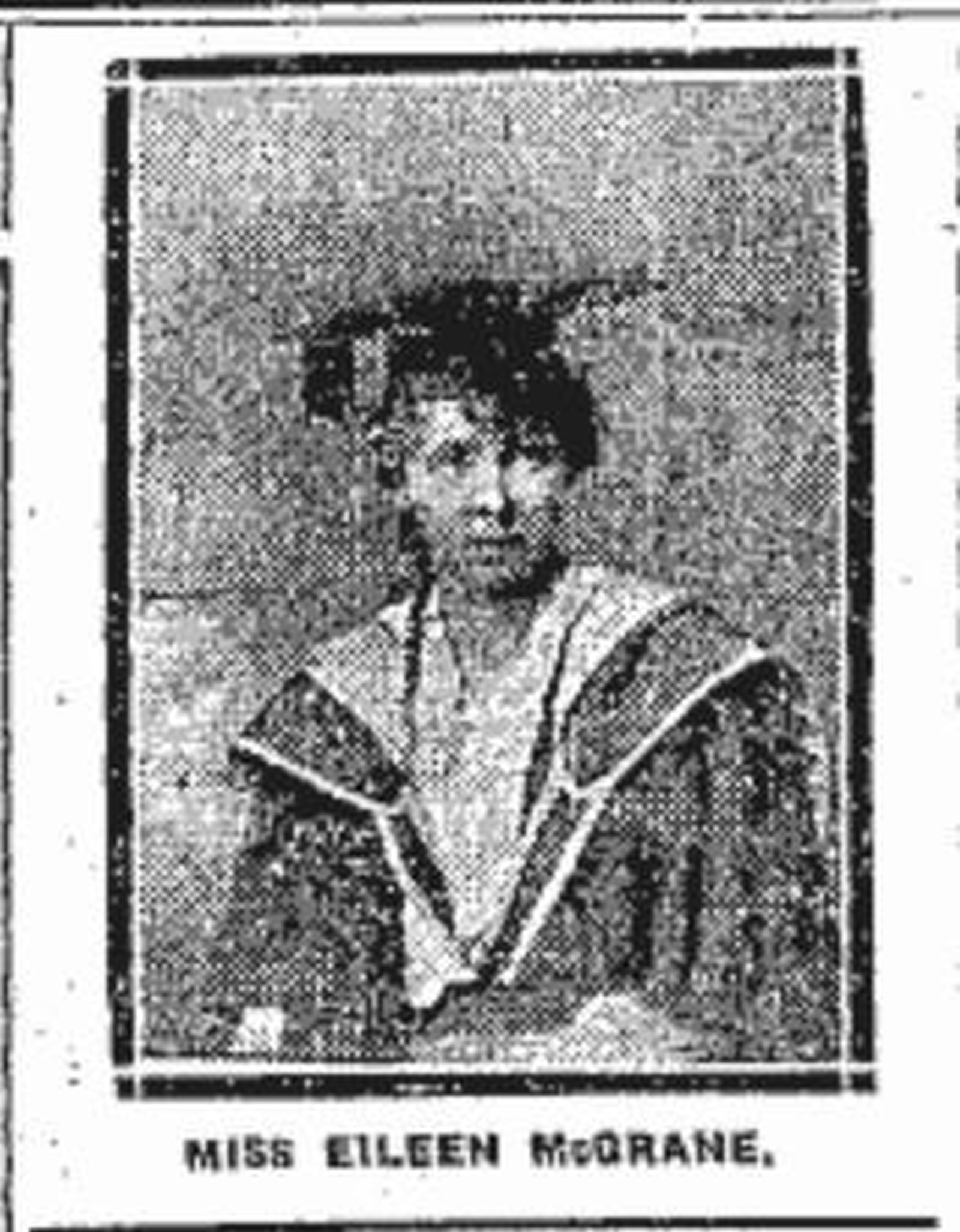 This photograph of Eileen McGrane appeared in the Freemans Journal on  21 November 1921 above the story of the plan to transfer her to Liverpool. Image courtesy of the Irish Newspaper Archives.
The British would soon attempt to send Eileen back to Liverpool. In official British records, a letter dated 18th November 1921 to Finton Murphy, Chief Liaison Officer of the IRA said "She (Eileen) loses no opportunity of causing trouble at Mountjoy, and to-day in the presence of the Governor was heard to utter threats of personal violence against a certain Wardress. In these circumstances Government has ordered that she be returned to an English Prison at once."
Before Eileen could be removed to Liverpool, potentially as a stretcher case due to illness, she was released from Mountjoy on 8th December 1921, following the signing of the Anglo-Irish Treaty on the 6th December. 
Civil war
Some months before the outbreak of the Irish Civil War, Eileen soon resumed "active service for GHQ Oglaich na hEireann" (anti-Treaty IRA). During the fighting in O'Connell Street she carried guns and dispatches and was in different posts. 
She carried guns to Dundalk on a few occasions and throughout the War she was in constant touch with IRA headquarters and General Liam Lynch. Eileen was also engaged in publicity work and was chosen as a delegate to meet and interview "distinguished strangers, including the Pope's Envoy, Monsignor Luzio". 
She was arrested in April 1923 and sent to Kilmainham where she was Officer in Command of between 300 and 400 women prisoners. She was released in October 1923.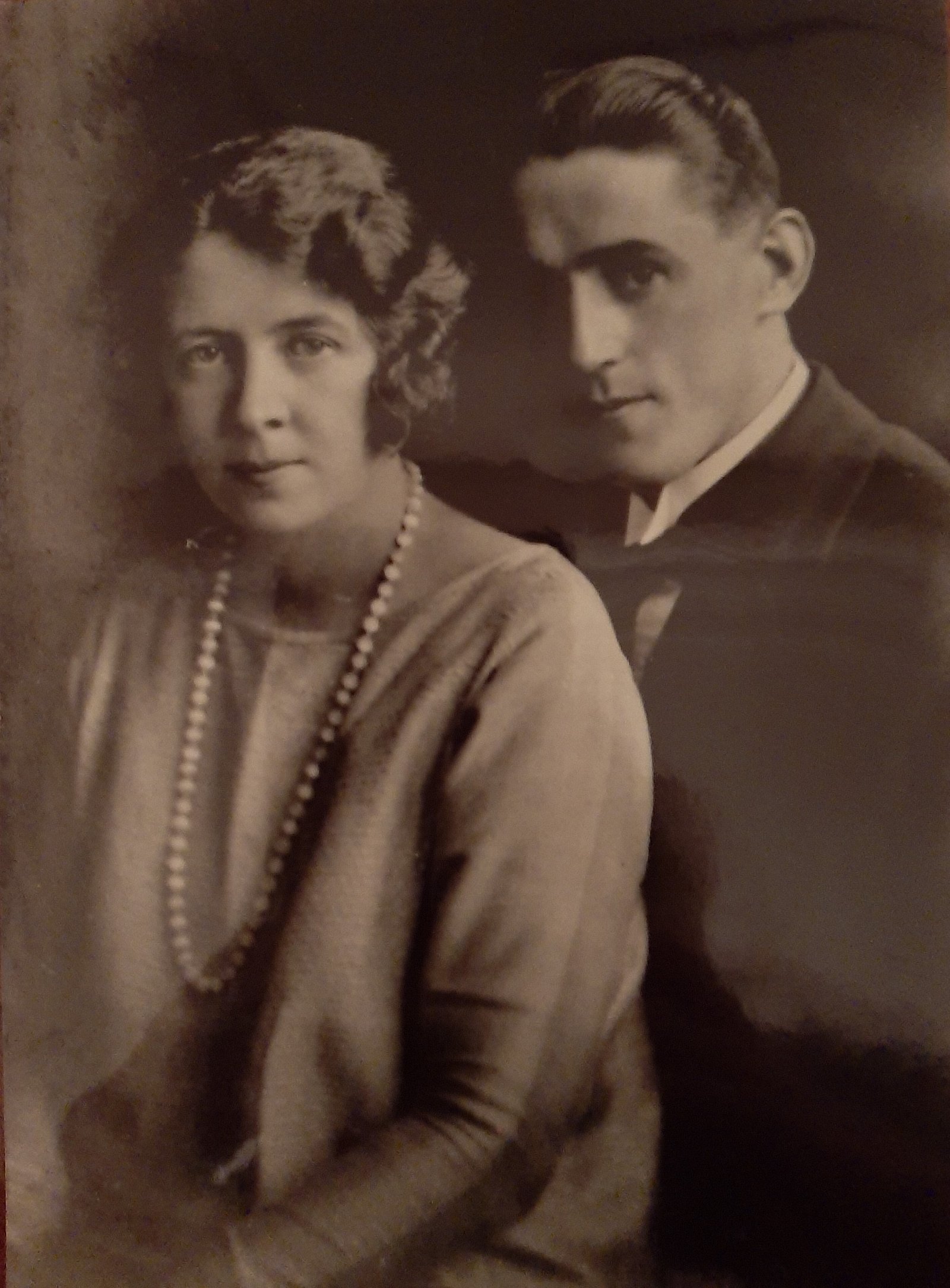 A photograph of Dr Eileen MacCarvill and her husband Dr Patrick MacCarvill in 1925. Image from MacCarvill family collection
After the war, Eileen continued her life in academia, became an author and supporter of Irish artists, including Mainie Jellet, Evie Hone and Jack. B. Yeats. In 1925 she married Dr. Patrick MacCarvill, a prominent Republican, politician and medic. Eileen and Patrick had five children, Máire, Éilis, Diarmuid, Niall (my father) and Eimhear.
It's appropriate to reference the obituaries written upon Eileen's death in 1984. The Sunday Press said Eileen "never lost sight of a united Ireland with its own language" and The Irish Times said "At her home in Fitzwilliam Square she was a welcoming hostess. Her lists of guests regarded no political or religious divisions." And of Michael Collins, The Irish Times reported, "She looked back nostalgically to the years before the split and kept only the kindest memories for many who found themselves on opposing sides in 1922; Michael Collins, Josephine McNeill, Rory O'Connor, Patrick McCartan, Mabel Fitzgerald, Ernie O'Malley." 
Marika MacCarvill is Eileen's youngest granddaughter and leads international PR and communications for Enterprise Ireland For more of Eileen's story, follow @Eileen_McGrane on Twitter.
The contents of this article do not represent or reflect the views of RTÉ