In late 1922, the Provisional Government of what would soon become the Irish Free State began arresting and detaining women who were actively participating in anti-Treaty activity. Hundreds of women were held in Kilmainham Gaol, Mountjoy prison and a former workhouse called the North Dublin Union. These artefacts from Kilmainham Gaol Museum's collection show the breadth of activities undertaken by the female prisoners. They wrote stories and poetry, they painted, crocheted and embroidered (a reminder that needlework has long been part of women's artistic expression), they commemorated their dead republican comrades - and they let their hair down by playing rounders, holding whist drives and even organising céilís.
Order of detention
This is the official document ordering the detention of Kitty Harpur under the terms of the Public Safety (Emergency Powers) Act, 1923. This act was only signed into law in August 1923, many months after the arrest and imprisonment of the majority of republican prisoners during the Civil War. Donated by Rita M. Donnelly.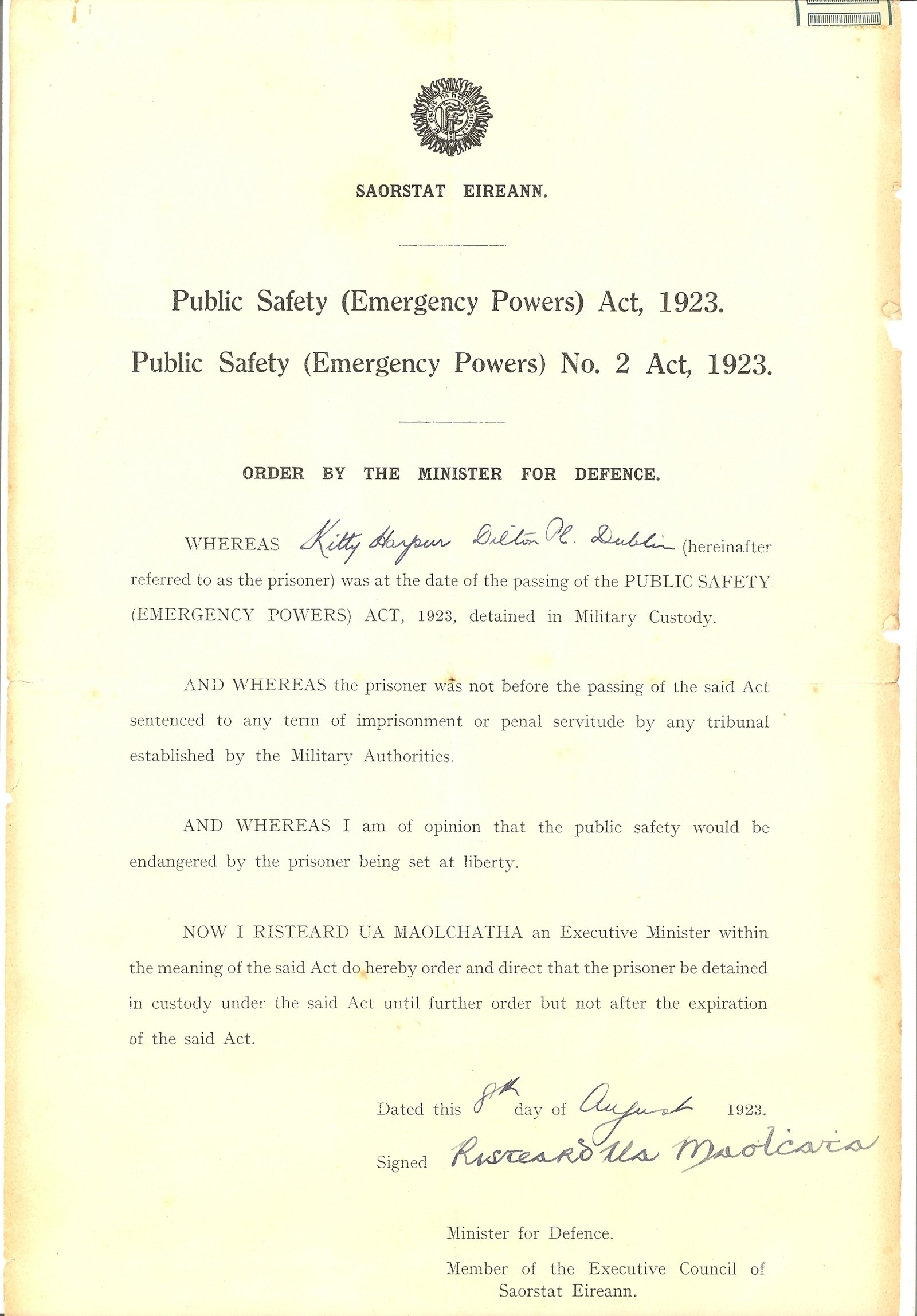 Earthbound: Nine Stories of Ireland by Dorothy Macardle (1924)
This collection of nine ghost stories was written by Dorothy Macardle during the Civil War when she was imprisoned in Mountjoy Prison and Kilmainham Gaol. Each story was dedicated to one of her fellow prisoners. Donated by Sinead McCoole.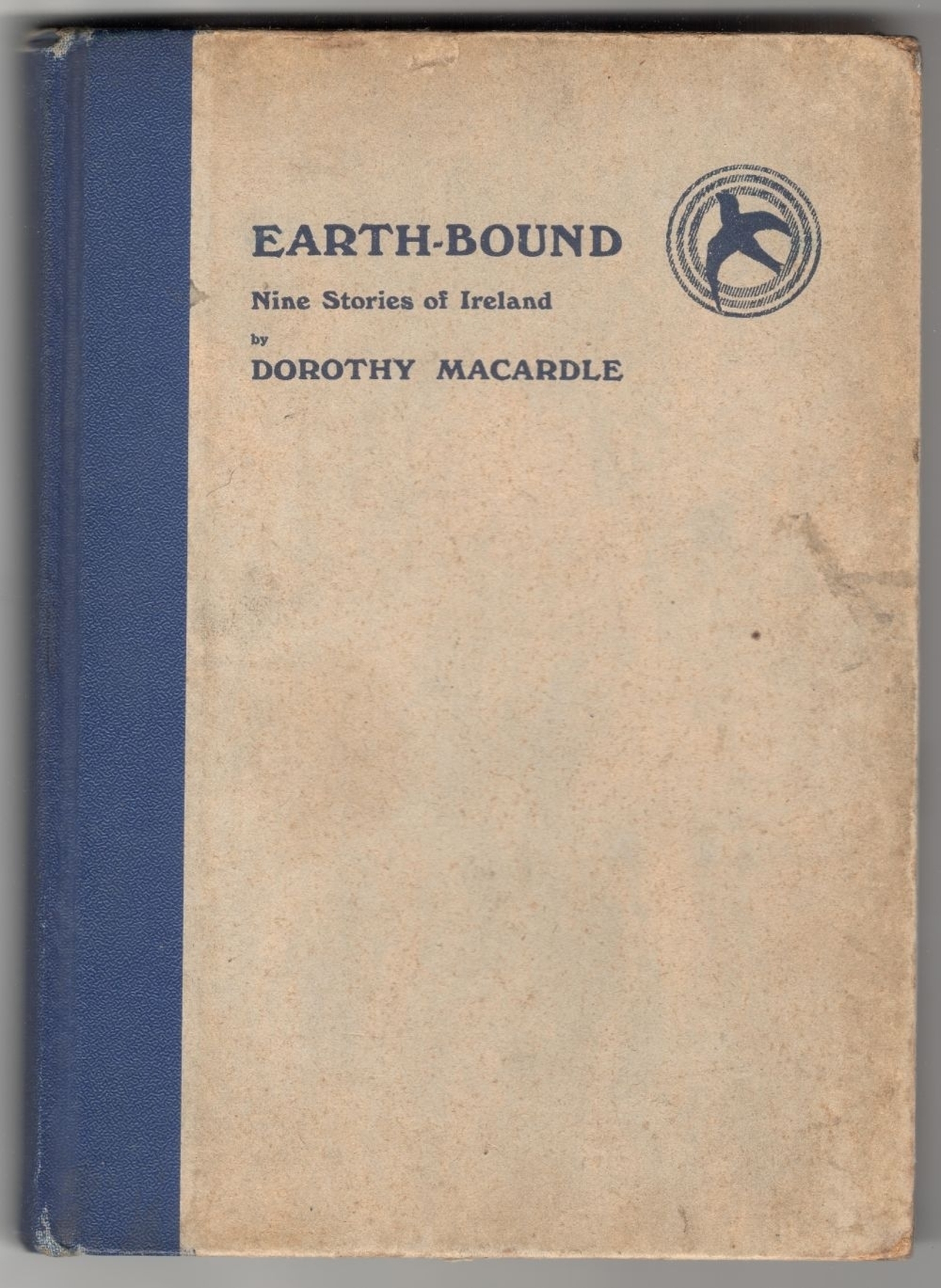 'Captivity' by Dorothy Macardle, illustrated by Lily O'Brennan, 29 April, 1923
Lily O'Brennan and Dorothy Macardle already knew each other through their involvement in Republican politics and became close friends during their imprisonment. Lily enjoyed creating illustrated cards, including this one from Kilmainham Gaol which features a poem written by Dorothy Macardle.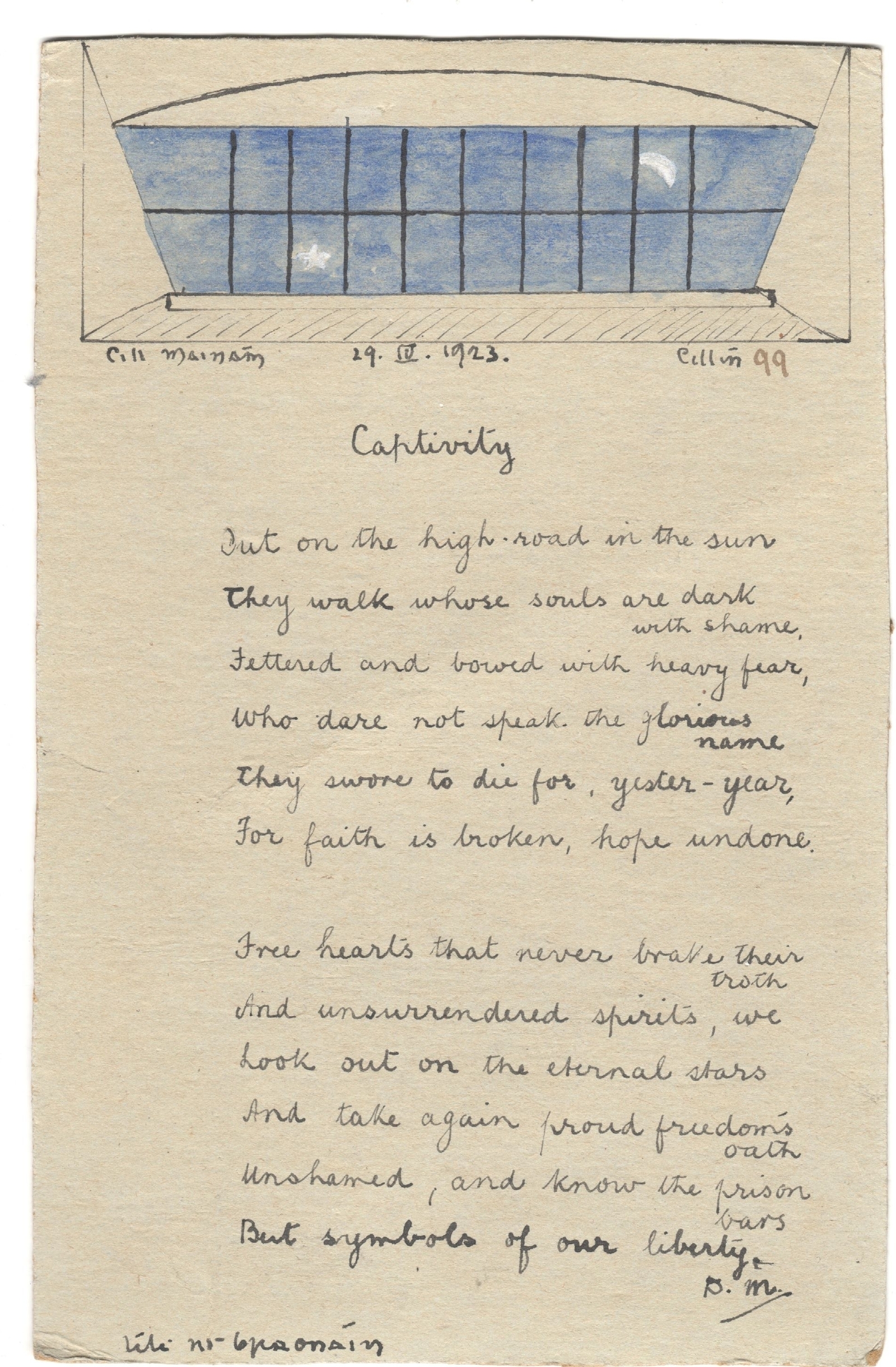 Kathleen Hyland crocheting in North Dublin Union, December 1923: a watercolour by Constance Markievicz
Many prisoners used arts and crafts to combat the boredom of prison life. Countess Markievicz was a former art student and enjoyed painting and sketching during her time in prison. Here she depicts a fellow prisoner, Kathleen Hyland, as she concentrates on her crochet. Donated by Mairéad McGrath.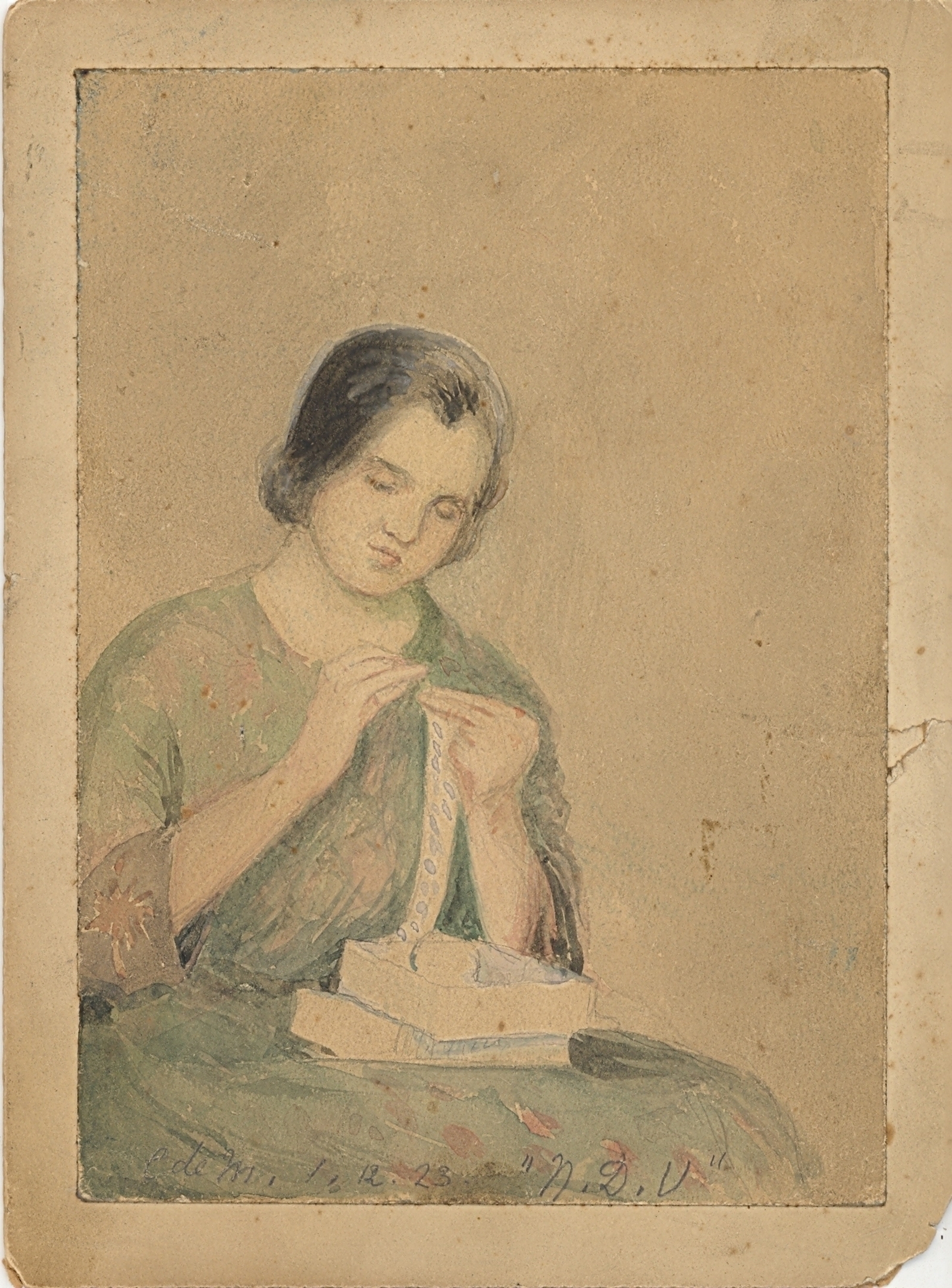 Crochet top made by Esther O'Snoddy
This crochet top was made by Esther O'Snoddy (later Purcell) while a prisoner in Kilmainham Gaol in 1923. Donated by Michael Purcell.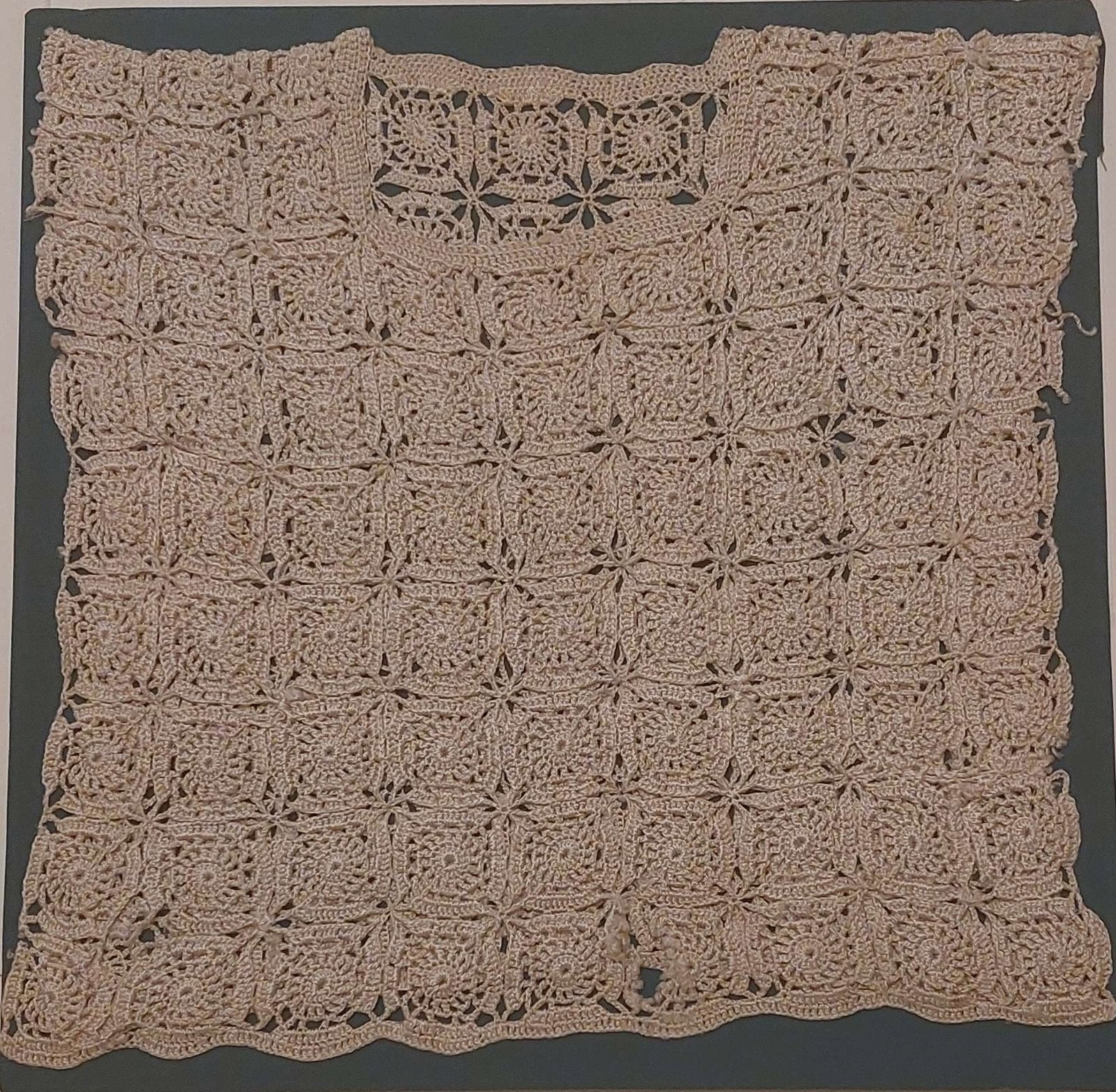 Annie Dolan's embroidered pin cushion
Annie Dolan embroidered this pin cushion while a prisoner in Kilmainham Gaol between March and April 1923. In addition to creating decorative items like this, male and female prisoners passed their time making and repairing clothes for themselves and their comrades. Donated by Anne Hamill.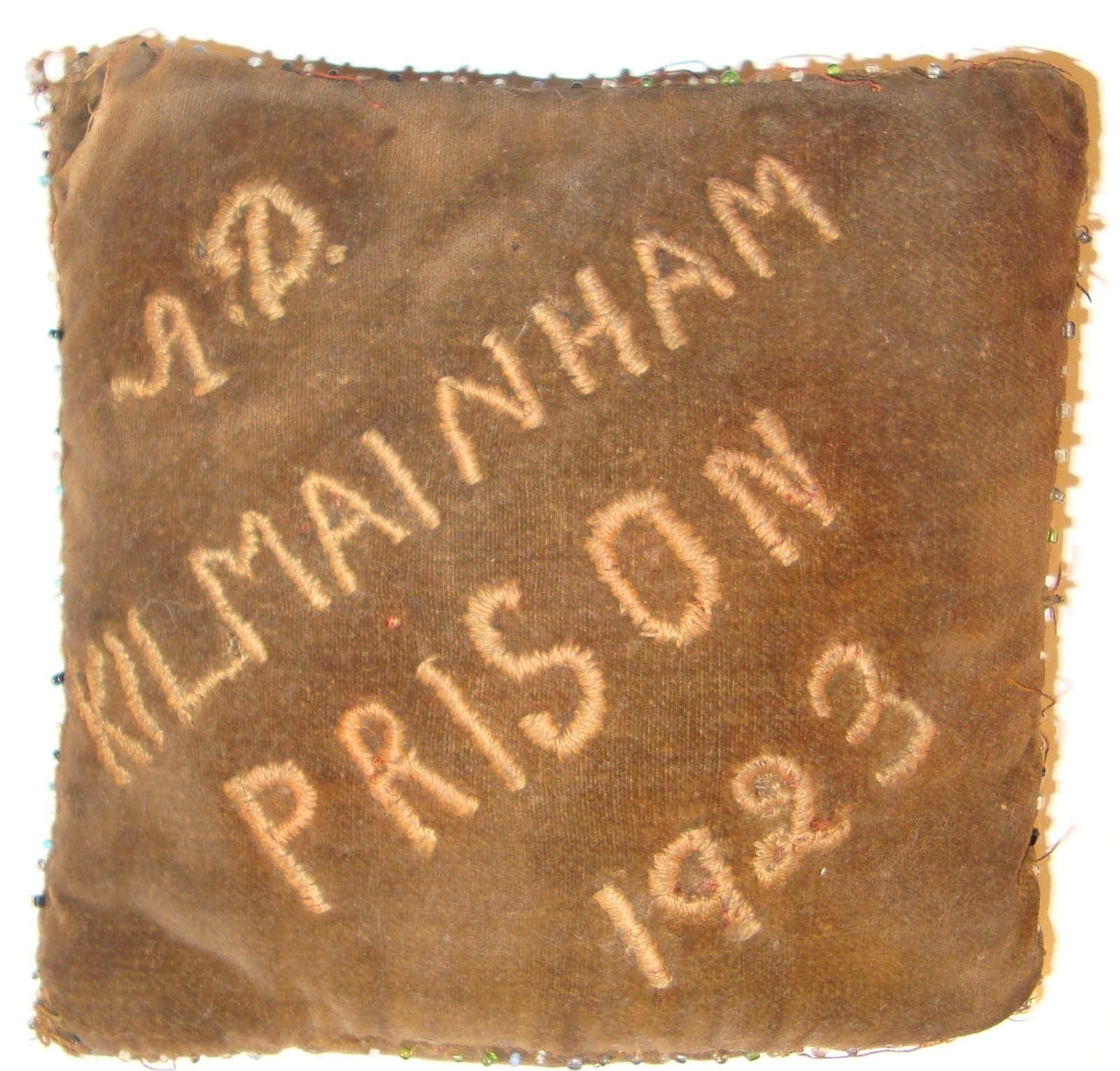 Embroidery of the Madonna by Grace Plunkett
Grace Plunkett, née Gifford, married the 1916 Rising leader Joseph Plunkett in Kilmainham Gaol the night before he was executed. She was later a prisoner in Kilmainham herself during the Civil War. While in prison she designed and embroidered this image of the Virgin Mary which she later presented to Fr. James Sherwin, the priest who oversaw her conversion to Catholicism. Donated by Mrs. J. Forestal and Michael Jordan.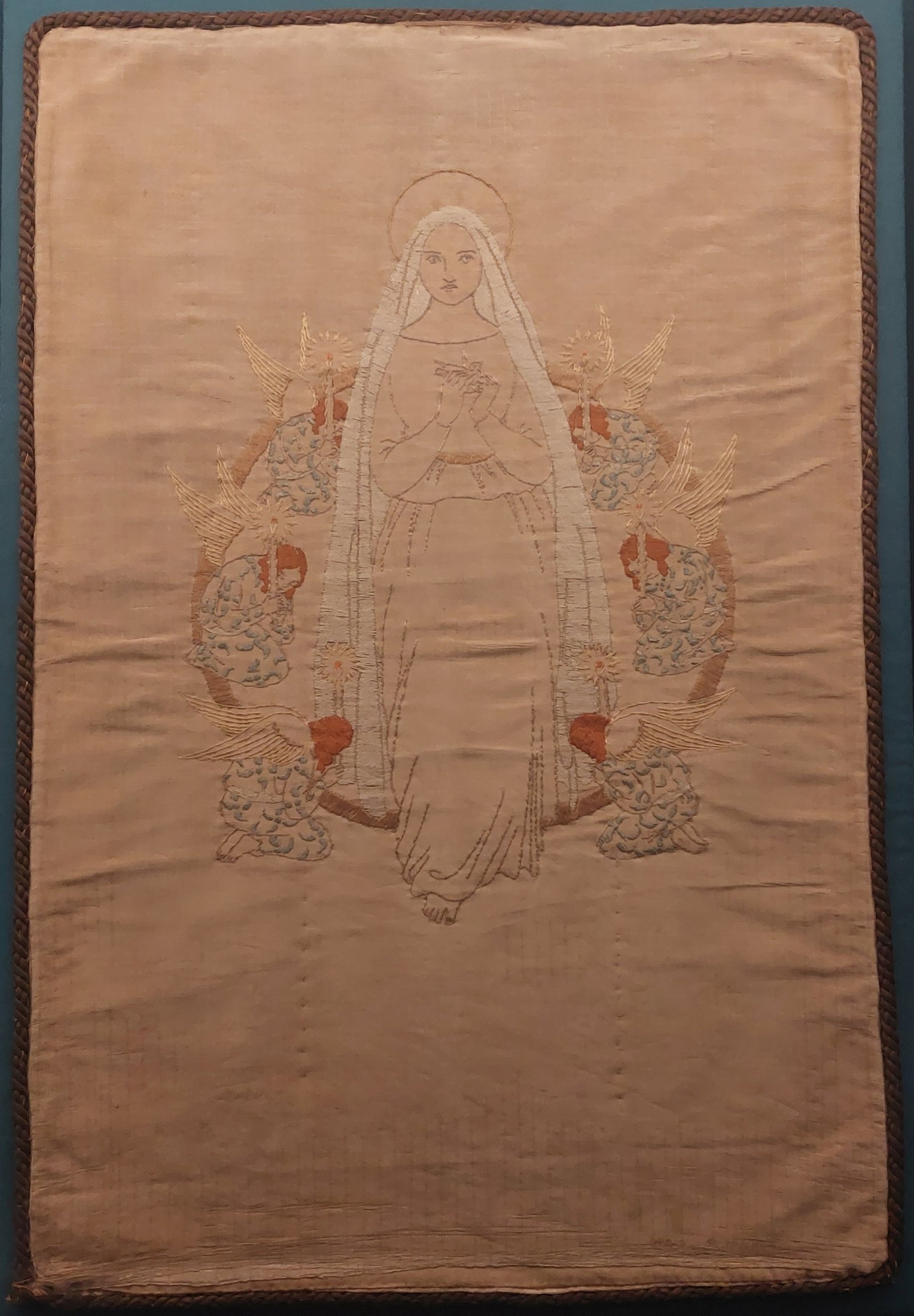 A St Patrick's Day card
This St. Patrick's Day card made by Kitty Harpur in Kilmainham Gaol, 17 March 1923. Marking holidays like Christmas, Easter and St. Patrick's day was very important for the prisoners and they would often send and receive cards and presents from friends and family. Donated by Rita M. Donnelly.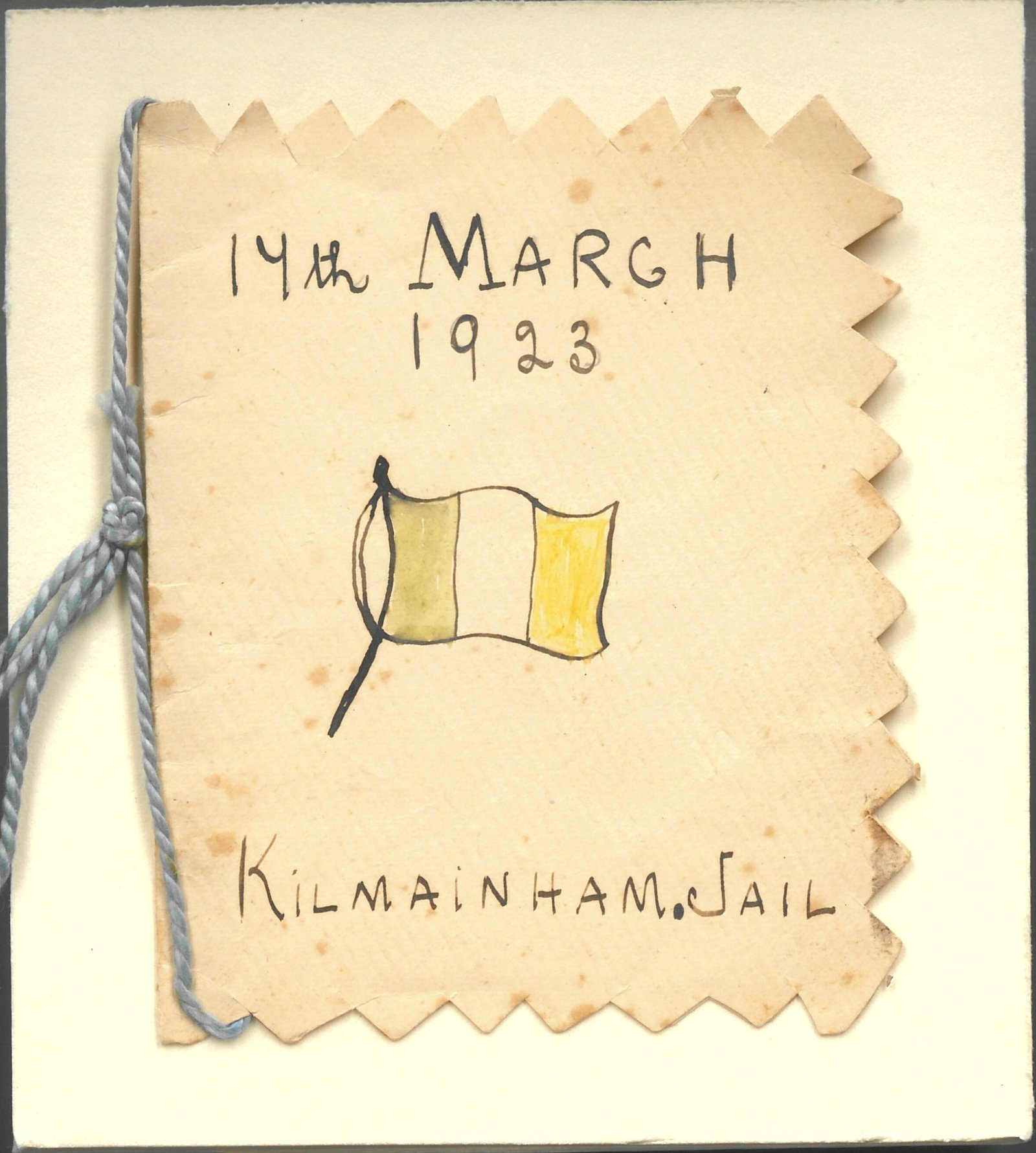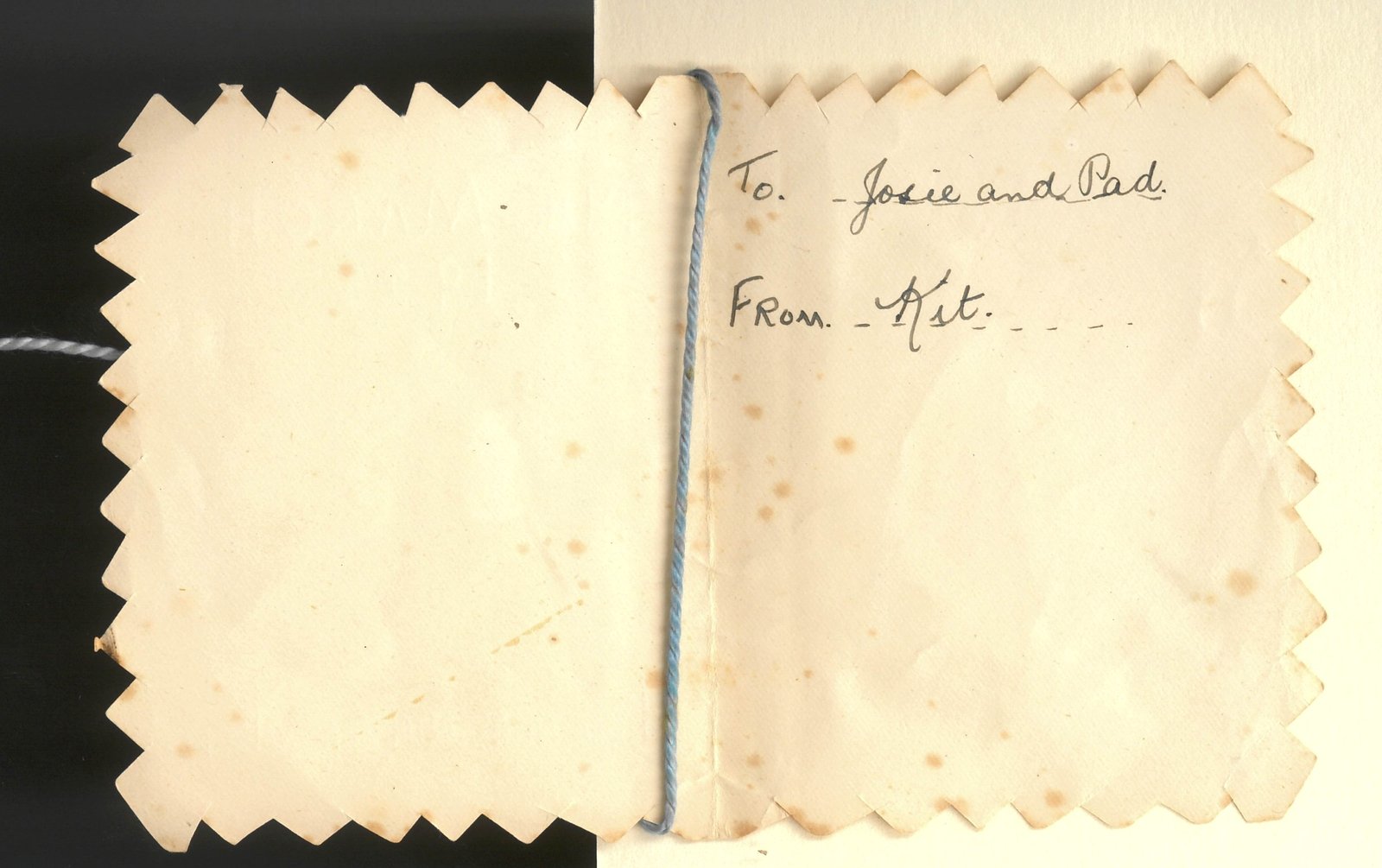 Scorecard from a Whist Drive belonging to Susan Ryan in the North Dublin Union (NDU), 1923
This scorecard was used at an evening of card-playing organised by a group of women prisoners known as the 'Devil-May-Cares' in the NDU on 16 July, 1923. The 'Devil-May-Cares' were one of the many informal social groups which formed among female political prisoners. Donated by B. Sheehy, E. Carberry and the Burke Family.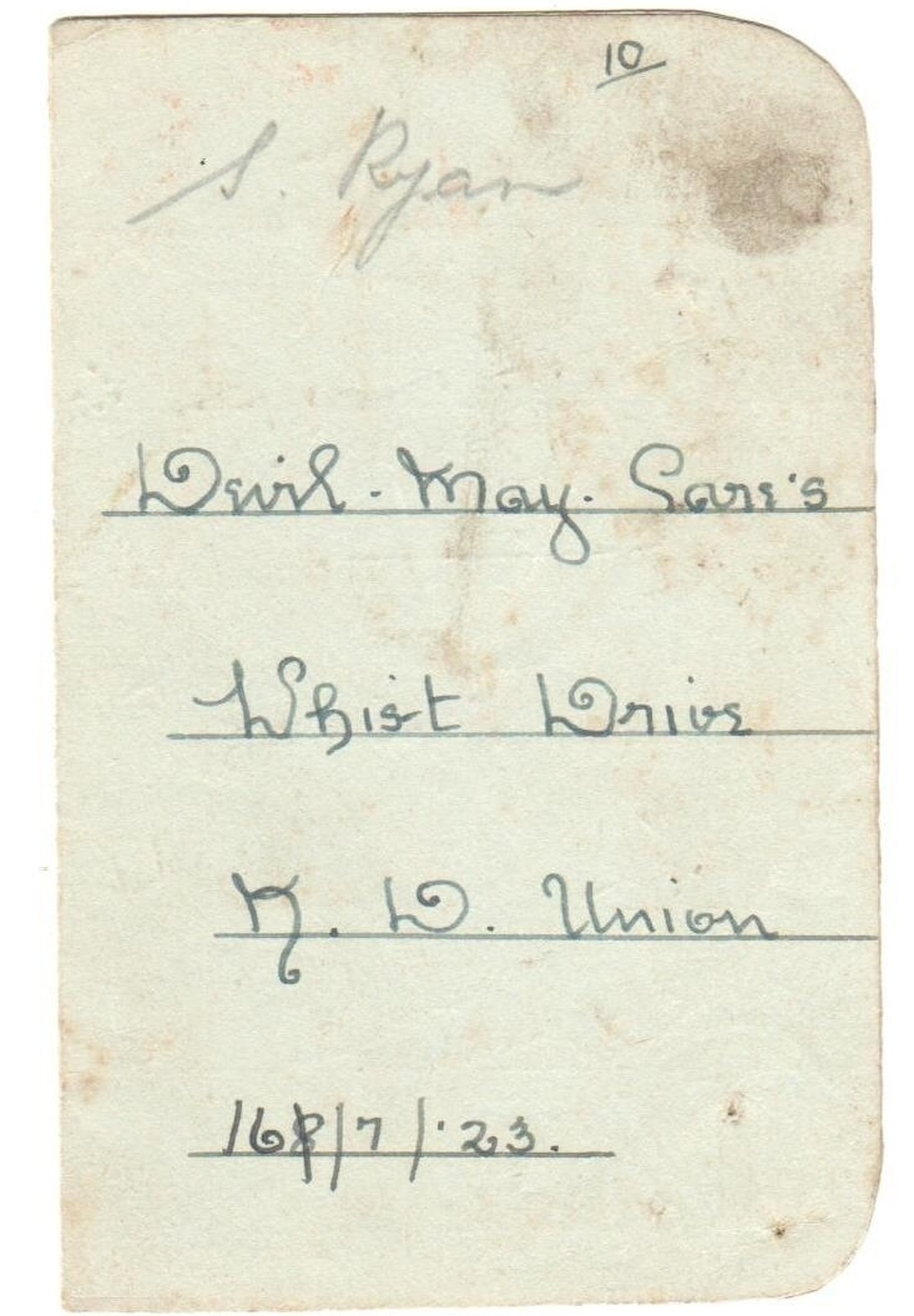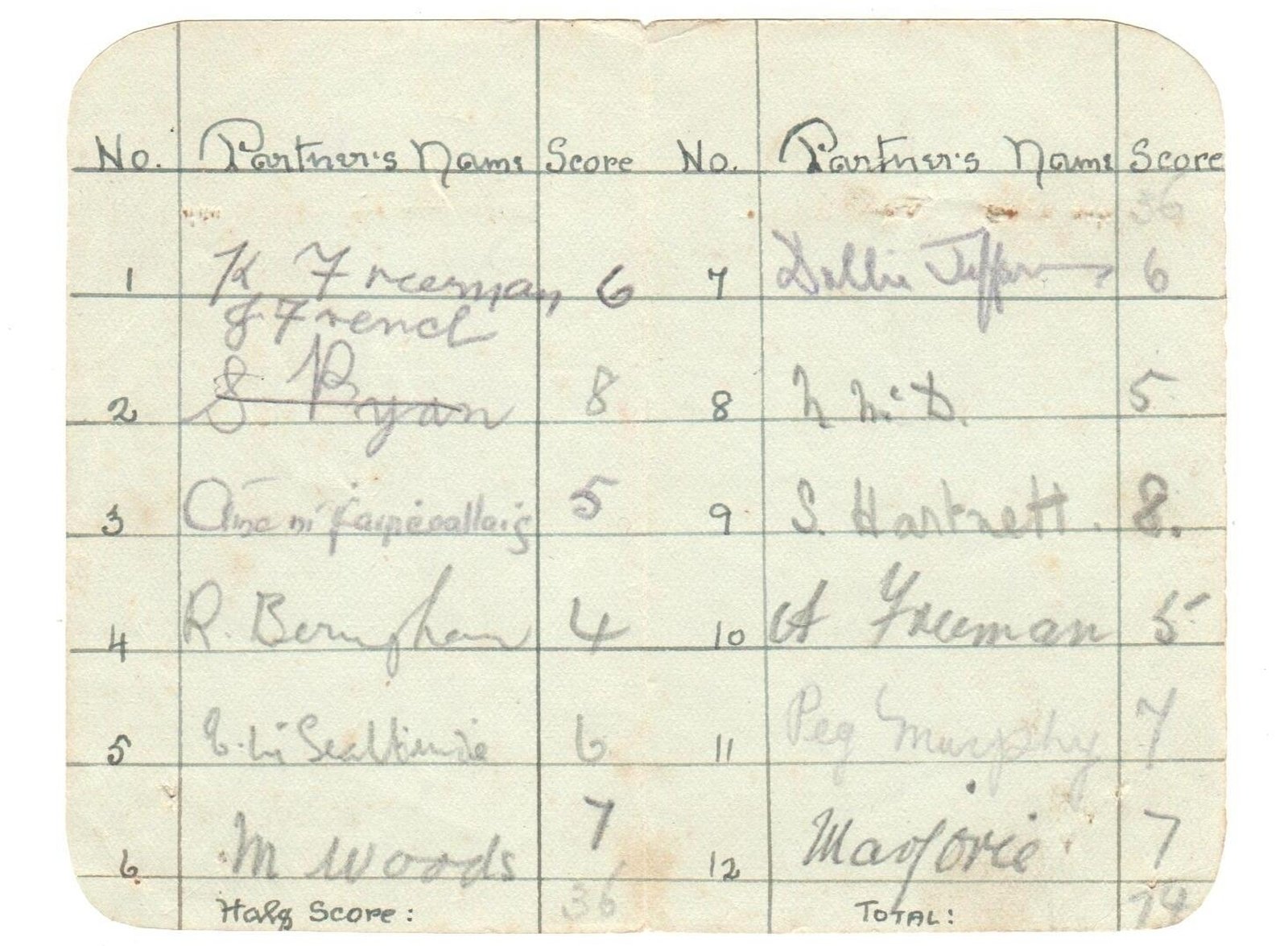 Invitation to Ceilí Mór, 29th July 1923
This ceilí, or dance, was organised by the women of the 'Workhouse Ward' and 'Trí-na-Ceile' dormitories in the North Dublin Union (NDU). Prisoners frequently gave their cells and dormitories nicknames – the 'Workhouse Ward' refers to the original function of the NDU, while the Irish phrase 'Trí-na-Ceile' suggests a dormitory which may have been untidy or unruly.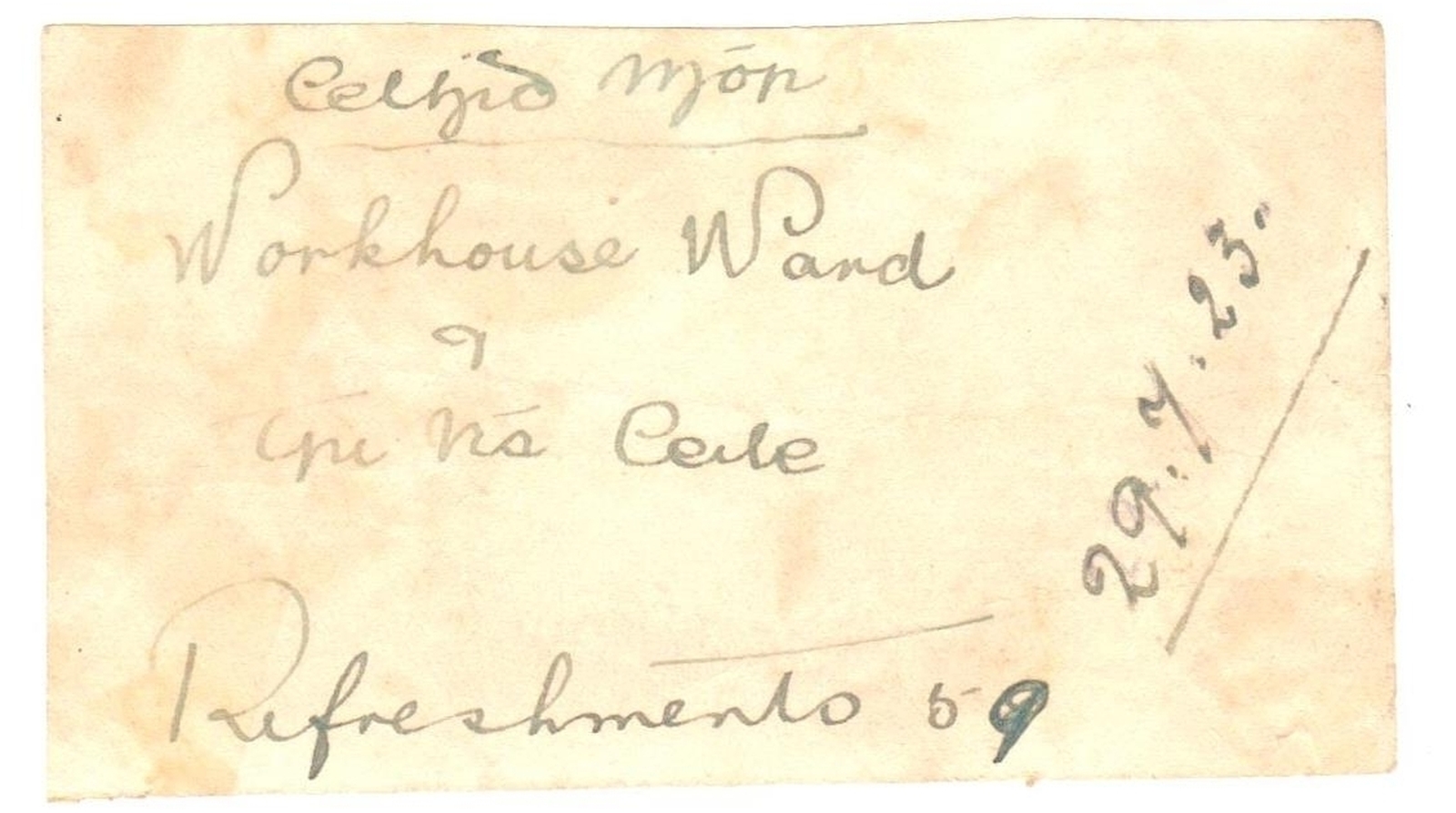 Programme of a Rising commemoration ceremony
On the seventh anniversary of the 1916 Rising, the prisoners held a commemorative ceremony in the yard where the leaders of the rebellion had been shot. Some of the participants in this event were related to the executed men, including James Connolly's daughter Nora and Joseph Plunkett's wife Grace. Grace Plunkett illustrated the programme. Donated by Lilian, Rita, Marie and Brendan O'Neill.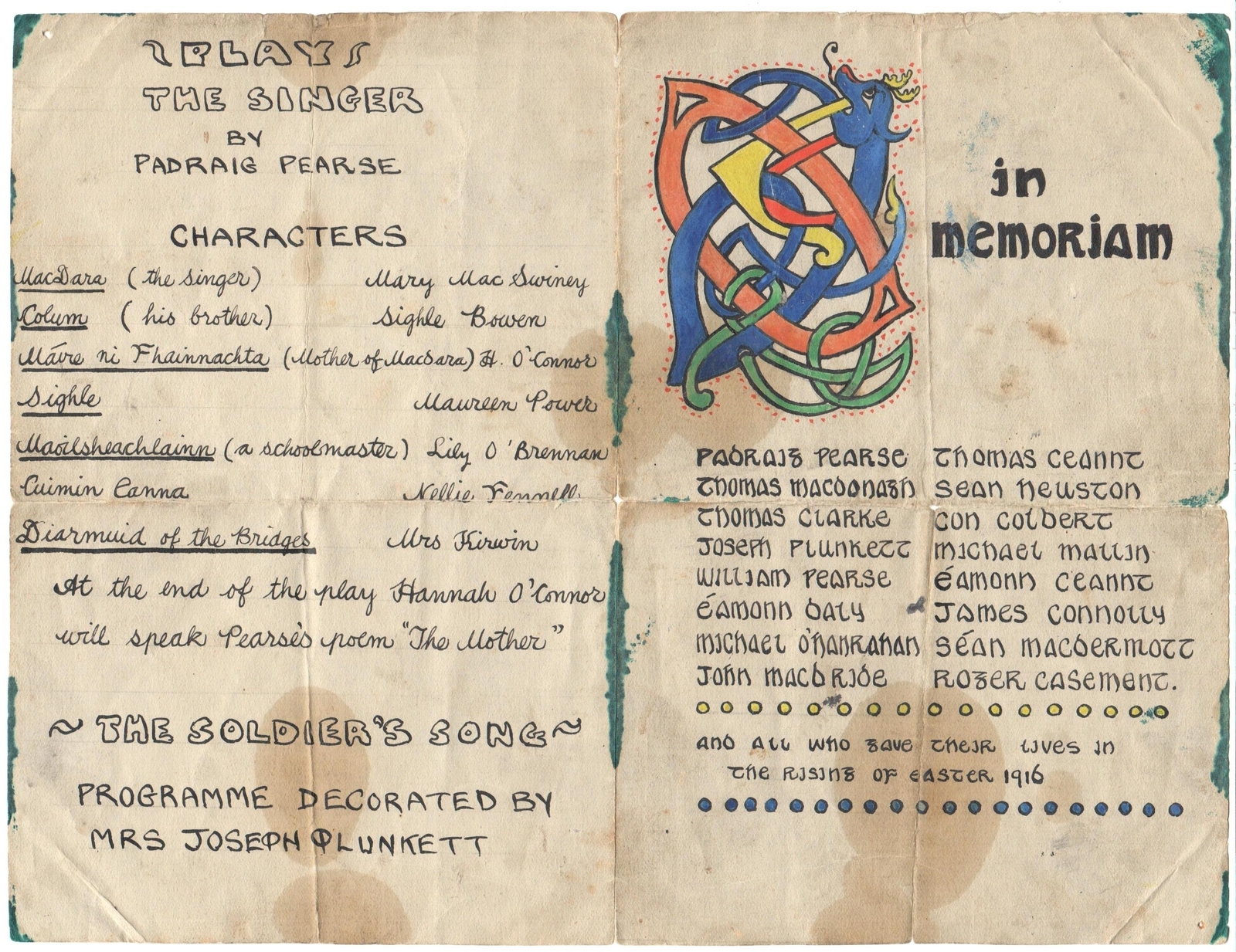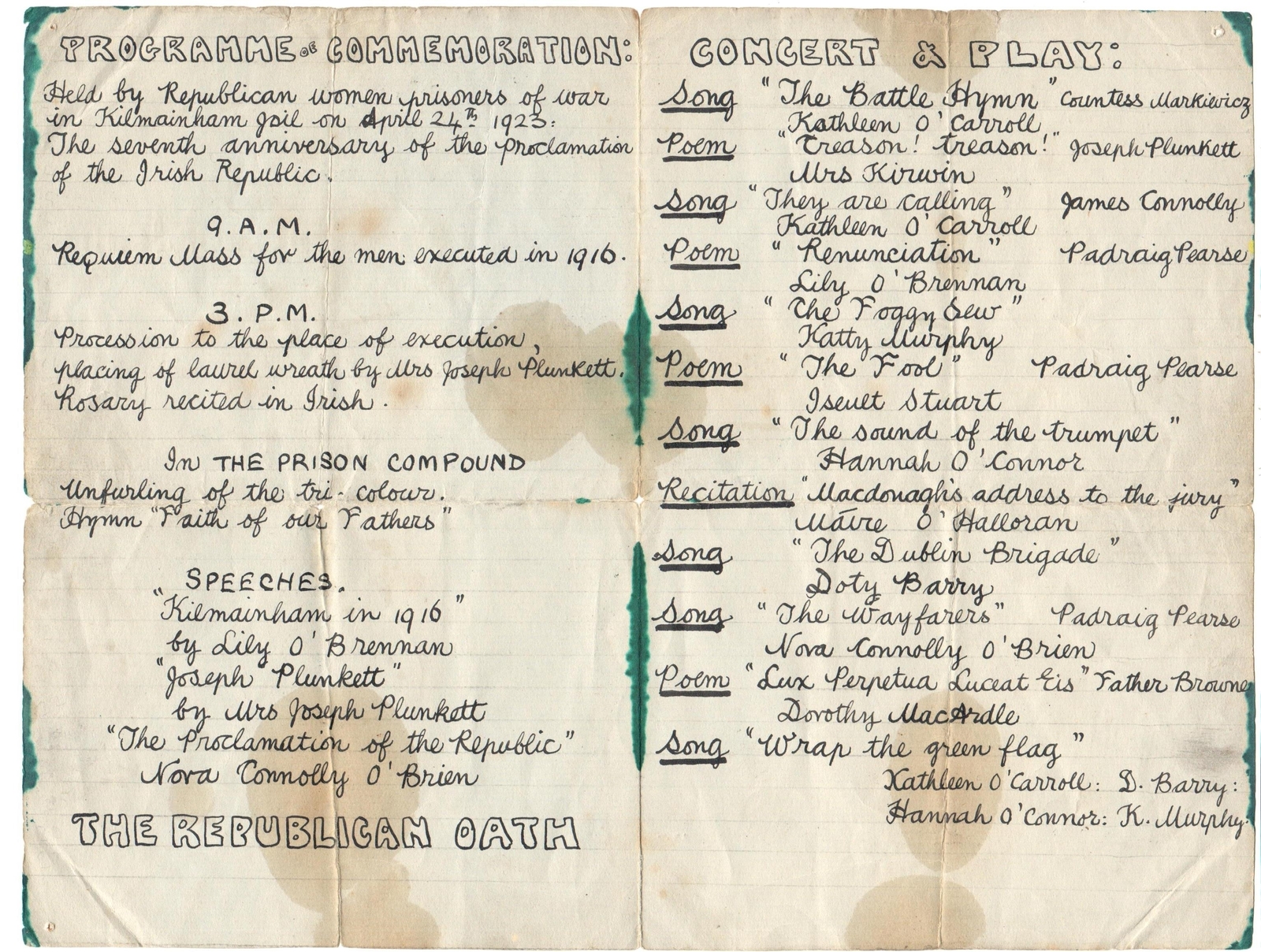 Doctor Elsie Murphy's letter to the Governor
This letter was written Elsie Murphy on behalf of the Republican Women Prisoner's Council to the Governor of Kilmainham Gaol in 1923. Elsie Murphy was a doctor and gave medical care for her fellow prisoners in Kilmainham Gaol. Here she informs the Governor of the Gaol that the 55 women who had gone on hunger strike to demand the release of Cissie O'Doherty had increased their demands and would remain on hunger strike until all prisoners were released.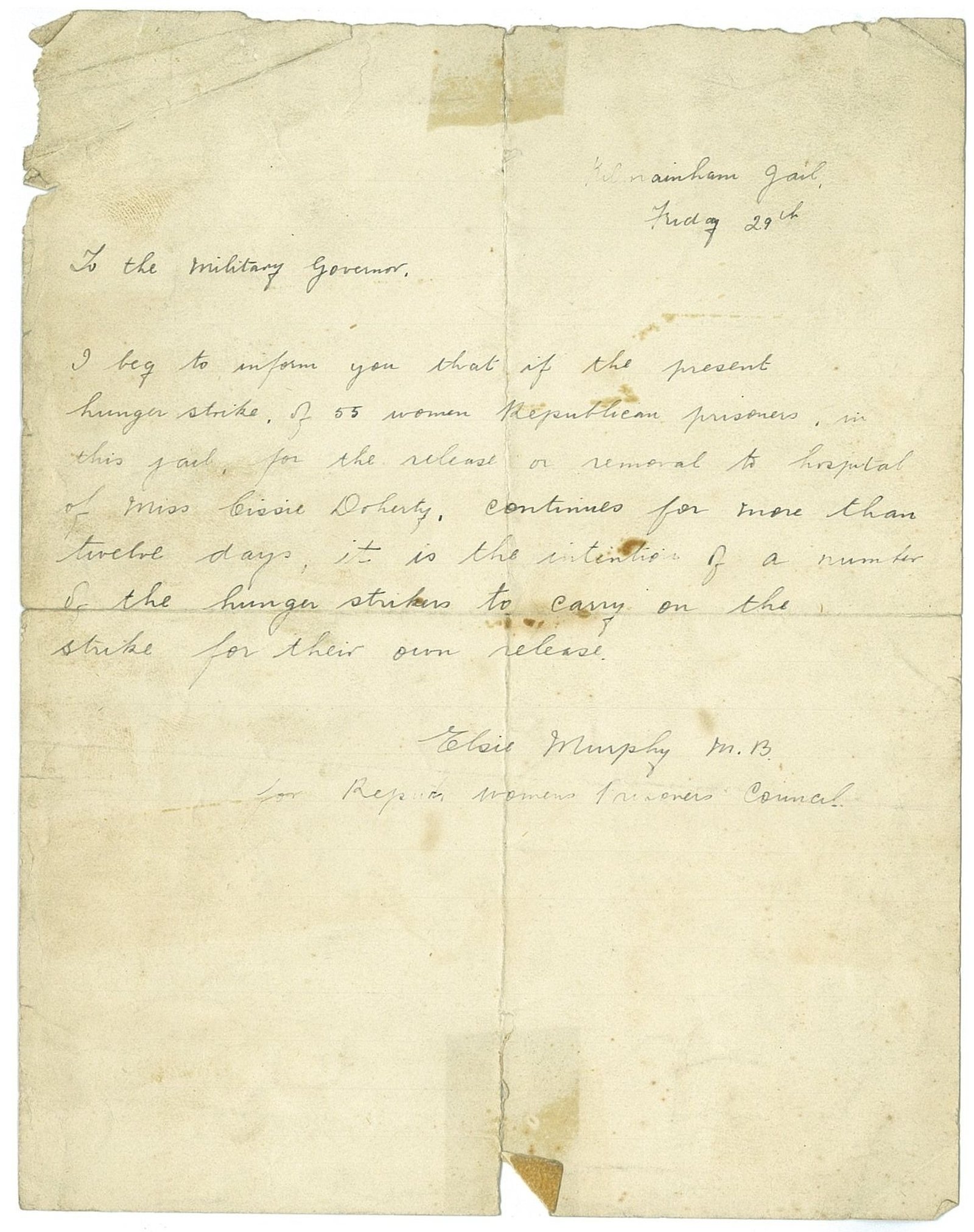 Brigid Brophy's knife and fork
Brigid Brophy was from Carlow and was imprisoned during the Civil War from May to September 1923. She kept the knife and fork she used in Kilmainham Gaol as a souvenir of her time there. Donated by Brigid Ryan (née Brophy).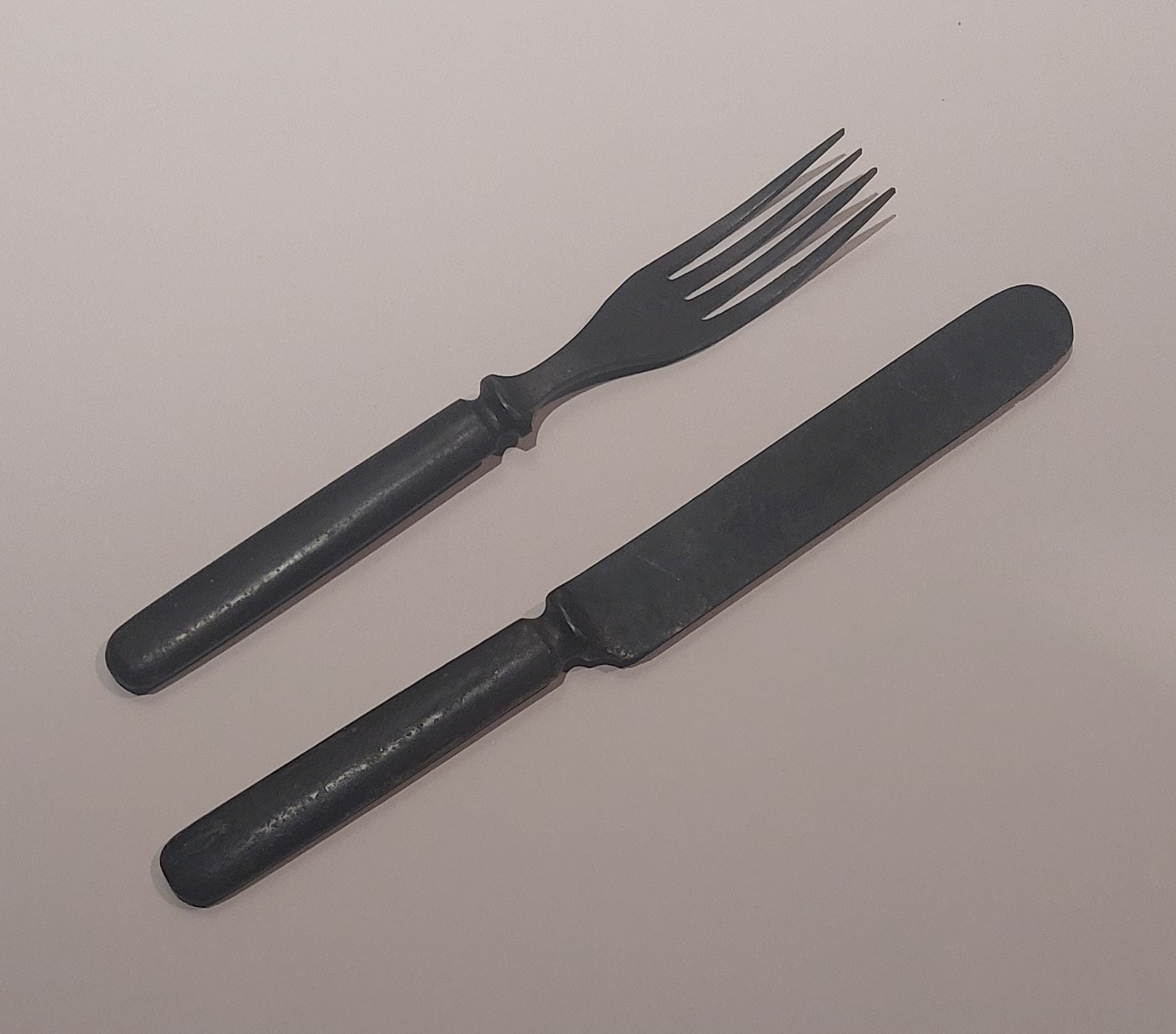 Sighle Humphreys's embroidered pyjama case
Quite a few artefacts from Sighle Humphreys's imprisonment survive, showing both her practicality and her creativity. Humphreys embroidered this pyjama case during her imprisonment in Kilmainham Gaol in 1923. She was a leading member of Cumann na mBan, the military organisation for Irish republican women, and at various time served as Secretary, Director of Publicity and National Vice-President of the association. On loan from Cróine Magan.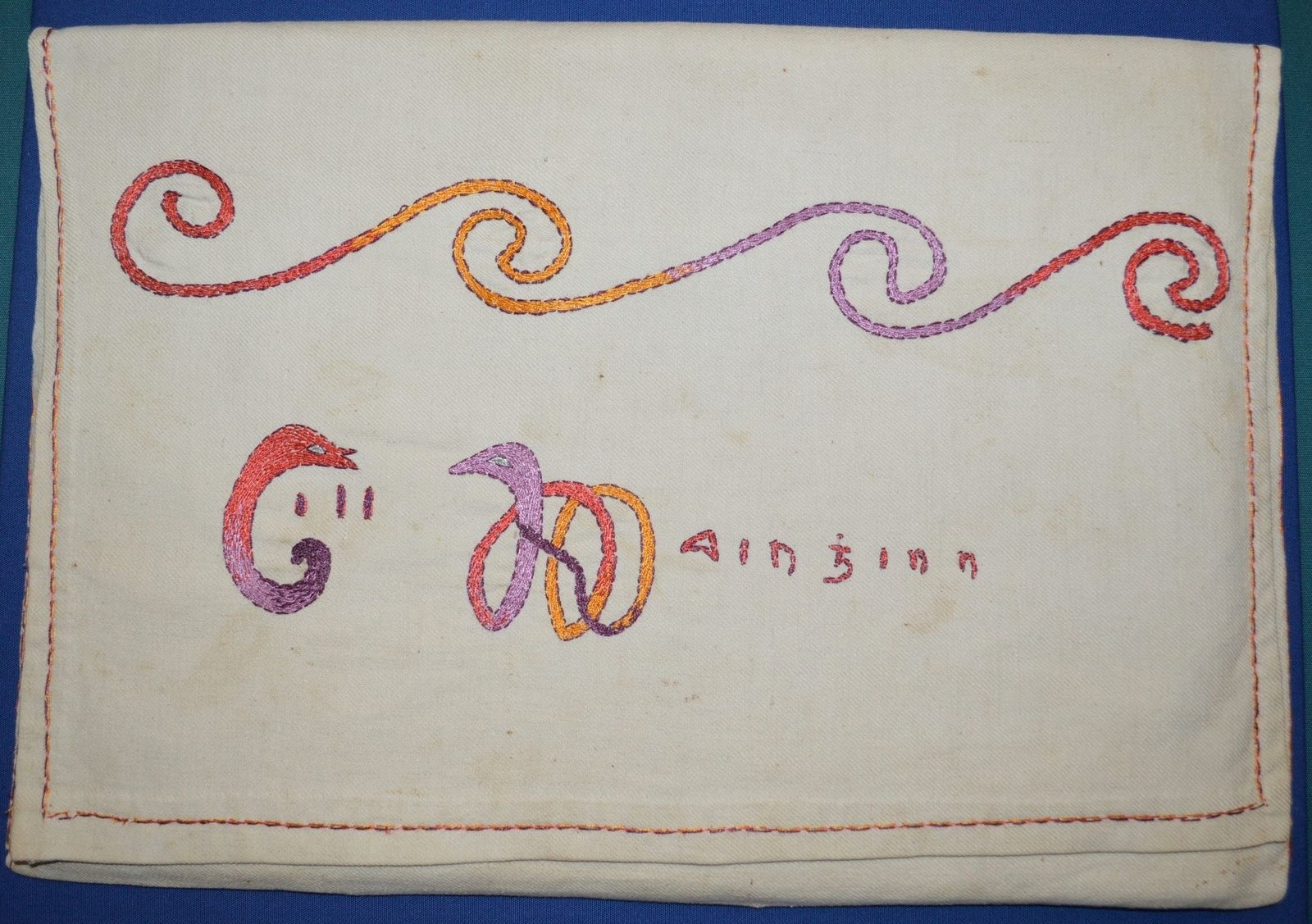 Candle holder inscribed 'Kilmainham 1923' which belonged to Sighle Humphreys
Sighle Humphreys, her mother Ellen, and aunt Anna were part of a prominent Irish republican family. During the Civil War they were imprisoned together in Mountjoy Prison, Kilmainham Gaol and the North Dublin Union. On loan from Cróine Magan.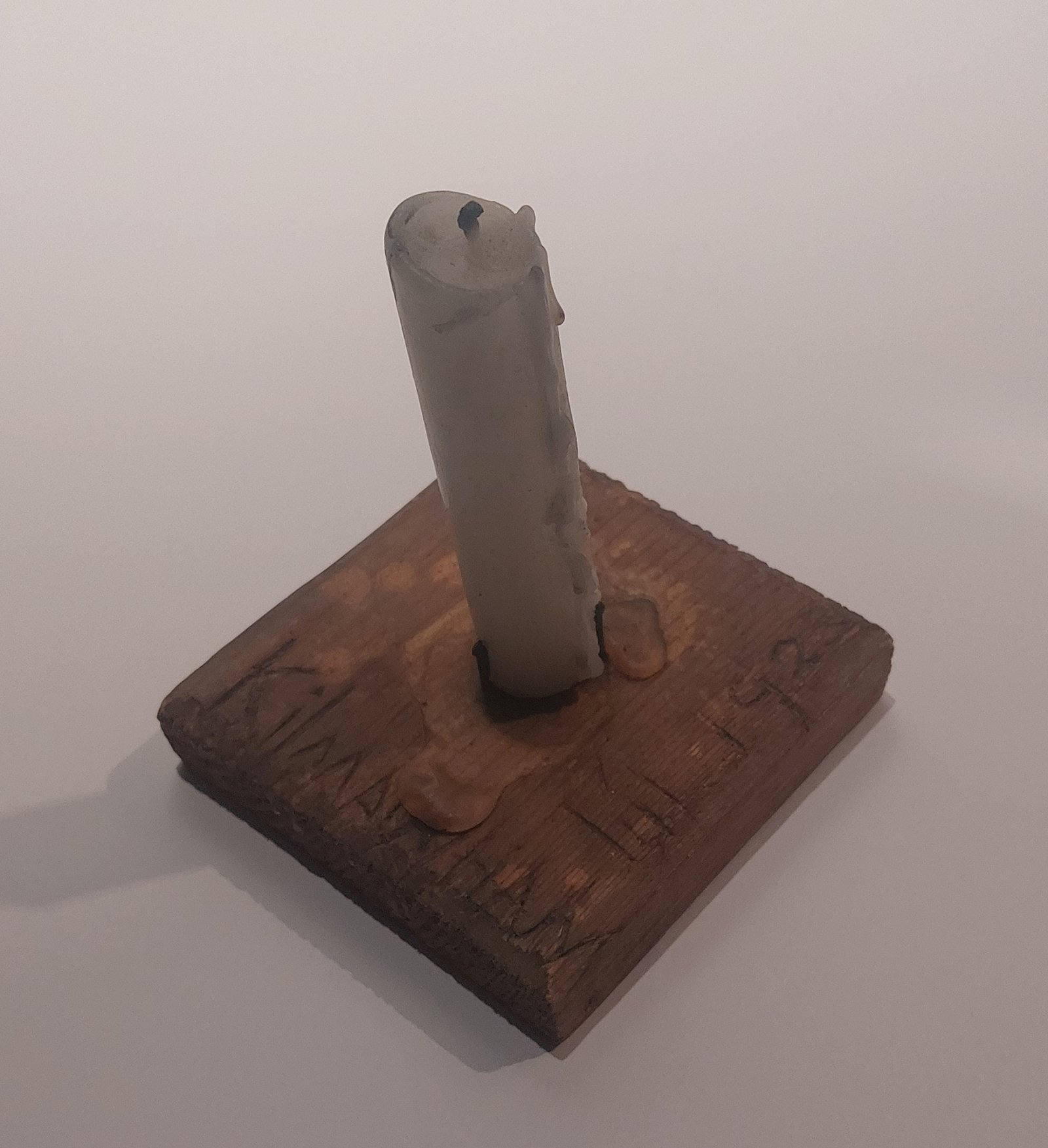 Wooden rounders bat used in Kilmainham Gaol by Sighle Humphreys
Sighle Humphreys used this leg from a wooden chair as a bat when she and the women prisoners played rounders, an Irish bat-and-ball game. Games were played in the prison yards and sometimes had to be abandoned if the only ball was hit over the wall. On loan from Cróine Magan.