The women of Cumann na mBan rejected the Treaty - and in late 1922, the Provisional Government decided to clamp down on their subversive activities. Sinéad McCoole tells what happened to this certain "class of female" behind bars.
On 20 September 1922 the Cabinet of the Provisional Government decided to take action against women on the anti-Treaty side who did not recognise their authority and were fighting the forces of the Free State. They were providing the intelligence and support network which had been essential during the campaign for independence. Their former comrades understood their value as propagandists, intelligence gatherers and also the precise nature of the networks for despatches, arms and ammunition. The women also provided arms storage and safe houses.
It was described as the 'Women's War' in the newspapers of the time and, in the opinion of the President of the Provisional Government W.T. Cosgrave, the 'activity of the women' was the 'mainstay of the trouble'. Writing to the Commander in Chief of the National Army, the government instructed that any women who were 'actively assisting' the Irregulars should be arrested and detained under the provisions of the Emergency Powers Resolution.
A female prison
As there was a chronic shortage of prison accommodation, it was decided that the two wings in Kilmainham Gaol be 'fitted up as a female prison'. The General Prisons Board of Ireland (GPBI) records in the National Archives of Ireland detail an inspection by Mr McClure, GPBI Secretary on 26 October. He deemed it fit to accommodate 100 women.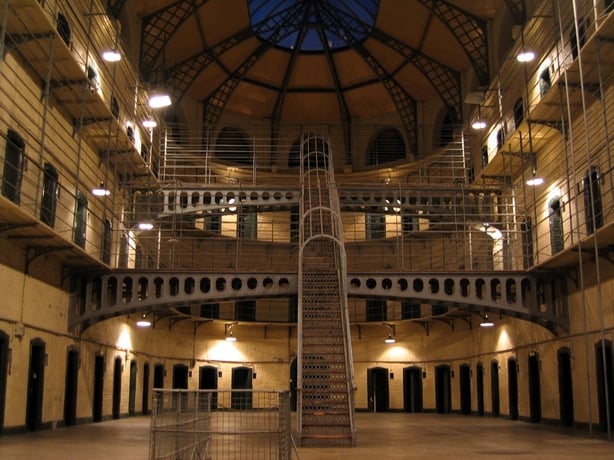 Considerable money had been spent on the disused, late-eighteenth-century prison, but it was still in very poor condition. Chief Warder J.F. Hipwell reported that cells were now furnished with a table, iron bedstead and a stove. All the male prisoners in Kilmainham, except for P. Fleming who was receiving medical treatment, were removed under military escort in November.
In February 1923 it finally opened as 'a prison for suspect women'. Notably, the Vice Chairman of the GBPI was concerned that there would be a strong military guard that would dispel hostile groups outside the prison and assist, if required, within the prison.
Political prisoners
In Mountjoy Jail in Dublin, Deputy Governor Patrick ('Paudeen') O'Keeffewas given custody of female political prisoners from all over Ireland, including Nell Humphreys and Sighle Humphreys who were arrested on 4 November when National Army troops raided their home in Ailesbury Road in search of Ernie O'Malley, assistant chief-of-staff of the anti-Treaty IRA. Mary MacSwiney and Nancy O'Rahilly were arrested on the same day at 40 Herbert Park.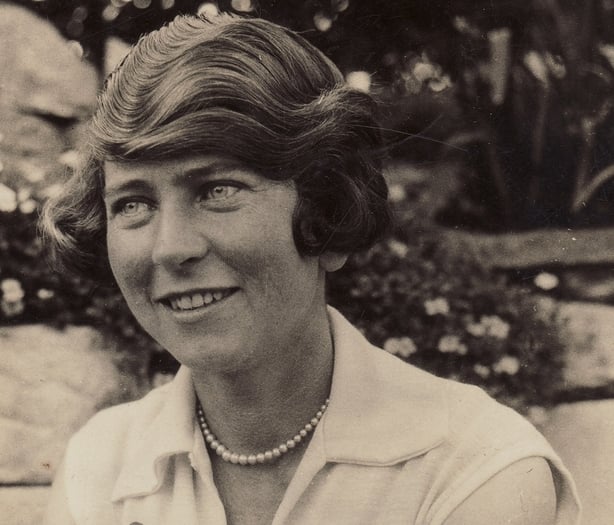 Five days later a number of women were arrested during a raid on Sinn Féin headquarters in Suffolk Street. The 'Suffolk Street' staff included Lily O'Brennan, Teresa O'Connell, Rita Bermingham and Kathleen Devaney. Rita O'Farrelly and Katheen O'Carroll who had gone down 'to take a look' when the raid was on, were also arrested.
Other notable internees in Mountjoy Jail included Rita O'Farrelly, Bridie O'Mullane and Máire Comerford. Detainees Eileen Barrett, Aggie Sheehan, Sorcha MacDermott, Hannah 'Pidge' Duggan, Lizzie Marrin, Mollie Duff and Mary Nelson had been deported from London, Liverpool and Glasgow under clause 14b of the Restoration of Order in Ireland Act.
A state of war
Many of the women continued a 'state of war' while in prison, protesting issues such as overcrowding. This resulted in long periods of solitary confinement. Mary MacSwiney TD (re-elected to the Dáil in June 1922) went on hunger-strike. Her brother Terence had died two years earlier in Brixton prison in London after seventy-four days without food. Their sister Annie went on hunger strike outside Mountjoy Jail on 21 November 1922 to highlight her sister's protest.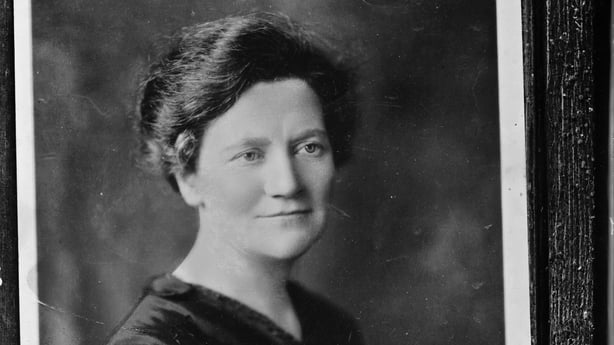 Mary issued a statement which echoed her brother's inaugural address as Lord Mayor of Cork in March 1920:
'Whichever way this struggle ends, victory will be with her who can endure so much and … joyous if her death will bring back her fellow-countrymen to their ideals and make them brothers in arms again.'
She was released on the twenty-fourth day of hunger-strike. The hunger strike of Nell Ryan, sister-in-law of Minister of Defence Richard Mulcahy, in Kilmainham in March 1923 brought press attention to the detention of women. She too was released.
Enforcing the rules
According to the GBPI papers, female internees were allowed neither visits nor parcels, and correspondence was limited and censored. The rules were enforced by the Matron, Miss M. Higgins, her assistant Miss C. O'Rourke and eight wardresses.
Other prison employees included clerk and schoolmaster Michael Dolan and Warder J. Morgan. Joseph O'Beirne maintained the heating system and assisted Morgan with 'gate duties'. 'Ordinary' female convicts, selected by Miss Higgins, were brought from Mountjoy Jail to cook and for other tasks such as cleaning and working the furnace for baths.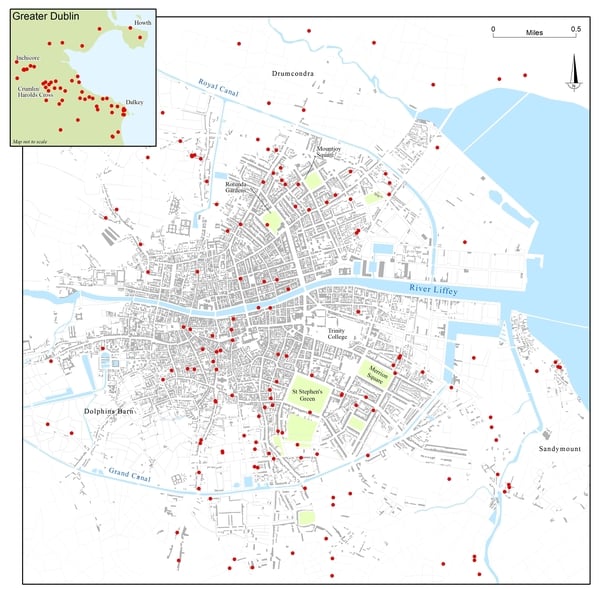 This map shows the addresses of 213 of the 255 women prisoners/internees from Dublin held in the Free State, 1922-4. All are Cumann na mBan members, including a small number of Irish Citizen Army women who joined that organisation.

The Free State leadership had a far better appreciation of how dangerous these women could be, and many were arrested for propaganda and fundraising activities, which often proved more effective than bombs and bullets in terms of discrediting the new regime.

The prisoners came from every social class except the very poorest, as can be seen by the dearth of addresses from the major tenement areas, particularly in the north-east quadrant of Dublin where there was strong support for the new government, even among former republican activists. [Source: S. McCoole, No Ordinary Women: Irish Female Activists in the Revolutionary Years, 1900-1923 (Dublin, 2003). See also A. Matthews, Dissidents: Irish Republican Women 1923-1941 (Cork, 2012)]
After his appointment as Military Governor of Kilmainham Jail on 8 February 1923, Commandant Timothy O'Neill took up residence in furnished quarters in the jail, bringing with him an assistant and a 'suitable' lady doctor.
Twenty-six-year-old Dr Brigid Lyons was appointed to the post. A member of Cumann na mBan since its inception, she was imprisoned in Kilmainham Gaol in 1916 for her participation in the Easter Rising. She was active in Galway and Longford during the War of Independence. Newly graduated as a doctor in 1922, Lyons was invited to join the Medical Service of the National Army at the rank of Lieutenant.
The unofficial records
According to official records, there was 185 prisoners in the whitewashed cells of 'A' compound in Kilmainham Gaol on 8 March 1923. Unofficial records, like personal testimony and prison autograph books, suggest that the number was much larger. In February 1923 Annie MacSwiney recorded 'nearly 300 women' in Kilmainham Gaol 'ranging in age from fourteen to close on seventy'. While Military Governor O'Neill told the GPBI that he had received no complaints, it was later reported that several women were hospitalised from the effects of 'damp, want of light and ventilation' in increasingly cramped conditions.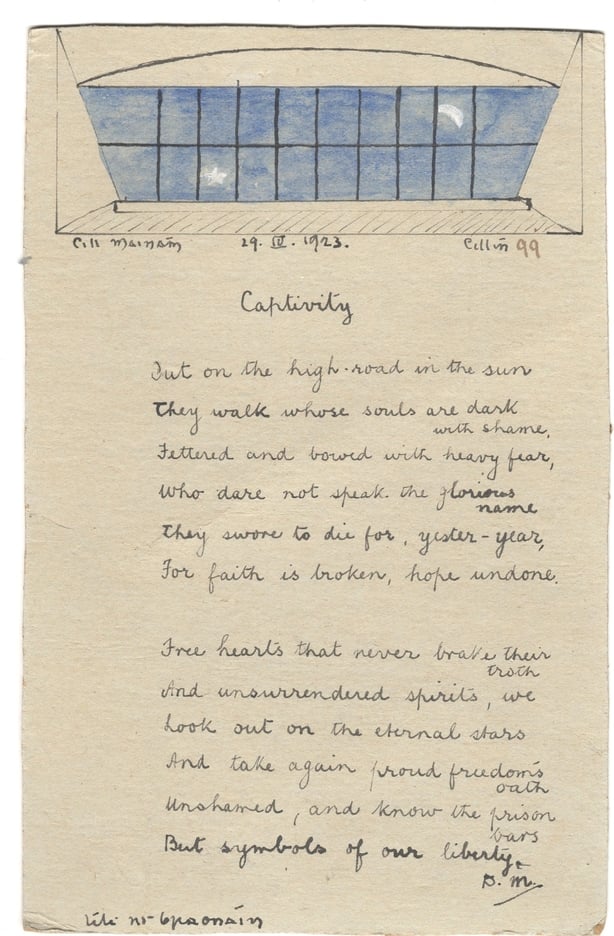 Asserting their identity
Cumann an mBan internees imposed their own structure and organisation and asserted their identity as republican political prisoners, as demonstrated in the slogans on prison walls and autograph inscriptions. Cellmates adopted names like 'Barry's Own', 'Devil May Cares', 'The Flying Squad', 'The Invincibles', 'The Snipers', 'The Republican Sisterhood', 'The Barbarians' and 'The Night Owls.' They also formed a Prisoners' Council with commanding officers, quartermasters and adjutants. These members made depositions to the Governor on behalf of prisoners.
The prisoners were not locked into their cells. They were allowed to move around the wing they occupied. The Prisoners' Council arranged classes in reading, writing and basic mathematics, Irish language and culture, Latin and 'intermediate French'. Dorothy McArdle taught an 'Irish Revolutionary History' class.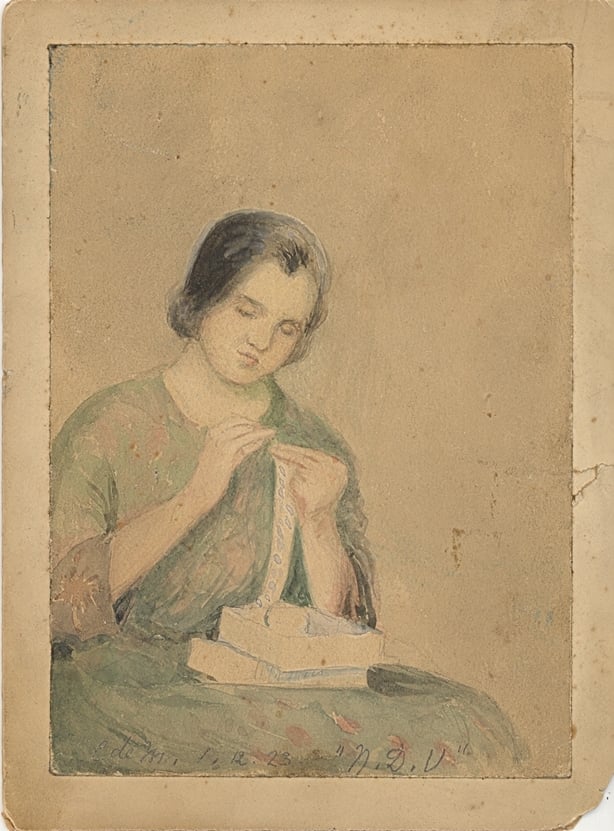 The North Dublin Union
On 10 April 1923 Mary MacSwiney was rearrested along with fellow TD Kate O'Callaghan en route to the funeral of IRA Chief of Staff Liam Lynch. Maud Gonne MacBride was arrested on the same day and all three women joined a mass hunger strike of political prisoners. Maud Gonne MacBride was released, but in late April the other 270 women on hunger strike were transported from Kilmainham and Mountjoy to specially arranged dormitories in the former workhouse of the North Dublin Union (NDU).
The official report from Kilmainham simply states that the mass removal of women led to the 'destruction of cell bell fittings, window sashes, windows, woodwork,' but the personal accounts of the female prisoners provide more details of their organised resistance. The women linked arms to obstruct the removal. Dorothy Macardle later wrote:
'I had been dragged from the railings, a great hand closed on my face, blinding and stifling me, and thrust me back down to the ground, among trampling feet.'
In Mountjoy, Maura Deegan hit the man who tried to move her with a bucket of slops and, according to her fellow internees, this was followed by 'a row.' Máire Comerford had to have stitches in her head, Sighle Humphreys was concussed, Sorcha MacDermott was beaten with her own shoe and her wrist was sprained. As a result of her injuries, she was deemed 'too weak' to be transferred.
A certain 'class of females'
Despite the issuing of a ceasefire and an order to dump arms by IRA Chief of Staff Frank Aiken in May 1923, the Ministry of Home Affairs decided that a certain 'class of females' would be returned to Kilmainham Gaol. Over the following weeks the command structure in the NDU was dismantled with the removal of high-ranking Cumann na mBan officers, including Margaret Buckley, Úna Gordon, Bridie O'Mullane, Eileen McGrane, Nell and Sighle Humphreys.
A new staff was approved for Kilmainham, eighteen female wardresses were appointed, and Captain Corri became Officer Commanding the prison. It was requested that the Principal Wardress, Miss Higgins, be transferred as she 'seems to be a nervous type and afraid of the Irregular Female Prisoners.' Miss Wilson, her replacement, was described by Buckley as 'kind and considerate'.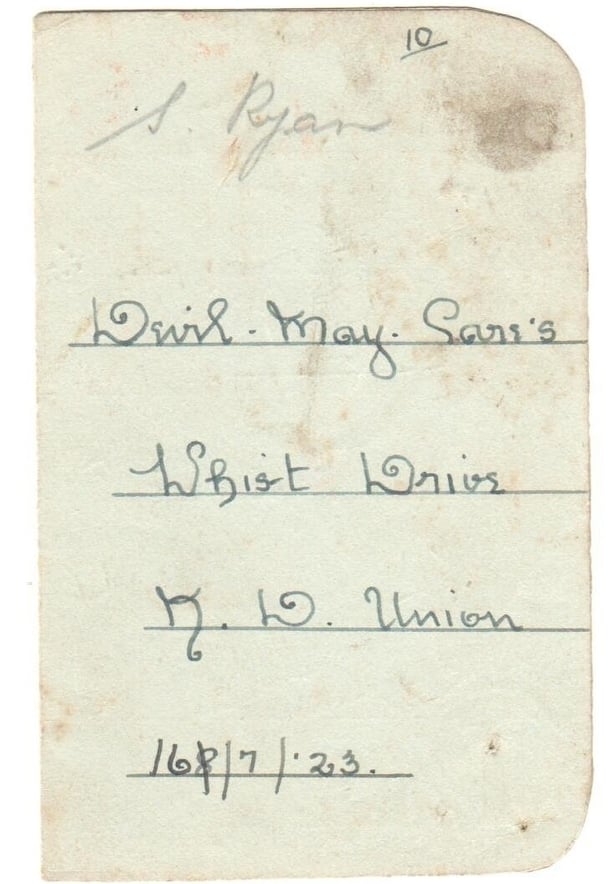 Arrests continued in the summer of 1923. In an effort to maintain morale, fancy dress parties, ceili dances and a variety of sporting activities continued in the jail but with news of the end of hostilities, the female prisoners, who had no part in this decision making, knew that this form of active resistance was at an end.
Final release
On 29 September 1923 all the female prisoners were taken back to North Dublin Union. News began to circulate that the remaining prisoners would be released by Christmas. On 10 October fifty women joined a mass hunger strike to bring about a general release, it received little support outside the prisons.
One of the last prisoners to be arrested on 20 November 1923 was Constance de Markievicz. She joined the hunger-strike in the NDU just three days before it was called off. Hearing the news, she wrote to her sister Eva, 'it was like coming to life again and I wanted to live and I wanted others to live …'
The final women prisoners were released in December 1923.
This article is part of the Civil War project coordinated by UCC and based on The Atlas of the Irish Revolution edited by John Crowley, Donal Ó Drisceoil, Mike Murphy and John Borgonovo. Its contents do not represent or reflect the views of RTÉ.