When the blight devastated Ireland, one group was particularly determined to help: the Quakers, also known as the Society of Friends. Christine Kinealy tells the story of their work - and the toll it took on them
In August 1846, the potato blight reappeared in Ireland—earlier and more virulently than in 1845. Regardless of the fact that the Irish poor were confronting a crisis far more immediate and serious than in the previous year,  the newly installed Whig government introduced a series of relief policies that proved to be parsimonious, inappropriate, and slow to be implemented.
As official relief broke down and people started to die, charity stepped in to fill the vacuum. Known for their philanthropy and progressive views, which included support for the abolition of slavery, prison reform, world peace and animal rights, it is not surprising that members of the Society of Friends, or Quakers, were in the vanguard of providing private relief in the wake of the second, devastating return of the blight. 
The first to act
Quakers in Cork were amongst the first to act. On 11 November, they requested a space in the local market to open a 'soup shop'. Only a few days later, Joseph Bewley convened a meeting in Dublin, which led to the formation of the Central Relief Committee consisting of twenty-one members. Shortly afterwards, auxiliary committees were formed in Cork, Clonmel, Limerick and Waterford.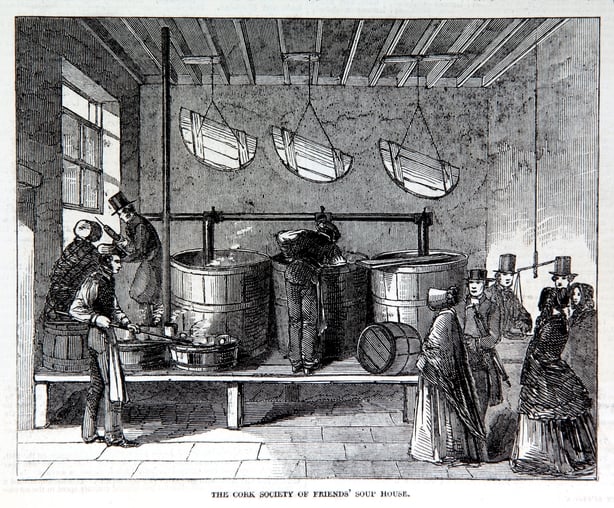 Although the number of Quakers in Ireland was small, approximately 3,000, they belonged to an international network of successful merchants and businessmen able to deploy their skills and contacts to bring relief to Ireland in the most efficient way possible.
Unlike the government, they resolved to take immediate measures to provide food to the poor. Soup kitchens were the preferred method, the Quakers working with local committees to set them up as quickly as possible, providing the financial support and the all-important large boilers or cauldrons—mostly supplied by a Quaker foundry in Birmingham in England. 
Eyewitness accounts
Despite risks to their own health, Quakers travelled throughout Ireland, not only giving relief, but providing powerful eyewitness testimony of the misery and starvation of the people.  A number came from England, including Quaker Elder, William Forster from Norwich, his son, William Edward, and James Hack Tuke from York. 
Tuke, then aged twenty-seven, spent two months in some of the most remote districts in Connacht, sending letters to the Dublin committee expressing sympathy with the Irish poor, and his frustration with absentee landowners. Asenath Nicholson, the American philanthropist, who travelled with Tuke from Rossport to Ballina, observed, 'many a poor suffering one received not only a kind word but a shilling or half-crown as we passed along'.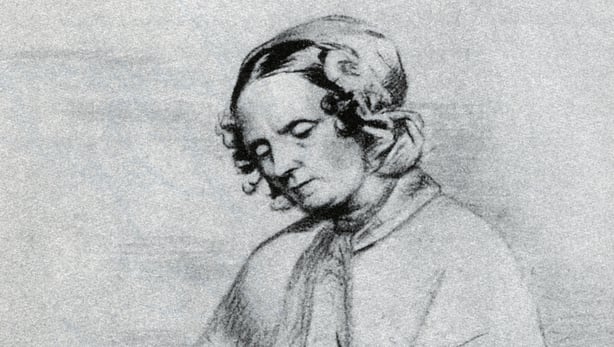 Unlike the government, the Quakers recognized that lack of clothing—especially during the unusually severe winter of 1846 and 1847—was exacerbating the agony of the poor, especially those employed on the public works. Clothing committees were established in Dublin and London, with women playing a key role. In February 1847, as freezing conditions persisted, the Dublin committee issued an appeal, explaining:
Starvation has produced raggedness in those who had clothing, and nakedness in those who previously had nothing better than rags to cover them, by day or by night.
Moreover, in addition to providing immediate relief, the Quakers addressed the issue of systemic poverty in Ireland, also providing the poor with seeds, fishing and farming equipment, in order to help them rebuild their lives and end the cycle of intermittent subsistence crises.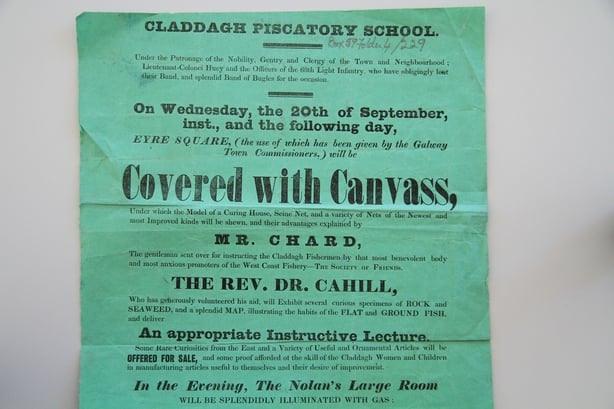 On 1 May 1847, a national meeting was convened by the Quakers in Dublin.  All donors were thanked, but a special tribute was paid to the generosity of America: over £13,000 had been given in cash, and over twenty vessels, laden with provisions, dispatched to Ireland.
In a subsequent report, it was pointed out that it was not just Irish Americans who had given, but contributions had cut across religious, ethnic and social divisions, many coming from people with no connection to Ireland. The latter included donations from the Choctaw Nation in Oklahoma, amounting to almost $200. Their gift was sent to the General Relief Committee in New York, and then forwarded to Dublin, a process that could take two months to complete.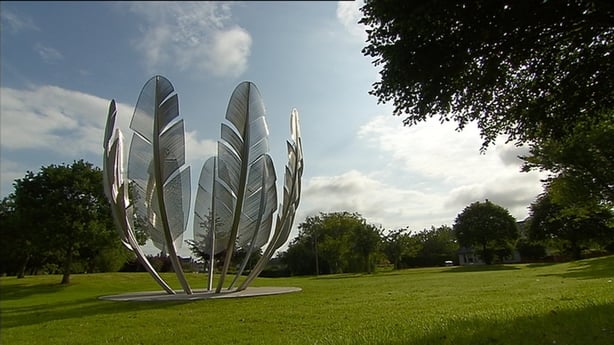 Most of the relief raised in America was channeled through this committee in New York. The General Relief Committee had been established in February, at the initiative of a wealthy businessman and philanthropist Myndert Van Shaick.  Van Shaick was of Dutch origin, and he was assisted by Limerick-born merchant, Jacob Harvey, secretary to the committee. They worked tirelessly to forward money and food to Ireland as efficiently as possible. 
Similar to other charities, donations to the Society of Friends dried up at the end of 1847, in the wake of the new harvest and following the government's pronouncement that the Famine was over.  The Famine continued but, from this point, the Poor Law was made responsible for all relief. Reluctantly, the Quakers had to wind down their involvement.
In 1849, however, as evictions, emigration, disease and death increased in the west of Ireland, the British Treasury privately offered the Irish Quakers £100 if they would again become involved in relief operations. They refused on the grounds that any money they could raise would be 'utterly inadequate', and that only the government could provide the scale of assistance necessary to save lives.
Quaker donations
---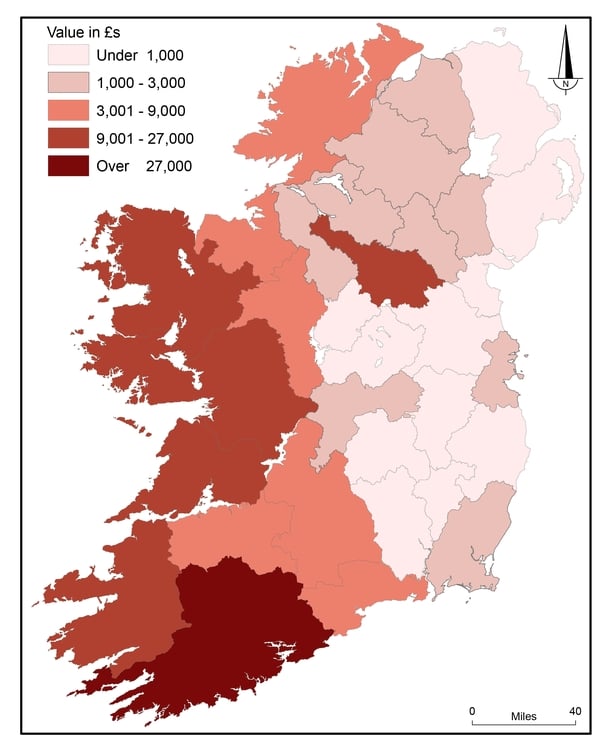 This map, showing the total value of specific Quaker relief efforts – whether in the provision of boilers, food and/or monies – per county from 11 December 1846 to 1 May 1848 both illustrates how well informed the Central Relief Committee of the Society of Friends was about where destitution was greatest during the Famine and its ability to coordinate supplies to the most needy in those areas.

Communities in Counties Galway and Mayo in Connacht and Clare, Kerry and especially Cork received the most support from the Quaker relief effort. Interestingly, County Cavan alone in Ulster is singled out for major relief efforts. A middle group of counties from Donegal, through Sligo Roscommon, Tipperary, Limerick and Waterford also received substantial support from the Quakers.

In contrast, the remainder of Ulster and much of Leinster were not seen as so critical to Quaker relief efforts. Breaking down these figures it is clear that Munster communities received over half of Quaker cash grants, Connacht almost a quarter, Ulster 17% and Leinster only 5%. Much the same ratios prevailed in the actual provision of food supplies although Leinster improved its share in the provision of huge boilers (to serve the soup kitchens) to 13.5%.

It is interesting that Quakers also saw the need to provide clothing grants. Here, Leinster communities received about one-third of this total, Connacht and Munster one-fourth and one-fifth, respectively, and Ulster less than one-fifth of clothing grants.

Quaker relief committees were also centrally involved in the provision of seed for green crops and in seeking to revitalise the fisheries along the west and south coast of Ireland. The generosity of the Quakers during the Great Famine is still remembered and honoured by the Irish people.
---
Stress and exhaustion
The economic, physical and mental cost of having such close involvement in providing relief was high. Writing in March 1847, Jonathan Pim, a founding member of the Dublin committee, provided an insight into the stress he was enduring, stating,
'I cannot go on longer on the present plan. My business is totally neglected. My health, neither of body nor mind, would bear it'.
Pim survived, but an estimated fifteen Quakers lost their lives as a result of their exertions.  These included Abraham Beale, a founding member of the Cork Committee who contracted typhus, and Jacob Harvey in New York. They were aged fifty-three and fifty, respectively. Harvey's friends attributed his premature death to exhaustion. 
In 1852, the Quakers published a detailed account of their 'transactions' during the Famine. They believed that they had failed in their mission, as people had died. To their contemporaries and subsequent generations, however, the Quakers rank amongst the heroes of the Famine.  Without their multiple interventions, mortality would have been even greater.
Contributions from America
---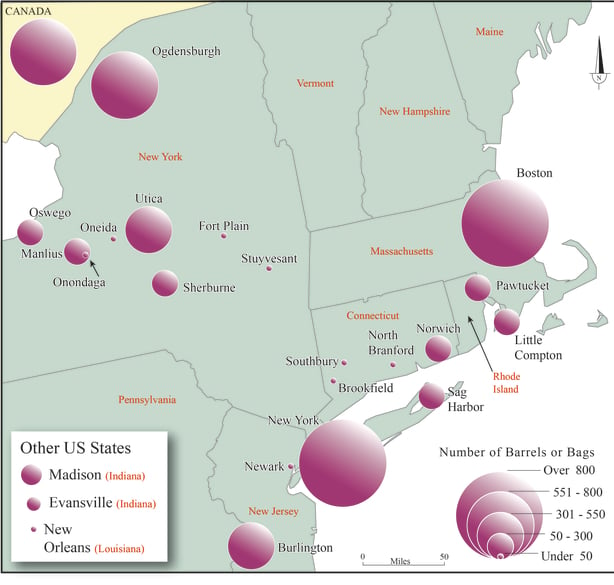 This map shows the distribution of contributions from the northeastern states of North America for Quaker relief efforts in Ireland. Having obtained first-hand information on the true conditions prevailing in Ireland in the autumn of 1846, and having confirmed that the failure of the potato crop was a major disaster for so many of the Irish poor, the Quaker appeal for funds, food and clothing was extended to North America.

This map shows some of the originating centres which shipped many barrels of corn, flour and meal (as well as smaller consignments of beans, oats, ryemeal and wheat and some boxes of clothing) to Ireland from the third month (March) to the tenth month (October) of 1847. Cork port received nine of these shipments, Liverpool eight, Dublin two and Limerick one.

Boston and New York head the list but Ogdensburgh (upstate New York) on the Canadian border and Utica also made substantial contributions, as did Burlington, New Jersey. Significant contributions also came from the smaller New England states as well as from other centres in upstate New York. Further south (just off the map), Philadelphia became a major receiving centre for contributions.

Canadian groups were also generous in their contributions. Not only Quaker communities but also Irish Relief Committees in American cities, Protestant Episcopalian Churches as well as one Reformed Dutch Church entrusted their contributions to the Quaker relief effort.

Given their justified reputation for independence, probity and foresight in directing famine relief efforts, overall a large proportion of American contributions were directed to the Quakers.
---
Moreover, their harrowing accounts of the suffering encouraged people throughout the world to assist Ireland. Yet the Quakers' contribution was not simply in terms of how much relief they gave—it also lay in the manner which they did so. They did not attempt to convert or chastise those whom they assisted, but they provided relief with compassion and in a way that allowed the recipient to maintain his or her dignity.  
The philosophy that underpinned their multi-faceted involvement distinguished them from many other relief givers, including the British government. The Cork committee explained that while overwhelmed by the amount of hunger, they were 'animated by a measure of love which transcends all other motives of human action'. 
On the other side of the Atlantic, when asked why he had given so much to a people he did not know, Van Schaik responded that it was 'a labour of love'. Their words and actions demonstrate the importance of humanity at a time of crisis.    
This piece is part of the Great Irish Famine project coordinated by UCC and based on the Atlas of the Great Irish Famine. Its contents do not represent or reflect the views of RTÉ.