A poem written during the Great Famine by Eliza Pope of Waterford, entitled 'A Ladies' Committee in Ireland, 1849', provides a rare contemporary insight into the role of women's relief committees.
Seven hundred pounds at last we've got,
What with it shall we do?
We'll purchase one huge metal pot.
Some curry powder too.
For water at the boiling point with any curry shaken in,
Will do as well as any joint to fill a poor man's skin.
And no one can question that this is not substantial fare,
By it are not Norfolk's labourers rude. Supplied by Ducal care.
Thus spoke a miss, but then arose, a storm of fierce debate,
Some ladies were for buying clothes and all began to prate,
Some thought that tracts would do most good …

Despite the explosion of interest and research on the Great Famine since 1995, surprisingly little has been written concerning its impact on women or children, even though they experienced the tragedy in distinct and painful ways. In contrast, visual representations of the Famine overwhelmingly have featured these two groups, generally portraying them as victims.
Women, however, were not simply victims—a number had agency and authority, as workhouse matrons, as care-givers, as eyewitnesses, as fundraisers, as relief givers, as poetic observers, as landlords and, more recently, as historians.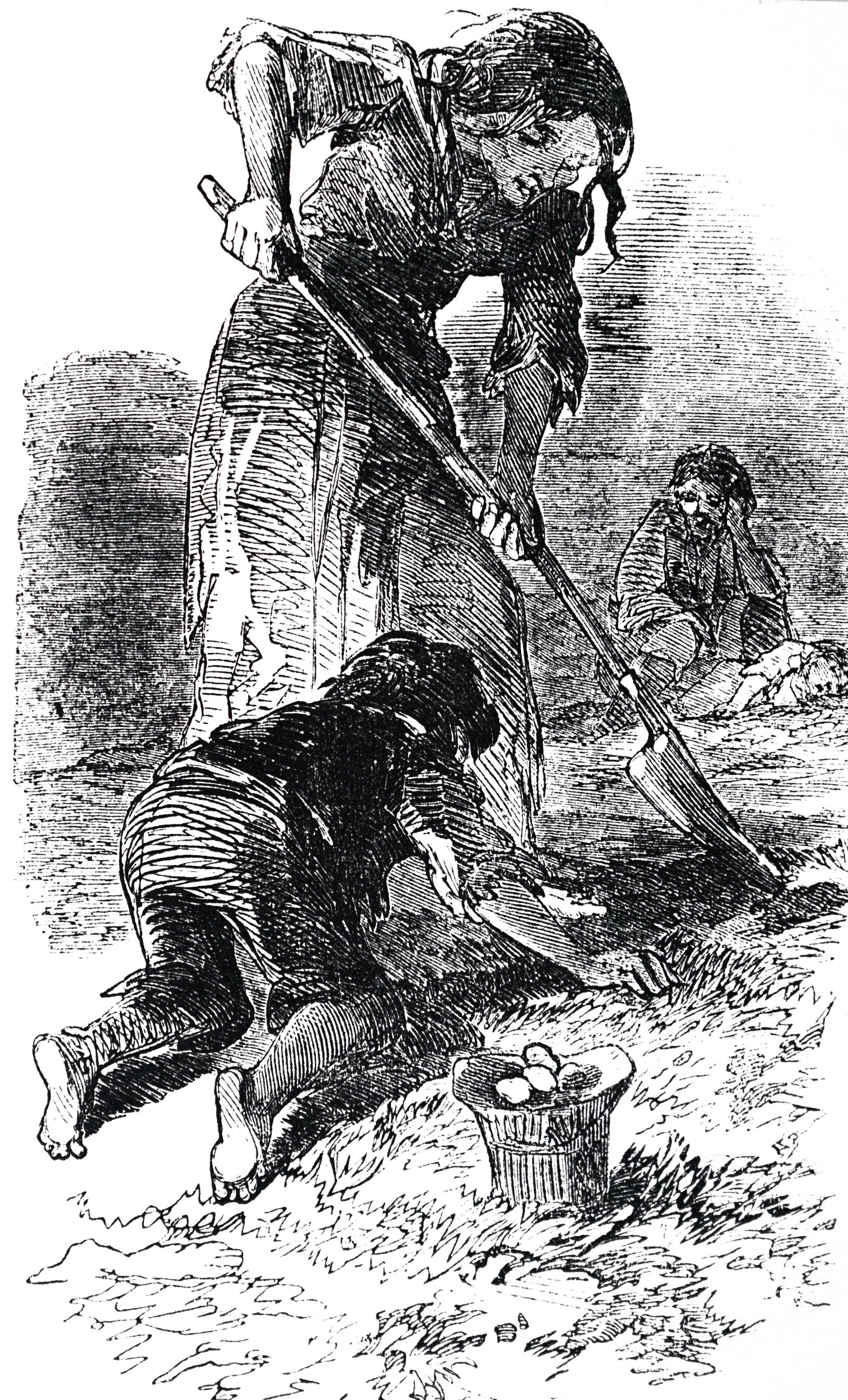 An evicted woman and her children dig for potatoes in this image from The Illustrated London News, January 1849 (Source: Universal History Archive/Universal Images Group via Getty Images)
The Grey Nuns of Montreal were one of several female religious orders who risked, and lost, their own lives in the fever sheds where they cared for the diseased Irish who arrived in Canada in 1847. On the other side of the world, the Earl Grey emigration scheme provided for over 4,000 orphaned females, aged between 14 and 18, to be permanently transported to Australia.
These pioneering young women changed the demographic profile of the colony and created an alternative narrative of Famine emigration and survival. By examining the multiple roles of women, both within and beyond Ireland, further layers of complexity are added to our understanding of this tragic event.

An iconic Famine image
One of the most recognized images of the Famine is that of 'Bridget O'Donnel, and Children'. It was drawn by Cork-born artist, James Mahoney and appeared in The Illustrated London News in December 1849. Less well known, but even more moving, was the article that appeared alongside the image, which provided a verbatim interview with Bridget.
At the onset of the Famine, she and her husband rented over seven acres of land in County Clare, but they fell behind with the rent. They were evicted two months before Bridget gave birth—to a still-born child. Shortly afterwards, her thirteen-year-old son died, 'with want and with hunger'. It is not known what subsequently became of the O'Donnel family.
Bridget, like hundreds of thousands of other Irish women, became invisible, yet her story and her image had appeared in one of the most widely-circulated newspapers of the day.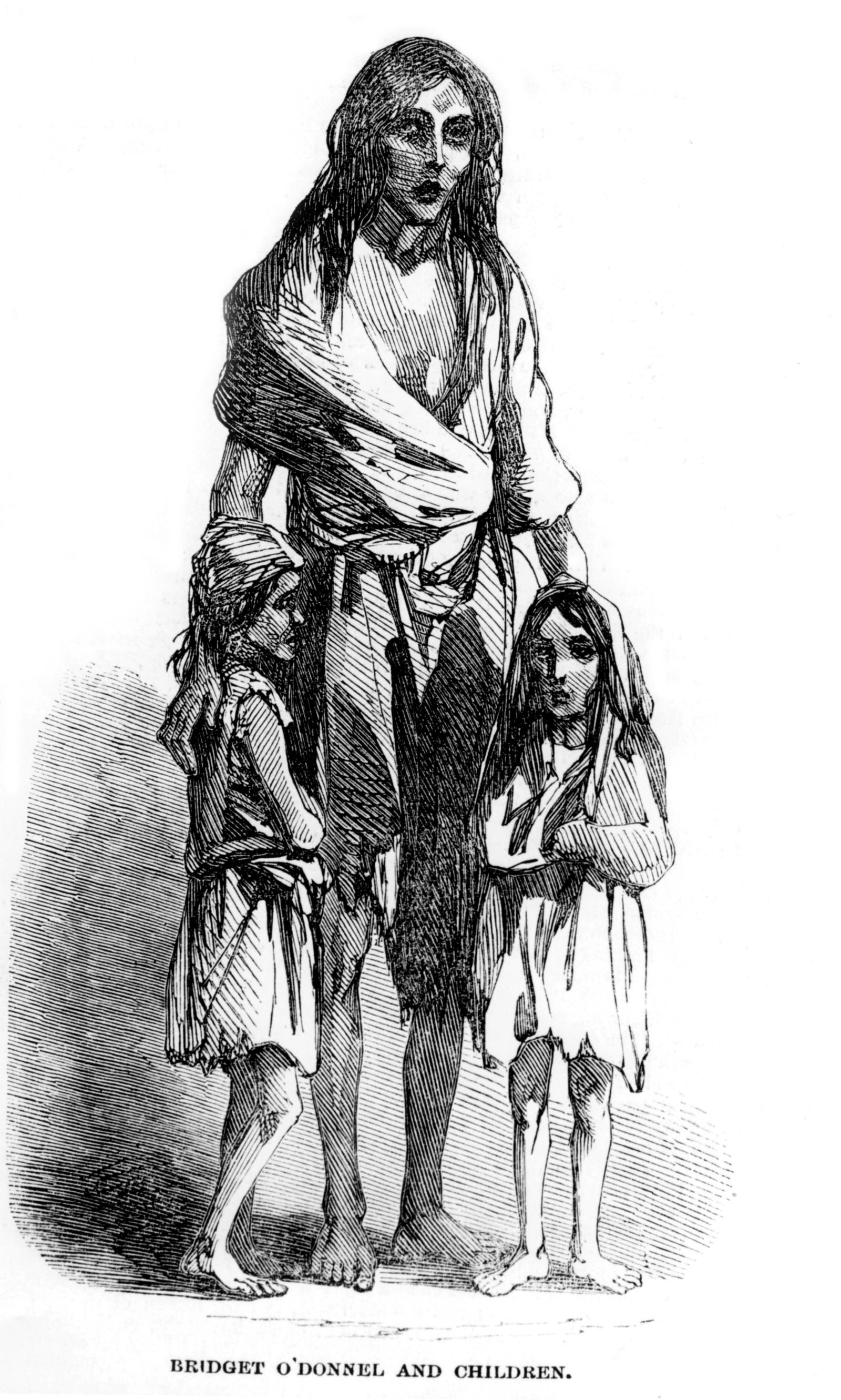 Bridget O'Donnel and her children by James Mahoney, Illustrated London News 1849. (Source: Photo12/Universal Images Group via Getty Images)
Recent research has suggested that poor women had more agency than has generally been assumed. Pioneering work by Ciarán Reilly has uncovered hundreds of petitions by poor women, some written on scraps of paper, others penned by literate neighbours.
Most petitions were addressed to the local landlord. Through these documents, individual stories emerge. Thus, Widow Neary of Strokestown petitioned for ten shillings to allow her to go to England. If granted, she promised, 'I never will be of further trouble to your honour or any other gentleman in the country'. Mary Lattimore of Cootehill appealed for 'a small complement of flesh meat' to feed her starving children. It was dated Christmas Eve, 1846.
The fate of these and of other petitioners is not known, but they highlight one way in which women were actively trying to ensure that they and their families survived.
The indifference of many Irish landowners to the suffering of the poor was highlighted at the time of the Famine and in the historiography. Primary sources relating to women of the Ascendancy class are rare, but they provide a more nuanced insight into the role of the 'big house'.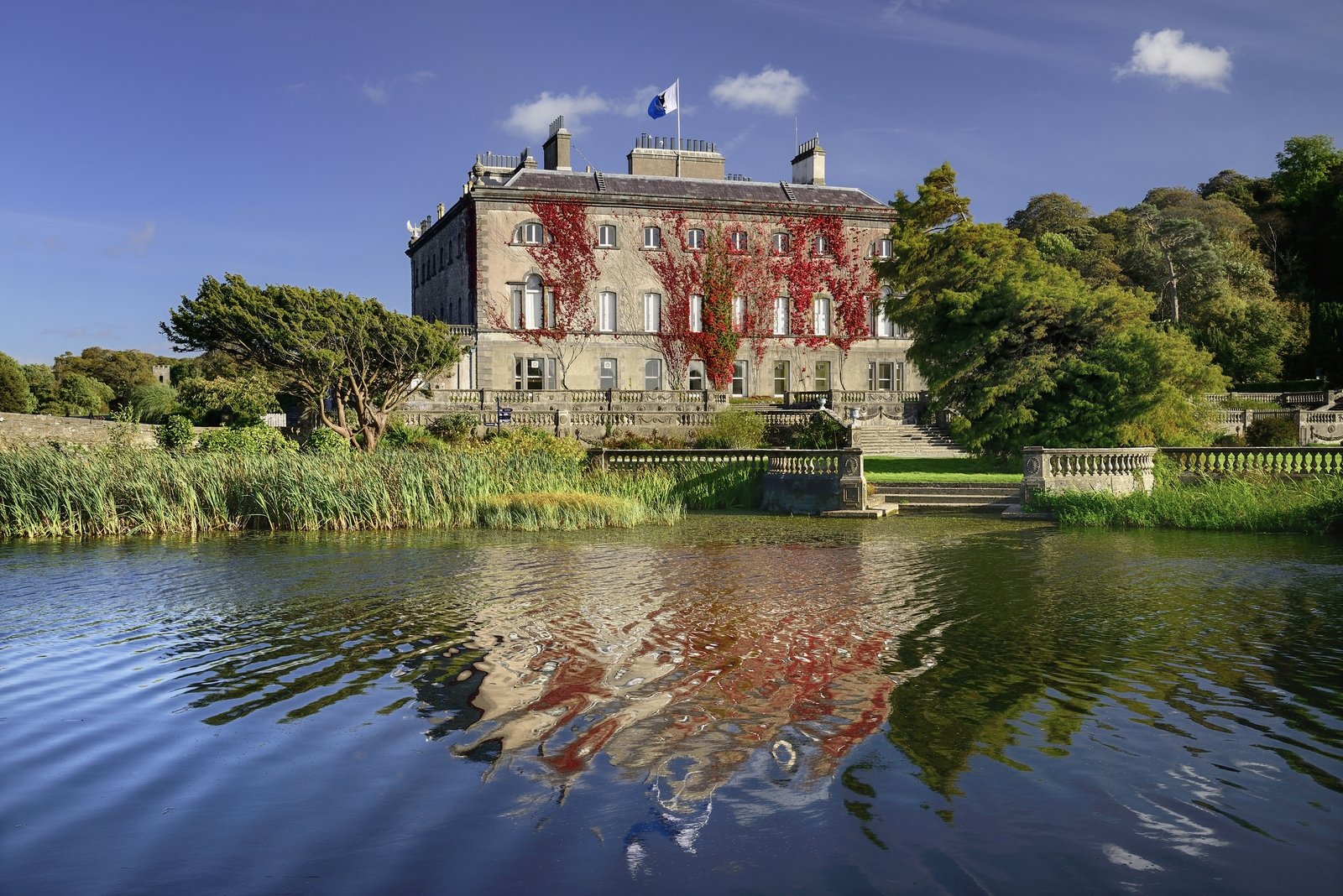 Westport House, County Mayo. Its then resident Lady Sligo tried to help the starving poor (Photo by Eye Ubiquitous/Universal Images Group via Getty Images)
Ascendancy women
The surviving letters of Lady Sligo of Westport House in County Mayo reveal her sympathy, and that of her young son, George, towards the crisis unfolding in the west of the country. They responded in practical ways, supplying their tenants with blankets and much-needed food.

Her correspondence also reveals the dilemmas faced by humane landlords who wanted to assist, rather than evict, their tenants—a dilemma that became more difficult following the passage of amended Poor Law legislation in August 1847.

Two other Irish women who assisted the poor, but did so from diverse political perspectives, were Mary Ann McCracken, sister of the executed leader of the 1798 Rising, Henry Joy, and Maria Edgeworth, the celebrated writer.
In 1847, McCracken was aged seventy-seven, Edgeworth, sevety-nine. McCracken was a founding member of the Belfast Ladies' Association for the Relief of Irish Destitution, established in January 1847 by women of all denominations. To raise donations, subscription lists were drawn up, a fund-raising bazaar was planned and appeals were made to England and Scotland.
By March, over £2,000 had been raised. Initially, the relief had been intended for the western counties of Ireland, but as distress deepened within Belfast, a separate committee was created to assist the local poor.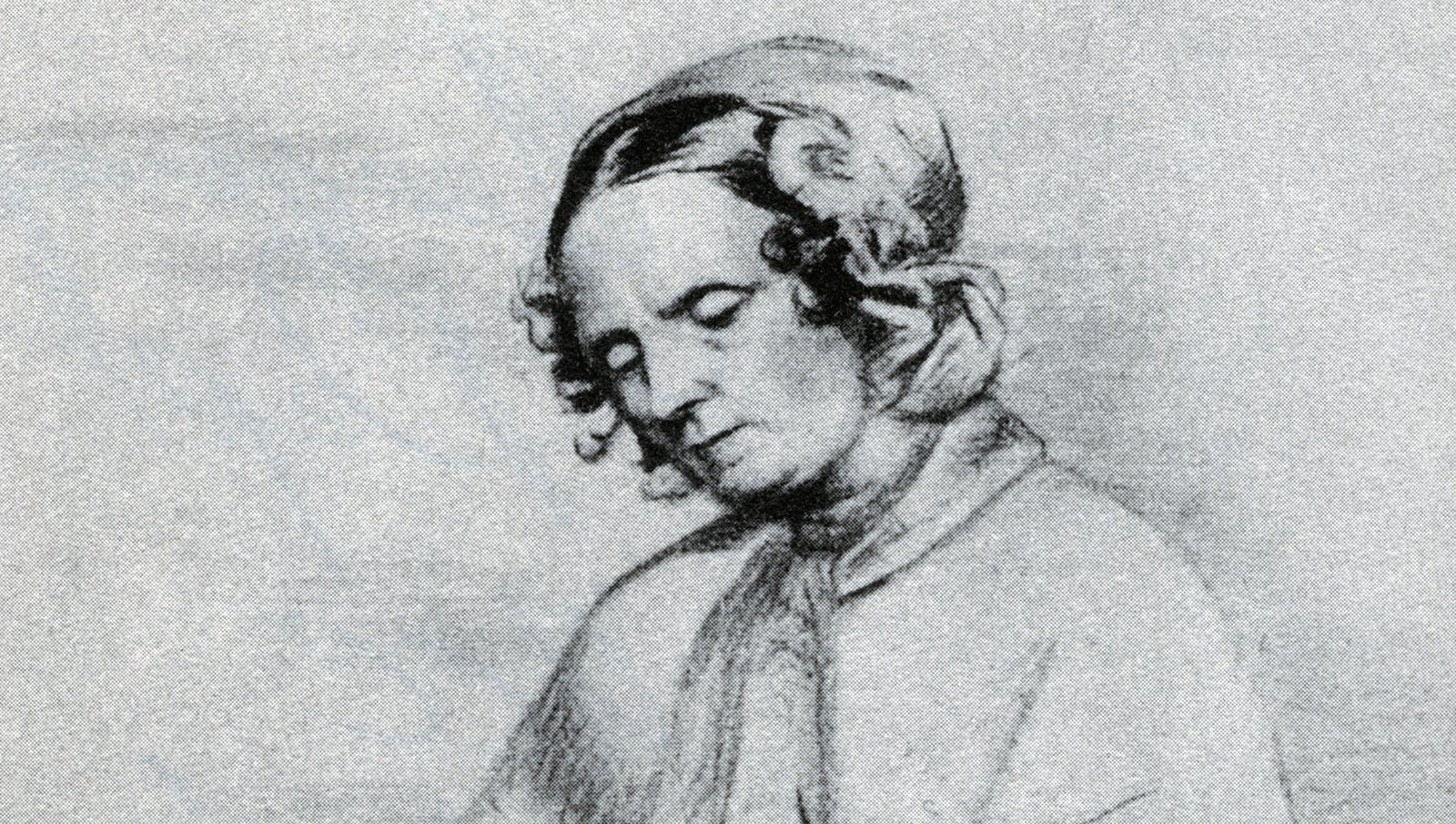 Asenath Nicholson, an American abolitionist who was travelling throughout Ireland in 1847, wrote a forthright account of the scenes she witnessed. Nicholson was particularly impressed by the Belfast women, averring, 'The Belfast Ladies' Association embraces an object which lives and tells, and will continue to do so, when they who do so shall no longer be on earth'.
In Edgeworthstown in County Longford, Maria Edgeworth used her international fame to appeal to women in America for aid, stating that, 'during my sixty-six years residence in Ireland, I never knew of distress equal to the present'. She was touched by a donation from children in Boston, of £150 worth of food, with a note, 'To Miss Edgeworth, for her poor'.
Edgeworth also asked the Quaker committee in Dublin for leather to make brogues for men and boys working in bad weather on the public works. Additionally, the income from her short story 'Orlandino' was used to purchase grain for the local poor 'to encourage them to cook at home and not be mere craving beggars'. The interventions by these three disparate women suggest the multifaceted ways in which relief was provided.
Recent research by Gerard MacAtasney in Leitrim, examining the role played by the wives and daughters of the local gentry and clergy in bringing relief to the county, suggests that there are many more histories waiting to be rediscovered.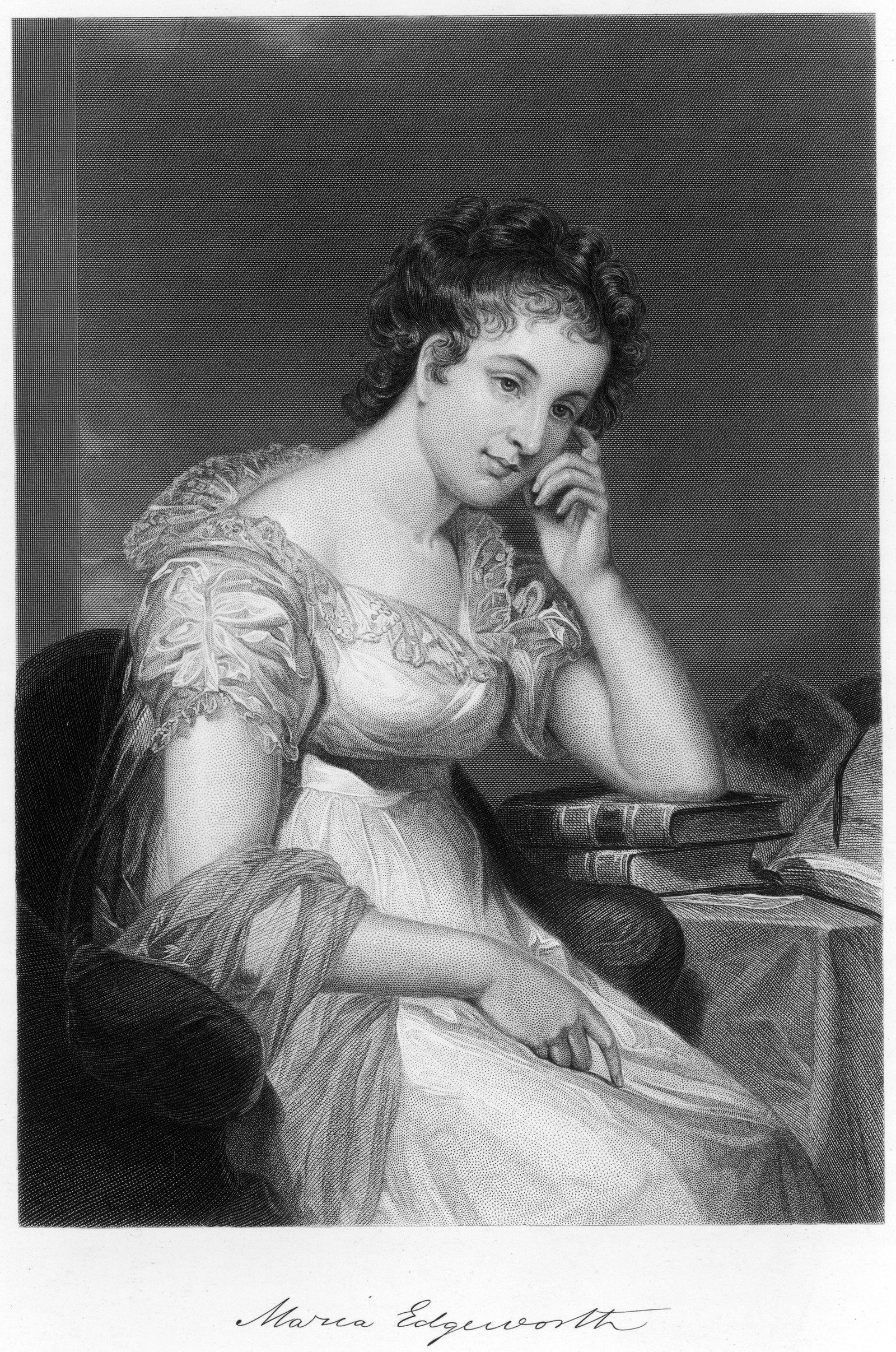 An engraving of a young Maria Edgeworth (1767 - 1849) from the original painting by Alonso Chappel. The acclaimed writer was active in relief work during the Famine (Photo by Hulton Archive/Getty Images)
The precise number of females who died during the Famine is not known as death registers were not kept. Historians, therefore, rely on the imperfect and retrospective census of 1851. The census suggests that female excess mortality was forty-eight per cent, with higher rates amongst the young and old.
But women were not simply passive victims; they asserted their agency in multiple ways. In 1847, when Schull and Skibbereen achieved a grim international notoriety, a government official singled out women for praise:

There is a ladies' association, doing much good, at a great personal sacrifice and upon a very limited fund. These ladies visit the cabins where the worst cases of fever and sickness prevail, and by a judicious distribution of nourishment and clothing, have doubtless, under Providence, been instrumental in saving many lives.
Women, so long invisible, were often the hidden heroes of the Famine.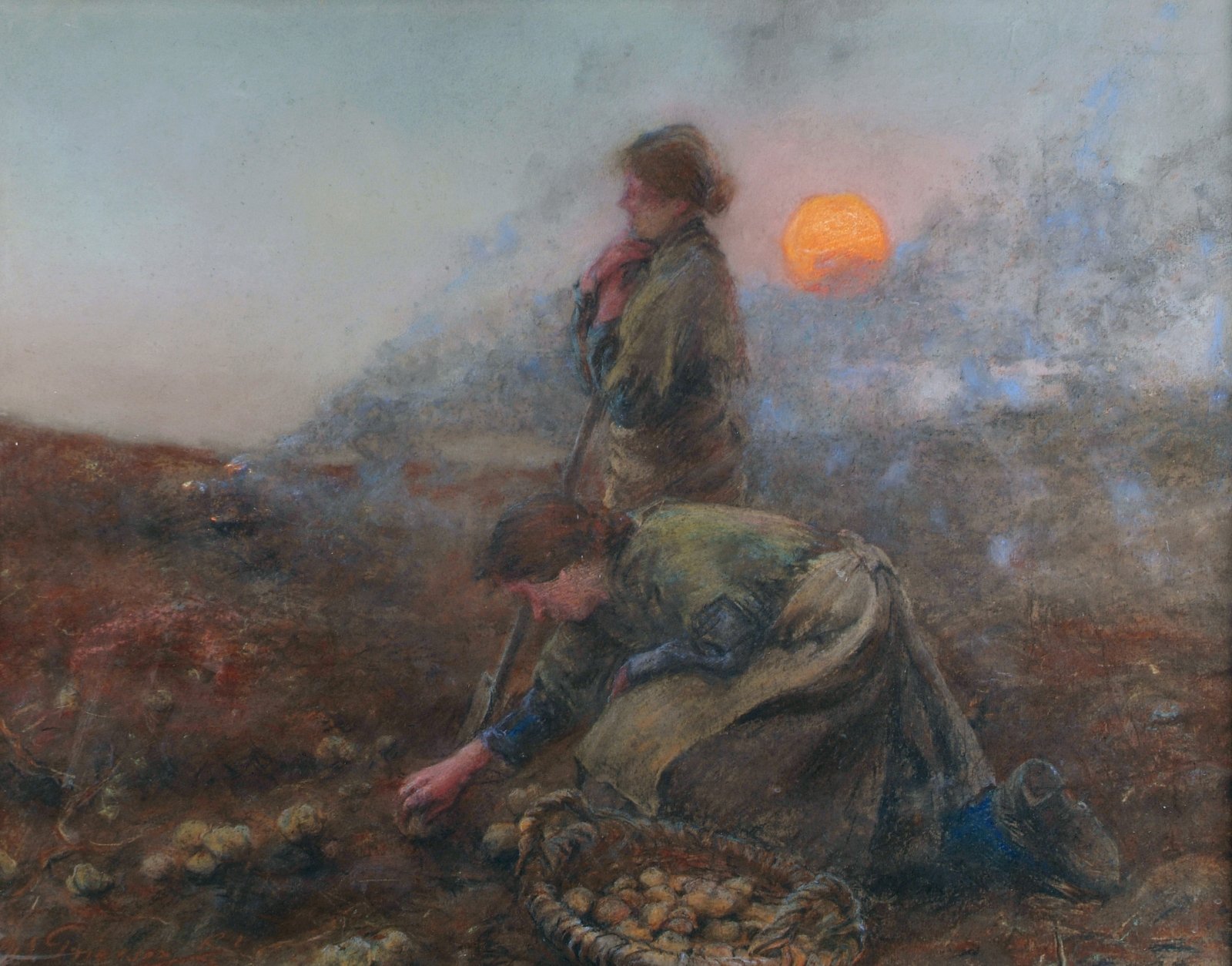 Charles MacIver Grierson's Potato Diggers in the West (1903) pastel on paper 51 x 66 cm, Collection Crawford Art Gallery Cork
This piece is part of the Great Irish Famine project coordinated by UCC and based on the Atlas of the Great Irish Famine. Its contents do not represent or reflect the views of RTÉ.