'If shell shock existed in the IRA ... the place to look for it was among these men.' The targeted killing of British forces on Bloody Sunday was 'a gruesome rite of passage' for the men who took part, as John Dorney explains.
In the days leading up to November 21, 1920, dozens of young IRA Volunteers in Dublin were told by their company commanders that they were to be mobilised for a 'special job'. 
This was to be an onslaught on the British military Intelligence officers in the city, 35 of whom were to be simultaneously assassinated at multiple locations around the city at 9 o'clock that Sunday morning.
Todd Andrews recalled being told of the mission,
'We were very excited but killing a man in cold blood was alien to our ideas of how war should be conducted. We neither of us relished the idea.'
Hardened assassins
Michael Collins's Squad, the hit-unit of his IRA GHQ Intelligence Department, had already become hardened to assassination. By November 1920 they had already killed 12 police detectives and several others, such as magistrate Alan Bell, who was investigating the Dáil's finances and Frank Brooke, a railway director advising the British military. 
But the 'job' on what would become known as Bloody Sunday, was far too large for the Squad and Intelligence Department to do alone. At most locations it was carried out by ordinary IRA companies of the Dublin Brigade with just one or two Squad or Intelligence men accompanying, either as shooters or to seize the papers they found on the British officers. 
It was, therefore, for most IRA men who took part, a gruesome rite of passage. 
'The Cairo gang'
The popular narrative of Bloody Sunday has it that Michael Collins, as IRA Director of Intelligence, was confronted, in late 1920, with the appearance in Dublin of an elite corps of British military intelligence officers known as the 'Cairo gang' and that the killings on Bloody Sunday morning were his riposte.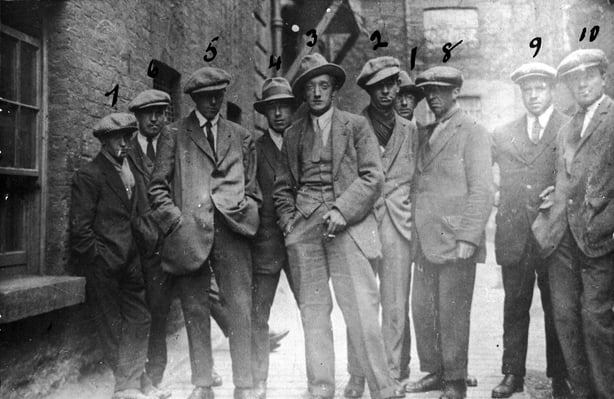 Recent studies have questioned whether such a grouping as the 'Cairo gang' existed. If so, the name appears to have been coined by their habit of meeting at the Cairo café on Grafton Street rather than previous espionage service in Egypt. 
Certainly though, the British military were assembling an intelligence operation in Dublin under Ormonde Winter, and importing specialist intelligence officers for the job, to replace the 'G' or detective Division of the Dublin Metropolitan Police, which had effectively been crushed by Collin's Squad's assassinations in late 1919 and early 1920. 
In early November two of Collins' key Intelligence officers, Liam Tobin and Frank Thornton had been arrested, though released, and IRA Chief of Staff Richard Mulcahy's papers had been seized in a raid in Dublin. Whether or not the Cairo Gang existed, British intelligence was getting closer to penetrating the heart of the IRA command in Dublin.
Equally from the summer of 1920 on, the British had been striking hard at the IRA, the First Dáil and its supporters in Dublin and elsewhere.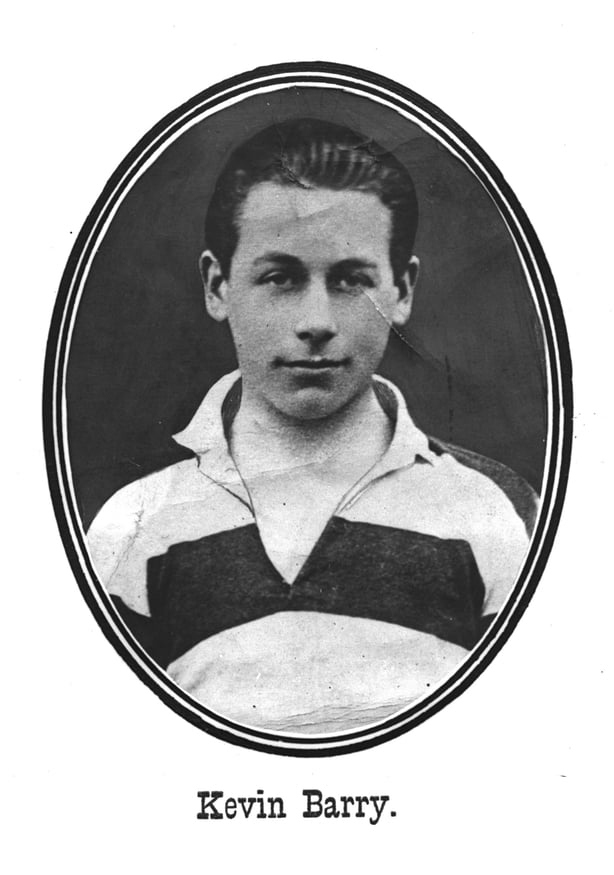 In the month of October 1920 alone, the Republican roll of honour records four Volunteers 'murdered by British forces' in Dublin after being taken prisoner. In early November a young Volunteer, Kevin Barry was hanged for his role in the shooting of three soldiers in Dublin, and just before Bloody Sunday, the Auxiliaries had assassinated a civilian, Joseph O'Carroll, father of two Volunteers, calling to his house and shooting him dead.
Swinging the balance
Bloody Sunday was therefore Collins way, not only of striking at the British Intelligence system, but also of swinging the balance of terror back in the IRA's favour. 
Collins' Intelligence department, principally Frank Thornton and Liam Tobin, compiled a list of over 50 persons to be killed, based among other things on tip offs from the maids and staff at their boarding houses, analysis of their wastepaper bins and other methods. The Dáil's minister for Defence Cathal Brugha whittled the list down to 35, on the grounds that the guilt, particularly of some of the civilian informers, was unproven. 
The planning of the day's operations was largely done by Dick McKee, head of the Dublin Brigade and Sean Russell the commander of the Brigade's Second Battalion.
A bloody morning
Early on the morning of November 21, groups of IRA men met at various locations around the city to be given instructions. Squad member Vinny Byrne, for instance met with about 25 Second Battalion E Company men at Tara Hall on Gloucester Street (now Sean McDermott Street) and proceeded across the city to the Mount Street area.
Charlie Dalton, a young IRA Intelligence officer, met with Paddy Flanagan and about 30 men from K Company of Third Battalion, and headed to two houses on Pembroke Street, where seven British officers lay sleeping.
Sean Lemass, the future Taoiseach, commanded C Company of Second Battalion that day, but was always most reluctant to talk about what he did. When interviewed by the Military Pensions Board in 1942 he was evasive; 
Q. You had service on 21 November 1920?

A. The Principle thing was 'Bloody Sunday' 21 November 1920. I was in charge of the company. 

Q. Could you amplify Bloody Sunday?

A. I was in command of the company who were operating. 
Most of the targets were in a tight area of the south inner city, with the exception of two shootings that took place at the Gresham Hotel on O'Connell Street.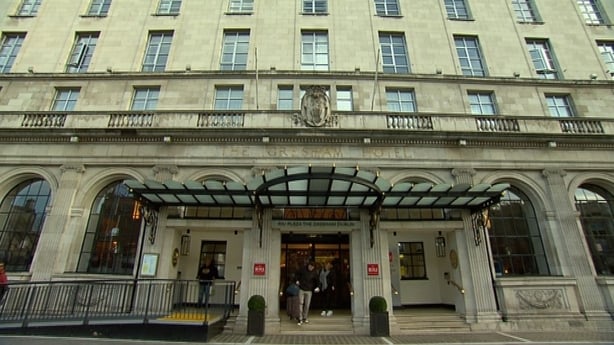 In most cases, the IRA teams simply knocked on the doors of the boarding houses and digs where the British officers were staying. They were usually let in by staff who were either unsuspecting or in some cases sympathetic to the IRA's cause, though in some locations the Volunteers had to shoot off locks or break down doors. What happened next was in all cases brutal. 
At 28 upper Pembroke street, Charlie Dalton and Paddy Flanagan burst into the rooms of two officers and shot them. One was in bed and was, in Dalton's recollection 'told to stand up and then shot'. Dalton wanted to search the room for papers, but Flanagan told him 'search be damned, let's get the hell out of here'. 
Next door at number 29, a further five officers were shot though not all fatally. Many were shot in front of their wives.
Caroline Woodcock (whose husband was shot four times but survived) watched her husband and another officer, Hugh Montgomery shot in front of her. She recalled:
'Never to my dying day shall I forget the scene in the hallway and in the stairs where four officers had been shot.

There were great splashes of blood on the walls and stairs and bits of plaster were lying about and on the walls were marks of innumerable bullets. Fortunately, the murderers had been so panic stricken themselves and their hands so shaky that their firing had been wild in the extreme'.
"May the Lord have mercy on your souls"
Where seasoned Squad gunmen were involved, there were no such 'mistakes'. Vinny Byrne told two officers, Ames and Bennet at 22 Upper Mount Street, 'may the Lord have mercy on your souls' before shooting them down with his 'Peter' automatic pistol. 
At 92 Lower Baggot Street, Squad member Bill Stapleton recalled that his target, Captain Newbury, tried to escape through window:
He was in his pyjamas, and as he was attempting to escape by the window, he was shot a number of times. One of our party on guard outside fired at him from outside. The man's wife was standing in a corner of the room and was in a terrified and hysterical condition.
Captain William Newbury's wife was pregnant. She watched as he was shot trying to climb out the window, then questioned while lying wounded about his papers and finally shot in the head. 
In Ranelagh, Todd Andrews' target, Captain Nobel was not in, but he recorded that IRA Intelligence officer Joe Dolan beat Nobel's girlfriend and set fire to her room in a search for Nobel's papers.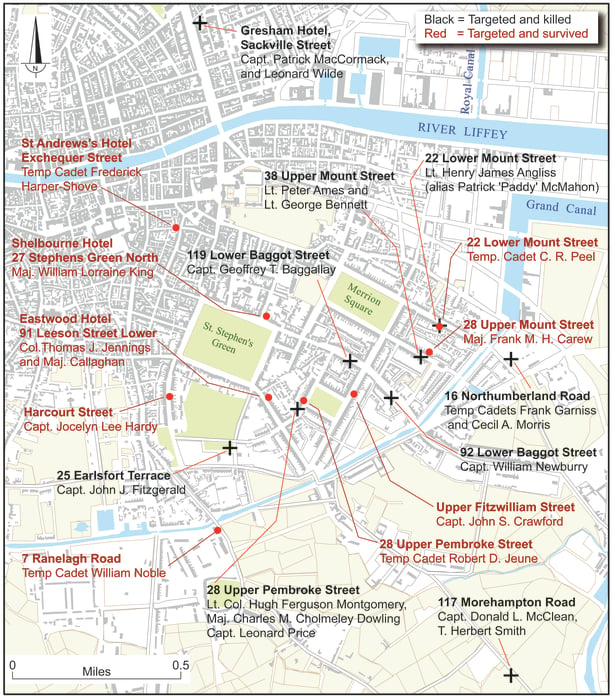 There were further fatal shootings at Earlsfort Terrace, Morehampton Road and Lower Mount Street, and the Gresham Hotel. Two Auxiliaries who happened upon the shootings at Mount Street were also killed. 
By ten o'clock 15 people had been shot dead; nine of them were British officers, of whom six were confirmed Intelligence agents and two courts martial officers and one staff officer.
Two Auxiliaries and one RIC officer, were killed along with one off duty officer, McCormack, who may have been targeted by mistake, a man, Wilde, who may or may not have been an intelligence officer, and a civilian landlord who seems to have simply been in the wrong place at the wrong time. Five more officers were shot and wounded.
'The very air is made sweeter'
Most of the IRA parties crossed the Liffey on boats back to safe houses on the northside to avoid checkpoints on the city's bridges. Only one man, Frank Teeling, had been captured.
Michael Collins himself stated that 'the very air is made sweeter' by the killing of the British military intelligence officers. Brutal as the morning's events were, some in the IRA were disappointed that so many of their targets had escaped. 
Charlie Dalton was scathing of First Battalion who were supposed to 'visit' addresses on the North Circular Road and Phoenix Park but did not carry out the raids. Todd Andrews wrote,
'the fact is that the majority of the IRA raids were abortive. The men sought were not in their digs or in several cases, the men looking for them bungled their jobs'.
Nevertheless, the British Army reported,
'The Murders of November 21st 1920 temporarily paralyzed the Army Special Branch. Several of its most efficient officers were murdered and the majority of other officers were brought into the [Dublin] Castle and the Central Hotel for safety.'
Trauma
While in their recollections many IRA men affected a nonchalant tone towards the morning's events, it seems clear that in reality the killing, up-close and intimate, traumatised many of them deeply.
Larry Nugent of Third Battalion recalled that he could not get a report from the K company men on Pembroke St job.
'The men would not talk. Three men of K coy did not return to duty after this operation… the men did not like this operation, but orders were orders and had to be obeyed'. 
Seventeen-year-old Charlie Dalton, 'couldn't sleep the night of Bloody Sunday, he thought he could hear the gurgling of the officers' blood'. He later wrote that he, 'could no longer control the overpowering urge to run, to leave far behind me those threatening streets'. Sean Lemass, who shared a safe house with him that night recalled that he was 'hysterical'.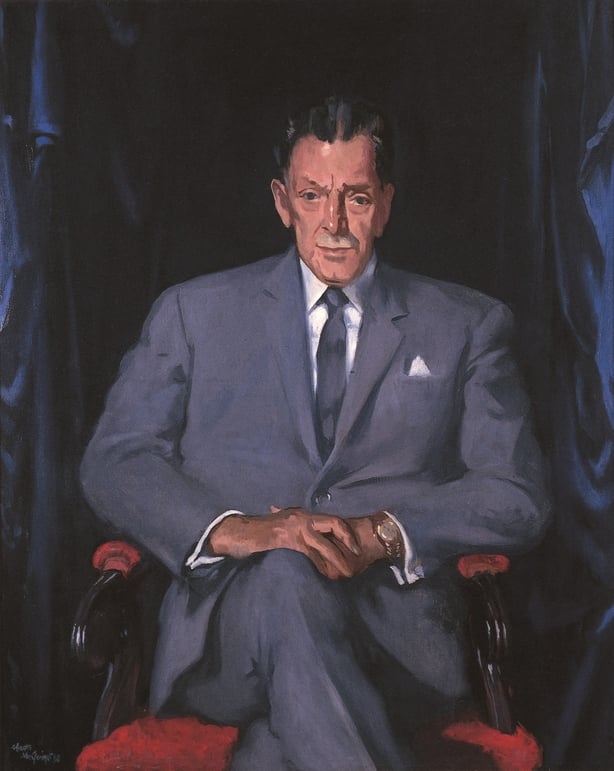 Paddy Flanagan who accompanied Dalton that day, later commanded an Active Service Unit of the Dublin IRA but in the 1930s appears to have had a breakdown of some sort. His erstwhile Battalion commander Joe O'Connor testified in 1935 that:
 'A mental Specialist tells me that he would be quite prepared to certify that his present condition is a result of his activities'.
Even the hard men of the Squad suffered, ultimately for the terrible things they had seen and done. Charles Russell stated to the Army Inquiry in 1924 that
'If shell shock existed in the IRA ... the place to look for it was among these men.'
The grim events of Bloody Sunday morning left indelible marks on all those who participated in them, either as assassins or victims, that long outlived the bullet marks that pockmarked the halls of the boarding houses and hotels of Dublin that morning. 
This article is based on The Atlas of the Irish Revolution edited by John Crowley, Donal Ó Drisceoil, Mike Murphy and John Borgonovo and its contents do not represent or reflect the views of RTÉ.