They came, we saw, they conquered!

After box office success of €1.2m on a €50,000 budget, The Young Offenders have brought their banter, bravado and bromance to TV with a brand new series on RTÉ2 and the BBC - and a second season has already been ordered.

While they were on location in Cork, the gang talked to Harry Guerin about making the jump from big screen to small, recognition and what fans can expect.

Cast and Crew:
Peter Foott - writer-director, executive producer
Alex Murphy - 'Conor'
Chris Walley - 'Jock'
Hilary Rose - 'Mairéad'
When we were making the film we had it in our heads it could be a series.
Peter Foott: I have a TV background and when you're making a film and creating this world it seems almost like a waste that you've done all this work and created this world [for just one film]. I think we were very lucky because there's not many people going to a broadcaster with a full film and a full cast as a pilot! We have a budget now, but it doesn't make it any easier: you have to do it properly now! Whereas before we drove through the city and we literally had cameras hanging out of cars and we were chasing after people! Now, if we want to do a chase scene, we have to basically close off streets.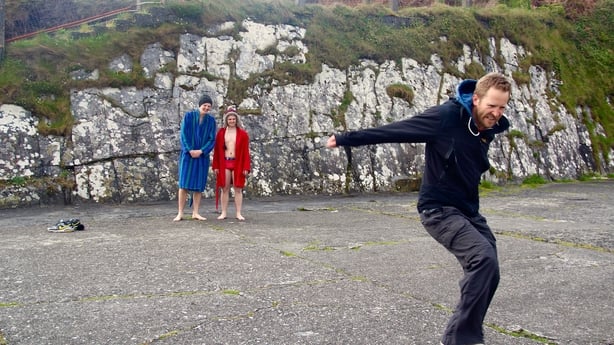 I was a bit worried that the whole filming of the series would just be less craic because it's bigger.
Alex Murphy: I thought everyone would be more uptight. Whereas the only difference is it's more efficient - we get everything done a little bit quicker! It's the same level of craic, just a bit more efficient. Peter didn't want the fact that we had money to make it look like we had more money!
Making the series has been like going back to school.
Chris Walley: What's so nice about making this is a lot of us were new faces. When you're watching something for the first time and you recognise nobody from other things it's just far more real. And I think if we had someone else in it, it would be, 'That's whatshisname from that!' It takes away from it.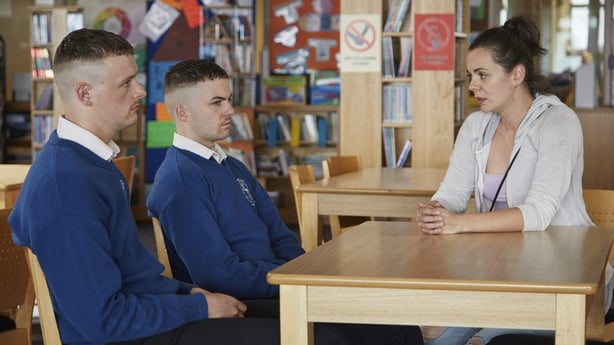 When we think of the film it always feels like, 'Oh, that film that was made for fifty grand'.
Hilary Rose: It's almost like there's a personal history to it - 'that twee film that did something'. The film, I guess we made it because we loved it; we knew it would work. The story was good and it hit a certain target audience. Whereas now this is being turned into a series, it's going to a fresh audience again. It's about trying to find that juggling act between what the film did and where the series is going.
Every episode they go through a very strong emotional journey.
Peter Foott: They definitely all learn something, but it's still a comedy. So it's an interesting way to have to write it, in that they have to go through emotional change in every episode, but also you need to 'reset' them because otherwise they can't learn anything! Two comedy heroes, if they learn how to be better people, they're not funny anymore! You have to reset it back to where they will make the same foolish mistakes again and then go off and try and become better people. But then at the end of it f*** up in a different way!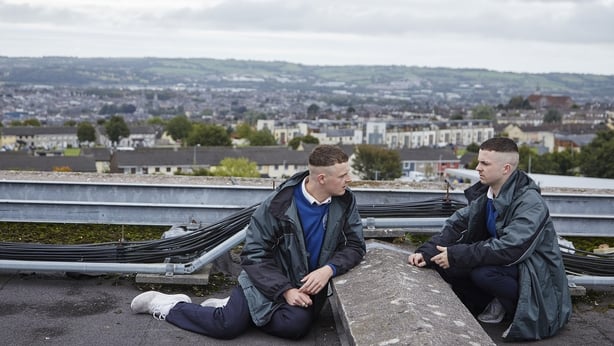 It's a bit of a shock now to be doing a scene and then loads of people start watching.
Alex Murphy: 'What are they watching? Oh yeah, I forgot that this is actually a thing that people enjoy!' Now, no-one cares if you're busy filming something. You'd be just about to go for a take and someone goes, 'Sorry, can I get a picture? No! Obviously not! We're busy!'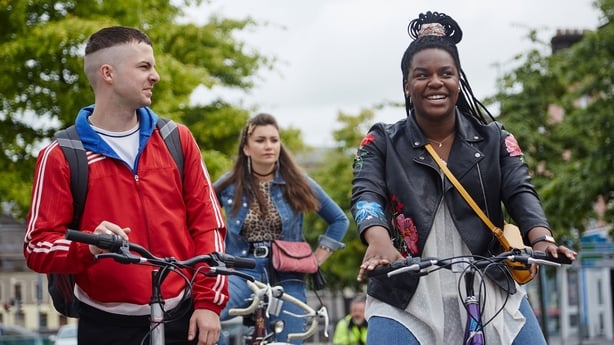 With our without the haircuts, people recognise us now.
Chris Walley: People are mad taking photos - why do you want a photo of Alex, like? I had one occasion that was really funny. I was out in a club in Cork and I was going to the cloakroom. This group of girls walked past me and they stopped and I heard one of them go, 'I thought that was the fella from The Young Offenders but it wasn't. Yeah, he doesn't have curly hair'.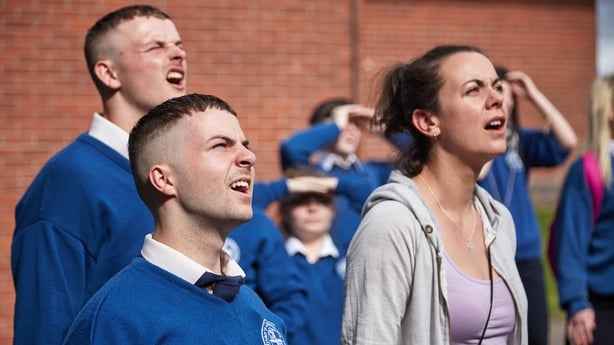 Every day we hear stories of how popular the film was, and some of them are really, really touching.
Hilary Rose: I met this girl in a wine bar and she said, 'There's a staff member across the road in the shop and his nephew is 10-years-old and he watches the film every single night before he goes to bed'. Pat O'Connell is the fishmonger in the English Market and he was in the film. He has a picture of himself and the Queen in his shop in 2011. We shot the movie, the movie came out and he asked us for a signed poster. We said, 'Put us up next to the Queen, now!' I went in one day and said, 'Pat, where's the Queen gone?!' And he was like, 'Oh no, she wasn't as popular. I took her down!' Every day people just come in to get photographs with him and The Young Offenders poster. Every day.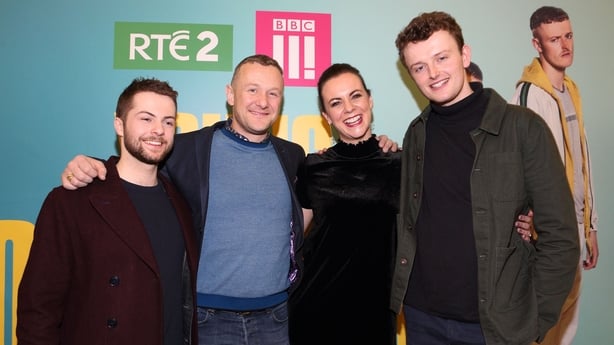 The Young Offenders is on RTÉ2 on Thursdays at 9:30pm, BBC One on Friday nights and online on the RTÉ Player and BBC Three