Hillary Clinton told Ryan Tubridy on Friday night's Late Late Show that Ireland has become a "very personal" part of her life.
In an Irish television exclusive, the former US Secretary of State and Democratic presidential candidate was interviewed near her home in Chappaqua, upstate New York.
She discussed her defeat to Donald Trump, her memoir What Happened, and what Ireland means to her and her husband, former US President Bill Clinton. 
"It's like a big sigh of relief" - @HillaryClinton on how she and husband Bill feel when they visit Ireland #latelate pic.twitter.com/899V4ba4sK

— The Late Late Show (@RTELateLateShow) September 29, 2017
"I do get the sense that when you come to Ireland, it's a little home from home," said Tubridy.
"It is," she agreed. "It's like a big sigh of relief. Yes."
"And why is that?" he asked.
"I don't know," Clinton answered. "I think partly because Bill's background and his feeling close to Ireland and his Irish roots. I think, because we were actively involved at a time of such hope and optimism.
"Going to Belfast early in his presidency, being on the steps of City Hall, lighting the Christmas tree, looking out at a totally huge sea of people and seeing so many young people, seeing fathers with their children on their shoulders...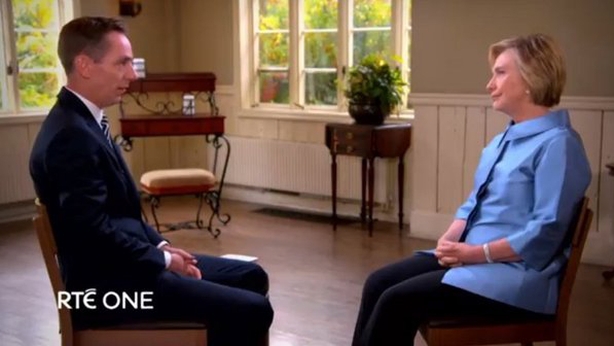 "Those are indelible memories. Going to Dublin. Travelling around the country. Again, working with people whose values and concerns we not only respected, but shared. It's been fun.
"If Bill were here he'd talk about the golf courses he's played, and I could regale you with stories of the women I got to know... and the pots of tea that I enjoyed. It's very personal."
Earlier in the interview, Clinton had said that she and her husband are "extraordinarily interested in and devoted to the future of the island".
"And what we have tried to do in both our public and our personal capacities has been to encourage, certainly the peace process in the North, but also to enjoy the friendships that we've developed," she continued.
"It has been an absolute privilege to be, in some small way, involved in everything that's going on."