15 years ago, Travis were one of the biggest bands in Ireland. Now they're back in fighting form with a new album that recaptures the bittersweet haze of their heyday. Lead singer Fran Healy and bassist Dougie Payne talk to Alan Corr 
On the rickety stage of The Lexington pub in London's King's Cross, Travis are belting seven shades of, well, tartan out of their back catalogue. At 42, lead singer Fran Healy has lost none of the boyish energy that made him a pop star you could take home to your mum and gentleman bassist Dougie Payne is grinning broadly and doing an old school pogo.
The sense of fun radiating from the stage is infectious. The reconvened and re-energised band play an 18-song set in front of an audience of 250 fans, who, if not quite tied to the early noughties, then certainly know what they like - hugely melodic guitar pop, bittersweet vocals, and romantic lyrics all delivered by the perennial nice guys of British rock.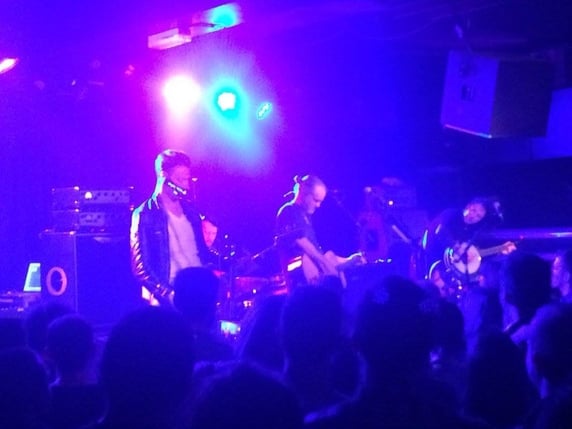 "Live friendship": Travis on stage at The Lexington in London 
Travis play new and untested songs like Animals and 3 Miles High from their new album Everything at Once but a near euphoric buzz of nostalgia comes from the dumb pop catharsis of Good Feeling, the one-time unofficial Irish anthem of Why Does It Always Rain On Me, and the build and release of perhaps Travis' finest moment, Turn.
Hearing these songs at what is a near fifteen-year remove from an era when Travis really were one of the biggest bands in Ireland and Britain is a strange and very pleasant experience. The sweat isn't quite streaming down the walls but for Travis and the adoring audience, this intimate gig is just like old times.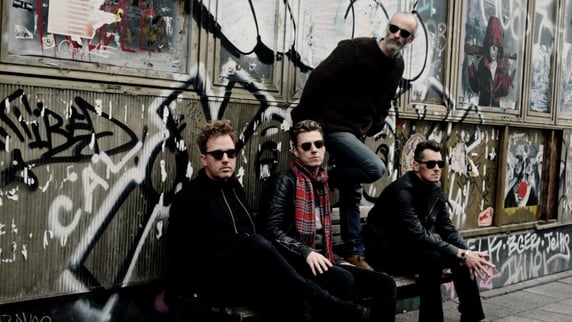 "We're sensible enough to know that the core of our band is adventure."
The following afternoon, 43-year-old Payne and Healy are seated in the far more ornate surrounds of the gothic monolith that is St Pancras Station, just down the road from The Lexington. A bearded Healy in an out-sized grey woolly jumper looks for all the world like a Shetlands crofter while the devilishly handsome Payne is the epitome of the easy-going, successful rock bassist.
Both are dining on that well-known rock `n' roll delicacy of fish finger sandwiches (I kid you not), washed down with pints of Irn-Bru (I kid you) and both are as relaxed as you'd expect a still quietly successful pop band to be. "We always enjoy ourselves on-stage," says Healy of the previous night's show. "That was something you don't often see on stage - live friendship. The last gig I saw was U2 playing on their last tour and even with all the incredible theatrics, technology and bells and whistles, the core of it is that they're friends. You can see it and you can feel it and it's kinda magnetic. There are very few bands that have that and I think we have it." 
This is classic Healy. He is the man who tends to take a glass overflowing attitude to everything and as such, Travis may be the least rock `n' roll band of the last twenty years. Healy is still the touchy-feely princeling of bittersweet soft rock but the smiley and talkative Payne is far more earthbound. They are a good match and the bass player's wry interjections keep the singer's more gnomic rock star ruminations in check. 
Travis haven't gone away, you know. In fact, they're about to release their eighth album. It's called Everything At Once and it is unmistakably Travis. It's short and to the point. The warm, familiar glow of Healy's sweet McCartneyesque song-writing is to the fore and the band's undemanding acoustic bounce sounds as melodic as ever. Recorded in Berlin's hallowed Hansa Studios, it all sounds as comfortable as Healy's jumper looks. In fact, these new songs are at least as good as anything Travis recorded all those years ago. Or as the band's Twitter handle has it: "Travis: crafting songs from wicker since 1997."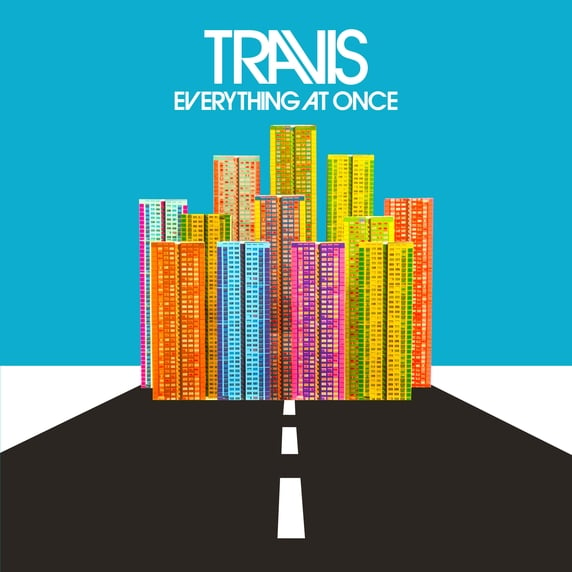 "We're sensible enough to know that the core of our band is adventure," says Healy. "It's like when you meet the woman or the man you're going to spend the rest of your life with, we stood in the Horseshoe Bar in Glasgow 20 years ago and we felt it. We stood in that room and we just had that feeling - we're a band! Shit! Have you seen that movie Quest for Fire? It may be a shitty analogy but in the old says they didn't know how to make fire so there was this eternal quest for fire and they had to keep it like an eternal flame and protect it from the gang of monkeys."
Things have changed a lot since their chart heyday but the more casual observer of the UK music scene might be forgiven for thinking that Travis are making their comeback after ten years of inactivity. In fact, the band have been quietly industrious since the days of their peak success. Their last album was 2013's Where You Stand and in 2010, Healy released his debut solo album Wreckorder, which - funnily enough - featured Paul McCartney on bass.
And when Healy says he doesn't care if people thought Travis were all washed up, I believe him. "No, we don't care," he says. "Because we done great and we thought that was interesting. We did five albums with Andy McDonald (of Independiente Records) and then we stopped and we went on to produce our own album - two weeks writing it, two weeks recording it - and we put it out there and it was our first self-released thing and it did exactly what we wanted it to do."
The dynamic in Travis seems to have remained unaltered since their dawning in the late-nineties as a kind of antidote to the leery dad rock of Oasis. Formed at Glasgow School of Art in 1990, they were named after Harry Dean Stanton's mysterious character in Wim Wenders' Paris/Texas (although I always liked to think they were named after Travis Bickle, Robert de Niro's perhaps more difficult character in Taxi Driver).
Their debut album, 1997's Good Feeling, was a rock affair that included such power U16 Girls and the instant anthem of All I Wanna Do is Rock gave way to a brand of sensitive but bittersweet bloke rock on huge-selling albums The Man Who and The Invisible Band. Healy and co's influence should not be overlooked; Keane certainly owe a lot to Travis' deceptively simple melodies and sensitive guy lyrics and back in 2005, rock altar boy Chris Martin of Coldplay called himself "a poor man's Fran Healy."
However, Travis were to step back from success and not just because their audience was becoming more selective. After 2008's Ode to J Smith, they took a break. "We took four years off," says Payne. "We could afford to do that and it was a f***king luxury, man! And then we got back together and it was like do we want to do this again? Then we realised that we are the custodians of this thing we brought to London all those years ago."
"The difference with our band is that we wanted to be the best band," says Healy. "We didn't want to be the biggest band. I think the band we would be closest to would be R.E.M. after Bill Berry left because they just did their thing and they were a great band and they were connected. They were respected. They'd do an album and everybody was blown away and then they'd disappear under the horizon again."
The lay-off gave Travis a chance to step back and re-evaluate where they were going. Not that Payne was in any way afraid or uncomfortable with the level success they had achieved in such a relatively short space of time. "I wasn't afraid, no," he says. "It's what that success means. It was all the time and we were completely immersed in it. You never get a chance to surface and catch your breath and look around and it kind of got to all of us and it pushed us apart in a weird way."
Healy, who has lived in Berlin for the past years, now has a ten-year old son with German photographer Nora Krystand. Payne has two sons - Freddie and Theo - with his wife of 13 years, Kelly MacDonald, the actress who appeared in Trainspotting and, more recently, No Country For Old Men. Healy, who also keeps an apartment in Soho in New York, spent the time off writing songs and doing what he calls "light recording" but mostly looking after babies. 
He says he isn't sure if that hiatus informed the lyrics on the new album. "I'm often asked by younger songwriters about writing songs and inspiration. Half the time it's about looking out the window and thinking about shit. I don't listen to music, hardly ever. I watch films and I sit and just think. We're in this weird time where everybody is rush, rush! Just calm the f*** down!"
He hasn't lost of any of his laid back attitude and if there is an overriding message on Everything at Once it is this - wake up and smell the flowers (in the window) and it's a sentiment that really finds voice on album track Idlewild, which I am disappointed to learn is not named after their fellow Scottish band.
"Idlewild is a lovely word," grins Healy. "It comes from America - it means still and crazy and animal. That song is about our intellects, the little crazy dictator who sits in our heads telling us what to do every day and now we've got this wonderful thing called social media to exercise its power - look at me! Look at this!
"Travis have always written songs for the quiet animal because that's who we are. We write from the neck down and that's why journalists have always had difficulty with our band because they listen to music from the neck up.
"We've got a problem; everyone is neglecting the still, quiet, animal. Instead it's all `wake up! Do this! Do that! Look at you! You look like f***ing shit!' Take time off and just think a little bit. I've got in touch with this little dictator in my head and I've sorted him out. We've had a bit of a meeting and I've shown him who's boss."
Travis - still crazy and (quietly) wild after all these years.
Everything at Once is out on April 29
Alan Corr