Tony Williams, legendary drummer with the Miles Davis Quintet through the 1960s, led his own recording session in Foreign Intrigue, which was released in 1985. It's an exhilarating album, the players clearly enjoying the ever-buoyant tilt of it.
We need your consent to load this Spotify contentWe use Spotify to manage extra content that can set cookies on your device and collect data about your activity. Please review their details and accept them to load the content.Manage Preferences
Williams first came to light as a wunderkind at 18 years of age when he appeared on Eric Dolphy's much-revered Out to Lunch album. Later came the Miles years, he had a fondness for rock too, and on leaving the great trumpeter's company, he put together the fusion band Lifetime, with Larry Young and John McLaughlin.
That trio endured for many years with some line-up changes and he formed other hard bop outfits afterward. His premature death in 1997 at the age of 51 caused by a heart attack following gall bladder surgery shocked his peers and fans as he appeared to be in full health. At the time of his passing, Williams was nevertheless a veteran, on the scene for 35 years, beginning at the tender age of 17, following his move to New York from Chicago.
Foreign Intrigue, the title track of the album under review, has a fluid set of wings and Williams - its composer - dominates and flaps those drumming wings as indeed he manages to do on all tracks without overwhelming proceedings.
He is showy and capacious, overhanging and spacious - you sense the lithe collegiality and soulful companionship with his fellow players, Ron Carter on bass, Mulgrew Miller on piano, Donald Harrison on alto saxophone, Wallace Roney on trumpet, and Bobby Hutcherson on vibes.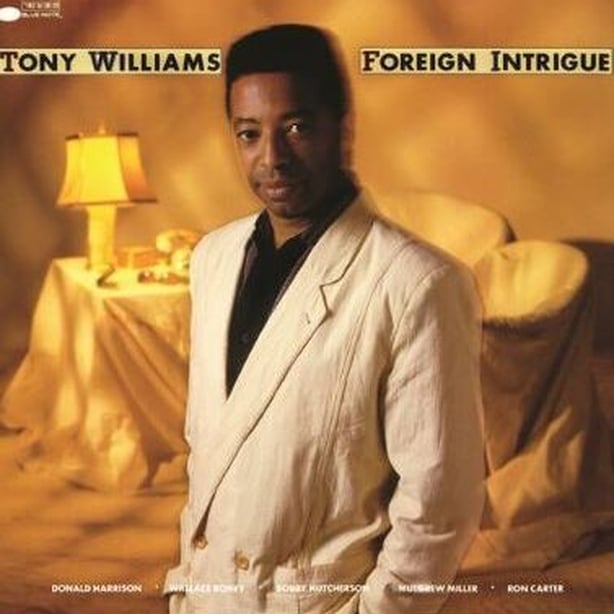 Arboretum, another Williams composition, wafts through one's consciousness in a similar wandering spirit, infused with joie de vivre, as does Clearways and Michelle. Takin' my Time is a tad fey and, well, pretty for this reviewer's oh-so discerning judgement. One feels its playful motif resembles an exercise for a theme tune once considered for Starsky and Hutch. 
There is something light and frisky about Foreign Intrigue, you could imagine the album as soundtrack to a mildly hedonistic film whose characters move frenetically around the nightspots of Paris, Rome or Madrid into the small hours. In convertibles, of course. Louche and mild, deceptively leisurely, but in its own way a powerhouse production.
Paddy Kehoe