These recordings from Sunday, June 18,1967, and the star attraction at the first Montreux Jazz Festival were done under primitive conditions in an era before decent facilities, not that you would know this, but it is interesting to read about. Pierre Grandjean who features in the booklet notes, and who is now in his early eighties, was the producer and sound-man for Radio Suisse Romande. The radio station recorded the two concerts given by Lloyd on this occasion, and the American tenor player was the first international artist to grace the stage of the Montreux Festival.
Barely 30 years of age at the time, Lloyd led on tenor and flute, with Keith Jarrett doing the honours on piano, Ron McClure on bass and Jack DeJohnette on drums.
Grandjean recalls that there was 'simply no place for the bouquets of microphones necessary for radio and television, with up to three mikes per stand, artistically bundled together with duct tape.' There were no monitors either, but the first thing artists usually did in such circumstances was to position themselves so they could all hear each other. Meanwhile, the the stage was tiny and the dressing room was transformed into a recording booth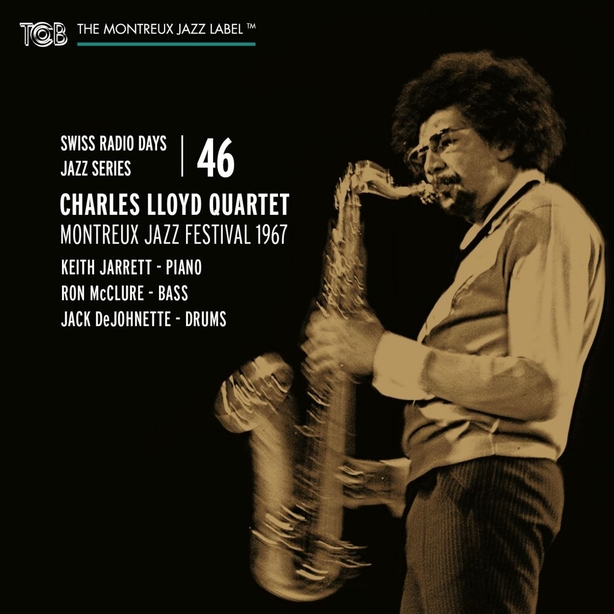 Youthful enthusiasm carried the days and nights, we can assume, and a 'mustn't grumble' vibe prevailed. So the boys positioned themselves on the modest stage and opened with the entrancing Jarrett composition Days and Night Waiting. Track two leads the listener well away from such smooth balladry, going unapologetically into free jazz and some unexpected patches of modal discordance. Indeed it's almost Indian-tempered material, an extended raga, soft-pedalled by Lloyd, Jarrett and the rhythm section.
Happily enough, the first track on CD 2 is a languorous Lloyd tune, Love Ship - God bless languorous tunes, and you murmur to yourself in a kind of BBC enunciation: 'normal service has resumed.'
Love Song to a Baby continues in that sultry mode, a lengthy opening sequence from Jarrett in Play it Again Sam mode, before Lloyd takes up his flute, joined by DeJohnette and McClure as the thing heats up nicely.
This second CD concludes with Forest Flower which lent its name subsequently to perhaps the best known Charles Lloyd album of all. Once again, the music simmers well. By way of general remarks, these recordings are delightful at their more soulful junctures, but the extended improv interval on CD one might just leave you cold.
Paddy Kehoe