Christy Moore returns in time for Christmas with a new live album featuring 26 tracks across two CDs which show that authentic voice is still in fine fettle.
In his own songs, or in versions of songs by others, The bard of Newbridge (or Storm in a T-Shirt as he was once celebrated in the title of a Moving Hearts tune) has always shown a striking ability to imagine himself back to the eras he often sings about. He has a big heart and an exceptional fund of sympathy which means he can travel back to historical situations or, indeed, contemporary situations when the need arises.
We need your consent to load this Spotify contentWe use Spotify to manage extra content that can set cookies on your device and collect data about your activity. Please review their details and accept them to load the content.Manage Preferences
This is not to place himself there in any self-aggrandising fashion, but to be there technically, as it were, in the front row of the song, in solidarity with emigrants, migrants, refugees, deportees, young women ostracised by social circumstances, railroad workers, the defeated, the despairing, the hard done by. Those reduced, or seriously harmed by sly machinations of the authorities, clerical or secular, are frequently the subjects of his own ballads.
A glib reading might judge Spancil Hill, included here, to be a somewhat hackneyed song at this point. That such a perception might exist, however, is hardly fault of the song itself but of its enduring popularity in lounge bars and community halls, weddings and parties of the far distant 1980s.
Yet Christy has never tired of the ballad and its sentiment, and he writes respectfully of the song in the booklet, noting its authorship by Michael Considine, who was born in the County Clare hamlet of Spancilhill in 1950 and died in California 23 years later. "We have many songs in this particular genre but none that evoke such beauty, loneliness and heartbreak."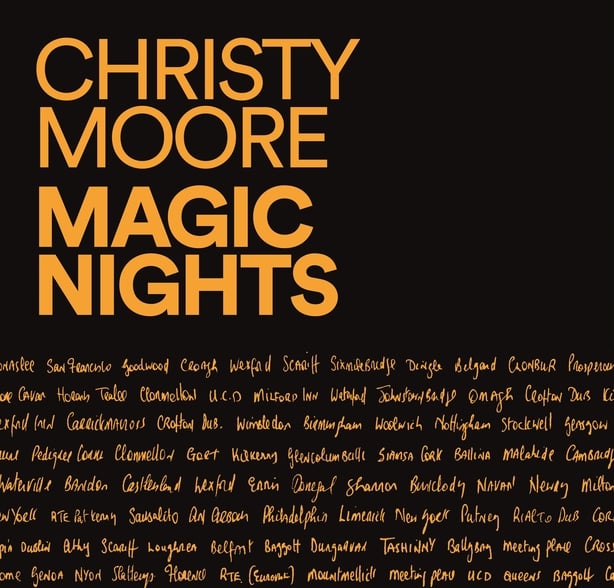 Moore cites The Cliffs of Doneen, which he sang on that first imperishable Planxty album in the early 1970s, as one that comes close. The latter song your reviewer would prefer at this stage to Spancil but it's all subjective surely and we will all have our favourites here. The enjoyment of the crowd listening to him sing Spancil in Glasgow's Barrowland venue is hugely palpable and if you really want to hear how he can get a crowd into the palm of his hand, listen to them sing along to his reading of Albert Niland's rumbustious wake song, Sail on Jimmy.
He has the fun songs like The Tuam Beat and the traditional ballad Johnny Jump Up, but Christy as often as not, selects songs by others that are dark or serious in intent. Dylan Walsh's Ringing That Bell is an existential cry of regret which will have you speculating as to its import. Not that any such clarity would make you appreciate it better, mysteries are better in the long run.
Truths were told and numbers fell/ But still they keep on ringing that bell/ Through the blacked-out windows of my bedsit hell/ Still they keep on ringing that bell.
Watch Christy Moore on last Friday night's The Late Late Show here
By contrast, there is no mystery in many of Moore's own songs which tell it straight, songs like Veronica, his plain-speaking tribute,co-written with Declan Sinnott and Dónal Lunny, to the Sunday Independent investigative journalist Veronica Guerin.
Many long-time concert favourites are included here, Back Home In Derry, Before the Deluge, Only Our Rivers Run Free, The Well Below the Valley and John Spillane and Ger Wolfe's title track itself, whose full title is Magic Nights in the Lobby Bar. This collection of solo and band songs is as good a place to start as any for newcomers to Christy's unique art in song and a welcome update on recent live performances for the committed fan.
Paddy Kehoe
More album reviews here