37 minutes and some seconds of sweetly fermenting funk from 1971 is mostly what you get on Donald Byrd's groovy Ethiopian Knights, on which the legendary trumpeter is accompanied by a host of players including Harold Land on tenor sax and Bobby Hutcherson on divinely starry vibes.
The Emperor occupies 15:40 of side one, followed by the seven-minute Jamie, the only bum note, way too schmaltzy for my taste.
An ingenious psychedelically-deranged confection, The Little Rasti takes up the whole of side two, running to over 17 minutes, all wah wah pedal and, betimes, spacey echo and a couple of bladeful minutes of grungy guitars. Organ, trombone and the all-important bass (courtesy of one Wilton Felder) are also elements in the inflamed, pulsating post-Bitches Brew vibe.
The music is marker in the trajectory of Byrd's evolving Afro-consciousness and the endlessly driving rhythms and general sonic texture are akin to the sound of the Nigerian band leader Fela Kuti, although some fans see James Brown and Sly Stone influences. Apparently, jazz purists were not impressed by the general funk swamp.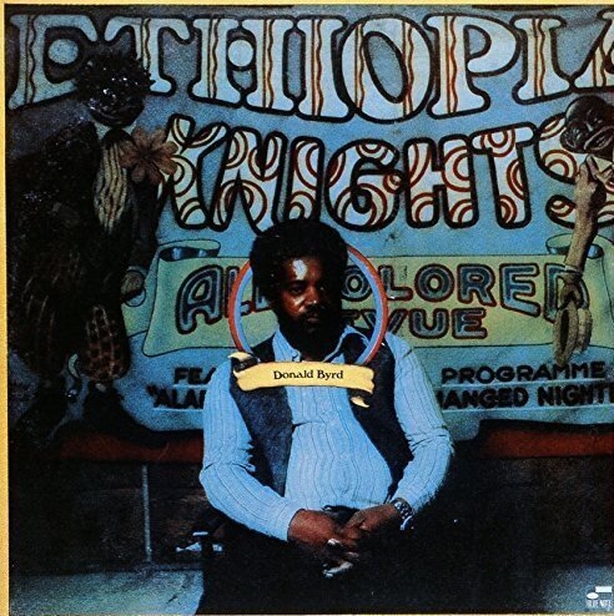 There is a Beat poem on the back of the vinyl sleeve, a long, spontaneous-seeming ode to jazz music and its unnamed practitioners. The poem is penned by one Bill Quinn, Instructor at the Department of Jazz Studies at Howard University.
The music takes him past the landlady/the black-and-white police squad the hospital the judge the jail the prison yard . .
No verse breaks, no full stops, no commas, which is in the spirit of the free-form, poly-rhythmic music within.
Paddy Kehoe