The latest in the never-ending bootleg series is like eavesdropping in the studio as the master works but when you're eavesdropping on Cash and Dylan it's still always worth a listen
Spanning from 1967 to 1970 and centered around the recording sessions for albums John Wesley Harding and Nashville Skyline, and collaborations with Johnny Cash, this 15th instalment of his official bootleg series captures Bob Dylan during one of the more overlooked and underrated parts of his many-phased career.
The recording sessions for both albums highlight how much Dylan had shorn back the music and the lyrics from the mid-sixties. Everything was different, his voice probably more changed than anything else as he went full-on country crooner, especially for Nashville Skyline.
We need your consent to load this Spotify contentWe use Spotify to manage extra content that can set cookies on your device and collect data about your activity. Please review their details and accept them to load the content.Manage Preferences
It may only have been 18 months since Blonde on Blonde but the approach and execution for John Wesley Harding couldn't be more different from his "wild thin mercury sound". The outtakes include All along the Watchtower, which is slower and more sombre, while I Pity the Poor Immigrant is uptempo with a completely different melody. They're a fascinating insight into what eventually appeared on the album but will appeal more to the completists than the general listener.
The Dylan/Cash duets are the main event of Travellin' Thru, and where most of the fun is to be had. The mutual admiration between Cash and Dylan is well known, and had been established for a few years by the time they got into a studio together. Cash famously wrote to folk magazine Broadside in Dylan's defence after the younger man dispensed with "finger-pointing songs", with The Man in Black imploring people to "Shut up… and let him sing."
As Dylan was wrapping up recording for Nashville Skyline, Cash dropped in and spent two days in the studio, and the two of them do just that. Comprehensively unofficially bootlegged, the pick of the litter, and closest to actual completion, Girl from the North Country, was the only one to make the cut for Nashville Skyline. Here we get an almost complete account of those sessions.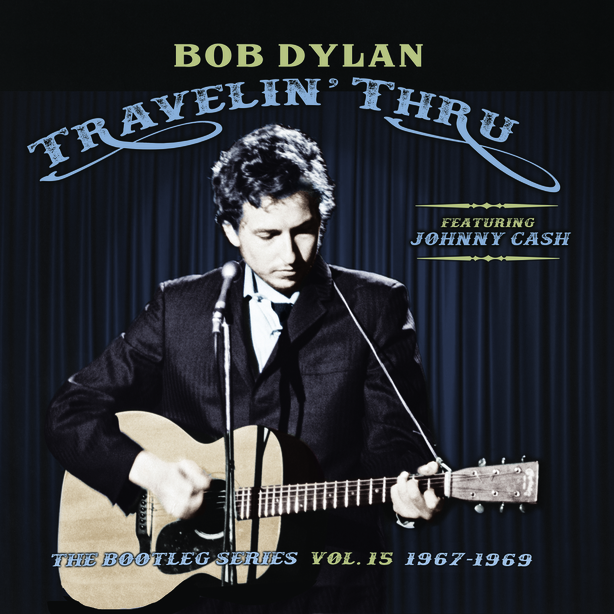 Cash takes the lead on an immense One too Many Mornings, while Dylan and Cash trade verses with Big River - Cash's voice being bourbon to Dylan's honey. The rehearsal of Girl from the North Country is particularly instructive with a glimpse into an insecure Dylan being coaxed and cajoled into singing his 1963 effort from Freewheeling…. June Carter makes an appearance, as it's her you hear on the tape imploring him to play it, to which Dylan bashfully says, "Well I don't know if I can do that". Meanwhile, Ring of Fire, a song June co-wrote with Merle Kilgore gets a bluesy, barroom treatment. We're even treated to a version of You Are My Sunshine.
For the most part though, what we're left with is the feeling of eavesdropping in the studio rather than unreleased gems. But when you're eavesdropping on Cash and Dylan it's still always worth a listen.
It's worth noting that the 15-track streaming release omits Dylan's take on Folsom Prison Blues. Starting off as almost a skiffle beat before progressing to full-blown rock n' roll, it's a cracking version to those who cough up the cash for the full album.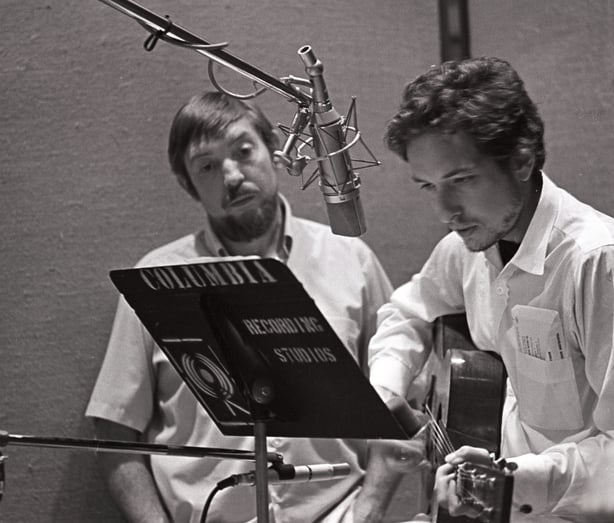 The last four songs are collaborations with bluegrass legend Earl Scruggs for the NBC documentary Earl Scruggs: His Family and Friends. East Virginia Blues stands out, with some wonderful banjo accompanying Dylan's vocals.
While there is more than enough in the three-disc 50-track Travelin Thru for Dylan obsessives, the Johnny Cash sessions in particular should prove accessible enough for even the most casual of listeners.
Padraic Geoghegan @PadraicRTE