In the run-up to the release of forthcoming Bootleg Series release More Blood, More Tracks on November 2, RTÉ journalist Padraic Geoghegan has compiled his personal top ten of the must hear but overlooked Bob Dylan gems
Having written more than an estimated 700 songs in his long career, Bob Dylan has often left what many others would consider masterpieces off his albums.
Whether it was his astonishingly productive 1960s, the more taut output in the 1970s or the downright puzzling omissions of the 1980s, Dylan left many compositions on the cutting-room floor, the standard of which other songwriters would toil for lifetimes and never equal.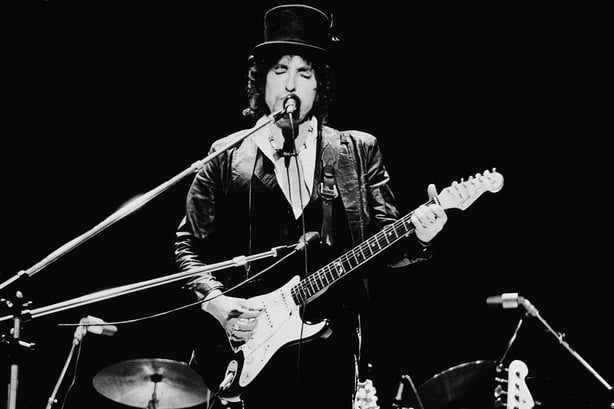 Many of these gaps have (thankfully) been filled in with the release of Biograph and the Bootleg Series, of which number 13 was recently released, and which shows no sign of slowing down. 
This list is not meant to be exhaustive, nor does it touch on some of the versions of well-known songs he has released, which are wildly different and in many cases arguably better than the original output. But hopefully it will serve as a signpost to some of Dylan's overlooked discarded gems.
10. Tell Me Momma
Performed exclusively on Dylan's legendary 1966 tour with the Band (then called the Hawks) as the opener of the second (electric) half of his set. And what an opener it was. This was auditory shock and awe, shaking the audience out of the reverie of a first half set containing Visions of Johanna, Desolation Row and Mr Tambourine Man. It's been well documented how fractious and chaotic the '66 tour was as Dylan went electric. However, the fans booing only served to make Dylan and The Band tighter and by the time they rolled into Manchester for the Free Trade Hall gig they were at the peak of their powers. Never recorded in a studio and never performed after the tour, this raucous, rocking tune shows Dylan at his most wonderfully confrontational best. You can find it on the Bootleg Series No 4 and should you want to delve further, every performance of Tell Me Momma is on the whopping 36-cd box set The 1966 Live Recordings.
9. Let Me Die In My Footsteps
Penned in 1962 as the Cold War was reaching its height, Let Me Die In My Footsteps is a clear example of Dylan's creative output outstripping his albums. Originally recorded for Freewheelin', it was dropped in favour of A Hard Rain's A-Gonna Fall. You can see why, as both can be interpreted as being occupied with fears of nuclear war - Let Me Die In My Footsteps is Dylan railing against fallout shelters, a growing trend at the time, as he tells the world "I will not go down under the ground/'Cause somebody tells me that death's comin' 'round". Originally recorded and released in 1963 with Dylan performing as "Blind Boy Grunt", fans had to wait until 1991's Bootleg Series 1-3 to hear the version which never made it on Freewheelin'.
8. Percy's Song
An outtake from The Times They Are a Changing, Dylan's lament for a friend who is accused of manslaughter following a fatal car crash is as good as just about anything he was writing during that (extremely) fruitful period. Dylan would later say he borrowed heavily from the melody of Paul Clayton's The Wind and the Rain. There's a beautiful version of Joan Baez singing the song on DA Pennebaker's wonderful film Don't Look Back while in a cruel twist of fate the Fairport Convention did a full band version in 1969 six months before drummer Martin Lamble was killed in a fatal road crash.
7. I'm Not There
Recorded during the legendary Basement Tapes sessions with The Band after Dylan recovered from his motorbike accident, I'm Not There did not see the light of day until Todd Haynes' film of the same name. It had been extensively bootlegged in the meantime, and for good reason. It is a magical, mysterious tune with a haunting lyric, matched by Dylan's delivery. Dylan himself has consistently failed to see what the fuss was about - even declaring in 1985, "The song wasn't there, man" when quizzed on why he had not released it. Fans had to wait until 2007 for an official release on the soundtrack of the film of the same name.
6. Up To Me 
Composed but ultimately omitted from 1974's Blood On The Tracks, Dylan's return to critical and commercial success. Up To Me's content reflects much of the album it was left off of, specifically his impending break-up with Sara Lownds. It's deeply personal, perhaps too much for Dylan to release at the time, with lines such as "If I'd thought about it I never would've done it, I guess I would've let it slide/If I'd lived my life by what others were thinkin', the heart inside me would've died". It's possible to hear echoes of Shelter from the Storm and Tangled Up In Blue in some of the chord progressions, so its similarity to that and its intensely confessional nature may have persuaded Dylan to leave it from Blood On The Tracks. Either way, it's apparent on first listen it's a classic - first available on 1985's Biograph.
5. I'll Keep It with Mine
Written in 1964, and recorded by Judy Collins, The Velvet Underground's Nico and the Fairport Convention amongst others, Dylan evidently thought enough of the song to attempt to record it for both Bringing It All Back Home and Blonde on Blonde. Written in Greece with Nico and supposedly for her, there are some beautiful couplets throughout "I can't help it/If you might think I'm odd/If I say I'm not loving you for what you are/But for what you're not." You'll find it on various Bootleg Series albums - there's a beautiful piano piece on Vol 9: The Witmark Demos, but the aborted version on Bootleg Srries 1-3 hints at what a classic the song could have become.
4. Mama, You Been on My Mind
Written while on European Tour in 1964, and recorded for Another Side Of Bob Dylan, Mama, You Been on My Mind finds Dylan at his most heartbroken, vulnerable best. Written around the same time as To Ramona and Ballad In Plain D, the trilogy all dealing with Dylan's break-up with Suze Rotolo, it's impossible to know why the latter made the cut ahead of it. In between demo versions which appear on Bootleg No 9 and the album outtake on No 2, the line It don't even matter to me where you're wakin' up tomorrow" changes to "It don't even matter who you'll be waking with tomorrow". You'll find the song dotted throughout the Bootleg Series, from Dylan and Joan Baez hamming it up in 1964 to an altogether rockier duet on the Rolling Thunder Revue in 1975. But for my money it's the Another Side . . . version that truly realizes the true beauty of the song. The fact Dylan has played it over 200 times live shows the songs ongoing endurance for the man himself.
3. She's Your Lover Now 
 Recorded for 1966's Blonde on Blonde but never used,  She's Your Lover Now finds Dylan at his most caustic, catty, mid-sixties best. With lines like "Yes, you, you just sit around and ask for ashtrays, can't you reach?/I see you kiss her on the cheek ev'rytime she gives a speech", Dylan castigates not only the "Lover" in the title, but her new suitor. Dylan once said that Blonde on Blonde was the closest he came to achieving "that wild mercury sound" he was striving for, and She's Your Lover Now is a perfect example of that. Robbie Robertson's guitar licks are the perfect foil to Dylan's sneering delivery. It's possible Dylan thought part of the song too similar to Sooner or Later (One of Us Must Know), or the chord progression to close to Like A Rolling Stone but either way it would be 35 years before the public would hear this masterpiece, although it was widely bootlegged in the meantime. She's Your Lover Now was also included on The Cutting Edge bootleg, but it's the one which breaks down on Bootleg Series 1-3 properly which hints at the song it could have been.
2. Abandoned Love
By the 1970s Dylan's prodigious songwriting output had slowed down, as he cut his coat according to his cloth. Abandoned Love, recorded for Desire but swapped at the last moment for Joey, is a joyful bucking of that trend. In Abandoned Love Dylan weighs up a failing relationship, wondering should he leave..But it is much more than that, with lines like "Everybody's wearing a disguise/To hide what they've got left behind their eyes/But me, I can't cover what I am/Wherever the children go I'll follow them", it's a personal a lyric a Dylan has written about his break up with Sara Lowdns. Violinist Scarler Riveria's sumptuous fiddle weaves in and out of the song, while Dylan's voice has never been stronger. Dylan performed it only once, with different arguably stronger lyrics, in a venue called The Other End. Shortly afterwards, Dylan would team up with Jacques Levy and his songwriting gaze would turn again. It's a mystery how this song did not see the light of day until 1985's Biograph.
1. Blind Willie McTell
Of all the gems hidden in Dylan's vaults, this one is the most puzzling. Recorded for Infidels but inexplicably left off it, Blind Willie McTell only saw the light of day on the Bootleg Series, and at that some would argue only the inferior demo version got the nod. It is a powerful song, as Dylan meanders his way through five verses singing of American history and slavery in his homage to the Blues. But it's much more than that – "No one can sing the blues/Like Blind Willie McTell," he tells the listener. But what's revealed is Dylan's own fragility. When a song is as good as Blind Willie McTell is, it's bound to leak out and it did. Dylan was asked as early as 1984 why he did not release it. His answer? "I didn't think I recorded it right. But I don't know why that stuff gets out on me. I mean, it never seems to get out on other people." After The Band recorded in 1993, Dylan introduced it into his own set in 1997, and has played it on and off since - its last outing in June of last year.
Padraic Geoghegan @PadraicRTE
More Blood, More Tracks is released on November 2