For the recording of Empyrean Isles, the 24-year old Herbie Hancock stepped into the Van Gelder Studio at Englewood Cliffs in New Jersey, with something bold and adventurous in mind. Instead of employing the usual trumpet and saxophone, the pianist and arranger decided to work with one brass instrument only, Freddie Hubbard's delightfully chunky cornet.
Tony Williams, who was a mere stripling at 18, was the drummer while Ron Carter was the bassist on this landmark Blue Note release. What emerged from the studios that day is an effervescent, breezy, sun-drenched record which features five Hancock compositions.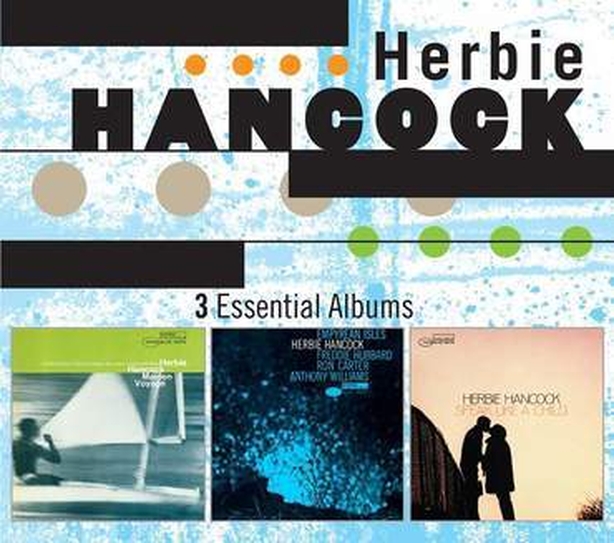 On March 17,1965, Hancock followed Empyrean Isles in short order with the recording of Maiden Voyage, generally regarded as the first post bop album, and dubbed by one observer as `a perfect balance between accessible, lyrical jazz and chance-taking hard bop.' Its eponymous opening track proclaims instantly the spirit of what this album was intended to be, an airy sailing across blissfully peaceful waters, featuring once again five Hancock compositions. Hancock, Williams and Carter were also working with Miles Davis at this time, and the legendary trumpeter exerted a distinct influence.
The line-up was the same as that which featured on Empyrean Isles, with the addition of George Coleman on tenor sax. Cantaloupe Island, an enduring classic which has been sampled by hip hop outfits and re-worked and re-framed in various contexts is the signature piece form the album. Also in there is The Egg, a restless soul poem, far out, uncompromising and daringly experimental.
Skip the three years to 1968, years when Hancock was member of of the Miles Davis Quintet, who were at their creative pinnacle during those three years and we get Speak Like a Child. This is the work of Hancock's sextet, with Thad Jones on flugelhorn, Peter Phillips on bass trombone, Jerry Dodgion on alto flute, Ron Carter on bass and Mickey Rocker on drums.
Just listen to the title track and warm to its gentle groove, that wavering flute, hovering over the thing those intoning brass lines swelling ever so restrained while Hancock's delicious filigree work on piano ties it all together. Timeless stuff.
Paddy Kehoe