Keyboard maestro Chick Corea is a monumental figure in contemporary jazz who has adventured in many different sonic landscapes. Three albums from 1986, 1991 and 1995, respectively, make up the package under review.
Armando Anthony Corea was born in 1941 in Chelsea, Massachusetts, and first occupied the piano stool at the tender age of four, led there by his father, a trumpeter who played Dixieland style. At the age of eight he was playing drums, but it was the piano-players whom he devoted particular attention to, people like Horace Silver and Bud Powell. He studied classical piano and composition, was a member of a drum and bugle corps, studied for a time at Columbia University and Juilliard before cutting loose from academia and going for it.
He played in the first version of Miles Davis' electric band and built huge popularity with that protean outfit, Return to Forever, which assembled and reassembled through different line-ups, beginning in the 1970s. His name is almost synonymous with Jazz Fusion and he no doubt suffers some disdain for what some might see as a a brashly synthetic post-Bop sound. It doesn't much matter, Miles Davis did Fusion free-mongering too and no doubt fans of Kind of Blue were upset.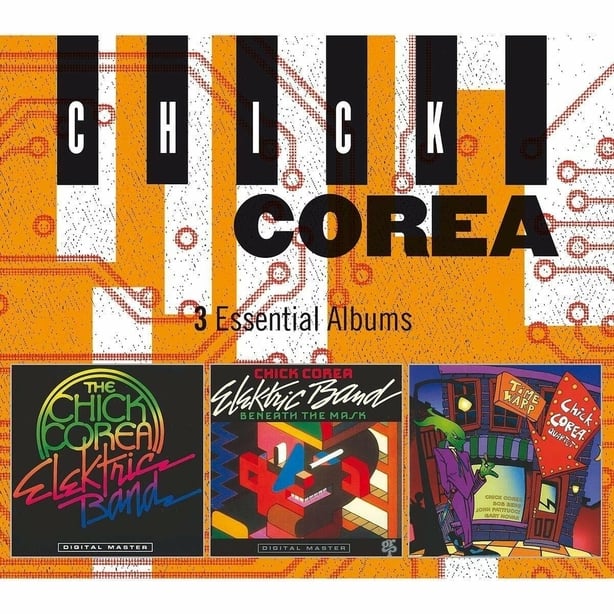 That's all rather a matter of taste and one of the best examples of Corea at the top of his game is Cool Weasel Boogie from the first Elektric Band album, which has something of Herbie Hancock's late Seventies vibe. Two tracks on, the funky Electric City is a catchy, fey little tease of a melody driven by pitch-bend. Pitch-bend?
Well, you know, where you bend the notes, as on a Korg. Korg? Yes, well, the keyboard of that name. He has been a man of his time, has our Chick, and the music may sound dated to some of us who have moved on from flashy, blissed-out sounds. I just love those gloopy water drop sounds on No Zone, whatever the nay-sayers may neigh - they don't sound like Eighties tricks, they sound inventive rather and lend a particular mood, however opaque.
Personae include revered bassist John Patitucci and drummer Dave Weckl, with guitarists Carlos Rios and Scott Henderson, spicing out the peppery, late-psychedelic brew. The second album in the package, Beneath the Mask is too rockily reliant on guitar noodling for your reviewer. Yet it has to be said that these three albums - Time Warp, with the Quartet, is the third- show the man in his ferment-element. He teases all manner of baroque excess from a combination of keys and effects, while Patitucci in particular shows himself to be the perfect foil.