It's just shy of a year since Conor O'Sullivan's last album but the prolific songwriter is back with another self-released collection, Fifty for Electricity, which continues the masterful folk tale, through the Cork-man's appealing meditative spirit.
It opens with Wrong Time, a plangent, wonderfully jazz-inflected melody, the obvious single, as it were. Who and How and Why is a kind of existential hymn, with touches of Leonard Cohen and churchy harmonies. However, what's great about O'Sullivan is that he does not try to sing like Cohen – he has a gentle, unforced Cork lilt, the kind of local accent we perhaps do not hear enough of in contemporary Irish music, Damien Dempsey, being  a notable exception. It's a tad dispiriting that someone from Dublin might sound like someone from Idaho, often you wouldn't know the difference. See what a local accent did for the late Dolores O'Riordan, bless her.
There is a kind of folk-weave approach about Conor O'Sullivan, echoes of Luka Bloom, Johnny Duhan and Richard Thompson, that air of a folk sensibility at the heart of it. Those electric guitars are gently applied, there is a keen musical imagination at work, as evidenced by on just one short slide guitar solo on The Great Outdoors, muted but effective. In sum, Fifty for Electricity is essentially an acoustic album, on which the Cork-man also handles bouzouki, mandolin and banjo with friends helping out on vocal harmonies, violin, accordion, drums and double bass.
The song Things Have Changed is typical of the approach, perfected by O'Sullivan over two previous albums, the most recent of which is The In-Between, released just shy of a year ago.Things Have Changed is a bitter reflection on how unemployment plays havoc with the minds of men who would gain self-esteem from a day's work. The singer's social conscience is understated but it is unmistakably there nevertheless, quietly permeating his lyric-writing.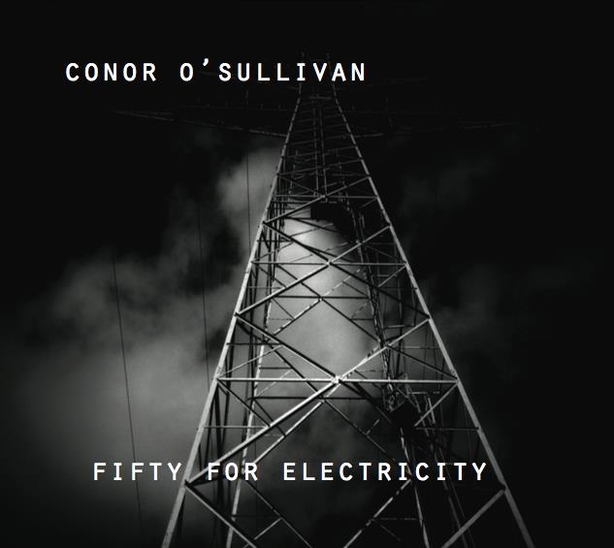 I could imagine Christy Moore being very interested in a song like that one, or listening rapt to Through and Through. To the Night is a strong one too and O'Sullivan never yields to the idea of singing out loud or belting it out, which, curiously, is something Richard Thompson does much of the time, often with fire and vitriol.
There is, admittedly, the odd moment when a bit of belting it out on Fifty for Electricity might have come in useful, but that could tamper with the thoughtful vibe that Conor O'Sullivan is trying to achieve. A true poet, he knows that lyrics must be suggestive, not blunt.  And if there is money in your pocket/ it's on your breath by morn, he sings on the beautiful What in the World, which documents a lonely life where money doesn't go on trees and it's "fifty for electricity."
Top marks for a reflective piece of work that deserves to be listened to and savoured.
Paddy Kehoe