The Getz/Gilberto album - the best-known of the albums collected on this new 5-CD set - won Album of the Year, Best Jazz Instrumental and Best Engineered Album in the 1965 Grammy awards, while the iconic song, The Girl from Ipanema won Record of the Year. So it was truly a plethora of Grammys all around in those halcyon days for the refreshing sound of Bossa Nova. There must have been a measure of fine champagne drunk that night - April 13 - by the parties concerned, some of whom presumably gathered at the Beverly Hilton Hotel. It'shard though to see the shy Gilberto doing much more than making an appearance, managing a few polite handshakes and a few words before disappearing back to his hotel room.
The Getz/Gilberto album of which we speak was the by now legendary collaboration between the American saxophonist Stan Getz and the Brazilian guitarist and composer João Gilberto, with participation also from the brilliant composer and pianist, Antonio Carlos Jobim(1927-1994), arguably the greatest spinner of beguiling melody in the twentieth century, a truly inimitable force of nature.
One of the most popular jazz albums of all time, the Getz/Gilberto album knocked the Beatles's A Hard Day's Night off the number one spot in the US Billboard charts. A live recording in San Franciso followed 11 years later, simply entitled Getz/Gilberto '76
The Bossa Nova genre of muisc-making was a flexible yet curiously disciplined spin on samba that took off big-time in Brazil in the 1950s before singers Frank Sinatra and Andy Williams, guitarist Charlie Byrd and saxophonist Stan Getz got into the groove and made damn sure they made records.
Indeed, Jazz Samba, the album Getz made with guitarist Bird, also features in this attractive package, as does Encore! featuring Stan Getz & Luis Bonfa, as both interpret the latter's tunes. Guest appearances from the aforementioned Antonio Carlos Jobim and singer Maria Toledo make for a very pleasant album indeed, recorded in New York City in February 1963.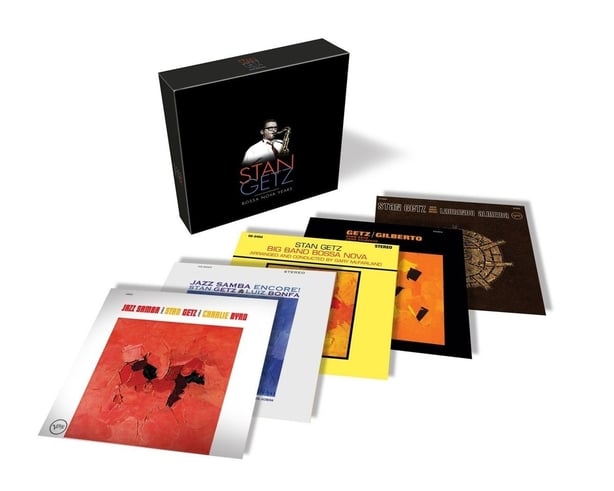 On Encore!, João Gilberto also performs his own songs while Getz amplifies and adorns the music to inestimable effect on that husky tenor. So inestimable in fact that for many fans it would be hard to imagine these now venerable artifacts without Getz's gently proprietorial steersmanship. Yet Gilberto was seemingly happy too to sing these songs in other formats, solo or orchestrated, as YouTube fiends can happilly witness. Gilberto too was something of a free spirit, a seemingly taciturn genius given to introspection. In some strange way they didn't utterly need each other in any pragmatic, career-path way, these mercurial, fiercely individualistic Brazilians and one besotted American.
Bossa Nova's best-known signature tune of course is Garota de Ipanema (The Girl from Ipanema) which was recorded in New York in the Spring of 1963, with Astrud Gilberto singing in that seductive tone that was her trademark. The melody had been in existence for a year already - Jobim had composed it for a musical - while Vinicius de Moraes (1913-1980) had written lyrics for a song called Menina que Passé (The Girl Who Passes By) some six years previously.
Heloisa Eneida Menezes Paes Pinto was the 18-year-old girl who inspired the song, who as an adult has freely talked about being unknowingly celebrated in song on at least one TV documentary. She was seen from a table by de Moraes as she passed by on the beach. Then of course Frank Sinatra got wind of this immortal paean to beauty and the world would truly know of Bossa Nova, as Andy Williams and others would take to covering Bossa Nova songs with relish.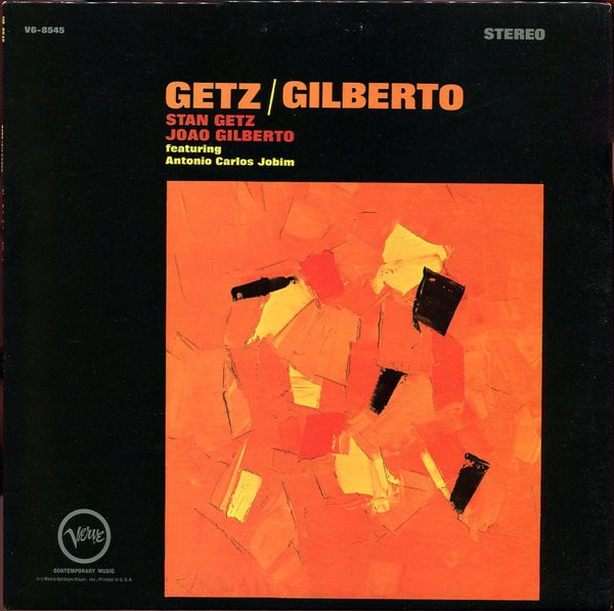 Big Band Bossa Nova gets a disc to itself while the matter of another CD in the collection is Stan Getz with Guest Artist Laurindo Almeida, yet more feathery transports of sound, adroitly mixing the wistful and the quietly ecstatic.
It was the 1960s, the beginnings of a decade of civil unrest in the US, the Cuba crisis looming and the slaying of President John F Kennedy, yet this music sashayed along as though there were no baleful tomorrow.
Paddy Kehoe