The follow-up to their celebrated debut lacks zest and memorable songs
The Californian sisters (and bloke drummer) perfected a kind of artfully compressed eighties throwback pop-rock on their terrific debut album Days Are Gone four years ago.
It sent the world gaga with misty-eyed nostalgia for the golden age of MTV but with a very modern production gleam and shimmer. It afforded the trio entry level access to a pop glamour world ruled by Taylor Swift and won them fans including Jay-Z.
But if that debut was the musical equivalent of a sullen pout, this long-gestating follow-up seems like a crooked frown. Danielle, Este and Alana (and bloke drummer) have upholstered their sheened, neon-lit Miami Vice nightclub of the mind but in the process they seem to have forgotten to furnish it with any memorable songs.
The girl power dynamics of Pat Benatar and more helpings of Stevie Nicks than is medically advisable are still all here and just looking at those MTV-friendly song titles alone will give many an older music fan a pop Proustian rush but somehow Haim have boiled down their pure pop allure into bland revivalism and a wayward attempt at experimentation.
Days Without End had drama but here the vocal bombast strays into Wilson Phillips perfection once too often, a musical sugar rush without the jolting and bitter aftertaste. Extraneous, slurred vocoder interjections abound, half-thought out ideas sound like they were abandoned mid-song and when, for example, Nothing's Wrong isn't busy nodding to the harmonies from Tell Me Lies by Fleetwood Mac, it recalls the sheer banality of Shania Twain.
The power surge of Little of Your Love does manage to locate a bit of the old magic and features the most pleasingly wonky guitar solo this side of the Allman Brothers but Ready For You, another Fleetwood Mac homage, is so wilfully awful it sounds like it was recorded as a bet following too many cosmos on one of Taylor Swift's yachts.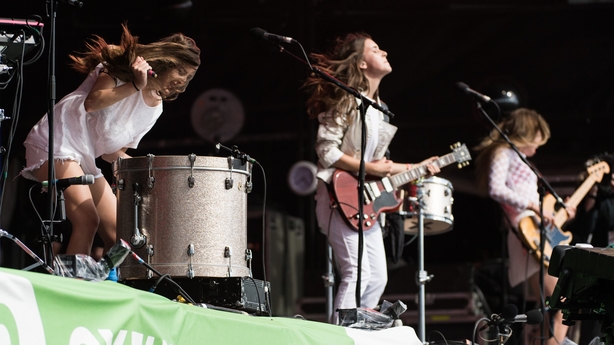 There is exhilaration to be found in the interlocking guitars on Kept Me Crying and the strident and urgent string section on Found it in Silence is thrilling but Walking Away is so slight that it would be blown over by a warm Santa Ana breeze on Wiltshire Boulevard.
All too soon the album blurs into a miasma of twitchy vocal mannerisms, vapid lyrics, over-sweetened harmonies, bass pops, and decorative synths. It all sounds terribly big but it sure doesn't sound terribly clever. Clearly somebody, somewhere has something to tell Haim.
Alan Corr @corralan