Barry Keoghan has spoken about filming the new Irish revenge thriller Black 47 which is set during the Great Famine, saying it was "very physical" and that he "learned a lot".
Director Lance Daly's latest project, following 2013's Life's A Breeze, had its world premiere at the Berlin Film Festival where it was warmly received. On Wednesday, February 21, the cast and crew reunited for the Irish premiere at Dublin's Cineworld where it kicked off the Audi Dublin International Film Festival 2018.
Speaking on the red carpet, Keoghan, who has become a recognisable face internationally after appearing in the acclaimed films Dunkirk and The Killing of a Secret Deer, said that filming Black 47 had a particular significance for him.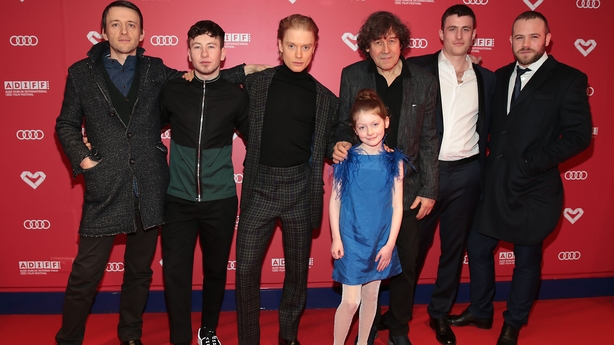 He told RTÉ Entertainment of his knowledge of the Famine before the film: "I can't remember getting into the gritty parts of it, so for me this was an important thing to film.
"I learned a lot filming this. When I approached it I didn't have that much knowledge about it."
The rapidly rising Dublin star appears alongside an impressible international ensemble cast in Daly's film, including Stephen Rea, Hugo Weaving, Jim Broadbent, James Frecheville, Moe Dunford and Freddie Fox.
London-born actor Fox said it was "an honour" to be part of a film like this, which puts a spotlight on one of the most traumatic periods in Irish history for the first time on the big screen.
"It's sad that it's the first time that you can bring a story like this, not only to a universal audience but particularly to an Irish audience who know the history and have yet to see it being put up on the screen", Fox said.
"For those that don't know anything about it, this is a time to be entertained but also to be given a lesson in something very important."
Keoghan said lightheartedly that he was "starving" while filming the thriller, with his co-star Fox adding: "Barry didn't eat for three months, he was living on glucose drinks."
Continuing more seriously, Keoghan said they experienced some ups and downs while working on the project, which was mostly filmed in Ireland.
He said: "Filming it, Freddie fell off a horse, Freddie got a bang off a gun. It was very physical, I mean that.
"We were all there to support each other. It was a good one."
Fox added: "It was a joy for us to go to Berlin and now here because we all liked each other so much, getting back together and experiencing it and being proud of what we did together and believing that it's a story that needs to be seen.
"It's the best feeling in the world."
.@BarryKeoghan and #FreddieFox tell us what it was like filming #Black 47  -
the new revenge thriller set during the Irish Famine. pic.twitter.com/m00PR85BhF

— Entertainment on RTÉ (@RTE_Ents) February 21, 2018
Keoghan's performance was singled out by Variety for praise, who said he was "again bringing his weird, wired energy to a small role and transforming it."
When asked if he pays attention to the reviews, Keoghan became uncharacteristically bashful, saying with a laugh: "I don't know why they done that", before adding: "That was great, if you're given a small part you have to make the most of it."
We need your consent to load this YouTube contentWe use YouTube to manage extra content that can set cookies on your device and collect data about your activity. Please review their details and accept them to load the content.Manage Preferences
Black 47 will be released in cinemas in Ireland later this year.