There is a little box at the top of this review which allows your reviewer space to write the names of those who star in this film. Yet in the best possible sense, it would seem that Song of Granite is not about stars, although Colm Seoighe playing the Connemara singer Joe Heaney, or Seosamh Ó hÉanaí (1919-1984) as a young boy puts in a spell-binding performance. So that certainly makes him a star.
This film is full of marvels that are a million miles from John Ford. There is a brilliant tracking shot where Seoighe as  the young Heaney is seen running at boyish leisure along a sequence of white-washed cottage fronts, outside of which men are working at various chores. You watch and are transported back to Heaney's native Connemara in the 1930s, an effect enhanced by that washed out, sepia-like tone employed to almost startling effect.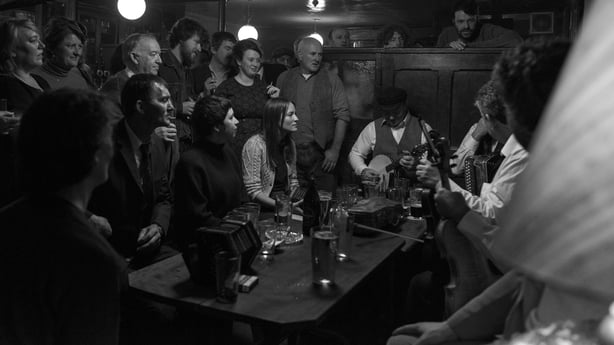 Likewise, Micheál Ó Confhaola as the middle-aged Heaney cuts a powerful figure, cheekbones sculpted like the granite of the title. Ó Confhaola plays him with a kind of morose pride, unleashing every so often his gift of sean nós. Macdara Ó Fatharta does a marvellous turn as the elderly Heaney. There are impressive musical cameos from Damien Dempsey, Lisa O'Neill and Seamus Begley in a Dublin bar scene, presumably intended to be O'Donoghues of Merrion Row in the 1960s. 
Ó Confhaola as the singer sings a powerful sean nós ballad in that pub scene. As is the custom in such sessions, Seamus Begley winds the singer's arm for brotherly support and the result is one of the film's most affecting segments. Impromptu and spontaneous, it's like the bar singing in Terence Davies'  equally beautiful film of Liverpool, Distant Voices, Still Lives.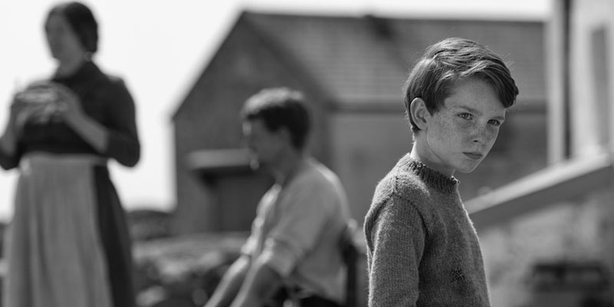 No-one of course has done so as yet, but it would seem disrespectful to the memory of Ó hÉanaí to tell cinema-goers that it is not necessary to be interested in the singing to appreciate the great riches that are in Song of Granite. Technically, to say such a thing would be true but somehow disingenuous. Without wishing to be didactic, ultimately the star of Song of Granite should be the singing, the film should lure us to listen the classic recordings.Will people just watch this entrancing movie and move on?
In any case, Pat Collins' tone poem is not a conventional documentary - the late Michael Davitt covered that ground in a fine RTÉ film in 1996 entitled Joe Heaney: Sing the Dark Away. Song of Granite is, by contrast, an imaginative biopic which borrows salient threads or themes, from the singer's life and times in Ireland, in Glasgow and in the USA.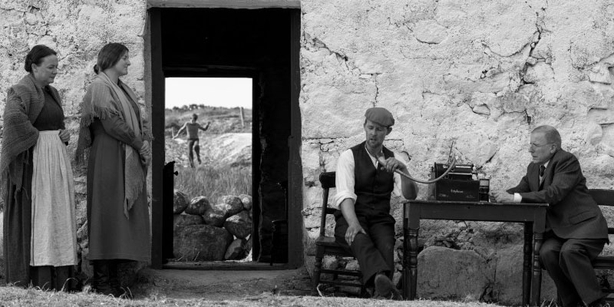 Connemara in this version is a lost El Dorado, where Heaney grew up sure and safe in the affection of his parents, dancing for an accordion player, listening to his father sing. Look at that early scene filmed from overhead, where another singer seated on a stool by the open hearth sings to a closely-seated group. Then a seanchaí tells a story. The fact that many of these participants are relatively unknown actors lends touching grace to those early scenes.
Connemara appears in Song of Granite to be a place where the singer would feel forever the tension of staying or going. This film does not concern itself with serious amounts of dialogue, but it is tactfully written, to coin a phrase, by Pat Collins and Eoghan Mac Giolla Bhríde. In one of the film's many brilliant scenes, Joe returns from a spell of work in Glasgow and sits with his father Pádraig, who is played by Pól Ó Ceannabháin. They sing and they talk easily as Gaeilge, Joe smokes and watches the passing scene.
Then his father gently draws attention to a local man of about the same age, remarking that he has recently bought a trawler. There may be sly intent here, the father perhaps indicating that a livelihood can be had not far from the brackish inlets of Connemara, if his son would only consider settling down at home. Joe says the trawler buyer will do well, his father is resigned to the fact that his son has always had his eye on the horizon, as the English translation puts it. Seosamh Ó hÉanaí was, to say the least, a restless soul.  A work of genius.
Paddy Kehoe
We need your consent to load this YouTube contentWe use YouTube to manage extra content that can set cookies on your device and collect data about your activity. Please review their details and accept them to load the content.Manage Preferences