Star Wars fans could be in for a treat after Ewan McGregor gave his clearest indication yet that he would be happy to pick up a lightsaber again for a stand-alone Obi-Wan Kenobi movie.
As part of Disney's on-going mission to expand the Star Wars universe with last year's Rogue One and the upcoming Han Solo movie with Alden Ehrenreich, rumours have been rife that a movie focusing on the iconic character played by Alec Guinness and McGregor is being considered.
Lucasfilm CEO Kathleen Kennedy said this week that Disney is expected to announce the next Star Wars anthology film this summer and the hot money is that it will be about Obi-Wan Kenobi.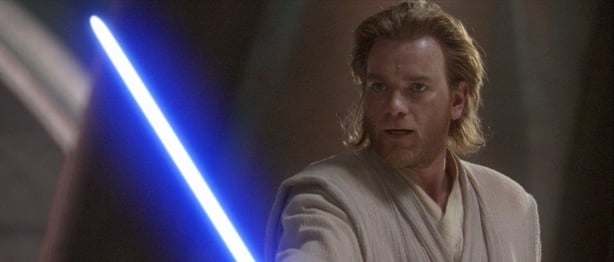 McGregor, who took over the role in 1999's Star Wars: Episode I - The Phantom Menace before reprising it in the other two prequels, Attack of the Clones and Revenge of the Sith, recently told Entertainment Weekly that he'd be keen to reprise the role.
"There's no official offer, and I haven't met them about it or anything," he said.
"But I've always said that I'd be happy to do it if they wanted to do it. It would be a good segue between the last episode of the prequels and the new episodes. I think they've got films to make until the 2020s, so I don't think it's going to happen soon if it happens at all."
So it's clear that it won't be happening for some time. It's expected that the movie would fill in Obi-Wan's s story between Revenge of the Sith and 1977's Star Wars: A New Hope.