The title of The Lesson reveals little about its plot and likewise, this film noir maintains its mystery throughout, maintaining ambiguity right to the very end on who exactly is schooling who.
English director Alice Troughton's debut feature is a five-character page-turner of a film that slowly reveals itself scene by scene, and is full of tension, power struggles, mind games and secrets.
The Lesson follows ambitious literature whizz-kid Liam Somers who came top of his class in English Literature in Oxford. He is writing his debut novel while making ends meet by working as a tutor.
He believes to have landed the holy grail of tutoring gigs when he is asked to be the live-in tutor for the son of his author he hugely admires, JM Sinclair, whose mantra is, "Great writers steal."
Liam soon learns that, despite the obvious wealth and privilege that the family enjoy, this is not a happy home. The trio that live there – father, mother and son – desperately struggle with grief in the wake of the death of the fourth member of the family.
Overbearing patriarch Sinclair (played by Richard E Grant), his French artist wife Hélène (Julie Delpy) and teenage son Bertie (Stephen McMillan) live unharmoniously as Sinclair immerses himself in writing his much-awaited novel. His petulant son writes furiously and almost constantly, burdened by huge familial pressure to secure a place at Oxford University.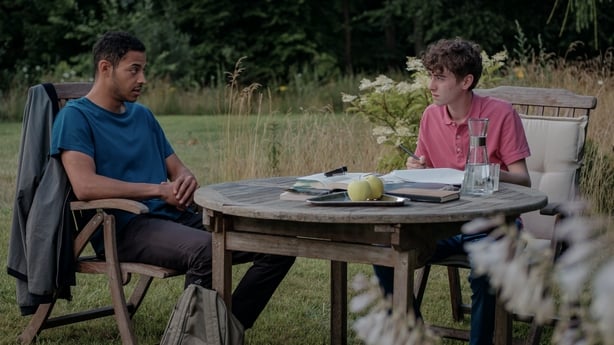 Most of the film takes place on the grounds of the Sinclairs' lavish mansion in the English countryside. The Lesson subverts the visual aesthetics of noir classics with visions of a sun-drenched estate, idyllic birdsong, lily pads floating atop a lake – even the robotic lawnmower somewhat cheerily grooms the extensive lawns.
This juxtaposes beautifully with the house itself - full of corners and shadows created by matriarch Hélène's eclectic pieces of art. It's within these walls that the story really takes its various twists and turns.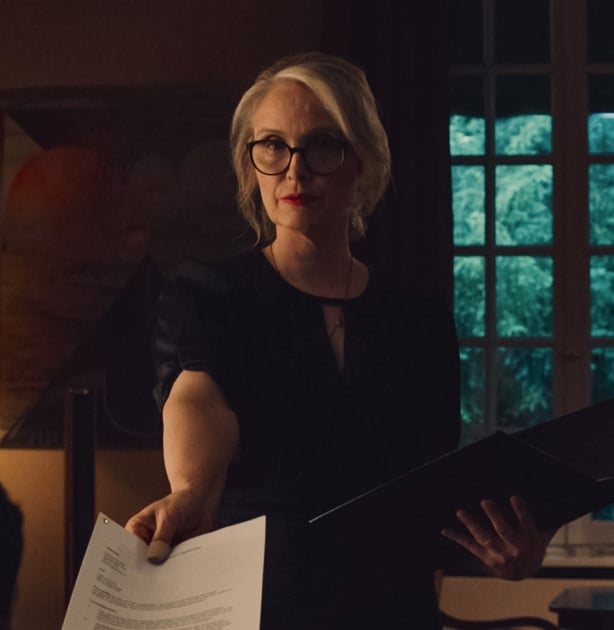 Irish actor Daryl McCormack, best known from Good Luck To You, Leo Grande and Bad Sisters commands the role of outsider here, bringing charm, mystery and versatility to his role, but never over-egging.
Delpy does well as a cold yet seductive artist, whose intentions are as murky as the lake situated behind the lavish mansion, which plays a pivotal role in the story.
If Delpy plays her part with subtlety, Richard E Grant gives an opposing performance here as the hugely unlikeable character of Sinclair. His over-the-top depictions of Sinclair's moods – both high and low - can be a lot to stomach.
Striking cinematography, as well as music from Isobel Waller-Bridge, adds to the sense of dread (albeit, enjoyable) that seems to trickle off the screen and into the viewer.
A much-needed release from the tension comes in the film's final act but somehow the emotional catharsis you feel will come, never quite does.
However, the web of family secrets, resentment and retribution that ensnares all five characters is intriguing, and you will want to get caught in it.
The Lesson is in cinemas from 22 September.