Ghostface takes Manhattan! This sixth instalment proves there's still life in the meta-slasher franchise yet.
After the surprisingly fresh take of 2022's Scream, director duo Matt Bettinelli-Olpin and Tyler Gillett continue their franchise revamp with great success.
And a lot has changed. Only one cast member from the 1996 Wes Craven original remains in the shape of Courteney Cox's Gale Weathers while Neve Campbell's Sidney Prescott has her off-camera happy ending, deciding to steer clear of this latest killing spree by a Ghostface. The other big change is the location, New York City. Figuratively and literally miles away from previous settings such as the fictional town of Woodsboro, Hollywood or a college town in Ohio.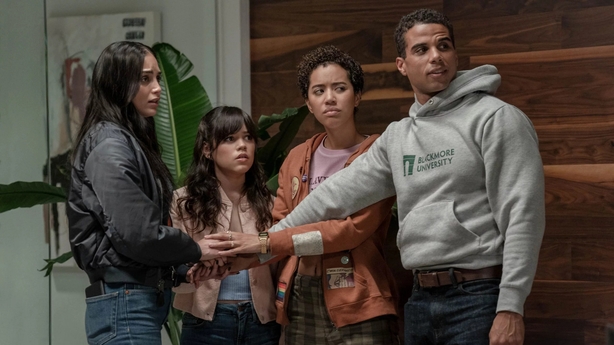 The move to a densely populated city is inspired, while there are plenty of places for Ghostface to hide in a sleepy suburban town, there are even more places to hide when you're surrounded by people… and it's Halloween.
The Friends star is indeed present and a welcome familiar face but Scream VI is very much about the surviving characters introduced in 2022, in particular, half-sisters Sam and Tara (Melissa Barrera and Jenna Ortega). Two performances that have hugely improved since their franchise debut. Melissa and Jenna have a relaxed ease to them with genuine sibling energy. This combined with a likeable and funny supporting cast provides the special ingredient of any Scream film - it has some characters you'd actually like to see survive.
And that's what this film series is about, special ingredients. Be it the sharp music cues, Roger L. Jackson's voice, THAT mask, the shocking pre-title kill/kills, Red Right Hand by Nick Cave and the Bad Seeds, postmodern meta references to horror films and the final twisty reveal of who the killer is. All are present and accounted for.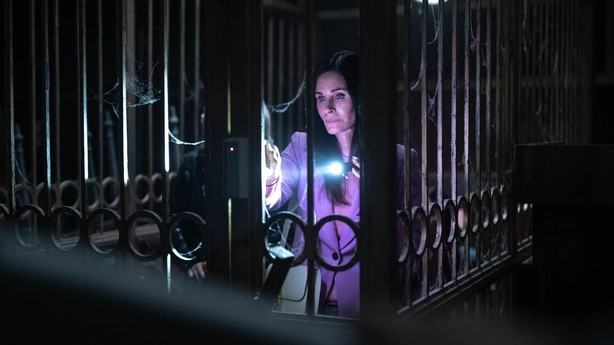 The other special ingredient of a Scream film that is often overlooked is the set pieces. Those incredibly precarious and intense situations the characters find themselves in while Ghostface attempts to kill them. It's what separates Scream from the lower-budget 70s and 80s slasher films that inspired the series. They're contrived but… in a good way. Every Scream film has one or two set pieces with nerve-shredding tension. Scream VI has at least three. And when they happen, you can feel the nervous anticipation in your fellow audience members. A scene on the subway will finish off what's left of your nails after the scene with the ladder...
Fun, funny and be warned, incredibly violent and gory. With a reverence towards the history of the series that works narratively but also doubles as a bit of "fan service". Speaking of fans, they may miss the presence of the original's "final girl"; but with all due respect to Neve Campbell, the lack of Sidney Prescott isn't actually jarring. For the last few films Sidney has presented a "tired of this bulls**t" energy - it gels that she may want to just sit this one out.
No Scream film will ever match up to the original. And while the final act may induce the odd eyeroll (possibly deservedly so) and elements of the dialogue are so smug and self-referential it may turn off some viewers (what do they expect?). It shouldn't distract from the fact that Scream VI is a lot more entertaining, inventive and witty than the sixth instalment of a slasher franchise has any right to be.

See it with a packed audience and you'll have a blast.
We need your consent to load this YouTube contentWe use YouTube to manage extra content that can set cookies on your device and collect data about your activity. Please review their details and accept them to load the content.Manage Preferences