Jennifer Lopez plays Darcy, who finds herself about to get married to Tom (Josh Duhamel) on a luxury Philippine island. Tom is nervous, insecure and fairly certain that his soon-to-be father-in-law, Robert (Cheech Marin), hates him. Tom's anxieties are exacerbated by the arrival of Darcy's super suave and popular ex-fiancé, Sean (Lenny Kravitz).
As tensions between the hesitant bride and stressed-out groom come to a head, a group of pirates, with eyes on Robert's large bank account, crash the wedding and hold everyone hostage. Darcy and Tom avoid capture and the two become unlikely action stars trying to save the day.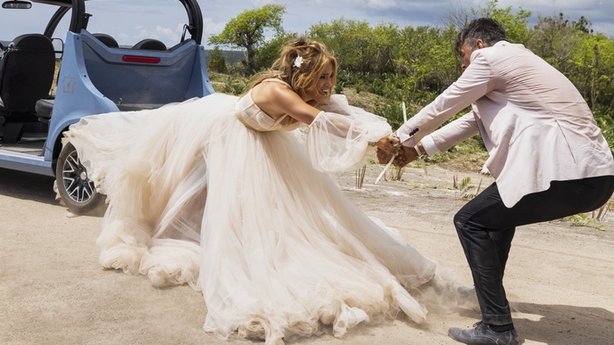 Overall this is a film that's largely saved by the cast who do a lot of heavy lifting with a mediocre script. Jennifer and Josh are effortlessly likeable leads and the supporting cast are comedically talented enough to sell some lines that could fall flat elsewhere.
Comedy queen of the moment, Jennifer Coolidge plays the mother of the groom and nails every awkward joke she's handed. Shotgun Wedding's script gets a few more chuckles than it possibly deserves thanks to her.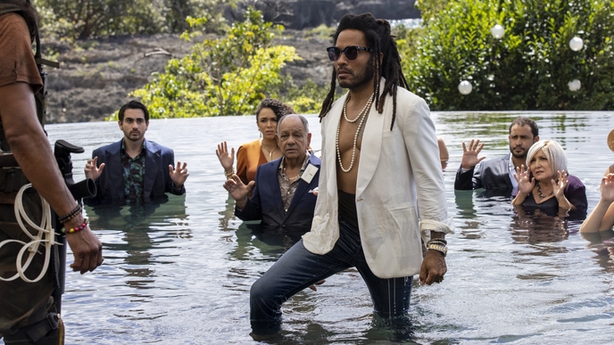 Unfortunately, the cast can't save some of the cheap-looking action scenes which play like they're from a film with a much lower budget. Another issue is that the villain who has orchestrated this invasion is largely faceless for half of the running time. For a good chunk of the story, our focus is on some nameless masked men. If Die Hard has thought us anything it's that you can't underestimate the value of a strong and present villain in these setups.
A good cast can't save this from being a largely forgettable fare. Mildly entertaining with a couple of twists and goofy laughs. Not great but not terrible either.
We need your consent to load this YouTube contentWe use YouTube to manage extra content that can set cookies on your device and collect data about your activity. Please review their details and accept them to load the content.Manage Preferences