This star-studded look at the early days of Hollywood is an Indulgent, excessive, loud, crude extravaganza. In a really, really good way
To truly love something, you have to embrace everything about it, warts and all. Director Damien Chazelle loves Hollywood and he's painfully aware that the town's film industry was built on exploitation and greed… as well as magic and dreams.
We need your consent to load this YouTube contentWe use YouTube to manage extra content that can set cookies on your device and collect data about your activity. Please review their details and accept them to load the content.Manage Preferences
And that's what Babylon is about. Hollywood is portrayed as a ruthless grind that's fuelled by every single vice you can think of. But who will notice the carnage and despair when spectacle after spectacle is cranked out?
The above question is quite literally answered at the very start of Babylon. We're shown what is probably a typical Tuesday night at a Hollywood party in 1926. The guests are in full debauched drug-fuelled mode at a studio executive's mansion.
Upstairs, a young actress suffers an overdose. How to distract the party goers so they don't notice the unconscious woman being carried out? The answer is spectacle as an elephant is released into the party. Quite literally an elephant in the room is distracting Hollywood's elite from the real elephant in the room, the disturbing reality of excess. Has Chazelle said all he wants to say about Hollywood already? The title screen hasn't come up yet.
Of course, there's a lot more to say about early Hollywood as we follow a quartet of characters. Three new to the industry and one veteran in the shape of Jack Conrad, played with all the predictable and reliable charm one can expect from Brad Pitt. Brad barely seems to be trying but sometimes that's all a performance needs. He and up and comer, Nellie La Roy (Margot Robbie) are caught up in a major milestone of the film industry. The move to sound. An era that famously left many stars behind.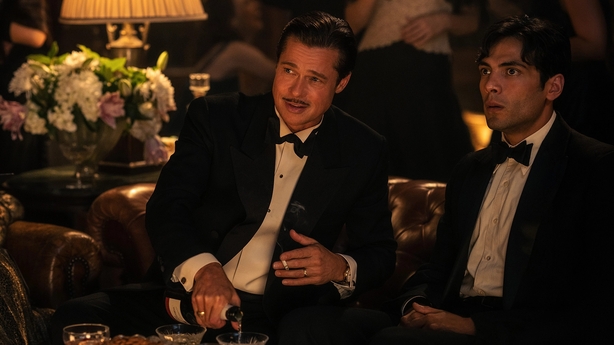 Several films have already documented this moment in cinema history, Singin' in the Rain, The Artist and even the most recent Downton Abbey film feature covered the moment actors suddenly found themselves having to sound good. But it wasn't just that, it changed everything else too. All of which is brilliantly covered by Babylon.
The lesson in the transition to sound is as entertaining as it is fascinating. We're shown that pre-sound, a film studio could be just as wild and chaotic as the party the previous night. A romance is shot beside a western which is shot beside an epic war drama. And it's all filmed outdoors (even the interior scenes) because Los Angeles is dry, and sunlight is free.
The studio is essentially just a patch of desert. The wildness of several simultaneous silent shoots is then juxtaposed with a new-fangled talkie shoot. It's a whole world of difference. Indoors, where silence is golden, precision is key and getting just the right take is a hilariously frustrating endurance. A standout moment of Babylon.
So far critics have been divided on Babylon, keen to point out the many excesses, including the 189-minute running time. And yes, that is long, but the pacing and structure makes it feel just right. It could be compared to Scorsese's Goodfellas, The Wolf of Wall Street or PT Anderson's Boogie Nights. These are films about excess with biblical running times that you largely don't notice because they rarely slow down and brilliantly maintain a level of entertainment from sequence to sequence. And Babylon is longer than any of those examples.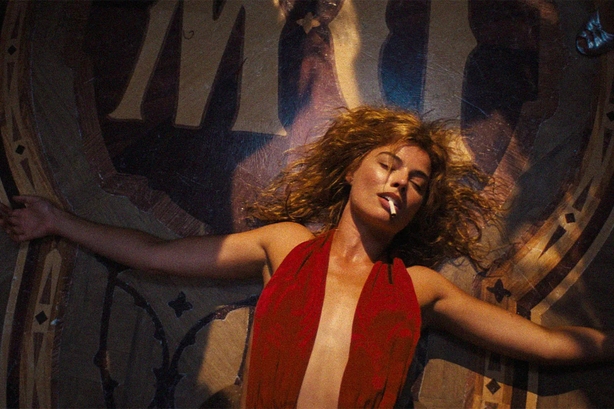 Another reason the running time flitters by is the exceptional cast, the aforementioned Pitt honing the suave and funny Jack Conrad, he's Clark Gable meets Rudolph Valentino. Diego Calva's Manny, a Mexican film assistant rising through the ranks is a likeable and charming "nice" guy. Jovaan Adepo beautifully and quietly portrays Sidney Palmer an African American jazz musician who finds his place in the spotlight while putting up with some of the predictable indignities of the era.
Saying that, the film belongs to Babylon's leading lady, Margot Robbie playing the Clara Bow-inspired Nellie La Roy. Robbie proves once again she's one of modern Hollywood's most formidable and undeniable stars. She plays Nellie with so much vigour, passion and gusto you almost feel she might be an animated CGI character at times. She injects so much energy into this script it's near impossible to consider anyone else in the role. She very made it her own.
Cynical but magical, grim but beautiful, a sometimes disturbing celebration of a beloved American institution that a lot of people hate. Fascinating, heart-breaking, laugh out loud and consistently entertaining. Babylon is evidently not for everyone (look at the other reviews and the US box office) but those who'll love it, will truly love, warts and all.
Indulgence can be a good thing.
Bren Murphy