At the grand old age of 80, the spirit is very much alive in indefatigable people's poet Pat Ingoldsby. Most of us know him as the avuncular RTÉ children's TV star of the late seventies and early eighties but Seamus Murphy's beautiful shot and constructed documentary reveals a rich and fascinating background to the great man's development and arrival as merry prankster and master of the absurd and surreal.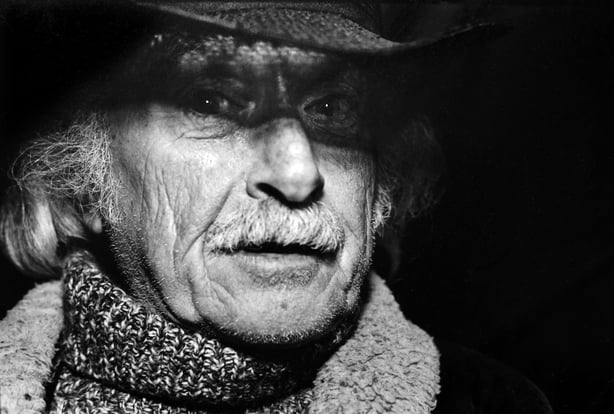 Pat's journey to become mainstay of the Dublin streets, hawking his anthologies - most recently outside Grattan's Parliament on Dublin's Westmoreland street - is a story of struggle and weird byroads.
The man who is just as famous for his hats (think Dylan on the cover sleeve of Desire) began life in a still rustic Malahide village in 1942 and battled polio and depression before he swam into public consciousness as an RTÉ radio DJ, raconteur and kids' hero with his strange surreal Spike Milligan meets James Thurber verse.
His childhood in Malahide was idyllic. The circus would come to town and set up on the village green every few months and his father would load up his rowing boat with the kids and wife and take them out for picnics on what Pat calls "the island". He didn't let his polio stop him from becoming somewhat of a local football star in goal either.
We need your consent to load this YouTube contentWe use YouTube to manage extra content that can set cookies on your device and collect data about your activity. Please review their details and accept them to load the content.Manage Preferences
There are contributions from Imelda May, who herself has dabbled in poetry of late, Pat's siblings, Michael and Brigie, and contemporaries such as Brush Shields and Don Baker, but this is very much Pat's gig.
There he is, doing his own internal yoga in his tumbledown book-filled house, as bohemian as ever and reading from his numerous anthologies and still weaving spells of strange magic.
He calls them "idiotic profundities". After watching this charming and delightful portrait of a true original, you may read far more into his giddy and insightful prose and verse. He's a magic street preacher with a streak of mischief who has fought hard to remain as bright as ever.
Alan Corr @CorrAlan2