After more than a decade of problematic production the latest Marilyn Monroe has finally received its debut, but the nearly three-hour slog feels like yet another brutal layer of exploitation of the 20th century icon.
Writer-director Andrew Dominik's unwieldy 166-minute outing uses its leading lady (played by Ana de Armas) as a sacrificial lamb to chastise Hollywood's celebrity machine and its abject relationship with stardom. It does a great disservice to the silver screen phenomenon and her revolutionary impact on pop culture. She deserves better.
Based on the fictional 2000 Pulitzer Prize-shortlisted novel of the same name by Joyce Carol Oates, the movie's screenplay scrutinises Marilyn's traumatic childhood as Norma Jeane, her contentious relationship with fame, and her endless search for love.
Blonde is swamped in its own ambivalence about what it wants to say. It ticks off the iconic moments from her illustrious film career, her turbulent marriages to baseball star Joe DiMaggio (Bobby Cannavale) and playwright Arthur Miller (Adrien Brody), and her daddy issues (Monroe calls all her husbands "daddy" as she longs to meet her biological father), but rather than celebrate her life, Dominik can only seem to paint an oppressive portrait of the late star.
With graphic depictions of rape and coerced abortion (which viewers see from the foetus' point of view), Monroe is diminished to a victim who is defined by the abuse heaped upon her.
We need your consent to load this YouTube contentWe use YouTube to manage extra content that can set cookies on your device and collect data about your activity. Please review their details and accept them to load the content.Manage Preferences
Cinematographer Chayse Irvin's commanding images skillfully chop and change between black-and-white and colour, while an array of aspect ratios retrace Monroe's boundary-pushing outings in Gentlemen Prefer Blondes, The Seven Year Itch and Some Like It Hot.
Nick Cave and Warren Ellis' haunting score, particularly during a wildfire scene, adds to the fever-dream vibes.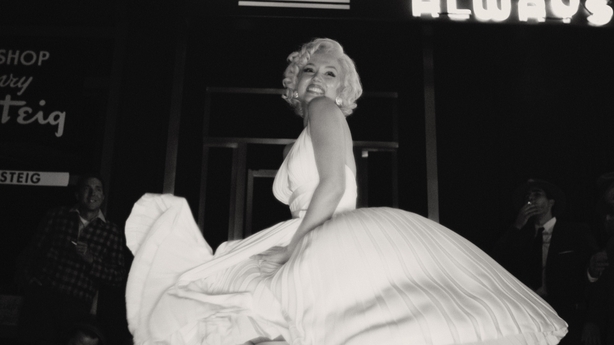 Jennifer Johnson's spectacular costume designs create a character of its own. From reimagining Monroe's infamous white pleated dress, originally conceived by William Travilla, to her ornate fuchsia satin strapless gown, Johnson's carefully calibrated creations beautifully pay tribute to one of the most enduring fashion legends in history.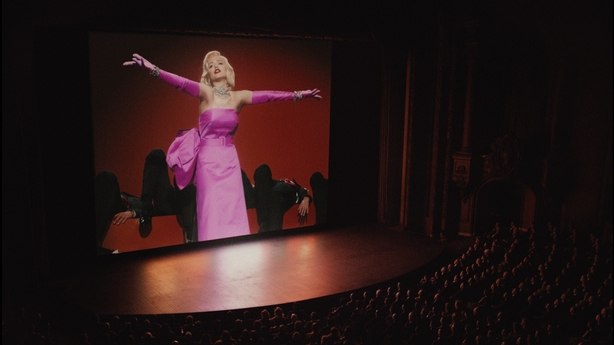 At times, de Armas' Cuban accent does creep in but it doesn't detract from her sublime embodiment as the titular central figure, deftly curating an unforgettable performance, while pouring her heart and soul into every gut-wrenching moment. de Armas' transformative role will no doubt see her nominated for an Oscar at next year's Academy Awards.
The lack of empathy, repetitive narrative and overloaded script result in an uncomfortable hallucinogenic trip that falls into the trap of thinking misery is the same thing as depth, when in fact, much of Monroe's tragedies are examined in a way that feels manipulatative and sordid.
Forget about The Seven Year Itch, Blonde will give you The Seven Year Ick.
Laura Delaney