The classic Ronnie James Dio quote that every band needs to be a democracy led by a dictator takes on a diabolical twist in the Foo Fighters' hokey horror-comedy - truly one for diehards only.
This nixer, filmed while the band were recording last year's Medicine at Midnight, finds Dave Grohl and co relocating to a long-empty hillside pile in a bid to cure the frontman's writer's block. As a recording location, the house is sold as "to die for" - not in the way the boys imagine.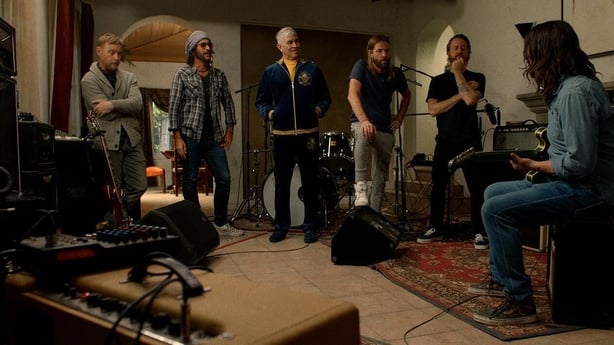 Back in 1993, another group, Dream Widow, met a grisly end as they were creating their own "killer album". Now, Grohl's obsession with delivering the Foo Fighters' best record could also mean that it's their last.
Along with the flight of fancy of actually making the movie, the strangest thing about Studio 666 is just how gory it is. To borrow from a classic, if you want blood, you got it! Director BJ McDonnell has done videos for Slayer, and the amount of OTT claret flowing here would be more suited to them than an outfit that is the epitome of a good time.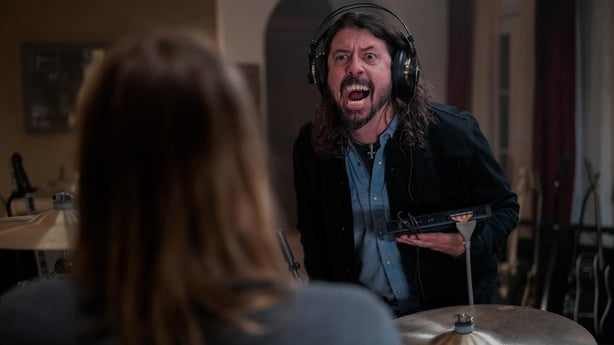 Had the script been as sharp as the blades, the Foo Fighters may have been on to something. There are a couple of good gags, but making the jump from much-loved promos to a 100-minute-plus movie has proven too big of an ask. Some of the sextet can deliver a line better than others; Grohl, unsurprisingly, is the most charismatic person on screen.
Ultimately, two great cameos that showcase the comedy chops of the musicians concerned - you'll wish there had been more of both of them - a great theme tune courtesy of another surprise guest, and the fact that Grohl has a full Dream Widow album up his sleeve are the best things to come out of this caper.
Sure, Studio 666 didn't cost the earth, but you still have to pay the usual amount of money to watch it in the cinema and deserve better.
We need your consent to load this YouTube contentWe use YouTube to manage extra content that can set cookies on your device and collect data about your activity. Please review their details and accept them to load the content.Manage Preferences