When Tobe Hooper and Kim Henkel began shooting The Texas Chain Saw Massacre on 16mm film with a miniscule budget in the blazing heat of a Texas summer in 1973 it was unimaginable that 49 years later the ninth instalment of the franchise would be screening exclusively on something called an "internet streaming service". But here we are.
Enter Texas Chainsaw Massacre on Netflix, a direct sequel to the original film, seemingly ignoring the instalments in between. This is very much a "requel", a newly coined phrase for a film that functions somewhere between a remake, a reboot and a sequel. 2018's Halloween and this year's Scream come to mind.
The above requel examples worked quite well, the understanding and love for the original are palpable in the direction and writing. That evident fandom behind the camera can sometimes translate to slightly eyeroll inducing "fan-service", unsubtle references and nods to the original film. However, with 2022's TCM, the fans may find themselves crying out for some service or at least a sign that the filmmakers understood what made the original TCM work so well.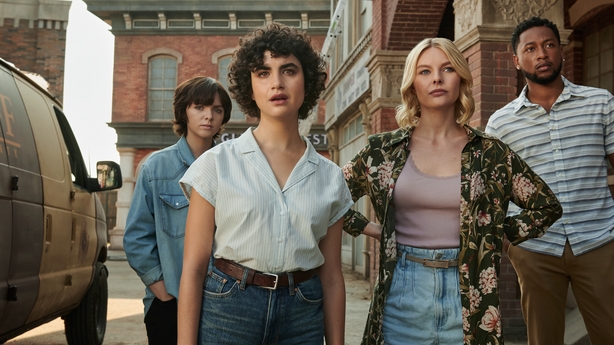 Melody (Sarah Yarkin), her friends and sister Lila (Eight Grade's Elsie Fisher) travel to the small Texas ghost town of Harlow with hopes of renovating it with the help of a group of uber-hip San Francisco investors. Upon finding that the local orphanage is still occupied, a series of event's brings on the wrath of Leatherface, a character, who by our estimations is now pushing 80. Meanwhile waiting in the aisles we have Sally Hardesty (Olwen Fouéré, originally portrayed by the late Marilyn Burns), the sole survivor of the original massacre, eager to take her revenge on her chainsaw-wielding tormenter.
Age aside, ole Headcheese can still swing a chainsaw with the best of them. Headcheese by the way was very nearly the title of the original film, it's a funny name but it's worth remembering that Tobe Hooper intended audiences to get a lot of humour out of The Texas Chain Saw Massacre. It's an intense horror tale with a streak of insanely black humour running through it. Unfortunately, other than one or two exceptions; "Try anything and your cancelled bro", are the last words of an Instagram Live wielding victim, this outing is humourless which would be forgivable if the horror felt fresh. It doesn't.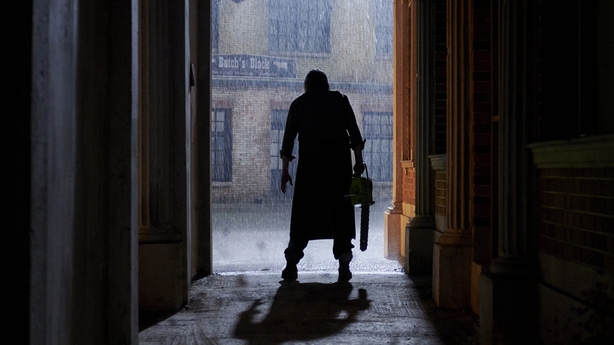 The film uses every trope in the genre, a victim hides in a closet, then under the bed, then under the house, then in a bathroom. It starts to feel a little paint by numbers, you could insert Michael Myers or Jason Voorhees as the killer and the scene would play out the same. This is particularly frustrating because Leatherface precedes all those clichés established in the 80s and 90s. You don't hide from Leatherface, you run from him, there's a six-minute scene in the first film that establishes this. He's a lumbering, juggernaut, something that you only get a hint of in one effective shot that sees him galloping out of a dark alleyway.
Thankfully the arrival of Sally breaths some fresh life into the film. Taking a leaf out of 2018's Halloween book, we have a vengeful survivor of the original ready to face an old foe. Unfortunately, despite a cool and gritty performance from Foúré, her lack of any concrete plan proves disappointing. She had 49 years to work out what she do if she ever faced Leatherface again and it was uninspiring, to say the least. Halloween's Laurie Strode transformed her entire house into a trap, Sally has a shotgun.
We need your consent to load this YouTube contentWe use YouTube to manage extra content that can set cookies on your device and collect data about your activity. Please review their details and accept them to load the content.Manage Preferences
Apart from one stand out scene on a bus, it's a forgettable horror fare with high production values and heaps of bloody gore (if that's your thing). Predictable and glossy with none of the grit and rawness you'd expect or hope from a TCM requel. Stick it on with low expectations there might be some thrills to be found. A missed opportunity, it's a property that's screaming for new ideas and a fresh take on a horror icon. Let's hope someone else has another attempt to bring back the buzz before Leatherface turns 90.