A cloud of Ink black ravens burst forth from the mist, witches stand before stagnant pools or perch high up in rafters and a once virtuous general, driven mad by power lust, commits terrible acts . . . you may know the story, but this is certainly the starkest and most visually striking movie adaptation of Shakespeare's most famous tragedy.
Shot entirely in black and white on an LA soundstage, The Tragedy of Macbeth is Joel Coen's first movie without his brother, Ethan, and as you'd expect it is masterfully directed. However, it's Bruno Delbonnel's cinematography and Stefan Dechant's production design that really make this version of the Scottish Play leap from the screen.
We need your consent to load this YouTube contentWe use YouTube to manage extra content that can set cookies on your device and collect data about your activity. Please review their details and accept them to load the content.Manage Preferences
Heavy on German Expressionism and symbolism, Dunsinane becomes a crucible of shadowy entrapment where superstition and paranoia overthrow rationality and make good men do very bad things. It is so pure and studied in its vintage appearance and atmosphere that you expect Orson Welles to emerge from the murk.
The leads are nuanced and watchful (McDormand makes for a particular flinty Lady Macbeth), Brendan Gleeson is dignified as the betrayed Duncan, Bertie Carvel is great as the suspicious Banquo, and Corey Hawkins anger is palpable as Macduff. However, it's stage veteran Kathryn Hunter (cracked of face and voice) who really transfixes as all three of the Weird Sisters, the crones who first sow the seeds in Macbeth's mind that he shall be king of Scotland.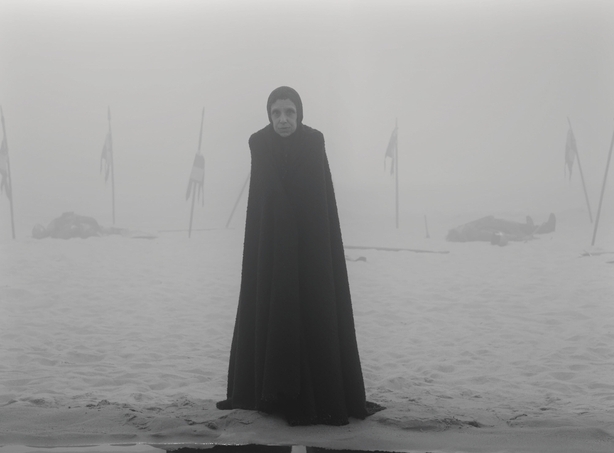 If Justin Kurzel's 2015 version was almost trampled underfoot in the blood and guts and cut and thrust of battle, Coen keeps it metaphysical and concise, truncating some scenes and dwelling on others.
Once an initially doubtful Macbeth gives in to the Weird Sisters' "supernatural soliciting" and obeys the worm tongue of his craven wife, the pestilential vapours and the red mist descend in a tight and efficient production that explodes with rage and madness.
Alan Corr @CorrAlan2
The Tragedy of Macbeth is available to view on Apple TV+