With impeccable timing, this film has arrived just when we need it most. It will lift your spirits, replenish your sense of gratitude and leave you with lessons for the victories and defeats - however big or small - in your own life.
The story of how Richard Williams (Will Smith), his then-wife Oracene (Aunjanue Ellis) and their daughters Venus (Saniyya Sidney) and Serena (Demi Singleton) created history in the early 1990s has now become one of the great biopics, with just as much for the sports-averse as the watch-anything fanatics. It's also a family movie that celebrates the unit and the individual equally, the 12A cert making it a must-see for the next generation. Don't be put off by the running time - the-near two-and-a-half hours fly. Like the best of matches, you never want it to finish. Like the best of movies, it's chock full of excitement, even though you know from the start how it's going to end.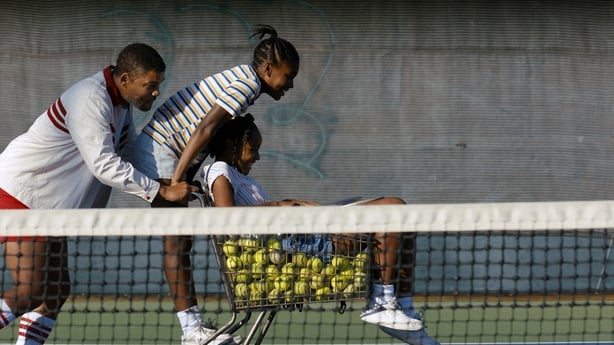 There are no prizes for guessing Will Smith's whereabouts on the night of 27 March, 2022. His third Oscar nomination - and third for portraying a real-life person after The Pursuit of Happyness and Ali - is a formality. It would be a foolish punter that would bet against him, and King Richard, going all the way. This is the performance of Smith's career to date as the father, motivator and maverick who could inspire and infuriate in equal measure. Screen daughters Saniyya Sidney and Demi Singleton are brilliant as Venus and Serena, and there's the best of support from Aunjanue Ellis as the matriarch and Jon Bernthal and Tony Goldwyn as the early coaches of the wunderkinder. A perfect cast with perfect chemistry.
Behind the lens, director Reinaldo Marcus Green (Monsters and Men) will also be in the Academy Awards shake-up for getting everything from sneakers to set-pieces to social commentary just right. His realisation of Zach Baylin's cracking script sets the director and writer up to have their pick of future projects. Here's hoping for a sequel to this one in a few years' time.
In the here and now, sheer joy is more precious than ever, so don't miss out on the chance to experience it here. Wherever you sit, it'll be the best seat in the house, with your heart on centre court.
We need your consent to load this YouTube contentWe use YouTube to manage extra content that can set cookies on your device and collect data about your activity. Please review their details and accept them to load the content.Manage Preferences
Harry Guerin