Jodie Comer, Matt Damon and Adam Driver all deliver in this Ridley Scott-directed true story about the repercussions of a rape in 14th Century France.
Lots to admire here as Ridley Scott directs a story co-written by Matt Damon and Ben Affleck (along with Nicole Holofcener), who also co-star, alongside Jodie Comer and Adam Driver.
Just writing those names makes me feel good about this movie.
Based on a true story, Damon literally leads the charge as Jean de Carrouges, a knight who challenges former friend and squire Jacques Le Gris (Driver) to a duel after Carrouges's wife, Marguerite (Comer), accuses Le Gris of raping her.
We need your consent to load this rte-player contentWe use rte-player to manage extra content that can set cookies on your device and collect data about your activity. Please review their details and accept them to load the content.Manage Preferences

Far from being a typical Hollywood blockbuster, it's a very measured film, despite plenty of violence and a surfeit of sodden soil. The story is very much centred on the status of women back in the 14th Century, and how honour-related disputes were once settled by creating a corpse.
Carrouges is a headstrong, meat-and-two-veg type, whose best friend is the more shrewd and careerist Le Gris. They fall out when the former loses a dowried piece of land to the latter, given to Le Gris as a reward for brown-nosing by Ben Affleck's Count Pierre d'Alençon.
The dowry was a result of Carrouges' marriage to Marguerite, who has a relatively calming effect on her impulsive husband. Gradually, the lack of an heir begins to grate on him.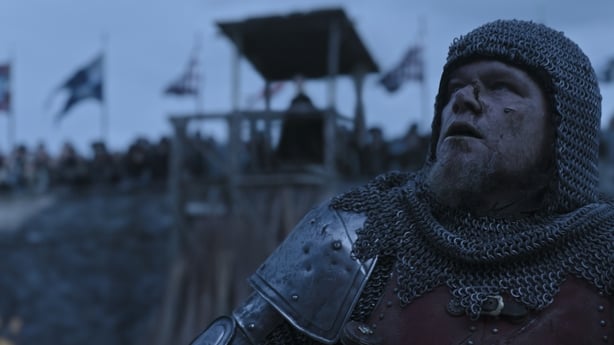 But that pales into insignificance when Marguerite claims that Le Gris forced himself into their home and raped her while Carrouges was away at war.
The pivotal moment of the story is told from three perspectives. Firstly, Carrouges considers himself a man wronged by the system. Then, Le Gris paints himself as a man of valour betrayed by a forbidden lover.
Finally Marguerite - little more than a piece of property with a pulse - tells it from her position. It's not a position of strength.
Both a reflection on patriarchal times past and a mirror to modern misogyny (it hasn't gone away, you know), it adds up to a compelling story.