The Bright Side, Ruth Meehan's confident and charming feature debut, is an empathetic look at one woman's surprising evolution after a cancer diagnosis.
Inspired by Anne Gildea's bestselling memoir I've Got Cancer, What's Your Excuse?, the dramedy is a deeply personal one for writer/director Meehan, who lost both her sister Alacoque and best friend Mago to the disease. The film is dedicated to them and "warrior women everywhere".
Mining comedy from such a serious illness is no mean feat, but Meehan and her co-writer Jean Palsey manage to strike the balance between humour and pathos deftly.
The film follows the relatively successful ("She's big in Leitrim", is one of the gags) but jaded stand-up comedian Kate McLaughlin (Gemma-Leah Devereux). While she still delivers laughs on stage, she is struggling in her day-to-day life and has lost the will to go on. When she is diagnosed with breast cancer, her first reaction is to view it as a "guilt-free way out", but she reluctantly agrees to undergo chemotherapy for the sake of her family.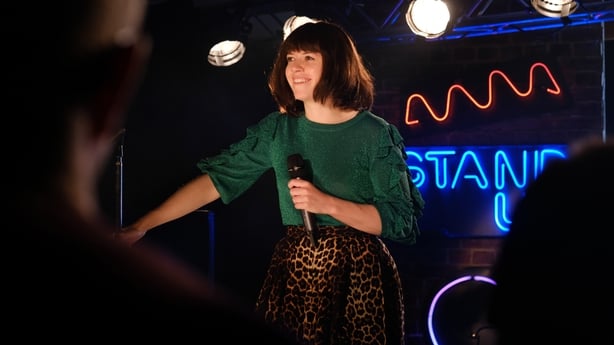 On the chemo ward, she meets a group of women - Tracy (Siobhán Cullen), Fiona (Karen Egan), Róisín (Barbara Brennan) and Helen (Derbhle Crotty) - who slowly begin to break down her defences and help her see she has so much to live for.
The sisterly bond that develops between these women is adeptly brought to life, particularly on a fly fishing weekend where the alcohol flows and lowers everyone's inhibitions. Here, Kate also gets closer to Andy, a sweet, widowed pharmacist played by an endearing Tom Vaughan-Lawlor. It is a joy to behold.
While the premise might appear somewhat predictable, Kate's journey is crafted with such skill, compassion and restraint that it never descends into oversentimentality.
A lightness of touch from Meehan, honest and vulnerable performances from the cast and a backbone of truthfulness make The Bright Side a truly memorable watch.
We need your consent to load this YouTube contentWe use YouTube to manage extra content that can set cookies on your device and collect data about your activity. Please review their details and accept them to load the content.Manage Preferences